How far can Chelsea Thomas take Missouri?
January, 31, 2012
01/31/12
1:57
PM ET
Editor's note: Graham Hays is counting down to the start of the 2012 college softball season with a look at each of the teams in his top 20. Check back daily for updates.

No. 9 Missouri
Last year: Last season: 53-10 overall, 15-3 Big 12 (Lost in Women's College World Series)

Who returns: You probably remember Chelsea Thomas, at least you would if you watched any of the 192 pitches she threw in just shy of 13 innings in a 1-0 loss against Baylor that eliminated the Tigers from the Women's College World Series. Thomas struck out 19 batters that night in a classic pitching duel against Baylor's Whitney Canion that capped off a season in which she was one of three finalists for USA Softball Player of the Year and earned a place on Team USA.
But Thomas isn't the only reason for optimism as Missouri looks to make its fourth trip in a row to the World Series. Senior Kristin Nottelmann (17-1, 1.91 ERA, 120 strikeouts) returns as one of the most reliable No. 2 pitchers out there. And for all the roster turnover soon to be discussed, the heart of Missouri's offense returns in the form of shortstop Jenna Marston, third baseman Nicole Hudson and outfielder/first baseman Ashley Fleming.
[+] Enlarge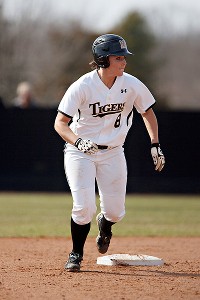 Joel Kowsky/Missouri AthleticsNicole Hudson returns to the Missouri lineup after posting 13 home runs and 51 RBIs in 2011.
Those three hit 29 home runs, drove in 133 runs and stole 36 bases in 37 attempts. They also walked 100 times against just 52 strikeouts, demonstrating the kind of plate discipline that could rub off on an otherwise young roster this season.
"Those three kids have sent a real positive message to the rest of the team about how to go about an at-bat, how to manage your emotions and all that kind of thing," Missouri coach Ehren Earleywine said. "At the end of the day, keeping those strikeouts low and moving the ball, making girls make plays -- in the women's game, it's almost like there is no such thing as a routine play. And if you put the ball in play and you're disciplined and keep your on-base percentage up, we're only going to benefit from that and score from runs."
Who departs: It's a long list for a contender, even one with an All-American in the circle. Outfielder Rhea Taylor was on Team USA with Thomas, and while her senior season (.839 OPS, 12 extra-base hits, 43 stolen bases) at Missouri wasn't quite the one-woman wrecking crew of past seasons, she won't be easy to replace. Three others who also hit better than .300 in at least 100 at-bats last season don't return: Maddison Ruggeberg, Marla Schweisberger and Abby Vock. Additionally, Catherine Lee, Lisa Simmons and Megan Christopher take with them a combined 121 games started in 2011.
Who arrives: If Earleywine is looking to boost profits with additional game program sales, he's a shrewd businessman. Freshmen make up almost half the roster, with 10 new players in all arriving in Columbia. Of that group, Californians Kelsea Roth and Angela Randazzo and (upstate) New Yorker Corrin Genovese are the names to commit to memory at the outset. Not only is Earleywine penciling in all three for starting spots, he has them penciled into the top six in the batting order, alongside Fleming, Hudson and Marston. Genovese looks like the heir apparent at second base; Randazzo can play catcher, third and designated player; and Roth is a first baseman.
Preseason question: How good can Chelsea Thomas be?

Thomas was a revelation plucked out of the Iowa cornfields when she arrived on the scene. She was able to fly at least at the lower reaches of the radar last season after returning from an injury-induced redshirt in 2010. Now Thomas is squarely in the spotlight. She was the only pitcher among the finalists for player-of-the-year honors last season, won gold with the United States at the Pan-Am Games and has been a part of three teams that reached the World Series (albeit an active participant in two).
She'll have plenty of competition for top pitching honors, including Team USA teammates and Big 12 rivals Canion and Keilani Ricketts and Arizona State's Dallas Escobedo, ace of the reigning national champions, but no other returning pitcher ranked in the top 10 nationally last season in wins, ERA and strikeouts per seven innings.
Simply repeating what got her to this point would be a feat, but is there room for her to be even better?
"She needs to learn that great pitchers have different gears," Earleywine said. "Sometimes Chelsea tries to go in fifth gear on every single pitch. There's a time to let it all out, and there's a time to save it. There's a time to show your best pitch, and there's a time not to show your best pitch. So that's part No. 1. Part No. 2 is she's now going to have to learn how to pitch with a target on her back. She kind of snuck up on everybody last year and came in with three pitches, and nobody knew she had three pitches, and she really put on a show last year."
Missouri got over one hurdle last season, finally winning a World Series game under Earleywine after five consecutive losses spanning three seasons. Improving on that will require that the returning bats do their part and that newcomers and newly minted starters waste little time getting acclimated. But like so many aces before her, Thomas now faces the question of how far she can take a team.