UCLA Bruins looking for better in 2012
February, 1, 2012
02/01/12
11:31
PM ET
Editor's note: Graham Hays is counting down to the start of the 2012 college softball season with a look at each of the teams in his top 20. Check back daily for updates.

No. 7 UCLA
Last year: 36-19 overall, 9-12 Pac-12 (lost in Gainesville Regional)

Who returns: 2011 wasn't a season to remember for the Bruins, but there are a lot of people returning in 2012 who remember it. On the plus side, that means most of the hitters return from an offense that ranked in the top 20 nationally in slugging percentage and averaged 5.5 runs per game. Senior Andrea Harrison is the biggest bat of all, coming off a season in which she compiled a 1.280 OPS, including a .512 on-base percentage, and had almost as many home runs (15) as strikeouts (19). Currently tied for seventh in career home runs, she's just 16 shy of having third place to herself.
Sophomore Kellie Fox and junior B.B. Bates make it three returning players who hit double-digit home runs, while former All-American Katie Schroeder returns for a fifth year and provides a proven top-of-the-lineup presence. Harrison, Bates, Samantha Camuso and Dani Yudin are still around from the batting order coach Kelly Inouye-Perez filled out for the championship clincher in the 2010 World Series.
[+] Enlarge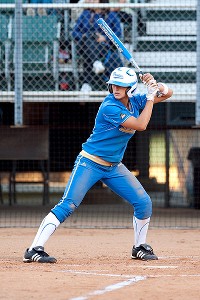 Don LiebigKatie Schroeder and the Bruins hope to improve upon a disappointing 2011 campaign.
Inouye-Perez said she expects sophomore Alyssa Tiumalu (an impressive .957 OPS as a freshman catcher) to play at some point in 2012, but the coach wouldn't put a timetable on the player's return from a torn ACL sustained in the NCAA tournament, other than to say Tiumalu is ahead of schedule.
Who departs: GiOnna DiSalvatore and Donna Kerr didn't get the ending they wanted, but that doesn't mean the Bruins won't miss the key senior departures from last season's team. DiSalvatore, back this season as a student assistant coach, finished her career sixth all time in hits for the Bruins. Kerr sometimes seemed on the verge of something more, but winning 65 games and striking out more than 700 batters in that uniform isn't anything to dismiss.
Who arrives: Seven freshmen fill out the roster, but all eyes will be on two of them, at least initially. Ally Carda is another in the long line of pitching-slugging dual threats for UCLA; she played for Team USA in the ISF Junior World Championship in South Africa in December. Stephany LaRosa could start at third base or a variety of infield positions but will play somewhere right away and make an impact in the batting order.
Preseason question: Can the Bruins get people out?

Take another look at the top line of this post. These are the Bruins, they of all those national titles, finishing on the wrong side of .500 in the Pac-10 and trekking across the country to play a top seed in a regional.
Maybe the Bruins weren't quite as potent at the plate as in seasons past, dropping more than a run per game from the national championship team of 2010 and finishing outside the top 10 nationally in runs per game for the first time in three seasons. But 5.5 runs per game, a .310 batting average and a .928 OPS mark aren't evidence of a weak link. They certainly didn't cover themselves in glory defensively, committing more than 50 errors (and more errors than their opponents), for the first time since 2007. But while both areas contributed to a lackluster outcome, this is still a sport built around the pitching circle.
Success or failure, at least by the Oklahoma City-based standards of this program, will come down to pitching. It doesn't need to be the best, but it needs to be better to compete in a conference with Dallas Escobedo, Kenzie Fowler, Jolene Henderson, Jessica Moore and others and a national scene loaded with aces like Whitney Canion, Keilani Ricketts and Chelsea Thomas.
The Bruins haven't posted a sub-2.00 team ERA since the 2008 season, and if that's going to change, Carda will likely have a lot do with it.
"She's powerful," Inouye-Perez said. "She has a great presence, she's got a great off-speed [pitch]. She's an all-around -- she'll be right in the thick of my lineup offensively. I think Ally Carda is going to have a great impact in 2012. There's a lot that we have to look forward to with Ally Carda."
It's not just Carda. Jessica Hall is another pitcher who will help her own cause at the plate, though her numbers as a freshman last season don't jump off the page. She struck out 114 in 137.2 innings and struggled a bit with control, walking 70 batters, en route to a 16-9 record and 2.59 ERA. But as is true for the team around her, there is hope that last season's lumps will pay dividends this time around.
"She wasn't slated to even have the ball in her freshman year, and what she was able to gain in that freshman year was great experience and great perspective that the game is the game," Inouye-Perez said. "She got the ball. She was the only one in the biggest parts of our season. So I look forward to the experience that she gained, that she almost didn't expect to gain and that she gained quickly. How she applies that in 2012 will be a big marker on how this team will compete. Jessica has all the tools. She has great speed; she has every pitch."
UCLA has most of the tools to get back to the World Series, including a season's worth of adversity to file away as experience. Now it needs to find out if Hall and Carda complete the set.