Arizona looks to Kenzie Fowler to lead way
February, 3, 2012
02/03/12
11:29
AM ET
Editor's note: Graham Hays is counting down to the start of the 2012 college softball season with a look at each of the teams in his Top 20. Check back daily for updates.

No. 6 Arizona
Last year: 43-18 overall, 11-10 Pac-10 (lost in Tucson Super Regional)

Who returns: As is so often the case at the program with a lineage that boasts the likes of Jennie Finch, Nancy Evans, Alicia Hollowell and others, the circle is the center of attention. A year before Arizona State ace Dallas Escobedo capped her freshman season with a national championship, Kenzie Fowler almost beat her to it with the Wildcats. Fowler was 38-9 with a 1.53 ERA as a freshman for the national finalist in 2010. Even though that season wasn't free of injury for someone with a long history of physical misfortune -- none more serious than a life-threatening battle with blood clots in high school -- it was less eventful than a sophomore season interrupted by a concussion at the height of conference play.
[+] Enlarge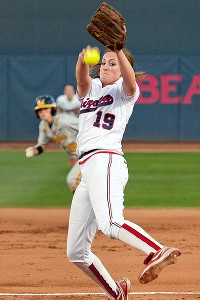 Courtesy of Arizona AthleticsArizona pitcher Kenzie Fowler is hoping for a season free of injury. The Wildcats are hoping for a return to the College World Series.
With that setback behind her, a new pitching coach on hand in Stacy Iveson and the experience of seeing teams adjust to her strengths last season, maybe, just maybe, Fowler will get a clean run to show just how good she can be if polishing her control (243 walks in two seasons) is the most adversity she confronts.
"Right now, it's just trying to get her balanced out between the mental side and the physical side," Arizona coach Mike Candrea said of Fowler's progression. "I think we're getting closer to that. We're not quite there yet, but I like what I see, and I think she's in a good place right now."
Four starters return around Fowler. Lini Koria (15 home runs, 1.032 OPS) and Brigette Del Ponte (17 home runs, 1.176 OPS) are the primary power bats, Karissa Buchanan (.472 on-base percentage, 11 stolen bases) adds elements of the short game, and Kristen Arriola (.908 OPS, eight errors in 61 games at second base) does a bit of everything.
Who departs: In a year in which so many top programs return almost intact, Arizona's three key departures represent significant upheaval. Brittany Lastrapes and Lauren Schutzler may have departed Tucson without a championship, a rarity for any class of Wildcats, but along with Stacie Chambers, who redshirted the 2007 championship season, they made a mark on the school's record books. Chambers and Lastrapes leave ranked among the top 10 in career home runs, while Schutzler never recorded a batting average worse than .353 in four seasons as a starter.
Who arrives: Arizona's newcomers are almost always an accomplished bunch, but this season offers a new twist on the theme. Along with the standard freshman class of prep superstars, the Wildcats add the proven All-American bat of senior Jessica Spigner. The Tennessee transfer was one of the SEC's best sluggers last season, finishing with 17 home runs and a .714 slugging percentage in addition to more walks (28) than strikeouts (27). Whether at third base, first base or even in the circle -- she totaled just 20 innings pitched in four seasons at Tennessee but was an accomplished high school pitcher in California -- she'll provide immediate assistance.
"The biggest thing for me is for her to have a lot of fun playing this game for her senior year," Candrea said. "Whatever happens, happens. I think she brings a lot to the table. She's a good player and, more importantly, a great kid."
Other new faces, all freshmen, likely to play major roles right away are outfielder Hallie Wilson and catcher Chelsea Goodacre. Shortstop Shelby Pendley may be a factor too. There's little doubt Candrea sees big things ahead for the powerful New Mexican, but an offseason knee injury put her immediate availability in doubt. Candrea said she's been participating fully in team activities and has convinced the medical staff she's ready to play.
Preseason question: Does Arizona have the right mix to be Arizona?

Only 15 players are listed on the Arizona roster, in sharp contrast to its rival in Tempe that won the national championship last season and often seems to have standing-room only in the dugout. That scarcity of extra bodies isn't because Candrea has difficulty convincing kids to play for him; it's just how he prefers to operate, to the extent that trimming last season's roster of 20 was an offseason goal.
The upside is more practice time and access to the coaches for each player (not to mention less potential for playing-time gripes). The downside is there isn't much margin for error.
Despite losing Chambers and Lastrapes, Candrea said this team can be better at the power game, adding the potential big bats of Goodacre, Wilson, Pendley and Spigner to the returning power. Just as important for a team that as recently as 2006 gave opponents nightmares with the short-game skills of Caitlin Lowe, Autumn Champion and Adrienne Acton, Arizona should be faster this season, with Buchanan, Wilson and redshirt freshman Chelsea Suitos leading the way.
"We have 15 quality people out there that can help us, that can perform," Candrea said. "With that 15, we have a lot of flexibility. That's what creates the depth. You take a Del Ponte, who can play third, play short, could play second, could play in the outfield, could catch if she needed to -- we've got some kids that are good athletes. For me, depth is only good if they're able to help you win a Pac-12 championship or national championship.
"I think this team, although it has not proven itself yet, I think the pieces of the puzzle are there."