Category archive:

Kansas State Wildcats
February, 16, 2011
02/16/11
8:25
AM ET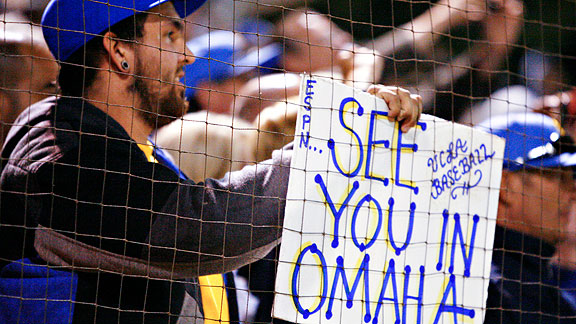 AP Photo/Jason RedmondUCLA earned the No. 1 national seed in our first attempt at predicting the NCAA tournament.
Are you ready for some baseball? Division I college baseball gets under way at 10 a.m. ET on Friday with the first two games of the Big East-Big Ten Baseball Challenge. If everything goes according to plan, one of the final games of opening weekend will feature Florida International's Garrett Wittels attempting to break Robin Ventura's 58-game hitting streak on ESPNU/ESPN3.com (Sunday, 7:30 p.m. ET).
While the first pitch of the season has yet to be thrown, it's never too early to start looking forward to June and the first College World Series at TD Ameritrade Park. Defending champion South Carolina lost its top two starting pitchers from last year's squad but returns a talented offensive core and has one of the best bullpens in the country. Last year's CWS field included several programs on the upswing. Arizona State was the only team from the 2009 field to return to Omaha in 2010; this year, the Sun Devils could be the only team not to earn a return trip to Nebraska. The talent level isn't down in Tempe, but unless the NCAA sanctions are reversed, ASU is barred from the postseason.
[+] Enlarge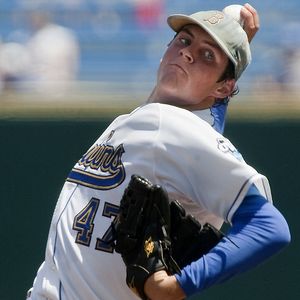 AP Photo/Nati HarnikESPN Preseason All-American Trevor Bauer leads a talented Bruins staff.
The 2011 season will see another change that could have an even bigger effect than the CWS' move three miles up 13th Street. College baseball is changing the specifications for aluminum bats from measuring the ball exit speed (BESR) to the coefficient of restitution (BBCOR). Early indications from fall practices are that power numbers will be down -- a lot. Small ball could become an even bigger part of the college game, which would favor several West Coast teams in a year when that region already appears to be extremely strong. Combined with the flipped orientation from Rosenblatt Stadium to TD Ameritrade Park -- where the wind is more likely to blow in than out -- pitching and clutch hitting could share the spotlight in late June.
Predicting the field, and especially the teams with the best chances at reaching Omaha, is tricky in mid-February. Using the 2010 preseason coaches' poll, only three of the top eight teams earned national seeds, and just two finished their season at Rosenblatt. Eventual national champion South Carolina and runner-up UCLA both started just outside the Top 25. High early-season expectations are usually enough to get into the tournament, as only East Carolina and Ohio State failed to make the field after appearing in the preseason Top 25.
This is the first time I've attempted to pick the field before the season started. My results at the end of last season were good but not great, but in some cases I favor my bracket to the official NCAA field. I was within one seed on six of the eight national seeds, overseeding Virginia by three spots and picking South Carolina over Georgia Tech for the final top-eight spot (with the way things played out, that looks like a good decision). Of the 34 at-large bids, I had 32 in my final bracket, and the two I omitted topped my "first nine out" section. California was my first team out (and most egregious miss, since it was the No. 2 seed in Norman) but went 0-2; Louisiana-Lafayette was my second team out and went 1-2 in the Austin Regional. The two teams from my bracket that missed regional play were Kentucky and Florida Gulf Coast; Kentucky had a solid RPI but missed the SEC tournament, while FGCU won the Atlantic Sun regular-season title in its first year of tournament eligibility behind ace Chris Sale but fell in the conference tournament. Of the 16 regional sites, I got two exactly right (Atlanta and Norwich) and three of four teams for three more (Auburn, Gainesville, Louisville).
Now that I've dispensed with the caveats, here's my initial projection:
Los Angeles Regional
No. 1 UCLA
San Diego
UC Irvine
Army

Conway Regional
Coastal Carolina
North Carolina
Ole Miss
Monmouth


Austin Regional
No. 8 Texas
Louisiana-Lafayette
Southern Miss
Wright State


Houston Regional
Rice
LSU
Texas State
Dartmouth


Fullerton Regional
No. 5 Cal State Fullerton
California
San Diego State
South Dakota State


Stanford Regional
Stanford
Fresno State
UC Riverside
Minnesota


Norman Regional
No. 4 Oklahoma
Arkansas
St. John's
Wichita State


New Britain Regional
Connecticut
Washington State
Auburn
Stony Brook


Fort Worth Regional
No. 3 TCU
Texas A&M
Arizona
Jackson State


Eugene Regional
Oregon
Georgia Tech
Kansas State
Rider


Nashville Regional
No. 6 Vanderbilt
Louisville
Nebraska
Kent State


Clemson Regional
Clemson
Baylor
Western Carolina
Charlotte


Charlottesville Regional
No. 7 Virginia
East Carolina
Liberty
James Madison


Columbia Regional
South Carolina
College of Charleston
Oregon State
Jacksonville State


Gainesville Regional
No. 2 Florida
Miami
Florida International
Florida Gulf Coast


Tallahassee Regional
Florida State
Alabama
Florida Atlantic
Bethune-Cookman
Last five in: Florida International, Nebraska, Western Carolina, San Diego State, Liberty
First nine out: Kentucky, Elon, NC State, Pittsburgh, Tulane, Oklahoma State, Cal Poly, Southeastern Louisiana, USC
With the exception of Arizona State, which is banned from the postseason, all the teams that played in the final CWS in Rosenblatt earn regional hosting assignments and No. 1 seeds, with the top four national seeds all gunning for a return to Omaha. The other four national seeds all fell 2-1 in super regionals last year, so this bracket is biased toward last year's elite teams. The road from opening day to Selection Monday is bumpy enough that the final field probably won't look like this, but there's a lot of returning talent from last year, and the top squads have reloaded quickly.
Eleven of the 30 conferences with automatic bids send more than one team to a regional. The usual suspects lead the charge, with the SEC (eight), Pac-10 (seven), ACC (six) and Big 12 (six) each in the running to send at least a half-dozen teams to the postseason. The Big East and Sun Belt seem poised to send three teams to a regional for the second straight year, while Conference USA and the Big West should pick up a third bid after only nabbing two last season. For the three conferences slated for two bids, there's one clear leader and one bubble team: Coastal Carolina (Big South), TCU (Mountain West) and College of Charleston (Southern) should be locks to make the field, but Liberty, San Diego State and Western Carolina could be on the wrong side of the bubble if they don't secure automatic bids.
[+] Enlarge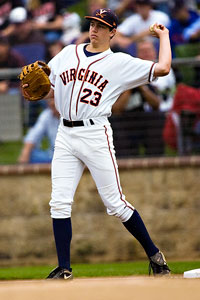 Darryl Dennis/Icon SMIDanny Hultzen and the Cavs are focused on getting to Omaha this season.
Connecticut has the talent to earn a national seed, but the Huskies are in uncharted territory. Last year's great northern hope was Ohio State, and the Buckeyes failed to qualify for the Big Ten tournament after starting the year in the Top 25. UConn needs to overcome a tough early-season trip to California and a bull's-eye on its back during Big East play; that will make the Huskies stronger for postseason play but could cost them some wins and a top spot.
The order of finish for the SEC is always tough to determine, especially considering how quickly a strong recruiting class can pay dividends. Odds are that the eight teams that reach the SEC tournament in Hoover, Ala., will still be playing in June, but at this point it's hard to count any of the 12 teams out. The top three teams coming into the season are all in the Eastern Division, and it's unlikely that three teams from the same division would all earn national seeds -- much like the early part of the season last year, South Carolina draws the short straw.
The top half of the ACC seems more clear-cut, with Virginia, Florida State and Clemson jockeying for a national seed. Danny Hultzen and six returning hitters give Virginia an early advantage, but the Seminoles and Tigers aren't far behind. At least one of those teams should earn a top-eight spot, with the other two battling for the final spot with the SEC third-place team, the Big 12 second-place team and Connecticut.
The biggest issues for the Pac-10 could be the depth of the conference and Arizona State's postseason ban. The Sun Devils should still pile up wins this year, and every conference win is a lost opportunity for the other Pac-10 schools. The conference won't match its eight bids from last season; seven bids seems most likely, but if ASU sweeps any of the middle-of-the-pack teams, six bids is a possibility.
Three and a half months of action on the field before the NCAA tournament field is announced. Let the games begin!
Jeremy Mills is a researcher for ESPN and is a contributor to ESPN.com's college baseball coverage.
Follow ESPN.com's college sports coverage on Twitter: @ESPN_College and on Facebook.
June, 2, 2009
06/02/09
1:14
AM ET
HOUSTON -- After a crushing defeat Saturday night placed Rice's season in jeopardy, Owls coach Wayne Graham still felt good about his team's chances to keep playing for a long time.
Even if it meant climbing out of the losers' bracket and claiming three games over the next two days, Graham believed his veteran team had the gumption to do just that.
"I think this team likes each other so well, they just didn't want to quit playing," Graham said.
The Owls proved their venerable 73-year-old coach a prophet, culminating with a 13-4 victory over Kansas State on Monday to complete a dramatic sweep of their final three games of the Houston Regional.
"It's always great to win, but it's even better when you come out of the losers' bracket," Graham said. "I think it speaks to the character of this team."
Rice matched its season high with 20 hits, ripping through a wilting KSU bullpen. The Owls put the game away with a six-run fourth inning punctuated by a long, three-run homer by catcher Diego Seastrunk, who had struggled most of the second half of the season.
As he continued to battle his way out of a frustrating 8-for-57 slump, Seastrunk was thankful merely to be playing at his lowest moments.
"It's definitely been a struggle this year, and I'm thankful that Coach Graham kept me in the lineup," Seastrunk said. "He could have easily put me on the bench because I wasn't producing for the team."
That confidence paid off when Seastrunk started hitting during the final two weeks of the regular season. It carried over into the Conference USA tournament and into the playoffs, where his team most needed it.
Seastrunk was one of Rice's most consistent players in the regional, hitting .318 with two homers and seven RBIs during the Owls' five tournament games.
The Owls received contributions up and down the lineup in Monday's victory. Five players collected at least three hits, and Rick Hague and Seastrunk each had three RBIs.
And their depleted bullpen -- supposedly the team's biggest weakness -- got a lift from freshman right-hander Matthew Reckling. In Reckling's last four games coming into the tournament, he had an ERA of 24.30 with more than twice as many walks as strikeouts.
But those struggles didn't faze him when he had an opportunity to rescue his team's season while pitching in the ballpark named for his grandfather.
"I was just waiting for my opportunity because I knew I was coming off a pretty bad outing and wanted to make up for it," said Reckling, who limited the Wildcats to a pair of unearned runs and three hits in his four-inning stint to earn the victory. "I knew the team needed me. I just tried to pound the fastball and let that incredible defense behind me work."
The victory boosted Rice (43-16) into the super regionals for the fifth straight season. The Owls will meet up with LSU in an intriguing battle between two of the nation's traditional powers. The best-of three series will start Friday night in Baton Rouge, La.
The Owls have been to nine super regionals since the format was adopted in 1999. Only Miami and Florida State have been to that many during that span.
That winning history seemed to help them subdue the upstart Wildcats in the regional. In the past two games against KSU, the Owls outscored the Wildcats 21-4 and showed that experience in college baseball's biggest games clearly helps.
"I think they changed their approach starting last night," KSU coach Brad Hill said. "You could see guys starting hitting the ball to right field like they hadn't done in the first few games. They hitters made adjustments, and that gave us some problems."
And Hill didn't discount the lift the Owls got from Graham, who has been around the block a time or two in tournament play.
"That coach over there has a lot of wins," Hill said. "I'm sure he was coaching them along the way to help them figure that out."
Kansas State's loss capped the biggest season in the 109-year history of the program. The Wildcats, who were picked to finish ninth in the Big 12 before the season, finished off a 43-18-1 campaign in which they made their first tournament berth.
Hill acknowledged the magnitude of their accomplishment when he removed key players Justin Bloxom, Drew Biery, Jordan Cruz, Rob Vaughn and Dane Yelovich while they were playing defense with one out in the eighth inning. The sellout crowd of 4,589 -- mostly Rice fans -- responded by giving the KSU players a long standing ovation.
"It was a pretty emotional time for me," Hill said. "It hits hard what these guys have done. These guys did something that people have been trying to do for 109 seasons at Kansas State. I thought they deserved a little credit."
And it was even more touching for the players.
"Those Rice fans had been heckling us all weekend, and for them to do that [the standing ovation] really meant a lot to us," said Vaughn, who played high school baseball in nearby Humble, Texas. "It's something I can honestly say I'll never forget."
June, 1, 2009
06/01/09
10:10
PM ET
HOUSTON -- Experience in big games paid off for Rice.
The Owls earned their fifth straight trip to the super regionals with a 13-4 throttling of Kansas State on Monday night in the championship game of the Houston Regional.
The Owls (43-16) had to climb out of the losers' bracket to get there. But after having their 13-game winning streak in regional games snapped earlier in the tournament, they climbed out of the losers' bracket by winning two games Sunday and the game Monday night.
The loss ends the most successful season in KSU history. The Wildcats finish at 43-18-1 after making their first trip to the NCAA tournament in the 109 seasons of the school's baseball program.
Monday's game was a clinic in situational hitting. Timing was the difference for the Owls, as they collected 12 hits in 25 at-bats with runners on base and 10 hits in 20 tries with runners in scoring position.
Michael Fuda and Jimmy Comerota collected four hits apiece to spark Rice's 20-hit attack against six KSU pitchers.
I'll be back with much more after checking with both teams after the game.
June, 1, 2009
06/01/09
9:40
PM ET
HOUSTON -- Rice added a couple more runs to push its lead over Kansas State to 11-4 after seven innings in the Houston Regional championship game.
Reliever Matthew Reckling limited KSU to two unearned runs in 3 2/3 innings of work after he replaced starter Mark Haynes with two outs in the third inning.
Reckling lasted until KSU added two runs in seventh. He was replaced by Jordan Rogers, who got the last out of the inning.
That work has helped support the 16-hit Rice attack, which includes five players with at least two hits. Brock Holt, Rick Hague, Michael Fuda and Jimmy Comerota have three hits, and Hague and Diego Seastrunk have three RBIs.
The Owls appear poised to finish off the victory and make their fifth straight trip to the super regionals. They would face LSU in the next round of the tournament, starting Friday in Baton Rouge, La.
June, 1, 2009
06/01/09
8:40
PM ET
HOUSTON -- A three-run homer by Rice catcher Diego Seastrunk punctuated a six-run uprising that boosted the Owls to an 8-2 lead after four innings.
Seastrunk jumped on a hanging curveball from reliever James Allen and spanked it deep into the woods over the right-field wall to spark the fourth-inning rally.
Earlier, the Owls had chased Kansas State starter Thomas Rooke with an infield hit by Michael Fuda and Chad Mozingo's walk.
After the pitching change, Rice scored runs on a throwing error by KSU third baseman Jason King and RBI singles by Brock Holt and Rick Hague.
The Owls are receiving solid relief help from freshman reliever Matthew Reckling, whose grandfather is the namesake for the ballpark where the tournament is taking place.
Most important of all, the Owls have ace pitcher Ryan Berry ready for relief if needed.
June, 1, 2009
06/01/09
8:10
PM ET
HOUSTON -- Kansas State has battled back after falling behind early to forge a 2-2 tie with Rice after three innings in the championship game of the Houston Regional.
Rice jumped to a quick 2-0 lead in the first inning. Leadoff hitter Brock Holt doubled and scored when Rick Hague followed with an RBI single. Hague scored later in the inning on Michael Fuda's sacrifice fly.
But KSU kept pecking away. Jason King's leadoff homer in the second inning pulled the Wildcats within 2-1. And they added another run and chased Rice starter Mark Haynes, who struggled with control when he hit two straight batters to load the bases. Haynes appeared to have pitched his way out of problems by coaxing slow-footed KSU first baseman Justin Bloxom into bouncing into an apparent inning-ending double play. But Haynes was slow to leave the pitching mound to cover first, allowing Adam Muenster to score.
After some early struggles, KSU starting pitcher Thomas Rooke has settled down. After allowing hits to the first two batters, Rooke has allowed just one hit in the rest of the game.
The weather appears to have cleared, so it should not be a factor for the rest of the game.
June, 1, 2009
06/01/09
7:05
PM ET
HOUSTON -- Kansas State coach Brad Hill isn't sure how his team will respond to its regional championship game tonight at Reckling Park.
It will be interesting to see how much experience plays a role in tonight's game. The Wildcats are making their first NCAA tournament berth in school history. Rice will be playing for a shot at the NCAA super regionals for the ninth time in the past 11 seasons.
Hill and his players said the Wildcats appeared tentative Sunday night in their 8-0 loss to the Owls that forced Monday's elimination game.
And he's hoping those struggles will serve as inspiration for a better performance in their second shot at wrapping up a trip to the super regionals.
"They are just going to have to make their minds up," Hill said. "They have to walk out there believing they can win a game."
Combating Rice's experience in big games might be his team's biggest challenge, Hill said.
"This team has accomplished a lot of breakthrough things," Hill said. "We've been the first to do this or that. I'm hoping this club will be the one who can do it. But you could see a difference between those who are used to it and our club that wasn't."
The Owls have made three straight trips to the College World Series and five in the past seven seasons. But Rice coach Wayne Graham will be reaching deep in his staff for his starting pitcher.
Junior right-hander Mark Haynes will be making only his third start of the season for the Owls and first since beating Marshall on April 19. He hasn't pitched since May 16.
Kansas State will counter with sophomore left-hander Thomas Rooke, who will be making his first start of his college career. Rooke, who is from nearby Spring, Texas, limited Rice without a hit in one inning of relief last night.
There are some angry black clouds kicking up over the right-field fence and there's a 20 percent chance of rain. Hopefully we can get this game in tonight.
Here are the starting lineups. Kansas State is the visiting team.
Kansas State (43-17-1)
DH Adam Muenster
2B Carter Jurica
LF Nick Martini
1B Justin Bloxom
3B Jason King
SS Drew Biery
RF Jordan Cruz
C Rob Vaughn
CF Dane Yelovich
LHP Thomas Rooke
Rice (42-16)
2B Brock Holt
SS Rick Hague
C Diego Seastrunk
3B Anthony Rendon
CF Steven Sultzbaugh
LF Michael Fuda
RF Chad Mozingo
1B Jimmy Comerota
DH Jeremy Rathjen
RHP Mark Haynes
Umpires:
HP: Mark Chapman
1B: Jack Cox
2B: Dave Savage
3B: Joe Marion
Here are the weather conditions at the first pitch: mostly cloudy skies, 82 degrees, 58 percent relative humidity, winds from the east at 10-14 mph.
May, 31, 2009
05/31/09
11:28
PM ET
HOUSTON -- One program has been in this situation many times before. The other one hasn't.
Kansas State coach Brad Hill said the Wildcats' lack of big-game experience might have finally caught up with them after Rice claimed an 8-0 victory Sunday night that extended their season for one more game.
[+] Enlarge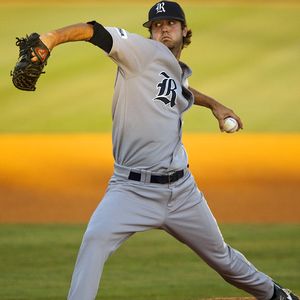 AP Photo/Houston Chronicle/Smiley N. PoolTaylor Wall's complete-game shutout powered Rice's victory over Kansas State.
"What you saw tonight was a program and club that's been here before and another club that has not," Hill said. "That's exactly what it looked like tonight."
After hitting .400 and pounding out 23 runs and 30 hits in the first two games of the tournament, the Wildcats were flummoxed by Rice freshman pitcher Taylor Wall. KSU matched a season low with only three hits in Rice's first complete-game shutout in NCAA tournament play in nearly seven years.
"It was a tough night for the hitters," KSU right fielder Jordan Cruz said. "The pitcher came out and did a great job of spotting his pitches. But I don't know if it's as much him pitching or us being a little bit nervous at the plate."
When pressed, Cruz admitted that the magnitude of the game might have had a part in his team's struggles.
"You don't want to come out and say it, but nerves obviously were a problem for us in the way we came out and played," Cruz said. "We played hard, but we didn't play like we usually do. That was obvious for nine innings."
Rice has been in this position many times before. The Owls are making their 13th straight trip to the NCAA tournament, compared to Kansas State's first NCAA tournament berth in the 109-season history of the program. The Owls have made the College World Series each of the last three seasons and have qualified for the super regionals in eight of the last 10 seasons.
Whether that will give Rice an extra boost in Monday's winner-take-all regional final remains to be seen. But it was clear that history did provide the Owls with confidence while their backs were against the wall on Sunday -- especially playing in their home ballpark.
"We do have people who have been in this situation before," Rice coach Wayne Graham said. "And hopefully, that will be helpful tomorrow."
Wall threw only his second complete game of the season as he handcuffed the Wildcats throughout the game.
His season, like that of most freshmen, has been marked with ups and downs. But his effort Sunday night showed he is learning some lessons by pitching in college baseball.
Specifically, he said he learned something by carefully examining the Wildcats' hitters during their victory over Rice on Saturday.
"They were aggressive very early in the count," said Wall, who had 78 strikes among his 116 pitches. "You had to mix up your pitches and keep them off balance, throw strikes and go right after them."
And he was particularly tough with runners on base as KSU's leadoff hitter reached on four occasions. But Wall always seemed to have something extra as he repeatedly pitched out of the jams.
Coupled with an earlier complete-game victory by Jared Rogers, Graham was able to camouflage his team's lack of a bullpen.
"Today was everything we could have hoped for," Graham said.
Wall said he was inspired by Rogers' effort earlier in the day.
"He really pitched well for us and it was a big boost for us," Wall said. "We had our back against the wall all day."
The victory was punctuated by a three-run pinch homer by Jess Buenger, a starter for the Owls' College World Series team two years ago who has struggled with injuries since that season and never regained his spot in the lineup.
Buenger jumped on a fat 2-0 fastball and ripped it more than 400 feet over the right field wall for his first home run of the season.
"There were a few of us who teared up a little bit. That was quite a moment," Graham said. "That was one of those 10 balls a year you hit right on the screws. It was great."
Graham is not sure who will be his starter tomorrow. He might try a piecemeal approach in order to get the game into the late innings where he would use ace Ryan Berry down the stretch.
"We're going to have a summit meeting in a little while," Graham said, grinning. "We'll go with a strike thrower. And that list isn't very long."
Hill said he is "weighing his options" as he decided on a starter for the biggest game in school history. He said his likely options include Thomas Rooke or James Allen -- neither of whom have started a game this season.
"We have two or three options to look at," Hill said. "I'm sure we'll have to be ready to go quick because you can't afford a big inning tomorrow."
May, 31, 2009
05/31/09
9:25
PM ET
HOUSTON -- After watching Jared Rogers' complete-game victory earlier in the day, Rice pitcher Taylor Wall decided to trump his teammate later in the day.
Wall's first shutout of the season helped the Owls (42-16) claim an 8-0 victory over Kansas State in an elimination game for the Owls on Sunday night.
The triumph, set up by Rogers' clutch pitching in the earlier game on Sunday afternoon, boosted the Owls into a winner-take-all game against KSU (43-17-1) Monday night.
Wall scattered three hits in picking up his second complete game and second shutout of the season. He punctuated his strong effort by striking out Nick Martini for the final out of the game, finishing with four strikeouts and one walk in his 116-pitch effort.
He was especially tough late in the game when he finished by retiring the final nine batters he faced with three of his strikeouts in that flourish.
Rice pounded out 11 hits against five KSU pitchers, punctuated by a three-run homer by pinch hitter Jess Buenger in the eighth inning.
May, 31, 2009
05/31/09
8:59
PM ET
HOUSTON -- Rice left-hander Taylor Wall appears intent on making sure his team will have at least one more game this season.
Wall is providing a masterful performance as he's limited Kansas State to three hits through seven innings as the Owls lead 5-0.
In his last six innings, KSU's leadoff hitter reached base in four of them. But Wall has been up for the challenge as he's thrown 92 pitches -- 62 for strikes.
Anthony Rendon and Chad Mozingo lead Rice's hitting attack with two RBIs apiece. The Owls have pounded out eight hits against five KSU pitchers.
Unless KSU has a remarkable rally in it, it looks like we'll be back for more tomorrow night.