Category archive:

California Golden Bears
February, 16, 2011
02/16/11
8:25
AM ET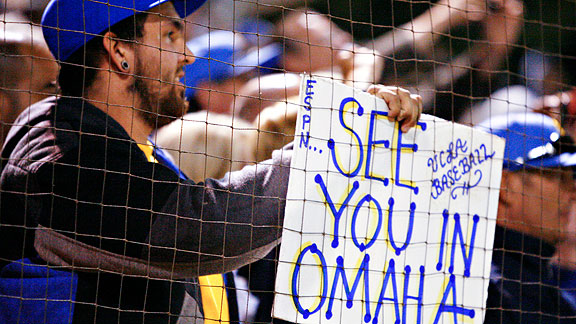 AP Photo/Jason RedmondUCLA earned the No. 1 national seed in our first attempt at predicting the NCAA tournament.
Are you ready for some baseball? Division I college baseball gets under way at 10 a.m. ET on Friday with the first two games of the Big East-Big Ten Baseball Challenge. If everything goes according to plan, one of the final games of opening weekend will feature Florida International's Garrett Wittels attempting to break Robin Ventura's 58-game hitting streak on ESPNU/ESPN3.com (Sunday, 7:30 p.m. ET).
While the first pitch of the season has yet to be thrown, it's never too early to start looking forward to June and the first College World Series at TD Ameritrade Park. Defending champion South Carolina lost its top two starting pitchers from last year's squad but returns a talented offensive core and has one of the best bullpens in the country. Last year's CWS field included several programs on the upswing. Arizona State was the only team from the 2009 field to return to Omaha in 2010; this year, the Sun Devils could be the only team not to earn a return trip to Nebraska. The talent level isn't down in Tempe, but unless the NCAA sanctions are reversed, ASU is barred from the postseason.
[+] Enlarge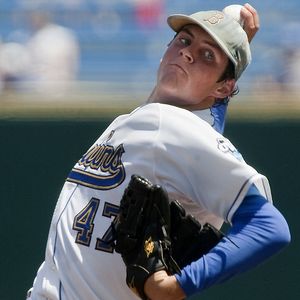 AP Photo/Nati HarnikESPN Preseason All-American Trevor Bauer leads a talented Bruins staff.
The 2011 season will see another change that could have an even bigger effect than the CWS' move three miles up 13th Street. College baseball is changing the specifications for aluminum bats from measuring the ball exit speed (BESR) to the coefficient of restitution (BBCOR). Early indications from fall practices are that power numbers will be down -- a lot. Small ball could become an even bigger part of the college game, which would favor several West Coast teams in a year when that region already appears to be extremely strong. Combined with the flipped orientation from Rosenblatt Stadium to TD Ameritrade Park -- where the wind is more likely to blow in than out -- pitching and clutch hitting could share the spotlight in late June.
Predicting the field, and especially the teams with the best chances at reaching Omaha, is tricky in mid-February. Using the 2010 preseason coaches' poll, only three of the top eight teams earned national seeds, and just two finished their season at Rosenblatt. Eventual national champion South Carolina and runner-up UCLA both started just outside the Top 25. High early-season expectations are usually enough to get into the tournament, as only East Carolina and Ohio State failed to make the field after appearing in the preseason Top 25.
This is the first time I've attempted to pick the field before the season started. My results at the end of last season were good but not great, but in some cases I favor my bracket to the official NCAA field. I was within one seed on six of the eight national seeds, overseeding Virginia by three spots and picking South Carolina over Georgia Tech for the final top-eight spot (with the way things played out, that looks like a good decision). Of the 34 at-large bids, I had 32 in my final bracket, and the two I omitted topped my "first nine out" section. California was my first team out (and most egregious miss, since it was the No. 2 seed in Norman) but went 0-2; Louisiana-Lafayette was my second team out and went 1-2 in the Austin Regional. The two teams from my bracket that missed regional play were Kentucky and Florida Gulf Coast; Kentucky had a solid RPI but missed the SEC tournament, while FGCU won the Atlantic Sun regular-season title in its first year of tournament eligibility behind ace Chris Sale but fell in the conference tournament. Of the 16 regional sites, I got two exactly right (Atlanta and Norwich) and three of four teams for three more (Auburn, Gainesville, Louisville).
Now that I've dispensed with the caveats, here's my initial projection:
Los Angeles Regional
No. 1 UCLA
San Diego
UC Irvine
Army

Conway Regional
Coastal Carolina
North Carolina
Ole Miss
Monmouth


Austin Regional
No. 8 Texas
Louisiana-Lafayette
Southern Miss
Wright State


Houston Regional
Rice
LSU
Texas State
Dartmouth


Fullerton Regional
No. 5 Cal State Fullerton
California
San Diego State
South Dakota State


Stanford Regional
Stanford
Fresno State
UC Riverside
Minnesota


Norman Regional
No. 4 Oklahoma
Arkansas
St. John's
Wichita State


New Britain Regional
Connecticut
Washington State
Auburn
Stony Brook


Fort Worth Regional
No. 3 TCU
Texas A&M
Arizona
Jackson State


Eugene Regional
Oregon
Georgia Tech
Kansas State
Rider


Nashville Regional
No. 6 Vanderbilt
Louisville
Nebraska
Kent State


Clemson Regional
Clemson
Baylor
Western Carolina
Charlotte


Charlottesville Regional
No. 7 Virginia
East Carolina
Liberty
James Madison


Columbia Regional
South Carolina
College of Charleston
Oregon State
Jacksonville State


Gainesville Regional
No. 2 Florida
Miami
Florida International
Florida Gulf Coast


Tallahassee Regional
Florida State
Alabama
Florida Atlantic
Bethune-Cookman
Last five in: Florida International, Nebraska, Western Carolina, San Diego State, Liberty
First nine out: Kentucky, Elon, NC State, Pittsburgh, Tulane, Oklahoma State, Cal Poly, Southeastern Louisiana, USC
With the exception of Arizona State, which is banned from the postseason, all the teams that played in the final CWS in Rosenblatt earn regional hosting assignments and No. 1 seeds, with the top four national seeds all gunning for a return to Omaha. The other four national seeds all fell 2-1 in super regionals last year, so this bracket is biased toward last year's elite teams. The road from opening day to Selection Monday is bumpy enough that the final field probably won't look like this, but there's a lot of returning talent from last year, and the top squads have reloaded quickly.
Eleven of the 30 conferences with automatic bids send more than one team to a regional. The usual suspects lead the charge, with the SEC (eight), Pac-10 (seven), ACC (six) and Big 12 (six) each in the running to send at least a half-dozen teams to the postseason. The Big East and Sun Belt seem poised to send three teams to a regional for the second straight year, while Conference USA and the Big West should pick up a third bid after only nabbing two last season. For the three conferences slated for two bids, there's one clear leader and one bubble team: Coastal Carolina (Big South), TCU (Mountain West) and College of Charleston (Southern) should be locks to make the field, but Liberty, San Diego State and Western Carolina could be on the wrong side of the bubble if they don't secure automatic bids.
[+] Enlarge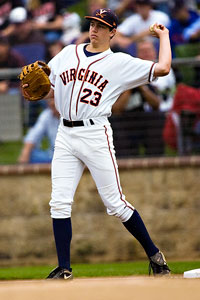 Darryl Dennis/Icon SMIDanny Hultzen and the Cavs are focused on getting to Omaha this season.
Connecticut has the talent to earn a national seed, but the Huskies are in uncharted territory. Last year's great northern hope was Ohio State, and the Buckeyes failed to qualify for the Big Ten tournament after starting the year in the Top 25. UConn needs to overcome a tough early-season trip to California and a bull's-eye on its back during Big East play; that will make the Huskies stronger for postseason play but could cost them some wins and a top spot.
The order of finish for the SEC is always tough to determine, especially considering how quickly a strong recruiting class can pay dividends. Odds are that the eight teams that reach the SEC tournament in Hoover, Ala., will still be playing in June, but at this point it's hard to count any of the 12 teams out. The top three teams coming into the season are all in the Eastern Division, and it's unlikely that three teams from the same division would all earn national seeds -- much like the early part of the season last year, South Carolina draws the short straw.
The top half of the ACC seems more clear-cut, with Virginia, Florida State and Clemson jockeying for a national seed. Danny Hultzen and six returning hitters give Virginia an early advantage, but the Seminoles and Tigers aren't far behind. At least one of those teams should earn a top-eight spot, with the other two battling for the final spot with the SEC third-place team, the Big 12 second-place team and Connecticut.
The biggest issues for the Pac-10 could be the depth of the conference and Arizona State's postseason ban. The Sun Devils should still pile up wins this year, and every conference win is a lost opportunity for the other Pac-10 schools. The conference won't match its eight bids from last season; seven bids seems most likely, but if ASU sweeps any of the middle-of-the-pack teams, six bids is a possibility.
Three and a half months of action on the field before the NCAA tournament field is announced. Let the games begin!
Jeremy Mills is a researcher for ESPN and is a contributor to ESPN.com's college baseball coverage.
Follow ESPN.com's college sports coverage on Twitter: @ESPN_College and on Facebook.