Category archive:

Arizona State Sun Devils
June, 6, 2011
06/06/11
1:23
AM ET
TEMPE, Ariz. -- It sure would be interesting if the glacial pace of the NCAA appeals process ended up allowing Arizona State to win its first baseball national championship since 1981.
With the appeal of its one-year postseason ban handed down in mid-December still undecided at the end of the regular season, top-seeded Arizona State earned a postseason berth with its play and then made things look easy this weekend in Tempe, winning its final two games by a combined count of 29-5, including a 13-4 win over second-seeded Arkansas on Sunday night that will send the Sun Devils to an NCAA tournament super regional.
"This journey is not easy," ASU coach Tim Esmay said, "but we are embracing it."
The No. 2 Razorbacks yielded a seven-run sixth inning, which mostly ended any potential intrigue. The evening before, ASU rolled over Charlotte 16-1.
After needing a walk-off home run to dispatch New Mexico on Friday, the Sun Devils simply opened a can of whoop-butt, at the plate and on the hill. They belted 32 hits versus 10 from their final two opponents, including a 13-2 advantage in extra-base hits.
The pitching was as good as the hitting. Mitchell Lambson, the Sun Devils' closer, who was making his 100th career appearance, allowed four runs and seven hits in 6.1 innings, with nine strikeouts and three walks.The night before, Kramer Champlin allowed no runs and one hit over seven innings with nine strikeouts
Oh, by the way, Arizona State has won 21 regional games in a row at Packard Stadium. It will head to the super regional looking for its third consecutive appearance in the College World Series.
The Sun Devils spent all season in limbo, not knowing whether they'd be able to play in the postseason. That could have been a distraction. But they were able to focus enough to finish tied for second in the Pac-10 with Oregon State, which also has advanced to a super regional.
"We were hoping all season but we really didn't know until the last weekend," Lambson said.
Arkansas (40-22) had little trouble with Charlotte, winning 11-3 in the early-afternoon elimination game, but it's likely that playing a double-header in 105-degree temperature affected the Razorbacks' play, even though they rallied from a 13-1 seventh-inning deficit to make the score more respectable.
"We're not going to use that as an excuse," Arkansas coach Dave Van Horn said of playing two games. "We were a little bit sluggish. ... I think Arizona State was just a little bit better."
Arkansas starter Barrett Astin lasted just three innings. The Razorbacks struck out 10 times and didn't play well in the field, although they were charged with only one error.
The Sun Devils (42-16) jumped on the Razorbacks early. Pac-10 batting champ Joey DeMichele, the regional MVP, who belted the game-winning dinger Friday, ripped a two-run home run in the first, and it was 3-0 after two. Things settled down until the sixth, when 12 Sun Devils batted, using six hits and a walk to score seven.
DeMichele finished with four RBIs. Johnny Ruettiger, Riccio Torrez and Andrew Aplin had two apiece.
It's hard to imagine too many teams will emerge from their regionals playing much better than Arizona State. The team that didn't think it would be here because of off-field issues is taking care of business on the field.
June, 5, 2011
06/05/11
1:56
AM ET
TEMPE, Ariz. -- Arizona State looked mostly awful through eight innings against New Mexico on Friday. Then second-year skipper Tim Esmay went all Tasmanian devil about a dubious interference call at first base after a sacrifice bunt. The umpire, not without justification, sent Esmay packing.
Since that managerial eruption, however, the Sun Devils have been hotter than the temperatures in Tempe.
A walk-off three-run home run did in New Mexico, but Arizona State used simple dominance, not holy-cow dramatics, to dispatch Charlotte16-1 in the second round of the double-elimination Tempe Regional.
Pitching? Starter Kramer Champlin allowed no runs and one hit over seven innings with nine strikeouts.
Hitting? The Sun Devils sent 10 to the plate in a five-run fourth, which was highlighted by a three-run home run to left field from catcher Xorge Carrillo and a triple that scored two from third baseman Riccio Torrez. And that was just the beginning. Six players had multi-hit games and eight drove in runs. Carrillo went 5-for-6 with three RBI. Torrez drove in four runs on two hits. Eight of the Sun Devils 19 hits went for extra bases.
Defense? Well, the Sun Devils had three meaningless errors, but center fielder Andrew Aplin had the best diving catch in the eighth inning you likely will never see.
So was this sudden manifestation of baseball pyrotechnics a pure coincidence? Or did Esmay manufacture a moment of motivational brilliance, concocting a tantrum in order to ignite a conflagration inside these Devils? Or is this just the labored effort of a sportswriter trying to write something about a game devoid of intrigue almost from the starting bell?
"That was not calculated," Esmay said. "But good response today."
Top-seeded Arizona State (41-16) will play the winner of the Arkansas-Charlotte elimination game Sunday at 9:30 p.m. (ET). The Razorbacks or 49ers have the unenviable task of playing at 4 p.m. Sunday -- 1 p.m. local time -- in triple-digit temperatures before turning around and facing the Sun Devils in another elimination game a few hours later.
Charlotte, which fell to 43-15, entered the postseason ranked third in the nation in earned run average (2.43), and Andrew Smith shut down the Razorbacks on Friday. Starter Tyler Barnette, now 9-2, owned a 1.96 ERA before getting chased after just three innings, surrendering four runs and five hits with two walks and no strikeouts.
"That was about as poorly as we've played in a long time," Charlotte coach Loren Hibbs said. "We just never could get into a rhythm. We kind of ran into a wall tonight."
It was not a great night for the 49ers. It couldn't have been much better for the Sun Devils.
June, 4, 2011
06/04/11
1:25
AM ET
TEMPE, Ariz. -- Sometimes the fairy tale ends with the devil getting its due.
Fourth-seeded New Mexico, behind a shockingly good performance from pitcher Rudy Jaramillo, was on the cusp of upsetting homestanding and top-seeded Arizona State in the Tempe regional. The Lobos held a 2-1 lead heading into the bottom of the ninth against a team that was 18-0 in NCAA regionals played in Packard Stadium since 2003.
But then a controversial call went against Arizona State -- Deven Marrero was called for interference on a sacrifice bunt that appeared to leave both runners safe -- and Sun Devils skipper Tim Esmay blew a gasket and got tossed by umpire John Haggerty.
The Devils awoke.
"We all got riled up," Sun Devils starting pitcher Brady Rodgers said. "There was a certain energy. The dugout exploded."
And so did the ball off Joey DeMichele's bat. His walk-off, three-run home run to right field gave Arizona State a 4-2 victory and a berth in the winners' bracket opposite Charlotte on Saturday night at 10 p.m. (ET).
DeMichele belted a low curve ball from reliever Gera Sanchez that New Mexico skipper Ray Birmingham said was supposed to be in the dirt.
"It was pretty low but it wasn't in the dirt. I like low pitches," DeMichele said.
The swat ended Jaramillo and the Lobos budding Cinderella story. Jaramillo attended Marcos de Nize High School, and said he was motivated by facing the hometown team that didn't recruit him.
And so a guy who entered the game with a 4-7 record and 4.46 ERA had a no hitter through five innings -- he ended up surrendering just two runs and four hits in eight innings with four strikeouts -- and almost got his vindicating moment.
As for the Lobos, they fell to 20-40 -- having only earned an NCAA tournament berth due to winning the Mountain West Conference tournament. They, by the way, ended the regular season with a seven-game losing streak before winning four consecutive games -- including two over nationally ranked TCU -- to earn their automatic invitation. Further, ASU previously swept the Lobos in a season-opening, three-game series, outscoring them 23-8.
Rodgers did his part for the Sun Devils, though he didn't get the win. He went eight innings, striking out 10, while giving up two runs and five hits. DeMichele had all four of the Sun Devils RBIs
The Sun Devils improved to 40-16 in what has proven to be an odd season. They take another step forward in a postseason that almost wasn't, due to NCAA penalties that included a one-year postseason ban. But because their appeal of sanctions has yet to be ruled on, they are still playing.
And winning.
February, 16, 2011
02/16/11
8:25
AM ET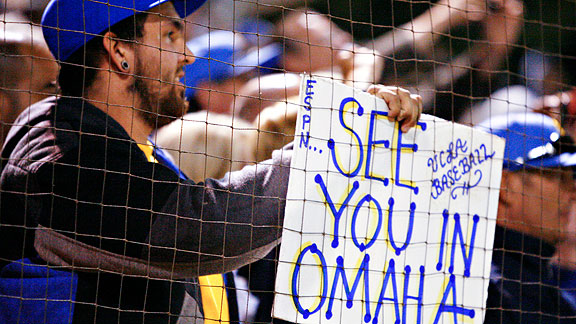 AP Photo/Jason RedmondUCLA earned the No. 1 national seed in our first attempt at predicting the NCAA tournament.
Are you ready for some baseball? Division I college baseball gets under way at 10 a.m. ET on Friday with the first two games of the Big East-Big Ten Baseball Challenge. If everything goes according to plan, one of the final games of opening weekend will feature Florida International's Garrett Wittels attempting to break Robin Ventura's 58-game hitting streak on ESPNU/ESPN3.com (Sunday, 7:30 p.m. ET).
While the first pitch of the season has yet to be thrown, it's never too early to start looking forward to June and the first College World Series at TD Ameritrade Park. Defending champion South Carolina lost its top two starting pitchers from last year's squad but returns a talented offensive core and has one of the best bullpens in the country. Last year's CWS field included several programs on the upswing. Arizona State was the only team from the 2009 field to return to Omaha in 2010; this year, the Sun Devils could be the only team not to earn a return trip to Nebraska. The talent level isn't down in Tempe, but unless the NCAA sanctions are reversed, ASU is barred from the postseason.
[+] Enlarge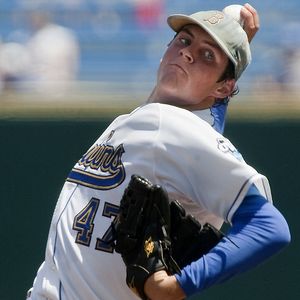 AP Photo/Nati HarnikESPN Preseason All-American Trevor Bauer leads a talented Bruins staff.
The 2011 season will see another change that could have an even bigger effect than the CWS' move three miles up 13th Street. College baseball is changing the specifications for aluminum bats from measuring the ball exit speed (BESR) to the coefficient of restitution (BBCOR). Early indications from fall practices are that power numbers will be down -- a lot. Small ball could become an even bigger part of the college game, which would favor several West Coast teams in a year when that region already appears to be extremely strong. Combined with the flipped orientation from Rosenblatt Stadium to TD Ameritrade Park -- where the wind is more likely to blow in than out -- pitching and clutch hitting could share the spotlight in late June.
Predicting the field, and especially the teams with the best chances at reaching Omaha, is tricky in mid-February. Using the 2010 preseason coaches' poll, only three of the top eight teams earned national seeds, and just two finished their season at Rosenblatt. Eventual national champion South Carolina and runner-up UCLA both started just outside the Top 25. High early-season expectations are usually enough to get into the tournament, as only East Carolina and Ohio State failed to make the field after appearing in the preseason Top 25.
This is the first time I've attempted to pick the field before the season started. My results at the end of last season were good but not great, but in some cases I favor my bracket to the official NCAA field. I was within one seed on six of the eight national seeds, overseeding Virginia by three spots and picking South Carolina over Georgia Tech for the final top-eight spot (with the way things played out, that looks like a good decision). Of the 34 at-large bids, I had 32 in my final bracket, and the two I omitted topped my "first nine out" section. California was my first team out (and most egregious miss, since it was the No. 2 seed in Norman) but went 0-2; Louisiana-Lafayette was my second team out and went 1-2 in the Austin Regional. The two teams from my bracket that missed regional play were Kentucky and Florida Gulf Coast; Kentucky had a solid RPI but missed the SEC tournament, while FGCU won the Atlantic Sun regular-season title in its first year of tournament eligibility behind ace Chris Sale but fell in the conference tournament. Of the 16 regional sites, I got two exactly right (Atlanta and Norwich) and three of four teams for three more (Auburn, Gainesville, Louisville).
Now that I've dispensed with the caveats, here's my initial projection:
Los Angeles Regional
No. 1 UCLA
San Diego
UC Irvine
Army

Conway Regional
Coastal Carolina
North Carolina
Ole Miss
Monmouth


Austin Regional
No. 8 Texas
Louisiana-Lafayette
Southern Miss
Wright State


Houston Regional
Rice
LSU
Texas State
Dartmouth


Fullerton Regional
No. 5 Cal State Fullerton
California
San Diego State
South Dakota State


Stanford Regional
Stanford
Fresno State
UC Riverside
Minnesota


Norman Regional
No. 4 Oklahoma
Arkansas
St. John's
Wichita State


New Britain Regional
Connecticut
Washington State
Auburn
Stony Brook


Fort Worth Regional
No. 3 TCU
Texas A&M
Arizona
Jackson State


Eugene Regional
Oregon
Georgia Tech
Kansas State
Rider


Nashville Regional
No. 6 Vanderbilt
Louisville
Nebraska
Kent State


Clemson Regional
Clemson
Baylor
Western Carolina
Charlotte


Charlottesville Regional
No. 7 Virginia
East Carolina
Liberty
James Madison


Columbia Regional
South Carolina
College of Charleston
Oregon State
Jacksonville State


Gainesville Regional
No. 2 Florida
Miami
Florida International
Florida Gulf Coast


Tallahassee Regional
Florida State
Alabama
Florida Atlantic
Bethune-Cookman
Last five in: Florida International, Nebraska, Western Carolina, San Diego State, Liberty
First nine out: Kentucky, Elon, NC State, Pittsburgh, Tulane, Oklahoma State, Cal Poly, Southeastern Louisiana, USC
With the exception of Arizona State, which is banned from the postseason, all the teams that played in the final CWS in Rosenblatt earn regional hosting assignments and No. 1 seeds, with the top four national seeds all gunning for a return to Omaha. The other four national seeds all fell 2-1 in super regionals last year, so this bracket is biased toward last year's elite teams. The road from opening day to Selection Monday is bumpy enough that the final field probably won't look like this, but there's a lot of returning talent from last year, and the top squads have reloaded quickly.
Eleven of the 30 conferences with automatic bids send more than one team to a regional. The usual suspects lead the charge, with the SEC (eight), Pac-10 (seven), ACC (six) and Big 12 (six) each in the running to send at least a half-dozen teams to the postseason. The Big East and Sun Belt seem poised to send three teams to a regional for the second straight year, while Conference USA and the Big West should pick up a third bid after only nabbing two last season. For the three conferences slated for two bids, there's one clear leader and one bubble team: Coastal Carolina (Big South), TCU (Mountain West) and College of Charleston (Southern) should be locks to make the field, but Liberty, San Diego State and Western Carolina could be on the wrong side of the bubble if they don't secure automatic bids.
[+] Enlarge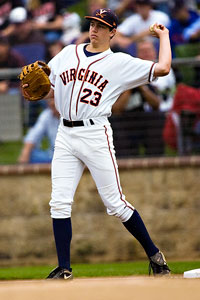 Darryl Dennis/Icon SMIDanny Hultzen and the Cavs are focused on getting to Omaha this season.
Connecticut has the talent to earn a national seed, but the Huskies are in uncharted territory. Last year's great northern hope was Ohio State, and the Buckeyes failed to qualify for the Big Ten tournament after starting the year in the Top 25. UConn needs to overcome a tough early-season trip to California and a bull's-eye on its back during Big East play; that will make the Huskies stronger for postseason play but could cost them some wins and a top spot.
The order of finish for the SEC is always tough to determine, especially considering how quickly a strong recruiting class can pay dividends. Odds are that the eight teams that reach the SEC tournament in Hoover, Ala., will still be playing in June, but at this point it's hard to count any of the 12 teams out. The top three teams coming into the season are all in the Eastern Division, and it's unlikely that three teams from the same division would all earn national seeds -- much like the early part of the season last year, South Carolina draws the short straw.
The top half of the ACC seems more clear-cut, with Virginia, Florida State and Clemson jockeying for a national seed. Danny Hultzen and six returning hitters give Virginia an early advantage, but the Seminoles and Tigers aren't far behind. At least one of those teams should earn a top-eight spot, with the other two battling for the final spot with the SEC third-place team, the Big 12 second-place team and Connecticut.
The biggest issues for the Pac-10 could be the depth of the conference and Arizona State's postseason ban. The Sun Devils should still pile up wins this year, and every conference win is a lost opportunity for the other Pac-10 schools. The conference won't match its eight bids from last season; seven bids seems most likely, but if ASU sweeps any of the middle-of-the-pack teams, six bids is a possibility.
Three and a half months of action on the field before the NCAA tournament field is announced. Let the games begin!
Jeremy Mills is a researcher for ESPN and is a contributor to ESPN.com's college baseball coverage.
Follow ESPN.com's college sports coverage on Twitter: @ESPN_College and on Facebook.
June, 22, 2010
06/22/10
11:23
AM ET
Every time Arizona State head baseball coach Tim Esmay takes his seat in the dugouts of Rosenblatt Stadium, he can still see Jim Brock sitting there with him.
Brock was first Esmay's coach, then his boss, and even now, 16 years after his death, Esmay's ASU mentor.
[+] Enlarge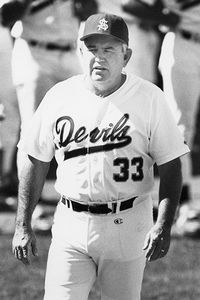 Arizona State athletics CWS fans still get emotional about former Arizona State coach Jim Brock's final game.
This year marks Esmay's seventh trip to the College World Series, his first as a head coach. The first three trips came with Brock. Esmay was an infielder for the '87 Sun Devils and an assistant coach in '88 and '94. They were the first team sent home in '87, lost the championship to Stanford the following year, and came within one game of making the championship round again in '94.
But when the longtime fans of the College World Series hear the name Jim Brock and see the maroon and gold taking the field at Rosenblatt Stadium, they don't think about wins and losses, his two CWS titles in '77 and '81, or even his trademark "discussions" with umpires, which happened in nearly every game.
No, the image that sticks with the people of Omaha is of a frail, cancer-ravaged Jim Brock, feebly sitting in the Rosenblatt dugout, literally dying as he coached what would be his final game.
At the end of the '93 season, his 22nd as ASU head coach, the 56-year old had been admitted to the hospital for a surgical procedure to try to dig cancerous tumors from his colon. In the months that followed, the recovery did not go well. As the '94 season began, the cancer had fought back and moved into his liver. No one wanted to say it aloud, but the aggressive chemo treatments that he endured between games that spring weren't as much to save his life as they were to preserve it in the hopes of making a 13th and final pilgrimage to Omaha.
The Devils slugged their way through the Pac-10, ending the regular season with a fistfight and loss to Stanford, after which Brock got tossed from the game by chewing on the ears of the umpiring crew. It was a signature moment from the admittedly cantankerous coach. It was also the last game he would coach at ASU's Packard Stadium.
Prior to travelling to Knoxville, Tenn. for the NCAA regional, Brock confided to Phoenix sportswriter Paul Rubin: "I've got so much damned chemo in me right now, I can't possibly die. I've made it this far personally, and we've made it this far as a team. We may as well take the next step."
In other words, Rosenblatt Stadium. A few days later the Devils defeated Tennessee to make that happen.
On June 4, 1994, a muggy Saturday afternoon, Arizona State took the field at The 'Blatt for Game 1 of the College World Series. Brock gingerly made his way into the dugout, unfolded a lawn chair, and took his seat to watch his Devils take on the top-ranked Miami Hurricanes. In the days leading up to the start of the CWS, he had pleaded with the media and his peers for the game to be about the team and the players, not about him. It hadn't worked.
CBS televised the game with one camera dedicated solely to the dying coach and another to his family, particularly wife Pat, sitting above the dugout. National media outlets, even those who normally wouldn't give college baseball as much as a box score on the back page, sent writers and reporters to Omaha to capture the story of the 57-year old coach who was literally giving his life to the game.
In the second inning, already sensing a potential breakdown in his squad, Brock called his team in close, tighter than normal because he was unable to shout. That was hard for him. When he'd taken the job in 1972, he was roundly criticized for his "if they all hate me, they'll play harder" coaching approach. It was the total opposite philosophy of his legendary predecessor, three-time CWS champ Bobby Winkles, and it had made Brock's get-to-know-me period with the baseball-crazed ASU fans a hard one. Winkles was a quote machine. Brock was all business.
As the team gathered around him, Brock could speak barely above normal conversational volume. He told them that merely getting to the College World Series was nothing and not to assume that just because they were at Rosenblatt meant they were ready for Rosenblatt. He told them that they looked flat, and Miami did not. He took deep breaths between each sentence and finally growled "Move it up a notch."
They immediately went out and scored their first run of the day, then added three more to defeat the No. 1 team in the land, 4-0. The team, including assistant coach Tim Esmay, filed through the dugout and congratulated their coach.
Then Pat and the rest of the Brock family came down to help him stand, fold his chair, walk up the stairs and climb into a waiting golf cart. Those remaining from the crowd of 14,000 watched in silence and then began to applaud as Jim Brock left Rosenblatt for what would be the final time.
Two days later, the Devils played again, this time against Oklahoma. The plan was for Brock to be there, but he was unable to get out of his hotel bed. Fifteen minutes before the first pitch, his daughter came to the ASU dugout to say that her father wouldn't be coming, but she'd wanted to bring his lawn chair. The image of Brock's empty chair in the dugout caused fans in the old ballpark to weep.
The next day, Brock was airlifted home to Arizona, where he watched the remainder of the College World Series from his hospital bed. They advanced all the way to the semifinals, before losing a heartbreaker to the Sooners, who went on to win the championship. That game was played on June 8. Three days later, shortly after being told that Oklahoma had beaten Georgia Tech for the title, Jim Brock slipped into a coma and passed away.
"In six decades of baseball in this old ballpark, there are few memories that stir up the kind of emotions that Jim Brock did in 1994," says Lou Spry, the official scorer of the College World Series since 1981. "Even now, nearly 20 years later, those of us who have been around Rosenblatt Stadium for so long can hardly tell that story without breaking down. I don't know if there will ever be a greater symbol of what this event and this ballpark means to so many people."
For Jim Brock it was, quite literally, life or death.
Ryan McGee is a senior writer at ESPN The Magazine. His book, "The Road To Omaha: Hits, Hopes and History at the College World Series," which chronicles the excitement and passion of the CWS, is now available on paperback.
June, 21, 2010
06/21/10
4:02
PM ET
OMAHA, Neb. -- Only three of the national seeds made it to Omaha for the College World Series. Now the series' top two seeds are in the loser's bracket.
Clemson upset top-ranked Arizona State in the first of three games Monday, never trailing in the 6-3 victory in front of an early crowd of 14,198 at Rosenblatt Stadium, who saw the first pitch at 10:22 a.m. local time.
[+] Enlarge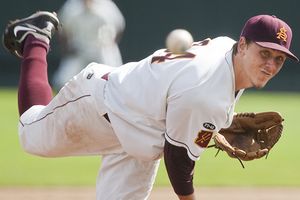 AP Photo/Nati HarnikClemson got to ASU starter Seth Blair early to give him his first loss of the season.
"It proves we can play with anybody," said Clemson second baseman Mike Freeman, who went 2-for-5. "We're just filled with that confidence that we can compete with anybody and let everyone know that we might be the last seed here, but we're not to be overlooked. We've got guys on this team who are as good as anyone in the nation."
Among them is pitcher Casey Harman (8-3), who helped give Sun Devils starter Seth Blair (12-1) his first loss in his 18th start.
"Clemson did a good job of being very patient," Arizona State coach Tim Esmay said. "His pitch count was over 100 through four innings … and when they got a pitch, they hit it."
Fourteen times, in fact. Half of those came against Blair, who left his bullpen trying to rebound from a 5-1 deficit. All 14 Tigers hits were singles, no player had more than one RBI, and each player in the starting lineup recorded a hit.
"Everybody contributed," Clemson coach Jack Leggett said.
The Tigers did the most damage in the fifth inning, when they stretched their lead to 5-1 and sent Blair off the mound.
A pair of singles by third baseman John Hinson and Wilson Boyd added runs. Clemson got an easy run when first baseman Richie Shaffer hit a pop fly to left field, but Drew Maggi lost the ball in the sun, letting it drop a few feet in front of him and adding to Clemson's edge.
"They won the battle of the freebies today," Esmay said. "We just gave away a lot of freebies."
Arizona State (52-9) must climb out of the loser's bracket. Monday was the Sun Devils' first loss of the postseason, but they haven't lost two consecutive games all season.
"It's a double-elimination tournament. They just used their get-out-of-jail-free card," Esmay said. "Last I checked, we get to put the uniform on tomorrow. We still get an opportunity to play, and that's how we're going to approach this thing."
Said third baseman Raoul Torrez: "We're going to come tomorrow and play how we've been playing all year long, that's for sure. There's a reason why we haven't lost consecutive games."
April, 20, 2010
04/20/10
3:22
PM ET
We're two-thirds of the way through the college baseball regular season, and this year has been crazier than ever. Outside the top 10, the disparity between rankings and RPI is quite extreme, and several schools with solid rankings are struggling in conference play. There are still six weeks left to play out the season, which is good -- at this point I wouldn't want to make any final decisions.
After struggling last year and receiving only three postseason bids, the Pac-10 is back in top form this year. Nine of the 10 schools are in position to make a run at the NCAA tournament, including Oregon in the second year since the program was reintroduced. The SEC is as strong as ever -- it's likely that all eight teams that make it to Hoover will play into June, and nine or 10 bids for the league aren't outside the realm of possibility.
If these two conferences eat up a quarter of the slots in the tournament, it's likely to come at the expense of the Big West and Conference USA. Both perennial power conferences are having down years, to the extent that each could be a one-bid league.
Outside the "Big Six" baseball conferences, the Sun Belt and Big East are having great years. Louisville has put itself into the running for a national seed, but is in a dogfight for the top spot in the Big East with Connecticut, Rutgers and Pittsburgh. The Sun Belt has passed both C-USA and the Big West in RPI, and could get as many as four invitations to the postseason.
For this initial projection, there are 12 conferences with more than one bid:
9 teams: SEC
7 teams: ACC, Pac-10
6 teams: Big 12
3 teams: Big East
2 teams: Big South, Big West, Conference USA, Mountain West, Southern, Southland, Sun Belt

Shaking out the top 16 teams from a list of 20 candidates proved harder than normal at this point, as this is where the disparity between conference standing, polls and RPI reared its head. There are seven teams in the SEC that could lay claim to No. 1 regional seeds, but based on past history that number is more likely to settle at four. There are also more teams than slots in the ACC, where five teams are vying for top slots. At this point, conference standings rule the day -- that leaves Clemson on the wrong side of the divide in the ACC, with Vanderbilt, Auburn and (especially) Alabama out in the SEC.
Eliminating those four teams from contention for a No. 1 seed leaves three spots open once you get past the "secure" teams from other conferences (Arizona State, Coastal Carolina, Louisville, Texas, UCLA). Cal State Fullerton and TCU claim two of those bids with their first-place conference standings and strong overall résumés. The overall strength of the conference nets the Pac-10 a third bid, with California edging out Arizona by winning the head-to-head series.
All but one of the No. 1 seeds will host a regional. The lack of lights at California is likely to force the NCAA to look elsewhere, so the excluded ACC and SEC schools come back into play. Clemson is unlikely to get the nod as a third host in South Carolina, while Alabama's low conference standing makes it an unlikely host. Vandy wins the race against Auburn based on higher standing in both the RPI and human polls.
Here's the breakdown by conference for the 16 host sites through April 19:
ACC (4): Florida State, Georgia Tech, Miami, Virginia
Big 12 (1): Texas
Big East (1): Louisville
Big South (1): Coastal Carolina
Big West (1): Cal State Fullerton
MWC (1): TCU
Pac-10 (2): Arizona State, UCLA
SEC (5): Arkansas, Florida, LSU, South Carolina, Vanderbilt

It's time to unveil the 16 regionals. National seeds are listed, and the regional following the national seed is paired against it in the super regionals.

Tempe Regional
No. 1 Arizona State
Connecticut
New Mexico
Maine
Louisville Regional
Louisville
Western Kentucky
Kentucky
Wright State
Fayetteville Regional
No. 2 Arkansas
Kansas State
Ohio State
Wichita State
Tallahassee Regional
Florida State
Auburn
Texas Tech
Marist
Austin Regional
No. 3 Texas
Rice
Texas State
Texas Southern
Fort Worth Regional
TCU
Oklahoma
Ole Miss
Oral Roberts
Atlanta Regional
No. 4 Georgia Tech
Oregon
Alabama
Jacksonville State
Gainesville Regional
Florida
Virginia Tech
East Carolina
Bethune-Cookman
Baton Rouge Regional
No. 5 LSU
Southeastern Louisiana
Texas A&M
Wagner
Coral Gables Regional
Miami
Florida Atlantic
Oregon State
Florida Gulf Coast
Charlottesville Regional
No. 6 Virginia
Stanford
Liberty
James Madison
Nashville Regional
California
Vanderbilt
Kansas
Dartmouth
Conway Regional
No. 7 Coastal Carolina
Clemson
College of Charleston
Central Michigan
Columbia Regional
South Carolina
The Citadel
North Carolina
Charlotte
Los Angeles Regional
No. 8 UCLA
San Diego
UC Irvine
Fresno State
Fullerton Regional
Cal State Fullerton
Arizona
Rutgers
Army
Last five in:
UC Irvine, Kentucky, Ole Miss, College of Charleston, North Carolina
First nine out:
VMI, Georgia Southern, Louisiana-Lafayette, Michigan, Baylor, Boston College, Pittsburgh, Mississippi State, Tulane
Louisville fans have a legitimate gripe with this bracket. The Cardinals were under consideration for a national seed, losing out narrowly to Coastal Carolina and UCLA. The NCAA doesn't seed the other eight No. 1 seeds, and most of the other regionals paired off well geographically, so Louisville draws the short straw and is paired up with Arizona State. If Louisville captures the Big East crown (and especially if UCLA continues to struggle in conference play), the Cardinals can lay claim to a national seed and force the committee to pair someone else with the Sun Devils.
UC Irvine narrowly makes the field, sparing the Big West from earning just one bid in 2010. East Carolina also falls on the right side of the bubble to join first-place Rice from Conference USA.
Three SEC teams sit squarely on the bubble, with one or two bids at stake. Until the conference race plays out, Kentucky and Ole Miss look like better bets to make the field than Mississippi State.
VMI (Big South), Georgia Southern (SoCon) and Louisiana-Lafayette (Sun Belt) narrowly miss earning a third bid for their respective conferences. Their fate likely rests in the hands of regular-season champions from one-bid leagues winning their conference tournaments.
And the very last team in the field is North Carolina. The Tar Heels have ended their season in Omaha each of the past four years, but a 6-12 start to ACC play (and a tough finishing schedule) puts the team in a perilous position. The pollsters and RPI still like the Heels, so for now UNC gets the final invite.
That does it for this week's aluminum-bat version of bracketology. This will be a weekly feature heading up to the selection show on Memorial Day, and your comments are welcome.
Jeremy Mills is a researcher for ESPN and is a contributor to ESPN.com's college baseball coverage.
June, 20, 2009
06/20/09
1:13
AM ET
Here are a few notes off Texas' 4-3 win over Arizona State in their College World Series matchup (compiled by the NCAA).
• The last walk-off homer in a CWS game prior to Friday night was hit by Texas' Chance Wheeless against Baylor on June 22, 2005.
• It was the second last at-bat win in the 2009 CWS (both by Texas) and the 73rd all-time at the CWS.
• The Longhorns advance to the CWS championship series for the third time since the best-of-three championship series began in 2003. Texas has played for 11 national titles, winning six times, most recently in 2005, and finishing runner-up on five occasions.
• With Friday night's win, the Longhorns have won their past eight games at the CWS, dating back to their 2005 national championship, the longest active CWS win streak.
• Four of Texas' eight postseason wins have been last at-bat wins, including three walk-off wins.
• The Longhorns improved to 81-53 all-time at the CWS. Texas leads all programs in CWS wins (81) and games played (134).
• Texas is 11-0 when hitting two or more homers in a game this season.
• Augie Garrido collected his 37th CWS win Friday, moving past Arizona State's Jim Brock and Stanford's Mark Marquess for third place all-time. His .698 winning percentage now ranks fourth all-time.
• Texas now is 36-1 when holding foes to three runs or fewer and now leads the country in ERA heading into the CWS championship series (2.88 for Texas; 2.89 for Arizona State).
• Arizona State ended the season with 51 wins, the second largest total in the country. Texas can match ASU's total if the Longhorns win the national title.
• With Friday night's loss, Arizona State fell to 61-36 all-time in 21 CWS appearances. The Sun Devils are third all-time in wins (61) and games played (97).
• Arizona State's Kole Calhoun finished the 2009 CWS hitting .563 (9-for-16) with three homers and 11 RBIs. Calhoun leads all CWS players in homers (tied), RBIs, hits and total bases (20). Calhoun went 3-for-4 with an RBI against Texas and hit .459 (17-for-37) with three homers and 18 RBIs in the NCAA tournament.
• Mitchell Lambson finished the year with an Arizona State freshman record of 99 strikeouts, including five strikeouts Friday night. Lambson had not allowed two homers in a game in his first 31 appearances (spanning 81 innings) but allowed two homers in the ninth inning Friday.
June, 19, 2009
06/19/09
11:32
PM ET
OMAHA, Neb. -- And we have our CWS championship series participants.
Texas hit two solo home runs in the bottom of the ninth to turn a 3-2 Arizona State lead into a 4-3 Longhorns win. Augie Garrido's club advances to face LSU in the best-of-three championship series, which starts Monday.
The Sun Devils plated the go-ahead run in the top of the ninth for a 3-2 lead over Texas. Jason Kipnis led off the ninth with an 11-pitch at-bat, reaching base on an infield single. He then advanced to second on a throwing error by second baseman Travis Tucker.
Texas pitcher Austin Wood got the next two batters -- Carlos Ramirez and Kole Calhoun -- out, but he couldn't solve late-inning replacement Zach Wilson, who laced a 1-0 pitch down the right-field line for a triple to score Kipnis.
But Texas had an answer. It came in the form of a bomb over the center-field wall by Cameron Rupp on a 3-1 pitch off reliever Mitchell Lambson. It was Rupp's 11th homer of the season. One batter later, and with two outs, Connor Rowe hit the first pitch from Lambson over the left-field wall for his seventh homer of the year.
Rowe's homer was the first CWS walk-off homer since Texas' Chance Wheeless did it against Baylor on June 22, 2005. The Longhorns went on to beat Florida for the CWS title, the last of Texas' six titles.
June, 19, 2009
06/19/09
11:04
PM ET
OMAHA, Neb. -- Mike Leake's night is finished. The Arizona State starter went six innings on two days' rest and has been replaced by reliever Mitchell Lambson with the score still tied at 2-2 heading into the bottom of the seventh.
The official scorekeeper found another pitch for Leake, so his total is now 86 on the night. Here is the final inning-by-inning look at Leake's pitch count:
-- First inning: 16 pitches (10 strikes)
-- Second inning: 13 pitches (11 strikes)
-- Third inning: 12 pitches (8 strikes)
-- Fourth inning: 13 pitches (9 strikes)
-- Fifth inning: 21 pitches (12 strikes)
-- Sixth inning: 11 pitches (7 strikes)
-- Total pitches: 86 (57 strikes)
It was a gutty performance to say the least, although you have to wonder whether it was the best thing, considering his future (and his future earning potential) in the Cincinnati Reds organization.