Owls' experience carries the day against KSU
May, 31, 2009
05/31/09
11:28
PM ET
HOUSTON -- One program has been in this situation many times before. The other one hasn't.
Kansas State coach Brad Hill said the Wildcats' lack of big-game experience might have finally caught up with them after Rice claimed an 8-0 victory Sunday night that extended their season for one more game.
[+] Enlarge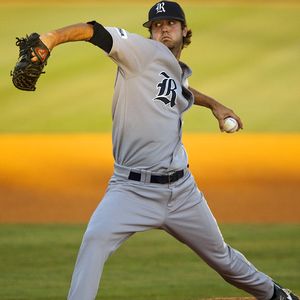 AP Photo/Houston Chronicle/Smiley N. PoolTaylor Wall's complete-game shutout powered Rice's victory over Kansas State.
"What you saw tonight was a program and club that's been here before and another club that has not," Hill said. "That's exactly what it looked like tonight."
After hitting .400 and pounding out 23 runs and 30 hits in the first two games of the tournament, the Wildcats were flummoxed by Rice freshman pitcher Taylor Wall. KSU matched a season low with only three hits in Rice's first complete-game shutout in NCAA tournament play in nearly seven years.
"It was a tough night for the hitters," KSU right fielder Jordan Cruz said. "The pitcher came out and did a great job of spotting his pitches. But I don't know if it's as much him pitching or us being a little bit nervous at the plate."
When pressed, Cruz admitted that the magnitude of the game might have had a part in his team's struggles.
"You don't want to come out and say it, but nerves obviously were a problem for us in the way we came out and played," Cruz said. "We played hard, but we didn't play like we usually do. That was obvious for nine innings."
Rice has been in this position many times before. The Owls are making their 13th straight trip to the NCAA tournament, compared to Kansas State's first NCAA tournament berth in the 109-season history of the program. The Owls have made the College World Series each of the last three seasons and have qualified for the super regionals in eight of the last 10 seasons.
Whether that will give Rice an extra boost in Monday's winner-take-all regional final remains to be seen. But it was clear that history did provide the Owls with confidence while their backs were against the wall on Sunday -- especially playing in their home ballpark.
"We do have people who have been in this situation before," Rice coach Wayne Graham said. "And hopefully, that will be helpful tomorrow."
Wall threw only his second complete game of the season as he handcuffed the Wildcats throughout the game.
His season, like that of most freshmen, has been marked with ups and downs. But his effort Sunday night showed he is learning some lessons by pitching in college baseball.
Specifically, he said he learned something by carefully examining the Wildcats' hitters during their victory over Rice on Saturday.
"They were aggressive very early in the count," said Wall, who had 78 strikes among his 116 pitches. "You had to mix up your pitches and keep them off balance, throw strikes and go right after them."
And he was particularly tough with runners on base as KSU's leadoff hitter reached on four occasions. But Wall always seemed to have something extra as he repeatedly pitched out of the jams.
Coupled with an earlier complete-game victory by Jared Rogers, Graham was able to camouflage his team's lack of a bullpen.
"Today was everything we could have hoped for," Graham said.
Wall said he was inspired by Rogers' effort earlier in the day.
"He really pitched well for us and it was a big boost for us," Wall said. "We had our back against the wall all day."
The victory was punctuated by a three-run pinch homer by Jess Buenger, a starter for the Owls' College World Series team two years ago who has struggled with injuries since that season and never regained his spot in the lineup.
Buenger jumped on a fat 2-0 fastball and ripped it more than 400 feet over the right field wall for his first home run of the season.
"There were a few of us who teared up a little bit. That was quite a moment," Graham said. "That was one of those 10 balls a year you hit right on the screws. It was great."
Graham is not sure who will be his starter tomorrow. He might try a piecemeal approach in order to get the game into the late innings where he would use ace Ryan Berry down the stretch.
"We're going to have a summit meeting in a little while," Graham said, grinning. "We'll go with a strike thrower. And that list isn't very long."
Hill said he is "weighing his options" as he decided on a starter for the biggest game in school history. He said his likely options include Thomas Rooke or James Allen -- neither of whom have started a game this season.
"We have two or three options to look at," Hill said. "I'm sure we'll have to be ready to go quick because you can't afford a big inning tomorrow."