Owls' Omaha hopes hinge on Berry good outing
June, 6, 2009
06/06/09
4:19
PM ET
BATON ROUGE, La. -- It's the kind of thick, stifling Southern hot that makes any movement other than sitting feel like manual labor. And Rice's dugout is bearing the brunt of the sunshine, while LSU gets the shade. Talk about home-field advantage.
[+] Enlarge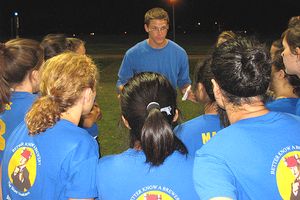 Rice Media Relations Rice pitcher Ryan Berry was defensive coordinator for the Owls' powder puff team. He'll need an effective defensive strategy to stifle LSU to stave off elimination.
So here we are for Game 2 in the best-of-three series, and much of Rice's hopes to advance to the College World Series in Omaha hinge on the arm of star right-handed pitcher Ryan Berry. He's got a 7-1 record, an ERA of 2.00 and big-time experience. But you already know that. What you might not have known, though, is that this year, Berry was defensive coordinator for Rice's powder puff team. (Last year he was offensive coordinator.) Rumor has it, he's a mighty good one, too. We'll see how his defensive strategy holds up this afternoon against the LSU bats.
Here's today's starting lineup. (Which reminds me, another note: Rice coach Wayne Graham's lineup card and his signature at the bottom of it is flawless. You'd be hard-pressed to find more legible penmanship. I'm told it's because during Graham's days as a professional baseball player, he worked as a draftsman in the offseason. Guess even Casey Stengel's club didn't pay all that well in those days.)
LSU (50-16)
Starting pitcher: RHP Louis Coleman (12-2)
No. 17 2B R/R DJ LeMahieu
No. 16 LF L/R Ryan Schimpf
No. 34 DH L/L Blake Dean
No. 33 C B/R Micah Gibbs
No. 8 CF R/R Mikie Mahtook
No. 3 RF L/L Jared Mitchell
No. 14 1B R/R Sean Ochinko
No. 5 3B R/R Derek Helenihi
No. 36 SS R/R Austin Nola
RICE (43-17)
Starting pitcher: RHP Ryan Berry (7-1)
No. 7 2B L/R Brock Holt
No. 11 SS R/R Rick Hague
No. 4 RF L/L Chad Mozingo
No. 23 3B R/R Anthony Rendon
No. 5 DH B/R Diego Seastrunk
No. 15 LF R/R Michael Fuda
No. 21 CF R/R Steven Sultzbaugh
No. 10 C L/R Craig Manuel
No. 2 1B R/R Jimmy Comerota