TCU and Texas to battle for final CWS spot
June, 8, 2009
06/08/09
5:55
PM ET
AUSTIN, Texas -- Despite the stakes involved in preparing for the biggest game of the season, Texas coach Augie Garrido isn't hesitating with his pitching decision for the deciding game of the Austin Super Regional.
Gangly 6-foot-6 freshman pitcher Taylor Jungmann will start for the Longhorns, hoping to turn around a bad outing in the Longhorns' regional victory over Army.
[+] Enlarge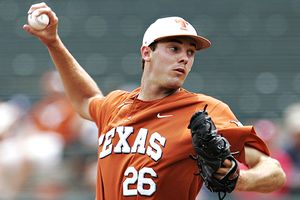 AP PhotoFreshman Taylor Jungmann will start for Texas in the Longhorns' decisive Game 3 with TCU.
"Every day is a new opportunity," Garrido said.
Jungmann will be contested by junior TCU pitcher Tyler Lockwood, an All-Mountain West Conference selection last season who has fallen a little from that level in 2009.
Jungmann (7-3, 2.45 ERA) had been masterful since joining the rotation before he was rocked for six earned runs on six hits and three walks in 3 1/3 innings against Army.
Before that start, Jungmann had posted a 1.90 ERA in his four previous starts with 25 strikeouts in 23 2/3 innings.
That strong finish provides him confidence for his outing on Monday night.
"I don't feel any pressure," Jungmann told the Austin American-Statesman after TCU's 3-2 victory on Sunday forced the deciding game. "When I get on the mound, I don't hear anybody but [Texas catcher] Cameron [Rupp] and [Texas pitching coach] Skip [Johnson]. Nerves? I don't get nervous, man."
That bravado will have been tested after watching the power-hitting Horned Frogs hammer five home runs to account for all of their scoring in the first two games against the Longhorns.
Lockwood hasn't been as effective this year as he was last year, but he's still notched a 5-1 record with a 4.41 ERA.
"He pitched in long relief and was very effective for us last year," TCU coach Jim Schlossnagle said. "This year, he started out in the rotation, didn't do so well, so we put him in long relief and he's been basically a spot starter for us."
His recent starts have been strong; he limited San Diego State to three earned runs in 7 1/3 innings on April 25 and allowed four runs in seven innings in the Horned Frogs' regional clinching victory against Oregon State on May 31.
"We asked him to start the Sunday game at San Diego State and he was lights out," Schlossnagle said. "We asked him to start against Oregon State in the regional final last week and he was very good. He's a strike thrower and he'll give us a great chance to play defense because he usually doesn't beat himself with walks."
The Horned Frogs (40-17) will be gunning for their first College World Series appearance in school history. Texas (45-14-1) hopes to earn its record 33rd appearance at the CWS, but first trip since winning the title in 2005.
It's a blistering day with the temperature currently at 95 degrees and well into triple digits on the steaming field turf playing surface at UFCU Disch Falk Field. The wind again is blowing out at about 12 mph, cutting some of the pitching-friendly tendencies of the mammoth ballpark.
Here are the starting lineups. Texas is the home team.
TCU (40-17)
2B Corey Steglich
SS Taylor Featherston
3B Matt Carpenter
1B Matt Vern
C Bryan Holaday
RF Chris Ellington
LF Jason Coats
DH Matt Curry
CF Aaron Schultz
RHP Tyler Lockwood (4-1, 4.41 ERA)

Texas (45-14-1)
3B Michael Torres
2B Travis Tucker
1B Brandon Belt
DH Russell Moldenhauer
RF Kevin Keyes
SS Brandon Loy
LF Preston Clark
C Cameron Rupp
CF Connor Rowe
RHP Taylor Jungmann (7-3, 2.45 ERA)

Umpires:
HP: David Savage
1B: Fred Cannon
2B: Steve Manders
3B: Randy Harvey