Hogs survive Cavs, but bigger challenge awaits
June, 17, 2009
06/17/09
10:53
PM ET
OMAHA, Neb. -- The prize for survival was a stay of execution.
It may not sound like much, but to anyone who has ever played here, on college baseball's biggest stage, an extra 48 hours in and around Rosenblatt Stadium is worth whatever price has to be paid.
[+] Enlarge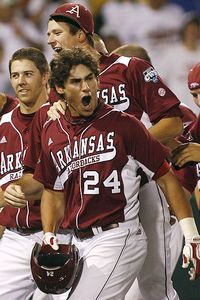 Crystal LoGiudice/US PresswireBrett Eibner's game-tying home run in the 9th inning paved the way for a Hog wild finish.
And make no mistake, the Arkansas Razorbacks paid the price to put together their improbable 4-3 win over Virginia in Wednesday's 12-inning elimination game.
"It was just a great game to be a part of; a roller coaster, dramatic, a lot of heart by some tough kids who didn't want to lose and who didn't want to go home," Arkansas head coach Dave Van Horn said. "It was fun and it will be one I'll never forget."
The victory sends the Hogs (41-23) into Friday's Bracket One championship against unbeaten LSU (2 p.m. ET, ESPN2HD). A win by Arkansas would force another game against the Tigers (53-16) on Saturday with the winner advancing to next Monday's CWS Championship Series. LSU has already beaten Arkansas here at the CWS, a 9-1 rout on Monday night.
For the season Arkansas is 1-3 against LSU, the lone win coming in a May 2 game (11-4) in Fayetteville.
How the Hogs got to the point of being able to play one more game at The Blatt surely will become the stuff of legend for the 21,383 in attendance as well as the fans following the game back in Northwest Arkansas.
Trailing 3-1 in the top of the ninth and down to their last out, center fielder Brett Eibner liked the 1-1 offering from UVa closer Kevin Arico and mashed it well into the left-field stands to send the game into extras.
"I was looking for an off-speed pitch," Eibner said. "I got it and put a good swing on it."
In the 12th inning it was a 10-pitch at-bat by Andrew Darr -- his only trip to the plate all night -- that yielded a double to left off of UVa reliever Andrew Carraway and scored Jarrod McKinney with what would be the game-winner.
"I tried to have a good at-bat," Darr said. "I was looking for something up in the zone. I'm confident because I've been there before."
Been there before as in Darr produced the walk-off two-RBI double against Florida State that sent Arkansas to the CWS in the first place.
And let's not forget reliever Dallas Keuchel, whose four innings of work may have produced some interesting moments but in the end also produced answers to every challenge Virginia provided.
[+] Enlarge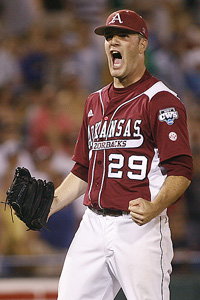 Crystal LoGiudice/US PresswireDallas Keuchel kept the Cavaliers off the scoreboard through four innings of relief.
"We had an opportunity every inning all the way to the end," Virginia outfielder Dan Grovatt said. "We just didn't come up with the big hit and Arkansas did. I left four guys on base myself. It was one of those games where that kid won the battle on 3-2 and got a big hit. We couldn't come up with one."
The Cavs (49-15-1) ended up leaving 14 men on base -- eight of which came in the final four innings.
"This game took everything from Arkansas and it took everything from Virginia, unfortunately we came out on the short end of the stick.," UVa coach Brian O'Connor said.
Which begs the question whether the survivor has anything left in the tank for Friday's game against LSU?
Specifically on the mound.
"We've got some guys," Van Horn said. "It might not be the guys that we've been pitching on Friday, Saturday and Sunday but we've got some guys that can give us some quality innings and we know what we've got ahead of us and what we have to do and we're going to have to find a way to score some runs. I don't know who we are going to throw yet but we are thin."
Van Horn went on to say that the only pitcher who won't be available is Wednesday's starter Drew Smyly (4.2 IP, 85 pitches). Keuchel, who picked up the win in 66 pitches of relief, told Van Horn after the game that he would be ready to go on Friday.
"We'll discuss [the LSU] lineup which is very offensive and just figure out how we're going to work it," Van Horn said. "A couple of innings here, a couple of innings there; we could start four or five different guys.
"It would be nice to get off to a good start. That's kind of been our problem against LSU, we're behind quick."
For now, Friday can wait. Because Van Horn and his Hogs get to wake up on Thursday knowing it doesn't mean a trip back home and the end of the season. Instead it means a chance to relive Wednesday night's improbable comeback win.
"It brought back the memories of the season," Van Horn said. "We were fighting for our lives and that's the way it was all year."
It likely will be a familiar feeling against LSU. But from Arkansas' perspective, at least Friday also means it will still be playing on the CWS stage.
Even if that means an afternoon trying to produce another unlikely stay of execution.