Hershiser scouting report: Dustin Ackley
June, 18, 2009
06/18/09
5:32
PM ET
Dustin Ackley and the North Carolina Tar Heels take on Arizona State in an elimination game Thursday night (
ESPN2/ESPN360
, 7 p.m. ET). I got a chance to meet Ackley this week.
One thing that struck me was that Ackley is bigger up close than many viewers may realize. On the field, he looks like he has a medium build at most -- but in person, I saw that he has a bigger, wider back than you might suspect. His hands are also exceptionally large. That tells me he has exceptional bat control. And that's something we've obviously seen throughout his career.
[+] Enlarge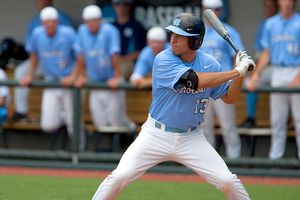 Tim Steadman/Icon SMIOrel Hershiser believes Dustin Ackley, above, is one of the best hitters ever to play college baseball.
He also has the thin ankles of a racehorse. That tells me he can really move, cut and dart. You don't really see that much in a first baseman, but he's been playing there largely because he's coming off Tommy John surgery.
The Seattle Mariners, who took him second overall in the June 9 Major League Baseball draft, really think Ackley will play at first base in the majors, but scouts have been saying he might not play there because he's smaller and may not hit with enough power. I think that with his body and the way he moves, he could play in the outfield as well.
Ackley has been compared to Darin Erstad, who has had a nice, long career. Coming out of college, Ackley is a better prospect than Erstad. Bats and arms come from all over the draft, but Ackley is, at least statistically, one of the best college hitters ever. His swing is very smooth and at times can look a little long. But it's more of the length of a Raul Ibanez or Carlos Beltran, for whom it's deceptively powerful.
He also really seems to have that "steering wheel" bat like Tony Gwynn's. His hard ground balls -- which for other players often find the fielders' gloves -- have a knack for finding the holes. I asked him about that, and he told me it's just been good fortune.
But I believe that if you don't feel like you are guiding it, it's probably because you have an idea of where you want to hit the ball and you can position yourself to give yourself the best chance. Plus, he squares up more balls than anyone else. So when he hits a three-hopper, it's firm and often gets through, where another hitter's ground ball may take four hops and becomes an out instead of a hit.
The difference between three hops and four may seem minor, but over the course of time, it will lead to more hits. And in the majors, it will be more even pronounced with the much longer season.
But Ackley is not only a ground-ball hitter. He has the kind of body that I think can get a lot stronger, and he should be able to hit for more power as he matures. The Mariners have a keeper on their hands.