Hershiser scouting report: Jared Mitchell
June, 19, 2009
06/19/09
12:16
AM ET
One of the players I've been tracking in Omaha is LSU right fielder Jared Mitchell. Drafted 23rd overall by the Chicago White Sox, he has the speed to play any of the outfield positions and seems to have the arm to play right field in the big leagues. He reminds me of Carl Crawford. Mitchell's body, speed and overall raw ability make him look like he has the tools to succeed at the professional level.
Crawford was a little bit loose in the batter's box when he first made the major leagues. But even when he put the ball on the ground, he put tremendous pressure on the defense to make plays and got a lot of scratch hits when they couldn't. When Crawford got the ball in the air, he displayed really good gap-to-gap power. As he grew into his body, his power developed further.
[+] Enlarge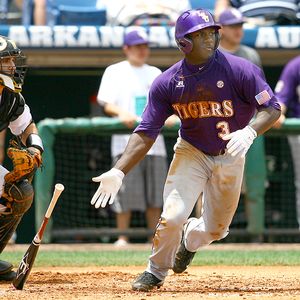 Marvin Gentry/US PresswireThis is the first season junior Jared Mitchell, also an LSU wide receiver, took part in spring baseball practice.
Mitchell looks like that kind of player. His skills eventually should be off the charts.
Right now, Mitchell has things to work on. He is a left-handed hitter and doesn't look strong against lefties yet. But in watching his swing and his setup, there definitely are some things the coaches can do with him that will help him at the plate against lefties and righties. He had an at-bat in LSU's College World Series win over Arkansas that showed me a lot.
With one strike on him, he pulled a down-and-in breaking ball foul but with home run distance. The next pitch was about 88 mph at shoulder height but out of the same window as the curveball. He had enough bat speed to foul it off. Most hitters would get beat on that pitch and strike out.
The next pitch was a back-door curveball, and he stayed down and swung through the ball to hit a line drive to the opposite field. For somebody who still doesn't have a lot of baseball experience, it was an exceptionally mature, hitter-ish approach.
Mitchell is a two-sport athlete with the Tigers. He already has a national championship ring as a wide receiver. That tells you he's a tough kid. This actually is the first season he's been able to play spring baseball because normally he'd be playing spring football. LSU baseball coach Paul Mainieri talked football coach Les Miles into letting Mitchell come out for spring baseball this year.
Mitchell took part in early season baseball this year for the first time as a junior and got five additional weeks of experience. That has made a big difference this season. He still is hitting only seventh in the batting order. So how does a guy hitting seventh get drafted so high? His potential is that great, and he looks like he could be a future All-Star in the big leagues.