What to do about the SEC?
May, 17, 2010
05/17/10
9:47
AM ET
With two weeks remaining in the season, two of 64 spots in the NCAA tournament field have been locked up. Dartmouth claimed the first spot on the field eight days ago after winning the Ivy League title, while San Diego claimed the second bid despite not playing a conference game. The Toreros wrapped up the West Coast Conference regular-season crown and its automatic bid thanks to Portland's 0-3 weekend. Portland and Pepperdine both have seven WCC losses, while San Diego is 15-0 with six games to play. The Toreros are 17-3 since April 9 and have moved into contention for a regional No. 1 seed.
The Patriot League moved closer to crowning a champion this weekend, and it wasn't good news for the top two teams. Regular-season champion Army dropped its semifinal series to Bucknell, while second-seeded Lehigh fell to Holy Cross. As the highest remaining seed, Holy Cross will host next weekend's championship series in Worcester, Mass. Could the Crusaders be on the way to following up their 1952 national championship?
At the top of the power conferences, not much has changed. Well, except in the SEC ….
[+] Enlarge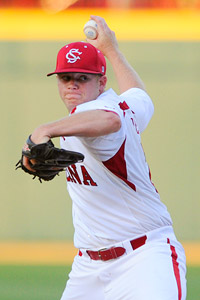 Courtesy of South Carolina Athletics Media Relations Blake Cooper improved to 10-0 over the weekend as South Carolina swept Arkansas to move into a first-place tie with Florida in the SEC standings.
South Carolina fans, the message has been received. I had been undervaluing the Gamecocks for the last few weeks, waiting to see how they performed in season-ending series against Arkansas and Florida. Well, South Carolina is back among the national seeds after an impressive three-game sweep at Arkansas.
Arkansas has now lost series against each of the Eastern Division leaders. With the rest of the national-seed contenders playing well in the last week, that was enough to drop the Razorbacks from a national seed (leaving Florida and South Carolina to represent the SEC). Georgia Tech moved closer to the cutoff with a series win against Miami (with Florida State also ahead of the Hurricanes in the hosting pecking order), while dark horse national-seed candidate TCU struggled against Air Force and saw its RPI plummet, despite a 4-1 week.
This week's hosting roster should look familiar, as there are no changes from last week. The most interesting debate came down to the final hosting spot in the SEC (and which other SEC team would get sent to the Northeast to play in Connecticut's regional). The three that were in contention for national seeds were easy, but what to do about Auburn, Ole Miss and Vanderbilt?
Unfortunately, head-to-head doesn't tell much of a story. Auburn travels to Oxford, Miss., next week to take on Ole Miss for their first meeting, and the Rebels and Commodores haven't met this season. The only series to take place among these teams so far was in Nashville, where Vandy took two of three from Auburn. Pending the result of next week's Auburn-Ole Miss series, I see the NCAA leaning toward Oxford hosting a regional in front of 10,000 rabid fans. Vanderbilt claims the final top seed, but gets sent on the road to Norwich, Conn., to face UConn.
The SEC seeding quandary extends beyond the top teams, as can be expected for a conference that could send 10 teams to the NCAA tournament. Can a team that misses its conference tournament really be a No. 2 regional seed, even with a top 20 RPI? That could be the question facing the committee if either LSU or Alabama finish outside the top 8 in the SEC. They are currently tied with Kentucky and Tennessee at 12-15 in conference play, with those four teams representing seventh through 10th place in the conference.
It's time to answer where all the SEC teams are seeded (as well as everyone else). National-seed regionals are paired side-by-side with the regional they will face when advancing to the super regional.
Austin Regional
No. 1 Texas
Rice
Texas State
Texas Southern
Fort Worth Regional
TCU
Texas A&M
LSU
Oral Roberts
Columbia Regional
No. 8 South Carolina
The Citadel
Stanford
Charlotte
Atlanta Regional
Georgia Tech
College of Charleston
Alabama
Dartmouth
Conway Regional
No. 5 Coastal Carolina
Clemson
Tennessee
Michigan
Tallahassee Regional
Florida State
Auburn
Southeastern Louisiana
Canisius
Gainesville Regional
No. 4 Florida
Virginia Tech
Southern Miss
Bethune-Cookman
Coral Gables Regional
Miami
Florida Atlantic
Florida Gulf Coast
Binghamton
Charlottesville Regional
No. 3 Virginia
Washington State
Liberty
James Madison
Oxford Regional
Ole Miss
Louisiana-Lafayette
California
Murray State
Los Angeles Regional
No. 6 UCLA
San Diego
UC Irvine
Fresno State
Fullerton Regional
Cal State Fullerton
Arizona
Pittsburgh
Ball State
Louisville Regional
No. 7 Louisville
Kentucky
Kansas State
Wright State
Norwich Regional
Vanderbilt
Connecticut
Boston College
Sacred Heart
Tempe Regional
No. 2 Arizona State
New Mexico
Texas Tech
Holy Cross
Fayetteville Regional
Arkansas
Oklahoma
Oregon
Wichita State
Last five in: Texas State, Tennessee, Texas Tech, Southern Miss, Boston College
First nine out: North Carolina, Elon, Florida International, Baylor, Western Kentucky, Georgia Southern, Kansas, Middle Tennessee State, Oregon State
Stop me if you've heard this before -- the debate between lower finishers in power conferences and top finishers in other leagues will be a key again this year as the last spots in the field are filled out. There could be as many as three teams in the field this year that don't even make their conference tournament (North Carolina plus the two losers in the SEC scrum -- Kentucky, Tennessee, Alabama or LSU), and Oregon State is currently ninth in the Pac-10 but would be a No. 2 seed according to its RPI. Even those who hold a more secure place in their conference standing don't have particularly impressive résumés, but history suggests their inclusion in the final field (I'm looking at you, Boston College and Texas Tech).
Outside the power conferences, a lot of quality teams are mired in the middle of their respective regular-season standings. This is a problem for those schools' at-large chances but provides the opportunity to burst some bubbles during conference tournaments.
This is most likely to be the case in the Southern Conference and Sun Belt. While third-place Georgia Southern and fourth-place Elon still entertain at-large hopes in the Southern Conference, two other teams that rolled into SoCon play have struggled once they got into conference play. Western Carolina (18-5) and Appalachian State (21-1) steamrolled through nonconference play but currently sit in sixth and seventh in the conference. A finish that far down the standings makes winning the conference tournament title a must if they entertain tourney hopes. The story is similar in the Sun Belt. Outside the top two (Florida Atlantic and Louisiana-Lafayette), Western Kentucky has the best overall tourney résumé, but the Hilltoppers are tied for seventh in the league standings.
In recent years, 40 wins has been the magic number for at-large berths among members of non-power conferences. As we approach the beginning of conference tournament action, several schools are approaching this mark.
• College of Charleston has clinched second place in the SoCon and has 39 wins with three games left.
• Southeastern Louisiana moved back into first in the Southland over the weekend and is up to 39 wins; that should make the Lions a more secure candidate for an at-large bid than league co-leader Texas State (31-19).
• Further up the food chain in the Big East, Connecticut and Louisville have already reached the 40-win plateau, while third-place Pitt has 36 wins with four games left.
The current tally is 29 teams from the four power conferences, which leaves just nine at-large bids for the other 26 conferences. Conference tournament upsets will likely skew that number, but will the burst bubbles come from the smaller conferences? In cases like the Southland, it's likely that either Texas State or Southeastern Louisiana would miss out on the NCAA tournament if they lost in their conference tournaments. But the top two in the SoCon (The Citadel and College of Charleston) and the Sun Belt (Florida Atlantic and Louisiana-Lafayette) should be safe for an at-large bid even if they get bit by the upset bug in their conference tournaments.
Jeremy Mills is a researcher for ESPN and is a contributor to ESPN.com's college baseball coverage.