Unlikely hero sends Noles back to Omaha
June, 13, 2010
06/13/10
7:06
PM ET
TALLAHASSEE, Fla. -- At the end of Sherman Johnson's senior year of high school in 2008, he watched Florida State lose both its games at the College World Series.
[+] Enlarge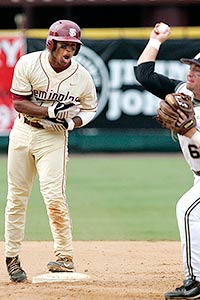 AP Photo/Steve CannonSherman Johnson delivered a three-RBI double that sealed Florida State's passage to the College World Series.
"I was upset," Johnson said. "I hoped I would get to go."
At the time, Johnson probably hoped to go only as a Florida State fan. Even after a standout career at Alonso High School in Tampa, Fla., Johnson went unnoticed by college recruiters. He didn't have a single scholarship offer and decided to enroll as a regular student at FSU.
"It had been my dream to play baseball at Florida State ever since I was a little kid," Johnson said.
After a series of unlikely events, Johnson is going to the College World Series in Omaha, Neb., as FSU's starting third baseman.
And the Seminoles wouldn't be going back to Omaha for the 14th time in 31 seasons under coach Mike Martin if they didn't have Johnson, who still doesn't have a scholarship.
FSU will play TCU in its first game of the last College World Series at Rosenblatt Stadium.
On Sunday, Johnson delivered the big hit in FSU's 7-6 victory over Vanderbilt in a winner-take-all game of the Tallahassee Super Regional.
After the Commodores rallied from a four-run deficit to cut FSU's lead to 4-3 to start the eighth, Johnson hit a three-run double with two outs to give the Seminoles the lead for good. Vanderbilt had intentionally walked FSU leadoff hitter Tyler Holt to load the bases and face Johnson.
"It's a baseball decision, but as a competitor I take it as a challenge," Johnson said. "All of these guys probably would, too."
It was hard to second-guess Vanderbilt coach Tim Corbin's decision. Holt led the Seminoles with a .347 average this season and reached base four straight times before he was intentionally walked.
"It's a tough call, but Holt is their go-to guy," Corbin said. "He was having a good day and had reached base four straight times. We gave him a hall pass. We were going to make a younger kid try to hit a breaking ball or off-speed pitch. We had him down two strikes, and he did a good job of putting the ball in play. Give him credit. He put a good swing on the ball."
Johnson might have been the unlikeliest of heroes for the Seminoles. Last season, he was attending classes at FSU when Seminoles assistant Jamey Shouppe called him, asking him to play in an intrasquad game because the team needed another infielder.
Shouppe knew Johnson was on campus because he attended a couple of FSU summer camps during high school. But Martin thought Johnson was too skinny to play at this level.
After Johnson's performance in the intrasquad game, Martin invited him to come back to practices whenever he could.
"I weighed 155 pounds," Johnson said. "I don't know if I was trying to prove anything. I was really nervous and just tried to make an impression. I guess I did."
Johnson played in 28 games last season, hitting .476 with one homer and 10 RBIs. After adding 30 pounds to his slight frame and playing summer ball in the offseason, he started all 65 games this season, hitting .332 with nine homers and 57 RBIs.
"He's a very locked-in individual," Corbin said. "They've got a star over there. He never loses his composure. He's going to be very successful."
Johnson is hitting .346 with three homers and 10 RBIs in the NCAA tournament.
Holt said he was happy Vanderbilt decided to walk him because he felt light-headed while swinging in the on-deck circle. The game was delayed 58 minutes because of lightning, and Holt said he felt sick when the game resumed.
"I just stepped aside and let Sherman do his job," Holt said.
The Seminoles are going back to Omaha because Johnson delivered.