Sooners stay hot, earn final CWS place
June, 15, 2010
06/15/10
12:07
AM ET
CHARLOTTESVILLE, Va. -- As Oklahoma right fielder Cody Reine chugged his way around the bases following his second three-run home run against Virginia and fourth home run in two days, one Virginia fan seated along the first baseline stood, raised both hands in the air, and bowed repeatedly.
[+] Enlarge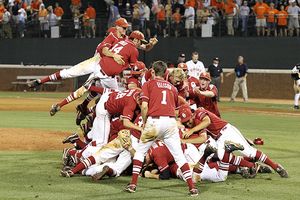 AP Photo/Andrew ShurtleffOklahoma earned its first trip to the College World Series since 1995 with a win over Virginia.
And then he left, following a long line of Virginia fans who had seen enough of the Sooners at Davenport Field.
Reine's three-run shot to right centerfield in the top of the eighth inning gave Oklahoma an 11-0 lead it never relinquished, sending the Sooners to the College World Series for the first time since 1995 and 10th time in program history. Behind a stellar pitching performance by junior right-hander Bobby Shore, Oklahoma handed Virginia its first shutout in 142 games and held the Cavaliers to a season-low five hits. The last time Oklahoma shut out an opponent in NCAA play was in 1993 against UCLA -- a 10-0 win that sent the Sooners to Omaha.
"It's an awesome feeling," Reine said. "It's a goal that this team has wanted all season. To know that it's finally achieved and we're going to Omaha and being in the dogpile, it's just a surreal feeling."
Reine managed the improbable, totaling four home runs and eight RBIs in two games of the super regional. The difference on Monday was that Virginia had no answer -- a baffling performance by a team that hadn't lost back-to-back games all year. Once again, Oklahoma worked over Virginia's bullpen, and the Cavaliers' mistakes in the field added up.
"I'll always remember this team as a team that handled the pressure really well," said Virginia coach Brian O'Connor. "You might say, 'Well, geez, you didn't handle it this weekend.' I don't look at it that way. It's one weekend. We didn't get the job done, and they beat us two games in a row and they beat us good. But it wasn't because our players choked or our players couldn't handle the pressure. That didn't have anything to do with it. We ran into a hot team that had our number."
And the more complete performance. Pitching, defense, big bats -- Oklahoma had it all.
It was a mismatch in experience on the mound, as Virginia trotted a freshman out in Branden Kline, and the Sooners saved Shore, who located his fastball, and kept Virginia off-balance with his breaking ball. The Cavaliers couldn't adjust.
Reine, on the other hand, was stuck in the zone. His three-run homer in the first inning gave the Sooners the momentum.
"You never want to have men on base when you're facing a hot hitter," Kline said. "At the same time, you still want to make pitches you usually have to make. I threw a fastball right down the middle and he took advantage of it, so hats off to him."
Shore, who was the MVP of the Norman Regional, didn't allow a base runner in scoring position all game. He allowed four hits, struck out five batters and walked two in eight innings.
"I was in a groove, I was throwing strikes," he said. "I wanted to keep the ball at the knees and make them hit the ball weak. It felt good."
Virginia had earned the No. 1 seed and was supposed to be the deeper team, but it didn't resemble a team playing with the College World Series on the line. Instead, the Cavaliers couldn't make their pitches or do enough offensively to keep up with Oklahoma. A two-run double by Garrett Buechele in the top of the sixth inning gave the Sooners the 8-0 lead.
"I've been to Omaha, I got to coach there and be a part of a national championship," said Oklahoma coach Sunny Golloway, who was an assistant on the Sooners' 1994 title-winning team. "You want it for the student-athletes that you coach and your coaching staff. It's surreal. We're going to Omaha, the last year at Rosenblatt Stadium."