Gators live by the 'pen, barely
June, 24, 2011
06/24/11
5:51
PM ET
OMAHA, Neb. -- Live by the bullpen, die by the bullpen. Almost, anyway.
Florida began Friday 41-1 this season when it led to start the seventh inning. Make it 42-1, but not until Vanderbilt nearly beat the Gators at their best. The Commodores came from three runs down to force a tie before Florida produced a pair of eighth-inning runs to win 6-4 in the most thrilling game of this College World Series.
[+] Enlarge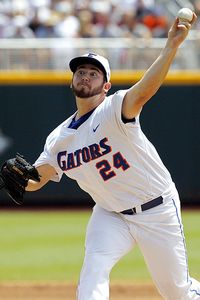 Bruce Thorson/US PresswireGators starter Alex Panteliodis was cruising through six inning having allowed only three hits.
The Gators advance to the best-of-three championship series, to begin Monday at TD Ameritrade Park.
They might need the weekend off to regain their breath.
Usually reliable, Florida's bullpen coughed up a 4-1 lead. Coach Kevin O'Sullivan used five pitchers in relief of starter Alex Panteliodis, who fired six innings of three-hit ball and threw just 86 pitches. Panteliodis retired the final eight Vanderbilt hitters he saw and allowed just one runner past first base after Aaron Westlake's first-inning homer.
With a rested and deep staff of pitchers, this almost looked like a case of overmanaging the situation, although O'Sullivan disputed the notion.
"It's always easy, in retrospect, to say, 'I wish I would have done this. I wish I wouldn't have done that,'" O'Sullivan said. "If I had it to do again, I would have done everything exactly the same."
After all, he said, that bullpen ranks as the main reason Florida reached Omaha.
"We had nine outs to go and a three-run lead," O'Sullivan said. "We like our 'pen. It didn't go quite the way we wanted it today, but the bottom line is those guys needed to throw."
That was some time to get in work -- three innings from a chance to play for the program's first national title.
The Vandy comeback began with one out in the seventh against reliever Tommy Toledo, among the Florida pitchers who did not appear in the Gators' first two CWS games this year.
The Commodores produced a run on three singles and made it 4-3 on a bases-loaded walk by reliever Nick Maronde to pinch hitter Bryan Johns. Maronde then walked Tony Kemp before Greg Larson entered to get Anthony Gomez on a fly to right field.
"I'd be lying if I said the nerves weren't there," Florida first baseman Preston Tucker said. "I was kind of nervous. They were starting to get something going, but we got out of it. We did a great job of making pitches when we needed to."
The rough road continued in the eighth inning as Curt Casali and Mike Yastrzemski singled with one out off Steven Rodriguez. Closer Austin Maddox, who hadn't pitched since May 29 because of a foot injury, then surrendered a game-tying single to Jason Esposito.
Maddox hit Conrad Gregor with a pitch and escaped with help from a diving grab by shortstop Nolan Fontana of a Connor Harrell line drive.
"This is a pressure-packed game," the coach said. "I think everyone here felt it."
Panteliodis felt it, he said, especially after leaving the mound. He said he could have pitched into the seventh inning but trusted O'Sullivan's decision to use the bullpen.
"On this team," the starting pitcher said, "you're confident in that situation you're going to get a win."
Florida's eighth-inning rally sent Vanderbilt to its fifth loss in six meetings with the Gators this year.
Maddox worked around a two-out double to Westlake in the ninth, getting Casali on a fly to left field for the win.
"They're the best bullpen we've seen," Westlake said, "so I thought we did a great job. It's just one of those things where we came up short. And that's a credit to them."
Expect O'Sullivan to rely just as heavily on his relievers in the championship series. By the time it starts, Florida will have played just three games in 13 days.
Translation: a well-rested group of starters and relievers.
Hudson Randall and Karsten Whitson will start the first two games for the Gators. O'Sullivan said he also plans to use Brian Johnson, who has not pitched since he suffered a concussion in the Southeastern Conference tournament.
"They're all going to need to contribute if we're going to win this thing," O'Sullivan said.
Mitch Sherman is a senior writer for ESPN.com. He can be reached at mshermanespn@gmail.com.
Follow Mitch Sherman on Twitter: @mitchsherman