Sixteen regional hosts unveiled
May, 27, 2012
05/27/12
8:56
PM ET
Editor's note: The 2012 NCAA baseball tournament bracket will be unveiled on Monday, May 28 at noon ET on ESPNU.
The regional sites have been announced, and all 30 automatic bids have been claimed. With only two regional hosts among the automatic bids, that means 44 of the 64 tournament teams have been determined.
Which 20 schools will join them when the field is announced?
[+] Enlarge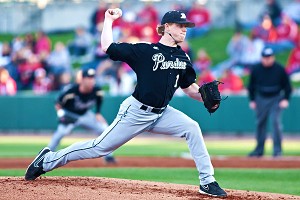 John S. Peterson/Icon SMIWill Purdue's body of work this season, including a Big Ten championship, earn it a national seed when the bracket is unveiled on Monday?
The committee seemed to tip its hand by selecting Miami (Coral Gables) over Kentucky (Lexington) as a regional host. Miami had two major advantages over Kentucky -- a higher RPI and much better nonconference strength of schedule. Last year, the rationale for excluding LSU from the tournament was that the Tigers didn't challenge themselves enough in nonconference play. That was reinforced by this decision, which could provide some insight into the composition of the final bracket.
That could also open up the race for the final national seed. South Carolina is the most vulnerable of the potential national seeds -- its RPI is outside the top 10, and the Gamecocks don't have a conference title to hang their hats on. According to the Boyd's World website, Purdue has quietly climbed into the top 10 in the RPI following its Big Ten tournament title. The Boilermakers also have a gaudy 22-8 record in true road games and a 30-9 record away from home. That, combined with Purdue's northern location, might be enough to land it in the top eight.
There's also the chance for some movement among the Pac-12 hosts. Oregon was swept in its final series at Oregon State, which cost the Ducks a shot at the regular-season league title and possibly a national seed. Arizona claimed a share of the conference title, losing the automatic bid to UCLA based on the teams' head-to-head series. Oregon won the head-to-head series against Arizona and has a better overall résumé, which should keep the Ducks ahead in the national seed chase.
Los Angeles Regional
No. 1 UCLA
Cal State Fullerton
Missouri State
Army
Raleigh Regional
NC State
Vanderbilt
East Carolina
Dayton
Gary Regional
No. 8 Purdue
Kentucky
Indiana State
Valparaiso
Palo Alto Regional
Stanford
Pepperdine
Missouri
Fresno State
Waco Regional
No. 5 Baylor
TCU
Texas-Arlington
Oral Roberts
Houston Regional
Rice
Oklahoma
Michigan State
Cornell
Baton Rouge Regional
No. 4 LSU
Louisville
Southeastern Louisiana
Louisiana-Monroe
College Station Regional
Texas A&M
Dallas Baptist
Sam Houston State
Prairie View
Gainesville Regional
No. 2 Florida
Georgia Tech
Belmont
Bethune-Cookman
Coral Gables Regional
Miami
UCF
Ole Miss
Kent State
Eugene Regional
No. 7 Oregon
Arkansas
New Mexico
Sacred Heart
Charlottesville Regional
Virginia
Oregon State
St. John's
Manhattan
Chapel Hill Regional
No. 6 North Carolina
Coastal Carolina
UNC Wilmington
Stony Brook
Columbia Regional
South Carolina
Clemson
Appalachian State
Austin Peay
Tallahassee Regional
No. 3 Florida State
Mississippi State
Samford
UAB
Tucson Regional
Arizona
San Diego
New Mexico State
Creighton
Last five in: Sam Houston State, Indiana State, New Mexico State, East Carolina, Michigan State
First nine out: Wake Forest, Texas, Wichita State, Maryland, Utah Valley, Tulane, Georgia, Gonzaga, College of Charleston
Based on the rationale the committee apparently used for choosing Coral Gables over Lexington as a regional hosting site, the advantage for the final team in the field goes to a northern team with a top 50 RPI over an ACC team with a top 40 RPI. Michigan State has a 16-8 record on the road and a winning record over the top 100 in RPI. Wake Forest was below .500 against top 100 opponents -- though it did play twice as many games against those teams as the Spartans -- and was just 7-17 on the road.
Texas' at-large hopes may fall victim to Missouri winning the Big 12's automatic bid and the perception that this was a down year for the conference. After finishing in the top two in the nation in ERA the past three years, the Longhorns' pitching staff is outside the top 50 this season. If the Longhorns don't receive an at-large bid, they'll miss the tournament for the first time since the field expanded to 64 teams in 1999.
Tulane and Wichita State are also hurt by long shot teams winning their conference tournaments. Conference USA's automatic bid was won by UAB, which finished seventh in the regular season. In the Missouri Valley Conference, last-place Creighton took the title home. There isn't enough room for a fifth C-USA team or a fourth MVC team, so the bubble has seemingly burst for the Green Wave and Shockers.
The most intriguing decision when the bracket is announced will be whether Utah Valley is included in the field of 64. The Wolverines are 20-10 on the road and have wins against Arizona and Arizona State. However, only seven of their 47 wins are against teams in the RPI top 200. Their résumé looks very similar to Stony Brook, which took the America East automatic bid but only played three games against the RPI top 100 (and was swept at East Carolina). Will a 32-game winning streak be enough to get Utah Valley into a regional without an automatic bid for the Great West?
Jeremy Mills is a researcher for ESPN and is a contributor to ESPN.com's college baseball coverage.