The race for the final national seed
May, 21, 2013
05/21/13
8:56
AM ET
Four more teams officially punched their ticket to the NCAA tournament in the past week, with Cal State Fullerton winning the Big West regular-season title and Army, Jackson State and Savannah State winning conference tournaments. They join Columbia in the field, but what about the other 59 teams?
The national seed and hosting picture is clearer than normal heading into conference tournaments. Seven teams are virtual locks to be a national seeds this year -- Vanderbilt, North Carolina, LSU, Oregon State, Virginia, Cal State Fullerton and Florida State.
The only reason I inserted the word virtual there is the Seminoles. If Florida State goes 0-4 this week (it lost Monday night to the Tar Heels), it could drop out. But that's not very likely.
[+] Enlarge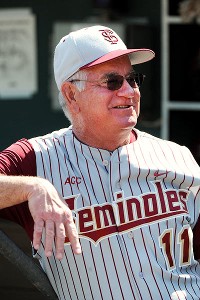 Al Messerschmidt/Getty ImagesMike Martin and Florida State will earn a national seed if they don't slip in the final week.
The real competition is for the final national seed. Oregon held the spot last week but lost this past weekend's series against fellow national seed Oregon State. That alone wasn't enough to knock the Ducks out of contention, but they have lost the season series against the top three teams in the Pac-12.
That opened the door for Louisville, which swept Pittsburgh last weekend to capture the Big East regular-season title. If the Cardinals win the Big East conference tournament, they'll get to 50 wins. That's enough to tilt the balance in their favor for the final national seed.
Also in contention for a national seed are Indiana, NC State and Clemson. The Hoosiers need to follow up their regular-season Big Ten title with the tournament crown. There have never been four national seeds from the same conference, so the Wolfpack and Tigers most likely need to win the ACC conference tournament and get that aforementioned winless week from Florida State.
The bottom of the hosting picture also became clearer in the penultimate week of the season.
SEBaseball.com's Mark Etheridge did a great job looking into the RPI versus conference rank conundrum. His research indicates that past committees have almost always favored RPI. Keep in mind that the composition of the selection committee changes annually, so past results are no guarantee of future performance.
Mississippi State already had the gaudy RPI and then won its final series against South Carolina. That was enough to help the Bulldogs garner the fourth hosting spot for the SEC. Arkansas' third-place finish probably won't be enough to overcome its RPI outside the top 40.
Starkville takes the place of Mobile as the final host, as South Alabama lost its final regular-season series against Troy to slip into a tie for the Sun Belt title. Would a conference tournament title and the novelty of a first-time hosting site be enough to swing the pendulum back? The Jaguars probably need some help at this point.
And postseason baseball should be coming to the Little Apple, as Kansas State won the Big 12 regular-season title and moved into the top 20 in RPI.
That's a lot of talk about the top of the bracket, but what about the bubble?
Honestly, there isn't a lot to talk about with this year's bubble. For the third straight season, there appears to be a dearth of quality teams outside the top 35 or so. Teams that were near locks a few weeks ago -- Florida, Michigan State, Notre Dame, Ohio State, Pittsburgh -- have all played themselves onto, or completely off, the bubble.
Some of that will resolve itself with bid-stealers from leagues with a clear favorite. The bubble will be cheering for Mercer in the Atlantic Sun, Campbell and Coastal Carolina in the Big South, UNC Wilmington in the Colonial, Rice in Conference USA, New Mexico in the Mountain West and Sam Houston State in the Southland.
But for the teams on the bubble, you have one more week to polish up that résumé before the committee makes its final decision.
Here are my projections, as of May 21:
Nashville Regional
No. 1 Vanderbilt
Virginia Tech
Austin Peay
Kent State
Raleigh Regional
NC State
Ole Miss
Campbell
Pittsburgh
Louisville Regional
No. 8 Louisville
Miami (FL)
Ohio State
Tennessee Tech
Clemson Regional
Clemson
Mercer
Florida
Maine
Charlottesville Regional
No. 5 Virginia
UNC-Wilmington
William & Mary
Rider
Bloomington Regional
Indiana
Oklahoma State
Auburn
Illinois State
Corvallis Regional
No. 4 Oregon State
Cal Poly
Seton Hall
South Dakota State
Manhattan Regional
Kansas State
Arkansas
Creighton
Saint Louis
Chapel Hill Regional
No. 2 North Carolina
Alabama
Western Carolina
Bryant
Columbia Regional
South Carolina
Georgia Tech
Coastal Carolina
Savannah State
Tallahassee Regional
No. 7 Florida State
Troy
North Florida
Columbia
Starkville Regional
Mississippi State
South Alabama
Illinois
Jackson State
Fullerton Regional
No. 6 Cal State Fullerton
Arizona State
New Mexico
Army
Los Angeles Regional
UCLA
San Diego
Florida Atlantic
CSU Bakersfield
Baton Rouge Regional
No. 3 LSU
Louisiana-Lafayette
Sam Houston State
Milwaukee
Eugene Regional
Oregon
Rice
Oklahoma
Gonzaga
Last five in: Florida, North Florida, Creighton, Ohio State, Pittsburgh
First nine out: UC Irvine, Michigan State, Houston, Kentucky, BYU, UC Santa Barbara, Florida Gulf Coast, Stanford, San Francisco
Jeremy Mills is a researcher for ESPN and a contributor to ESPN.com's college baseball coverage.