Opportunity knocks for tourney hopefuls
May, 4, 2010
05/04/10
8:31
AM ET
No teams seem to want to grasp the brass ring this season. With a chance to strengthen their claims for national seeds, Georgia Tech, Arkansas and UCLA all lost weekend series at home this weekend. After winning their first 22 games, the Bruins have gone just 8-10 and dropped to seventh in the Pac-10. Georgia Tech and Arkansas each dropped back-to-back series to fall out of first in their respective conferences.
[+] Enlarge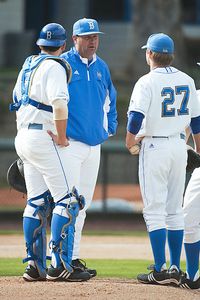 Courtesy of UCLA Athletics After a blistering start, UCLA has struggled in Pac-10 play.
The top seven national seeds are safe -- for now. Texas, Arizona State and Virginia have started to separate from the pack, though the top two RPI teams in the SEC -- currently Florida and Arkansas -- aren't very far behind (it looks worse since they keep beating each other up). Louisville and Coastal Carolina are both posting dominant records against slightly weaker schedules and are in prime spots to grab national seeds. But what about the last spot?
For now, it looks like a three-team race. Miami is tied for first in the ACC and has a great RPI, but the Hurricanes have dropped two conference series and still have tough matchups with Georgia Tech and Virginia on their schedule. UCLA has gone 23-2 in nonconference games and played one of the toughest schedules in the nation, but it's hard to overlook the fact that the Bruins are mired in seventh place in the Pac-10. South Carolina has the best record in the SEC on the strength of winning all seven conference series, but its schedule strength is behind the SEC's other leaders -- at least until series versus Arkansas and Florida to end the season.
Only one conference has ever received three national seeds, and that is the ACC. They've done it on four occasions since the field expanded in 1999 (2000, '02, '03, '08), but don't have a national championship to show for the effort. This week, the SEC joins the list with three national seeds in the field, as the Gamecocks jump into the mix as the regular-season conference leader. Miami stands ready to pick up a national seed if any of the SEC teams stumble down the stretch.
There wasn't a lot of movement among the other top seeds/hosts this week. LSU was swept in its second straight conference series; the defending College World Series champion will have to go on the road for the regionals unless it rights the ship quickly. Ole Miss continues to surge and picks up the hosting spot vacated by the Tigers. The Pac-10 standings seem to change drastically every week; Arizona and Stanford struggled last weekend while Cal and Oregon moved up in the conference standings and into position to grab a top seed. The Ducks, in their second year since reinstating the baseball program, have the facility to host a regional but could suffer if the NCAA wants to reduce travel costs and not have four Western regionals.
Connecticut saw its long winning streak come to an end last week, but the Huskies are still atop the Big East standings and near the Top 20 in RPI. Where geography works against Oregon, it works for UConn. The school has decided to bid to host a regional at nearby Norwich. It's an opportunity the NCAA can't pass up given the Huskies' current résumé and the allure of a Northeast regional. That would leave the third Pac-10 No. 1 seed to get shipped across the country to take on three New England teams.
You know the drill -- national-seed regionals are paired side-by-side with the regional they will face during the Super Regional.
Austin Regional
No. 1 Texas
Texas State
Pittsburgh
Texas Southern
Fort Worth Regional
TCU
Rice
Texas A&M
Oral Roberts
Fayetteville Regional
No. 8 Arkansas
Kansas State
Washington
Wichita State
Los Angeles Regional
UCLA
San Diego
UC Irvine
Columbia
Columbia Regional
No. 5 South Carolina
The Citadel
North Carolina
Charlotte
Tallahassee Regional
Florida State
LSU
Stanford
Binghamton
Gainesville Regional
No. 4 Florida
Arizona
Portland
Bethune-Cookman
Coral Gables Regional
Miami
Florida Atlantic
Florida Gulf Coast
Ball State
Tempe Regional
No. 2 Arizona State
New Mexico
Texas Tech
New Mexico State
Fullerton Regional
Cal State Fullerton
California
Vanderbilt
Army
Conway Regional
No. 7 Coastal Carolina
Clemson
Alabama
Michigan
Atlanta Regional
Georgia Tech
Auburn
Western Kentucky
Manhattan
Louisville Regional
No. 6 Louisville
Virginia Tech
Tennessee
Wright State
Oxford Regional
Ole Miss
Oklahoma
Louisiana-Lafayette
Southeast Missouri State
Charlottesville Regional
No. 3 Virginia
College of Charleston
Liberty
James Madison
Norwich Regional
Oregon
Connecticut
Boston College
Sacred Heart
Last five in: Western Kentucky, Tennessee, Washington, North Carolina, Portland
First nine out: Kentucky, South Alabama, Georgia Southern, Kansas, Washington State, Baylor, Southern Miss, Southeastern Louisiana, Appalachian State
There are 19 conferences that earned only one bid in this week's projection, and all but two of those are bound to be one-bid leagues regardless of who wins the conference tournament. So bubble teams don't have as much to worry about this season. Two teams from the state of Texas buck this trend -- barring a late-season collapse, Rice (Conference USA) and Texas State (Southland) will make it to regionals even if they lose in their conference tournaments.
Some more bubbles could be burst in the smaller conference tournaments where teams with strong overall résumés languish in relatively low spots in the conference standings. A prime example of this is the Southern Conference; College of Charleston and The Citadel are both in position to make the NCAA tournament regardless of their result in the conference tournament. On the other hand, Georgia Southern, Elon and Appalachian State are all strong enough to win the automatic bid and give the conference a third regional slot. Similar setups exist in the Sun Belt (South Alabama and Middle Tennessee) and Big South (VMI).
One of the more interesting conference races this year is in the Big Ten, where all 10 teams sport league records between 9-6 and 6-9. Out of 25 conference series played so far this season, there have been only three sweeps. Ohio State has the most talent in the league, but will suffer if ace Alex Wimmers misses much time after suffering an injury before his last start. Michigan took a home series from the Buckeyes last week, which combined with its conference-leading RPI and 9-6 record earns it a tenuous spot in the field.
Filling out the field with power conference teams in the lower half of the standings is boring, but unless some of the smaller conference teams with strong overall résumés finish near the top of their conference, they're unlikely to play in June. If Western Kentucky, Southeastern Louisiana and Appalachian State remain outside the top three or four in their conference at the end of the regular season, they'll need a run in the conference tourney to make the field of 64.
Will any teams that miss their conference tournaments make the field this season? North Carolina is 1.5 games behind NC State for the final ACC tournament bid but has a much stronger overall résumé. Kentucky sports a top-30 RPI but is in 10th place in the SEC and just lost a series to ninth-place Tennessee. If the smaller conference tournaments hold form this year, don't be surprised if the SEC lands 10 regional teams.
Next week, we'll take a conference roll call and see what teams need to do over the last three weeks of the season to polish their résumés in advance of the Memorial Day selection show.
Jeremy Mills is a researcher for ESPN and is a contributor to ESPN.com's college baseball coverage.