Soft bubble could bounce LSU
April, 27, 2011
04/27/11
8:55
AM ET
We've come to the point of the season at which the tiers between the top teams and the next set of contenders have become clearly defined.
[+] Enlarge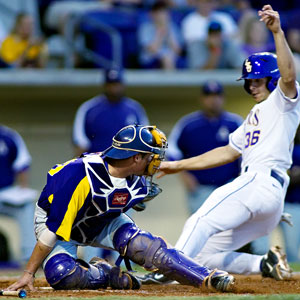 John Korduner/Icon SMILSU is hoping to slide into the tournament with a strong finish.
Barring a major collapse by South Carolina, Vanderbilt or Florida, the SEC will get three national seeds this year. Those three could also be the only SEC schools to host a regional -- Arkansas took a step back this weekend, losing a conference series at Kentucky. That leaves the Razorbacks in a dogfight for the SEC West title and a chance to host.
While the SEC has three of the top four teams in the coaches' poll, the ACC has more depth and could earn as many as five home regionals and two national seeds. Virginia has had such a strong start to the season that the Cavaliers could lose the rest of their games and still host a regional. North Carolina's recent struggles have dropped it out of the national seed discussion for now, and Georgia Tech and Florida State are also jockeying for top-eight consideration. Miami has gone 13-2 since late March to move into hosting consideration as well.
Four regionals appear to be within reach for West Coast teams, assuming that Arizona State is eligible for postseason play. The Sun Devils and Arizona State will contend for national seeds if they remain atop the Pac-10. Dropping two of three at Cal Poly temporarily slowed Cal State Fullerton, but the Titans will host a regional and contend for a top-eight seed. Stanford appears to have righted the ship after being swept by Oregon State and can move into hosting consideration with a strong finish, while Fresno State also merits consideration with a WAC title.
Charlottesville Regional
No. 1 Virginia
Elon
Arizona
Delaware
Austin Regional
Texas
Rice
Texas State
Dartmouth
Tempe Regional
No. 8 Arizona State
UC Irvine
Kansas State
South Dakota State
Fullerton Regional
Cal State Fullerton
UCLA
St. John's
Navy
College Station Regional
No. 5 Texas A&M
Auburn
Southeastern Louisiana
Stony Brook
Fort Worth Regional
TCU
Oklahoma
Ole Miss
Monmouth
Corvallis Regional
No. 4 Oregon State
Miami
Gonzaga
Manhattan
Fresno Regional
Fresno State
Stanford
Jacksonville
Michigan State
Nashville Regional
No. 3 Vanderbilt
California
NC State
Wright State
Hattiesburg Regional
Southern Miss
Troy
Mississippi State
Southern
Gainesville Regional
No. 6 Florida
Florida Atlantic
UCF
Bethune-Cookman
Tallahassee Regional
Florida State
Stetson
FIU
Jacksonville State
Atlanta Regional
No. 7 Georgia Tech
Georgia
UAB
Georgia Southern
Fayetteville Regional
Arkansas
Oklahoma State
Creighton
Kent State
Columbia Regional
No. 2 South Carolina
Clemson
Coastal Carolina
Connecticut
Chapel Hill Regional
North Carolina
East Carolina
Alabama
Charlotte
Last five in: Southeastern Louisiana, FIU, Mississippi State, Kansas State, UAB
First nine out: LSU, Baylor, Cal State Bakersfield, Louisiana-Lafayette, Rhode Island, College of Charleston, East Tennessee State, Nebraska, Texas Tech
Let's start by discussing the first team out -- LSU. The Tigers are in the top 30 in RPI, went 20-3 in nonconference play and are a respectable 9-14 against top-50 RPI teams. They're also tied for last place in SEC with a 4-14 record, have gone 3-8 on the road (1-8 in SEC games) and are losers of nine of their past 12 games. The closing schedule favors the Bayou Bengals -- their final four SEC series are against the teams currently seeded 8th-11th in the SEC. While the current conference standing places LSU on the outside of the bubble, a strong finish (say 9-3 in SEC games) could get the Tigers into the NCAA tournament even if they fall short of Hoover.
All told, the bubble is pretty soft so far this year. With the exception of some West Coast outliers, most RPI numbers look pretty reasonable -- all but two of the current top 40 found their way into the field, and one of those has a sub-.500 record. For now, conference standing helps out some of the "mid-majors" at the expense of big-conference teams with less outstanding conference records. Florida International and Southeastern Louisiana are the biggest beneficiaries at this point.
UAB is the last team in, and makes five bids for Conference USA. The Blazers have won four of five conference series, including sets against projected regional participants East Carolina and Rice.
Kansas State gets the fifth Big 12 spot on the basis of having fewer black marks than the other contenders at this point. If Baylor passes the Wildcats in the conference standings, the Bears will likely pick up the bid based on a superior record against top-50 teams. Texas Tech and Nebraska have more work to do to move into consideration.
Jeremy Mills is a researcher for ESPN and is a contributor to ESPN.com's college baseball coverage.
Follow ESPN.com's college sports coverage on Twitter: @ESPN_College and on Facebook.