Recapping Friday's Super Regional action
June, 10, 2011
06/10/11
11:43
PM ET
Day 1 of the super regionals is done and in the books with the advantage going to Florida, North Carolina, Arizona State and Vanderbilt, all of whom pulled off Game 1 wins. Let's do a quick spin around and take stock of where things stand:
Biggest winner
Arizona State: The Sun Devils were the only road warriors of the day, going into venerable Disch-Falk and handing Taylor Jungmann a shocking second straight loss with a 3-1 win.
Biggest loser
Oregon State: If the Beavers couldn't make a game of it with Sam Gaviglio on the hill against Vanderbilt, you have to feel they're really behind the eight ball in Nashville. Add in the fact that No. 2 starter Josh Osich won't be available either. Ouch.
[+] Enlarge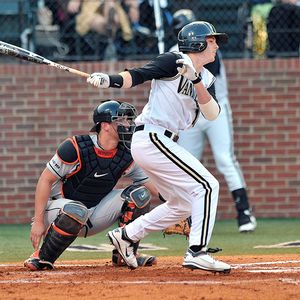 Jim Brown/US PresswireMike Yastrzemski's four RBIs fueled Vanderbilt's 11-1 rout of Oregon State in Game 1 of the Nashville Super Regional.
Best bet to go three games
Stanford vs. North Carolina: UNC got the jump, but beyond Patrick Johnson, the Heels don't have a dominant starter. They have a good bullpen, for sure, but I would be surprised if Kent Emanuel or Chris Munnelly can go seven or eight innings like Johnson did today. Just a hunch.
Best bet to end Saturday
Florida over Mississippi State: The Gators looked like men among boys in an 11-1 win over Mississippi State. I don't think the Bulldogs have the horses, so to speak. And after what we saw today, you have to question their confidence level too.
Tour de force
Mike Yastrzemski, Vanderbilt: Yaz's grandson was big-time clutch for the Commodores on Friday, going 2-for-4 and four RBIs. His 3-run dinger in the fourth inning was the door slammer in an 11-1 win.
Tour de force II
Patrick Johnson, North Carolina: The Tar Heel ace was steady and kept a potent Cardinal offense in check. He stretched all four corners of the plate incredibly well, striking out seven and giving up just five hits, working into the eighth inning to improve to 13-1.
Not ready for primetime
Sam Gaviglio, Oregon State: The Beaver ace just wasn't himself on Friday. You've got to give the potent Vanderbilt order a ton of the credit, but Gaviglio also walked six batters to go along with 10 hits surrendered in 5 1/3 innings. Wow.
Quick hits
[+] Enlarge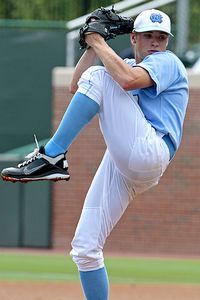 AP Photo/Gerry BroomePatrick Johnson lasted 7 2/3 innings, striking out seven and allowing just one run, in North Carolina's 5-2 win over Stanford.
• I have to admit, I almost want the NCAA to rework the bracket so that Florida and Vanderbilt could meet in only the title round in Omaha. Those were two impressive performances today. In case you didn't notice, both the Gators and Commodores came away with 11-1 wins after jumping out to 4-0 leads in the first inning on the opposing team's ace.
• Mississippi State handed Florida starter Hudson Randall his first loss of the season back on April 8. But when Randall struck out five of his first nine batters, while also getting an immediate padding of four runs from his offense, it was boat race city.
• I was a little taken aback at the large sections of open seats at McKethan Stadium on Friday. I know it was a day game, but still, to get only 2,446 into the stands was surprising. Even the fair-weather North Carolina fan base pulled in 3,489.
• Mike Zunino proved Friday why he is such a force on the field -- offensively and defensively -- with his 26th multi-hit game, including a two-run single in the first inning and a solo home run in the third inning.
• They say defense wins championships. But I'll take two-strike, two-out hits. And Vanderbilt had plenty of those Friday, scoring 10 of their 11 runs with two outs.
• Patrick Johnson and Mark Appel are the reason the UNC-Stanford was so close and so great to watch through the first eight innings. But when they exited the game, both teams started the merry-go-round on the basepaths. For that reason alone, I think this series is still wide open.
• UNC played like a senior team, not freaking out when Stanford made its move to get within one run in the 8th inning. And leave it to senior Ben Bunting to key to that steadiness; having gone 3-for-4 and knocking in a run, he also recorded the final out of the game.
• It had to be an extra satisfying night for ASU's Brady Rodgers, who is a Richmond, Texas native and was able to get revenge on his home-state Longhorns. Rodgers improved to 9-4 after pitching into the seventh inning and holding the Horns to one earned run while striking out four and walking none.
• It may have been the most overlooked at-bat of the day, but Deven Marrero's leadoff walk in the seventh inning -- after an 11-pitch at-bat that started 0-2 -- was huge in ASU's win over Texas. Marrero would come around to score on a Joey DeMichele single for an insurance run.
Eric Sorenson, who runs College Baseball Today, and Walter Villa are regular contributors to ESPN's college baseball coverage. Follow Eric on Twitter: @stitch_head
Follow ESPN.com's college sports coverage on Twitter @ESPN_College and on Facebook.