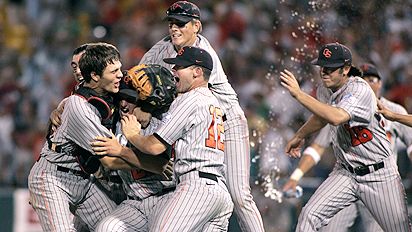 Oregon Coast
Oregon State needed just two games to put away UNC. Sunday's 9-3 win capped an improbable run for the Beavers, who went from nearly missing the tourney to winning back-to-back titles.
Around the Horn
•
Schlabach: Mission Impossible
|
OSU rolls

|
Hero's welcome
•
CWS index
|
Baseball America:
OSU's win twice as nice
|
More

Change Of Place?


A proposal is on the table to build a new stadium in Omaha primarily for the College World Series. Other cities are toying with the idea of bidding for the event. Is Rosenblatt Stadium's near six-decade run as the host of the CWS in doubt? Story

• Albright: CWS should hit the road | UNC-Oregon State preview




Well Heeled


North Carolina took the tough road -- battling through the losers' bracket -- but the Heels bested Rice two days in a row to set up a College World Series finals rematch with Oregon State. Story |

• Around the Horn: Part II | UNC likes long ball | Schedule | Index
• Oregon St.'s remarkable run …

| BA: Game blog | CWS Central

The Champs Are Back


Oregon State nearly missed the cut for the NCAA Tournament. After routing UC Irvine 7-1 Wednesday, the Beavers are headed back to the CWS finals, and a possible rematch with UNC. Story |

• Around the Horn | OSU gunning for No. 2 | UNC still alive
• SC recap

| Schedule | Battered batters | BA's blog

Ante Up


UC Irvine survived 13 innings, nearly six hours and 96 baseballs in elimination game play with Cal State Fullerton on Monday. Clearly, it's going to take a lot to knock the Anteaters out. Story

• Irvine survives marathon game …

| SportsCenter recap


• OSU routs ASU …

| Around the Horn | Photo gallery | BA: Blog


Oregon Trials


Mike Lissman's first-inning home run helped the Beavers beat Cal State Fullerton 3-2 on Saturday night. But many are wondering whether Lissman should have been in the lineup. Story |

• OSU escapes CSF | Sun Devils win …

| ASU's inspiration
• Around the Horn: Top seeds survive | Schedule | CWS index

Eighth Inning Freaks


CWS newbie Louisville jumped out to an early lead on Friday. But Rice wasn't going down without a fight. The top-seeded Owls scored six runs in the eighth inning for the 15-10 Game 1 win. Story |

• UNC bests Bulldogs …

| Around the Horn: Comeback kids
• Rice makes statement in opener | CWS photo gallery

State Of The Game


Low graduation rates caused the NCAA to pass legislation that will change the face of college baseball. What's next? Story


End text -------------------------
2007 College World Series schedule
Rosenblatt Stadium
Omaha, Nebraska
On Friday, teams from Bracket No. 1 will kick off the double-elimination College World Series. Teams from Bracket No. 2 will begin play Saturday. The winner of each bracket will face off in a best-of-three championship series beginning June 23.
June 15
Rice 15, Louisville 10 …


North Carolina 8, Mississippi State 5 …


June 16
Arizona State 5, UC Irvine 4 …


Oregon State 3, Cal State Fullerton 2 …


June 17
Louisville 12, Mississippi State 4 …


Rice 14, North Carolina 4 …


June 18
UC Irvine 5, Cal State Fullerton 4 (13 innings) …


Oregon State 12, Arizona State 6 …


June 19
North Carolina 3, Louisville 1 …


UC Irvine 8, Arizona State 7 (10 innings) …


June 20
North Carolina 6, Rice 1 …


Oregon State 7, UC Irvine, 1 …


June 21
North Carolina 7, Rice 4 …


June 23
Oregon State 11, North Carolina 4 …


June 24
Oregon State 9, North Carolina 3 …

• Complete College World Series schedule/results
College World Series champion
Oregon State Beavers
Record: 49-18

CWS results: Defeated Cal State Fullerton 3-2; Defeated Arizona State 12-6; Defeated UC Irvine 7-1; Defeated North Carolina 11-4; Defeated North Carolina 9-3
How they advanced: Won Corvallis Super Regional; won Charlottesville Regional
CWS appearances: 4 (1952, '05, '06, '07)
NCAA championships: 1 (2006)
Eliminated College World Series Teams
Arizona State Sun Devils
Record: 47-14
Seed: No. 5 overall

CWS results: Defeated UC Irvine 5-4; Lost to Oregon State 12-6; Lost to UC Irvine 8-7 (10 innings)
How they advanced: Won Tempe Super Regional; won Tempe Regional
CWS appearances: 20 (1964, '65, '67, '69, '72, '73, '75, '76, '77, '78, '81, '83, '84, '87, '88, '93, '94, '98, '05, '07)
NCAA championships: 5 (1965, '67, '69, '77, '81)
Cal State Fullerton Titans
Record: 38-24

CWS results: Lost to Oregon State 3-2; Lost to UC Irvine 5-4 (13 innings)
How they advanced: Won Fullerton Super Regional; won San Diego Regional
CWS appearances: 15 (1975, '79, '82, '84, '88, '90, '92, '94, '95, '99, '01, '03, '04, '06, '07)
NCAA championships: 4 (1979, '84, '95, '04)

Louisville Cardinals
Record: 46-24

CWS results: Lost to Rice 15-10; Defeated Mississippi State 12-4; Lost to North Carolina 3-1
How they advanced: Won Louisville Super Regional; won Columbia Regional
CWS appearances: 1 (2007)
NCAA championships: 0

North Carolina Tar Heels
Record: 57-16
Seed: No. 3 overall

CWS results: Defeated Mississippi State 8-5; Lost to Rice 14-4; Defeated Louisville 3-1; Defeated Rice 6-1; Defeated Rice 7-4; Lost to Oregon State 11-4; Lost to Oregon State 9-3
How they advanced: Won Chapel Hill Super Regional; won Chapel Hill Regional
CWS appearances: 6 (1960, '66, '78, '89, '06, '07)
NCAA championships: 0
Mississippi State Bulldogs
Record: 38-22

CWS results: Lost to North Carolina 8-5; Lost to Louisville 12-4
How they advanced: Won Starkville Super Regional; won Tallahassee Regional
CWS appearances: 8 (1971, '79, '81, '85, '90, '97, '98, '01, '07)
NCAA championships: 0

Rice Owls
Record: 57-13

Seed: No. 2 overall
CWS results: Defeated Louisville 15-10; Defeated North Carolina 14-4; Lost to North Carolina 6-1; Lost to North Carolina 7-4
How they advanced: Won Houston Super Regional; won Houston Regional
CWS appearances: 6 (1997, '99, '02, '03, '06, '07)
NCAA championships: 1 (2003)
UC Irvine Anteaters
Record: 47-17-1

CWS results: Lost to Arizona State 5-4; Defeated Cal State Fullerton 5-4 (13 innings); Defeated Arizona State 8-7 (10 innings); Lost to Oregon State 7-1
How they advanced: Won Wichita Super Regional; won Round Rock Regional
CWS appearances: 1 (2007)
NCAA championships: 0
College World Series History
Team Champions
2007
Oregon State
2006
Oregon State
2005
Texas
2004
Cal State Fullerton
2003
Rice
2002
Texas
2001
Miami
2000
LSU
1999
Miami
•
Complete CWS champions list