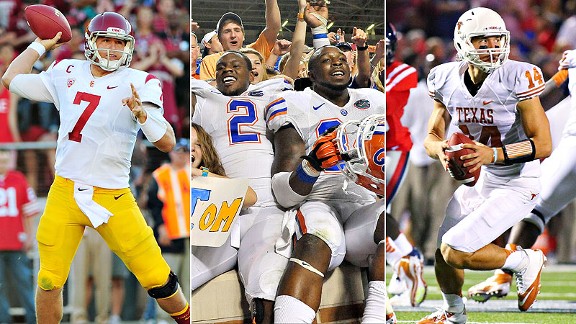 US PresswireA variety of surprising performances and finishes came out of Week 3.
Call it 'What-if Saturday'
By Jeremy Willis
ESPN RecruitingNation
What might have been never seems to be close to what actually happened.
Arkansas was primed for a home SEC opener against Alabama, ready to knock off the defending champs with All-SEC candidate Tyler Wilson leading the way. After a motorcycle accident/scandal, an injury to Wilson and an inexplicable upset to Louisiana-Monroe, and the grandeur that might have been for the Razorbacks in the preseason turned into a 52-0 beatdown the Tide delivered in Fayetteville, Ark., on Saturday.
Alabama again flexed its muscles. The Tide defense held Arkansas to 137 total yards and forced five turnovers. The Tide continue to look like the best team in the country because …
Matt Barkley and his senior class at USC are now 0-for-Stanford in their careers after falling 21-14. This might have been predicted as an easy win, just another stop for the Trojans (including an epic matchup with Oregon) on the road to returning to the BCS title hunt and climbing the mountain out of NCAA sanctions.
This was also supposed to be the year the Trojans had the better quarterback. After all, nobody is mentioning Josh Nunes as a Heisman finalist or No. 1 overall draft pick like they did for Nunes' predecessor, Andrew Luck, or Barkley, for that matter.
The Trojans went to The Farm and got manhandled. They were beaten up by the Cardinal's physical play on both sides of the ball, as they had been in their previous four losses. Are USC's title hopes dead? Bruised severely, but they are still on life support. But what seemed like a road back to the upper echelon has just hit a detour.
Here's a look around the rest of RecruitingNation:
The Longhorns have found their offense
Carter Strickland
HornsNation
OXFORD, Miss. -- Welcome to the Big 12 Ole Miss.
And, Texas, a welcome to you as well.
Yep, for the first time in quite some time, the Longhorns behaved like they belonged in the wide-open, high-scoring, rooten-tootenist conference that side of the Mississippi River, as the No. 14 Longhorns (3-0) rolled to a 66-31 win over Ole Miss (2-1) in front of 61,797 at Vaught-Hemingway Stadium on Saturday night.
More on Texas
For full coverage of the Longhorns, check out the Texas blog, part of ESPN's College Football Nation. Blog

More:
• Texas' clubhouse page
• ESPN.com's Big 12 blog
• ESPN Dallas' college blog
"They now know they can hold their own," Texas coach Mack Brown said of his offense.
Now when it comes to Texas, there appears to at least be some bridging of the gap between its offense and that of its opponent in two weeks, Oklahoma State. Not just because of the point total, which was the highest since the Longhorns scored 66 against Kansas in 2005 and the most Ole Miss has given up since 1917 (when it lost 69-7 to Sewanee). It was the manner in which Texas scored those points.
Hold onto your Stetson here, but Texas actually went deep ... more than once. Quarterback David Ash hit on passes of 55, 47, 46 and 45 yards. The more cynical might note that three of those passes were woefully underthrown. The more optimistic might note that the receivers at Texas are now coached to adjust to just such a throw. (See Marquise Goodwin's 55-yard TD in the fourth quarter.)
"I think I mastered the underthrow," Ash said.
He mastered a few other things as well. Ash threw for a personal-best 326 yards and four touchdowns on 19 of 23 passing. So what if a few throws were short? It worked with aplomb against the Rebels.
So what that a pass interference penalty was called on one of the aforementioned deep throws? When things are rolling, they are rolling.
As for rolling with this offense into the Big 12, there is little reason to suspect Texas won't do just that. At least against Oklahoma State. Remember, for all the points the Cowboys have scored, they did allow 59 points to Arizona.
"Each guy did their job, and when that happens it's amazing what can happen," Ash said. "We finally took advantage of the opportunities that had been there in the first two games. And then I had some guys out there make plays."
To read the rest of the story, click here.
Big day, bigger comeback
[+] Enlarge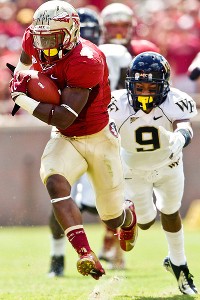 Cal Sport Media via AP ImagesChris Thompson had 197 yards rushing, all in the first half, against Wake Forest.
TALLAHASSEE, Fla. -- The week began with Chris Thompson standing in front of his team and delivering a message.
It had been a year since he'd fought for a first down against Wake Forest, running headlong into a tackler and creating a collision that broke two bones in his back. The memories of that game and the long fight to get back on the field weighed heavily on the senior running back. He wanted revenge.
"I owe them," Thompson told his teammates during a meeting before practice. "They put me out last year, and I'm going to finish them off this year."
That's exactly what happened Saturday. Thompson torched the Wake Forest defense for 220 total yards, including touchdown runs of 74 and 80 yards en route to a dominant 52-0 Florida State win.
But by the time Thompson broke through the line of scrimmage, darted down the sideline, sidestepped a cornerback before waltzing into the end zone for his first touchdown of the game, that need for retribution had long since faded away.
To read the rest of the story, click here.
3 Up, 3 Down
By RecruitingNation
For every game there are always a few ups, a few downs and always some things in between. Players stand out or disappoint while trends, storylines and plays change the course of each game for each team. We analyze the good and the bad for each RecruitingNation team. We call it, 3 Up, 3 Down.

Alabama | Florida | FSU | Georgia | LSU
Michigan | Ohio State | Penn State | Texas
Texas A&M | USC | Washington
Final Verdict: Wilson out of line?
Week 3 in Recruiting Nation
Here's a recap of the action from each of the RecruitingNation team sites.

Alex Scarborough writes that Alabama's offense looked great against Arkansas in the 52-0 win. However, it was the Tide's defense that was truly dominant.
TideNation

Michael DiRocco asks: Is there any doubt that the Florida quarterback job belongs to Jeff Driskel? After consecutive road wins, and what he did against Tennessee, the Gators have their man.
GatorNation

David Ching writes that it was a video game-like day for Georgia's offense. The Bulldogs piled up 713 total yards and Aaron Murray had a career day against Florida Atlantic.
DawgNation

Gary Laney writes that LSU started sluggish and sloppy, especially on offense. But as usual, a tremendous defensive play turned the game for the Tigers.
GeauxTigerNation

Michael Rothstein writes that Michigan's blowout win over UMass was nice and all, but the Wolverines know they must get a few things fixed before facing Notre Dame.
WolverineNation

Austin Ward writes that after big plays helped Ohio State escape with a win against Cal, sophomore WR Devin Smith has found his flair for the dramatic.
BuckeyeNation

Josh Moyer writes that Allen Robinson snagged three touchdown grabs for Penn State against Navy. His big day helped deliver Bill O'Brien his first win as the Nittany Lions' head coach.
NittanyNation

Sam Khan Jr. writes that "Johnny Football" was at it again for Texas A&M against SMU. Johnny Manziel juked, threw on the run and accounted for six touchdowns in the Aggies' rout.
GigEmNation
Greg Katz writes that after USC's stunning upset loss to Stanford, the talk in the Trojans' locker room turned to how undisciplined the play was and how Lane Kiffin and Co. can fix it. WeAreSC