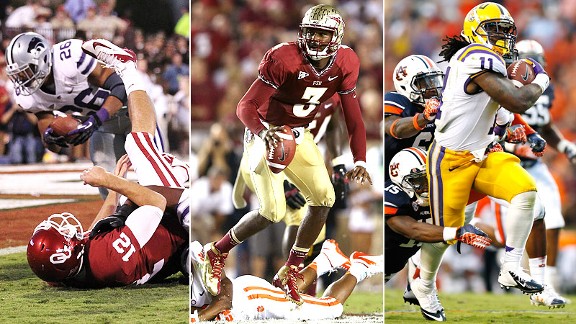 US Presswire, Getty Images, Getty ImagesIn the biggest games of Week 4, some players had big-time performances while others fell apart.
Men of the hour
By David M. Hale
ESPN RecruitingNation
TALLAHASSEE, Fla. -- In Florida State's locker room at halftime, there was doubt.
Throughout the summer, praise had been heaped upon the Seminoles, but that was nothing new. It's September that has been Florida State's Achilles' heel in recent years.
Throughout three easy wins to start the season, the eye-popping numbers provided evidence that indeed, this would be the year Florida State returned to past glory. But those opponents were overmatched from the outset and were far from a challenge.
But by halftime Saturday, trailing Clemson by a touchdown, the Seminoles were looking for answers.
In the second half, they came in the form of a veteran quarterback taking his last shot at a signature performance and a sophomore cornerback playing in his first big game.
ESPN's NoleNation

Two months ago, Nick Waisome was just a sophomore reserve cornerback. Saturday night he was covering Clemson All-American Sammy Watkins. Nervous? Not a chance, writes David M. Hale. Story
EJ Manuel carried the Florida State offense, throwing for 380 yards and running for 102 more, while Nick Waisome blanketed All-American receiver Sammy Watkins and picked off a Tajh Boyd pass in the fourth quarter to effectively secure the game.
"We knew we had to keep scoring to help our defense out," Manuel said. "We knew Clemson could score 50 points easily. As an offense, we knew we had to take the initiative, and the defense played lights out in the second half."
On a night when one-fifth of the top 25 lost and a handful of early season favorites were looking for answers after sluggish starts, Manuel and Waisome headlined a group of difference makers that answered the call.
LSU quarterback Zach Mettenberger made his first SEC road start, and the Tigers offense struggled to find its footing. But while Mettenberger adjusted to life in the hostile confines of Jordan-Hare Stadium, defensive end Sam Montgomery was dominant, delivering an inspirational halftime speech while racking up a career-high 3.5 tackles-for-loss, including a first-quarter safety, as LSU hung on for a 12-10 win.
The Big Ten's struggles continued, but Ohio State narrowly avoided an embarrassment at the hands of UAB. Quarterback Braxton Miller wasn't at his best, but he ran for two touchdowns, including a 1-yard score with 5 minutes left in the game to secure the win.
No. 6 Oklahoma couldn't find its second-half hero, as No. 15 Kansas State rode running back John Hubert's 130-yard rushing performance to an upset of the Sooners. Meanwhile Notre Dame's Manti Te'o provided the fireworks early, picking off Denard Robinson twice in a 13-6 win over Michigan.
When the dust cleared Saturday, Heisman favorites like Robinson and Clemson's Tajh Boyd had seen their odds dip, while Alabama's AJ McCarron, Georgia's Aaron Murray and Manuel turned in dominant performances to cement their status as front-runners for the award and push their teams to the forefront of the national-title hunt.
For Manuel, however, the big numbers he posted Saturday were a secondary concern.
"I'm not really about personal accolades," Manuel said. "I just want to win and leave a legacy at Florida State."
Landry Jones self destructs
NORMAN, Okla. -- Landry Jones' fumble against Kansas State sure looked like his fumble in the Cotton Bowl two years ago.
[+] Enlarge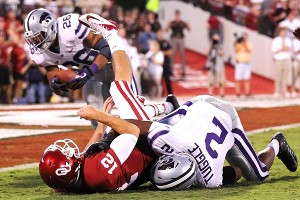 Matthew EmmonsOU quarterback Landry Jones had two costly turnovers in the loss to Kansas State.
Unable to locate an open receiver, Jones chose to roll out instead of throwing the ball away. Moments later, he was stripped from behind, and the Wildcats were celebrating in the end zone with a defensive touchdown.
A polished player in so many ways, Jones continues to make the same mindless mistakes he did as a young quarterback. And Saturday night, it cost Oklahoma big, as Kansas State stunned the sixth-ranked Sooners, 24-19.
"I played pretty terrible," Jones said. "We played really dumb football, especially me.
"This one is on me."
Dumb football is not what you'd expect from a fifth-year player in his fourth season as the starting quarterback. But that's what the Sooners got from Jones, whose two costly turnovers led to a pair of K-State touchdowns.
Jones also overthrew tight end Brannon Green, who was wide open in the end zone, on OU's opening drive, which forced the Sooners to settle for a field goal -- and set the tone for the night.
But the turnovers were the difference.
To read the rest of the story, click here.
Robinson plagued again by turnovers
Michael Rothstein
WolverineNation
SOUTH BEND, Ind. -- Denard Robinson put his head down and one of the fastest men in college football started a slow jog past celebrating Notre Dame players in a stadium of fans who spent two seasons shaking their head at his late-game heroics.
The man in the white No. 16 jersey jogged under the goalposts by himself, up the tunnel in the north end of the stadium after he lost to Notre Dame for the first time, 13-6, in what he called "the worst game of my career."
Four interceptions, five total turnovers and a game in which he forced passes and overall regressed as a quarterback would do that. So much so he apologized afterward. To everyone.
"I want to say sorry to everybody who watched football, watched Michigan football and whoever follows Michigan football," Robinson said in a hallway underneath the Notre Dame Stadium stands. "I want to say sorry and it won't happen no more. I am going to be accountable for the rest of the season. I'll tell you that much."
To read the rest of the story, click here.
3 Up, 3 Down
By RecruitingNation
For every game there are always a few ups, a few downs and always some things in between. Players stand out or disappoint while trends, storylines and plays change the course of each game for each team. We analyze the good and the bad for each RecruitingNation team. We call it, 3 Up, 3 Down.

Alabama | Florida | FSU | Georgia
LSU | Michigan | Ohio State | Oklahoma
Penn State | Texas A&M | USC
Week 4 in Recruiting Nation
Here's a recap of the action from each of the RecruitingNation team sites.

Alex Scarborough writes that Alabama got some extra motivation from FAU's Cory Henry, and with a fast start, the Tide cruised past the overmatched Owls. TideNation

Michael DiRocco writes, Florida was in this spot in 2011 -- 4-0 and highly ranked -- only to finish 7-6. This time around, after routing Kentucky, the Gators feel they are a better team. GatorNation

David Ching writes that it took Georgia four weeks, but against Vanderbilt, the Bulldogs finally showed what they are capable of on defense. The offense didn't look bad either. DawgNation

Gary Laney writes, Zach Mettenberger had some costly turnovers that kept Auburn in the game, but the Tigers' QB, along with DE Sam Montgomery came through when it mattered. GeauxTigerNation

Austin Ward writes that Ohio State completed its nonconference slate undefeated. However, the Buckeyes' play was hardly perfect and they have found a few things to work on before beginning Big Ten play. BuckeyeNation

Josh Moyer writes that Matt McGloin passed for 318 yards in Penn State's win over Temple, but it was the quarterback's confidence that buoyed the Nittany Lions and powered them to the win. NittanyNation

Sam Khan Jr. writes, Texas A&M cruised to a 70-14 win over South Carolina State by showing what it was capable of in all three phases of the game. GigEmNation
Garry Paskwietz writes that Matt Barkley and USC's passing attack had another off day. Thankfully for the Trojans, they were able to lean on Silas Redd and the running game to grind out a win over Cal. WeAreSC