High school connections help Freeze, Malzahn
Springdale (Arkansas) Shiloh Christian coach Jeff Conaway has a long list of words he uses to describe Auburn's Gus Malzahn. Memphis Briarcrest Christian coach Brian Stewart uses some of the same terms to define Ole Miss' Hugh Freeze.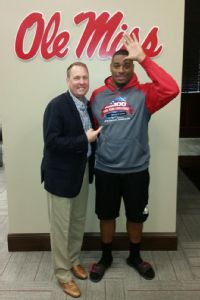 Twitter/@cecejefferson7Ole Miss coach Hugh Freeze has become a hit with recruits like ESPN 300 No. 9 CeCe Jefferson.
Adjectives like dedicated, faithful, inspiring and organized flow quickly from Conaway's and Stewart's mouths. Eventually they find more fitting ways to describe the head coaches at Auburn and Ole Miss.
"They're one of us," said Conaway, who is in his first season at Shiloh Christian, the same school where Malzahn won two state championships in 1998 and 1999.
"Gus and Hugh are both still high school coaches at heart. They're coaching at the pinnacle of college football, but deep down they are just like the rest of us high school coaches that know what Friday night is like and how tough it is to get ready Monday through Thursday for that game."
Stewart, who was an assistant under Freeze at Briarcrest and was a part of two Tennessee state championship and six regional championship teams, agrees.
"They both understand what it's like to teach five or six classes," Stewart said. "They understand what it's like to have to do so many different things and wear so many hats. That's something they immediately have in common with high school coaches throughout the nation."
Malzahn leads third-ranked Auburn into Oxford, Mississippi, Saturday night to face Freeze's fourth-ranked Ole Miss squad in what is the weekend's best game and, likely, an SEC West elimination game. Many observers believe it's the connection Freeze and Malzahn have with high school coaches that has allowed them to do damage in the cutthroat world of SEC recruiting.
Since his arrival at Auburn, the Tigers have averaged the nation's 11th-best class under Malzahn, including a top-10 finish in 2014, and are currently No. 9 in the 2015 class rankings. Ole Miss has three straight top-25 finishes under Freeze, including the 2013 class that finished fifth that featured Robert Nkemdiche, Laremy Tunsil and Laquon Treadwell, who are now backbones of a team with national title aspirations.
"Gus and Hugh are extremely personable," said Conaway, who got to also know Freeze when he was coaching at Arkansas State before making the move to Ole Miss.
"Everyone knows when you're around a good person, it's different. Yes, they coach and they want to win, but I really do understand how they can make an impact on young men. I think when you do that, young men see it, coaches see it and moms and dads see it. You want your kid to go be around somebody like that. That's really why I think they've had success with recruiting. They're well trusted and respected by the high school coaches, and that makes it a lot easier to send your kids to go play for a guy like that."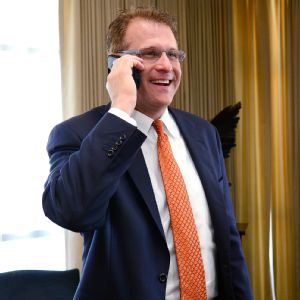 AP Photo/Todd J. Van EmstGus Malzahn is working on a second-consecutive top-10 ranked recruiting class.
That is something Conaway says is one of the most overlooked parts of the recruiting process. The high school coach still remains one of the central figures in a recruit's decision. Yes, mom and dad are going to have the final say, but it's the high school coach who acts as the gatekeeper and allows recruiters initial access to a prospect as an underclassman and goes out of his way to keep the two parties connected until signing day. High school coaches also often provide feedback on the coaches and give advice on which program would be the best fit.
Don't have a good relationship with the high school coach? Good luck landing one of his players.
"I've been around the coaches that maybe haven't involved the high school coach extremely well," Conaway said. "And I've been around coaches that do it extremely well, like Hugh and Gus do. It's not difficult to see the difference. Both of these coaches take pride in what they say and make sure the high school coaches are engaged in the recruiting process. You go the extra mile for the college coaches that treat the high school coach the right way."
But you still have to be able to convince the recruits to come your school, and Stewart said that's when Freeze's recent background of working with high school players can again become a big part of the process.
"Any time somebody can motivate young people to 'jump on the sword' so to speak, it's a good thing," Stewart said. "Hugh has always been so gifted. When you can get in front of people, persuade them and allow their minds to be in that moment, that's just a gift. All coaches have somewhat of a gift to motivate kids, but Hugh especially does. When you're in that room on a Friday night and he's finished a pregame, brother, you were ready to walk on water. I know he can do the same working with recruits."
Conaway sees similarities with Malzahn.
"He's mighty convincing," Conaway said. "He knows the right buttons to push. But when you think about it, he was standing in the high school locker room every day less than 10 years ago talking with these kids. Coach Malzahn stayed extremely humble when he became a college coach. Even in his conversations with high school coaches and players, you hear him say that over and over again 'I'm just a high school football coach getting to coach college.' I just think his approach really makes the high school coaches and recruits like him even more."
RecruitingNation
Jeremy Crabtree is a senior coordinator
Spent 12 years with Rivals.com/Yahoo! Sports
Graduated from Kansas State
The Week That Was
Miss something on RecruitingNation this week? We've got you covered.

• 100 days to NSD: What to know »

• Michigan uncertainty affects recruits

• Luginbill's Premium Prospect Board

• Class rankings weekly update

• On The Trail Live replay

• Conference weekend wraps

• Best of the official visits »

Top News
No. 42 Patrick to FSU » | Scout's take


ESPN 300 OL Williams picks Miss. State


WR Strickland to Red Raiders


Baker flips to Buckeyes

Still want more?
#SceneAndHeard Live
The Early Offer


#AskLoogs
RecruitingNation Vine Line