Linemen, Bama commits finish strong week
ideo1>
BEAVERTON, Ore. -- The Opening has come to a close, the 7on tournament champions were crowned and the linemen have taken their last reps in Oregon.
While the recruiting news will pause as the athletes make their way home, the week came to a close with honors being handed out.
7on championship
Alabama quarterback commit Blake Barnett boosted his team into the championship game Thursday and ultimately took home the victory. Lead by Barnett, who also took home the Elite 11 MVP award, Team Apocalypse had been on fire, winning three games in a row to make it to the championship round.
Four-star receiver Calvin Ridley, another Alabama commit, helped his future teammate secure the win and also took home the tournament MVP award.
Barnett and his team breezed through the tournament but fellow quarterback Ricky Town and the Land Sharks took a different route. After losing four games in pool play the first day of the tournament, Town, Deondre Francois and Ryan Brand helped lead their team to the championship round.
The Land Sharks won three straight games Thursday to play for the championship with help from running back Soso Jamabo, receivers Tyron Johnson and Donte Jackson.
Lineman challenge
With the top offensive and defensive linemen facing off, things usually get a little heated, and Thursday was no different.
The prospects competed in one-on-one drills and even a tug-of-war, where the defense easily pulled the offensive linemen across the line.
The final group put the top defensive linemen -- Byron Cowart, Daron Payne, Khalil McKenzie, Daylon Mack, Rasheem Green and 2016 defensive tackle Rashan Gary against the offensive side represented by Martez Ivey, Richie Petitbon, Lester Cotton, Tommy Hatton, Chuma Edoga and Keenan Walker.
Ivey and McKenzie took home the individual MVP awards for their respective position groups.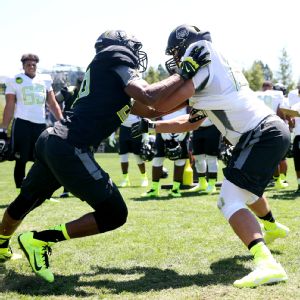 Tom Hauck for Student SportsThere were several heated battles in the lineman challenge.
Gary, the lone underclass defensive lineman, started slowly this week but gained confidence and momentum as the event continued and showed Thursday exactly why he was invited to the event.
Defensive linemen Breiden Fehoko and Terry Beckner Jr. might not have made it into the final group, but both certainly held their own throughout the competition. Beckner is uncommitted and will likely see the attention he gets from college coaches increase from here on out.
Elite 11
Coming into the final day of Elite 11, Barnett, Brady White, Ben Hicks, Drew Lock and Jarrett Stidham found themselves in the top five of the rankings.
The final day can change things in terms of which of the 18 competitors makes it in the final Elite 11, but Barnett did everything right to keep himself in the conversation.
Barnett was ranked No. 1 for the final list and was joined by Hicks, Travis Waller, Kyler Murray, White, Lock, Stidham, Town, Francois, Brandon Wimbush and Josh Rosen.
ESPN Staff Writer
Big Ten recruiting reporter
Joined ESPN in 2011
Graduated from Central Michigan
California QB depth on display
Much has been written about the talented crop of California quarterbacks in the Class of 2015 with almost everybody in agreement that UCLA-bound Josh Rosen is the cream of the crop. But somebody forgot to tell Blake Barnett that.
Rosen did nothing to hurt his stock this week, as he proved he's a special quarterback who's going to be a great player for the Bruins. But Barnett was undoubtedly the story of The Opening.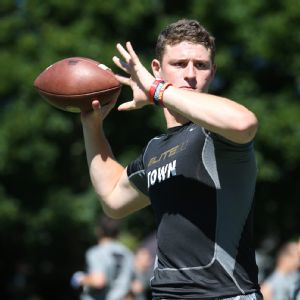 Tom Hauck for Student SportsUSC commit Ricky Town had an up-and-down performance at Elite 11 and The Opening.
Barnett, an Alabama commitment who ranks as the No. 6 player in California and the No. 4 dual-threat passer in the country, was spectacular throughout event and led his 7-on-7 team to the championship Thursday. His performance also earned him Elite 11 MVP honors.
"It was a life-changing experience," Barnett said. "It's not sunk in yet. It's overwhelming you could say. To finish off with a win was exciting. To be out here all week and compete against the best, be coached by the best and come out on top, it's awesome. It's extremely exciting, and it's very honoring."
Barnett, who made recruiting headlines last month when he switched his commitment from Notre Dame to Alabama, already was one of the nation's most-heralded quarterbacks. Throwing for 2,500 yards and 24 touchdowns as a junior and earning scholarship offers from a who's who of college football will do that. But he wasn't satisfied, and those close to him say he's driven to become the top-ranked quarterback in California in a year that features players going to UCLA, Alabama, Washington, USC, Oregon and Florida.
"I believe practicing the smaller things is helping the overall picture," Barnett said. "Little things like maintaining my composure and being able to remain self-confident within myself and believe in myself. I think those are the biggest things that have excelled my game.
"I think the biggest thing I did well this week was stay composed. A lot of quarterbacks have ups and downs. It's a hard position we're in. If you throw a pick, you have to come back and finish strong. I think I did a pretty good job of that all week long."
Barnett wasn't the only California quarterback to have a good week. Travis Waller, an Oregon commitment who also played a key role in helping Team Apocalypse win the 7-on-7 championship, took major strides throughout the week. After he admitted to struggling early in the Elite 11 competition, Waller began to turn it on in the final days of the event and eventually was recognized by his coaches as one of the best offensive players there.
"Travis really got better every day out," Barnett said. "I've known Travis forever, and he's a real competitor. He came in and did excellent when we needed him to, and I hope he's proud of what he accomplished this week."
USC-bound Ricky Town also showed how deep the California quarterback class is. After he threw four interceptions and his Land Shark team lost all four games Wednesday, Town rallied and guided his team to the championship game with 11 touchdown passes Thursday.
"I wouldn't say I was horrible, but I definitely wasn't myself," Town said. "I had a couple bonehead plays that resulted in some turnovers. I went back to the hotel, studied my playbook, took some deep breaths and just visualized the game, focused and went through the progressions.
"I really didn't know how well I was doing. All I knew is that we were winning, so I figured I was doing something right."
RecruitingNation
Jeremy Crabtree is a senior coordinator
Spent 12 years with Rivals.com/Yahoo! Sports
Graduated from Kansas State
Scouts' Commitment Analysis
Multiple ESPN 300 prospects made their commitments during the competition at The Opening. Our scouting experts break it all down:
• ESPN 300 DT McKenzie to Vols

| Video

• Bruins get OL Andre James

• South Carolina lands RB Turner

• 2016 WR Bruce picks Canes

• RB Scarlett chooses Miami

| Video

• LB Smith to Vanderbilt

| Video