Bama commits, D-linemen star on Day 3
>
BEAVERTON, Ore. -- The Opening continued on Wednesday with 7-on-7 pool play, where the six teams were vying to make it the championship round on Thursday.
The competition gave the recruits a chance to show off and put their skills against the best of the best and there were plenty of big plays throughout the day.
Chemistry for Bama

ELITE 11 & OPENING COVERAGE

ESPNU and ESPN RecruitingNation has the Elite 11 and Opening covered. Watch on ESPNU/WatchESPN on Tuesday, Wednesday and Thursday at 8 p.m. ET.
• Rosters: Elite 11 | Opening
• Full Opening coverage
Blake Barnett didn't need much time to get comfortable with his receivers in 7-on-7 play. Barnett, No. 56 in the ESPN 300, and future Alabama teammate Calvin Ridley (No. 35) hooked up for two touchdowns in their first game.
Barnett has performed well the entire week and continued to shine in pool play for Team Apocalypse.
At times, it looked like a future Alabama practice with Minkah Fitzpatrick (No. 32) on defense, trying to break up Barnett's passes. Barnett did an outstanding job the entire day keeping the ball away from Fitzpatrick's reach and fitting some balls in some tight spaces.
There are 10 Alabama commits at The Opening, and judging from the play this week, Crimson Tide fans have a lot to be excited about across the board.
Putting it on the line

The defensive linemen have been on a mission this week.
Josh Sweat, the No. 4 prospect in the ESPN 300, took second place in the SPARQ championship and continued his dominance when the pads were on for the linemen challenge.
Sweat's combination of size and speed had every prospect talking about how dominant he was.
Defensive tackle Kahlil McKenzie, the nation's No. 95 prospect, matched up against No. 43 Matt Burrell Jr. and bested the outstanding lineman twice.
Terry Beckner Jr. was another defensive prospect who performed well with pads on. The nation's No. 6 prospect is a big, strong lineman who pushed around the opposition all day. When it came to drills and the real action, it was hard to push Beckner around.
Kirk goes off

Wide receiver Christian Kirk came back to The Opening for the second year in a row, and showed why he was one of the few prospects to have repeat invites.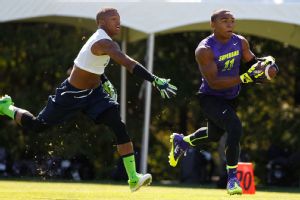 Steve Dipaola/NikeChristian Kirk, shown here at the 2013 Opening, is dominating in his second year at the event.
Kirk, No. 47 in the ESPN 300, went off in pool play and had six touchdowns on the day.
The 5-foot-11, 197-pounder isn't the biggest receiver, but he plays bigger. His elusiveness and quickness allowed him to excel throughout the day. He also happens to be just as elusive when it comes to his recruiting process, as the ESPN 300 prospect is yet to make a decision.
Kyler Murray, a Texas A&M commit and the nation's top-ranked QB, was teammates with Kirk in the tournament and very well could end up as a future teammate. The two built some good chemistry on the field and the Aggies would love for that to continue in College Station.
Roquan Smith gets defensive

It's not often that linebackers excel in 7-on-7 play, but Roquan Smith bucked the trend. Smith plays receiver and linebacker in high school and had four interceptions -- taking two back for touchdowns -- for Fly Rush.
"I baited the quarterback up, and I let him complete the pass the first two plays," the No. 33 player in the ESPN 300 said. Then after that I said it's over and I drove on it and took it," Smith said. "I do a lot of film study on my own, I watch film at home for an hour, three days a week for our opponents. When you know what's coming, it's so much easier."
Lewis still looking

ESPN 300 No. 150 and Florida commit Marcus Lewis is set to receive an offer from Georgia.
According to Lewis, Bulldogs defensive coordinator Jeremy Pruitt told Lewis that Georgia is going to offer tonight if Lewis makes the call to the Georgia staff. The pledge to Florida also said he intends to make official visits to Oregon, Miami and Michigan, in addition to Florida.
Gary taking his time

Rashan Gary was one of only four 2016 prospects invited to The Opening this year. The 6-foot-4, 280-pound defensive tackle knew coming in he wouldn't dominate the competition.
"Before we got to one-on-ones the coaches were saying they understand I'm young, but they're going to teach me," he said. "I'm just trying to learn and get better and then next year when I come back I'll do better."
Gary already has an offer list comparable to his 2015 peers, but it's too early for him to be able to narrow anything down.
ESPN Staff Writer
Big Ten recruiting reporter
Joined ESPN in 2011
Graduated from Central Michigan
Versatility on the rise for offensive linemen
While No. 2 overall prospect Martez Ivey is the definition of an offensive tackle, a number of tackles at The Opening fall into something of a hybrid category -- capable of playing multiple positions at the next level -- and that's just fine with them.
"Once I got to high school, I set out to be the most versatile lineman I could be," said USC commit Chuma Edoga, the nation's No. 3 offensive tackle. "That's a good factor, because not all linemen can move around to different positions."
Throughout the country, more offensive linemen are working at multiple positions throughout their high school careers and reaping the benefits when it comes to their recruitment. Andre James and Matt Burrell are two other tackles at the event who could see time at multiple positions at the next level.
Burrell, the nation's No. 43 prospect, holds offers from three dozen schools, including Alabama, Florida State and Ohio State. He said his ability to move along the line was a big selling point for the schools.
"I can bounce around," Burrell said. "That's kind of my specialty. Florida State says I can play both [tackle and guard]. Alabama said I would come in at guard but could possibly play tackle. It all depends on what fits best."
Edoga hauled in offers from Alabama, Clemson, Michigan State, Notre Dame, Ohio State and Oklahoma before making his commitment to USC. He believes being able to move along the line played a big part, saying coaches immediately saw that he could be slotted in wherever they wanted on the offensive line. Since his commitment, the Trojans have earned pledges from two more offensive tackles, though Edoga's versatility allows coach Steve Sarkisian to perhaps go after another tackle.
"I feel like that's the trend now," Edoga said. "You see some of the most athletic linemen in the country now."
Scouts' Take: I think that obviously you'd like to have a tackle, but the more he can move inside, or he can play on the other side, is critical. And the guy who can snap, that's the guy you want. A Barrett Jones, for example -- he's a tackle, he's a guard, then he wound up being a center his entire senior year. The more you can do, the better, because you can always move inside, but you're not going to be an inside guy and move outside. -- Tom Luginbill
ESPN Staff Writer
Covers recruiting in the Pac-12
Joined ESPN in 2009
Graduated from USC
Scouts' Commitment Analysis
THE OPENING TV SCHEDULE
Live on ESPNU & WatchESPN
Thursday
8-11 p.m. ET: 7-on-7 championship, Lineman Challenge finals

Top OL Ivey, Top DE Sweat Battle