SPARQ brings out top athletes
>
Tuesday at The Opening was highlighted by several top recruits showing off their freakish athleticism during SPARQ testing.
SPARQ is a series of athletic drills that test speed, power, agility, reaction and quickness. While the competition was won by athlete and No. 149 recruit Kirk Merritt, the performances of bigger players such as DE Josh Sweat (No. 4 in the ESPN 300) and LB Malik Jefferson (No. 39) turned plenty of heads.
Gustin wows

Porter Gustin is listed as an athlete, and that's probably the best way to describe him. He could end up at a few different positions in college and showed off his athleticism at The Opening.
ELITE 11 & OPENING COVERAGE

ESPNU and ESPN RecruitingNation has the Elite 11 and Opening covered. Watch on ESPNU/WatchESPN on Tuesday, Wednesday and Thursday at 8 p.m. ET.
• Rosters: Elite 11 | Opening
• Full Opening coverage
Gustin was No. 9 in the top 10 for SPARQ scores, with a 130.44, after he ran a 4.63 40-yard dash and posted a 34-inch vertical.
"People were definitely surprised," he said. "I knew I could score high, though. I didn't get to throw the power ball at the other Nike combine, so I think I surprised some people."
The Utah native is used to surprising people and has heard his name pop up all over recently.
"I will probably have a top 10 soon," he said. "I haven't announced it yet, but I'm down to 11 or 12 right now, so I need to cut two more. I plan on taking my official visits first, and then I'll decide after that."
Gustin would like to visit Ohio State and Notre Dame over the summer.
Sweat to cut list

ESPN 300 No. 4 recruit Josh Sweat came into The Opening with a right hip flexor injury. The 6-foot-5, 240-pound defensive end battled through the injury to post the No. 5 SPARQ score of the morning, 140.01, including a blazing fast 4.46 40.
On the recruiting front, Sweat plans to trim his list to five or seven schools in early August, with Virginia Tech, Ohio State, Georgia and Tennessee standing a good chance to make the cut. A trip to Florida State is planned for July 16 through 18. Ohio State and Texas A&M have tried to recruit him the hardest.
Jefferson's family preferences

No. 39 Malik Jefferson was another head-turner in Tuesday's SPARQ testing, as he ripped off a sensational 4.39 40 at 215 pounds. The outside linebacker had the second best morning showing.
On the recruiting front, Jefferson said Monday he has a top 10 that he does not plan to release yet, but he has plans to make official visits to Ohio State, Stanford and UCLA.
Jefferson's mother, Teresa, prefers Baylor, while her husband likes Texas. Jefferson added that both his parents also "really like" Texas A&M.
Beckner Jr. taking his time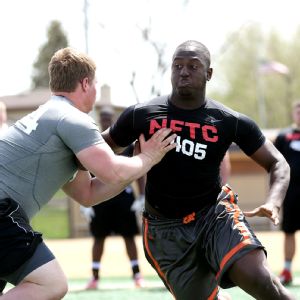 Tom Hauck for Student SportsDespite plenty of college interest, Terry Beckner Jr. is in no rush when it comes to his recruitment.
Ranked No. 6 in the ESPN 300, Terry Beckner Jr. will have his pick of colleges. But Beckner isn't too concerned with the recruiting process just yet.
"I'm not trying to think about it right now," he said. "I know I need to look at it soon because it's coming up, though. It's pretty difficult to narrow it down because you have Big Ten teams, SEC, all these schools, and they're all good schools. You don't know how to narrow it down."
His high school teammate, Natereace Strong, has committed to Missouri.
"It probably would help them, but [Strong] doesn't talk to me about, 'I need to come to Mizzou' or anything," he said. "It would help knowing that I have someone in college with me, but I don't know yet."
Beckner wants to narrow his list after the season and after he takes his official visits.
Mathieu's Message

Tyrann Mathieu made it to the NFL, but he would change his past if he could. The Honey Badger was at The Opening coaching defensive backs.
"I would tell most of the guys to make sure they brand themselves properly," he said. "Brand yourself how you want to be represented five to 10 years from now. I didn't really understand that because I ran with the same dudes from my 'hood. I was doing all the same things those guys were doing, and I didn't understand the branding side of it."
Through his mistakes, he hopes recruits understand they likely can't live their lives the way he did and make the NFL.
"I tried to do it and got kicked out," he said. "They have to understand it won't work for them either. They have to pick a side, and hopefully it's the positive one."
Play of the day

With a roster loaded with many of the nation's top skill players, it's sometimes easy to get overlooked. But Alabama receiver commitment Calvin Ridley made sure everybody knew his name. Ridley, the nation's No. 3 receiver, made a one-handed catch that drew a huge crowd response.
ESPN Staff Writer
Big Ten recruiting reporter
Joined ESPN in 2011
Graduated from Central Michigan
Recruits stay recruiting
BEAVERTON, Oregon -- Team Apocalypse will exist for only two days during the 2014 edition of The Opening. And yet, the effect it has on Alabama's future could last much longer.
While a majority of the 7-on-7 teams were selected before the event began, the quarterbacks were slotted in Monday, with three signal-callers assigned to each squad. Alabama commitment Blake Barnett wound up on Team Apocalypse, and when he looked at his roster of receivers, he found fellow Crimson Tide commit Calvin Ridley.
The ESPN 300 prospects got their first looks at each other during the one-on-one period of the Nike Football Training Camp, which took place Tuesday afternoon and set the stage for the 7-on-7 portion of the event, which will run Wednesday and Thursday.
"We are trying to get that timing," said Ridley, who pulled in Tuesday's catch of the day, a one-handed grab over his head while he ran full-speed down the field. "He's a very good quarterback. I like him a lot."
Although the two are still a full year from heading to Alabama together, Barnett said spending time in this environment is beneficial.
"It's going to be awesome for us going forward," he said. "I've gotten to focus on him here, and he's very good. It's shown fast. Within an hour, I could tell he's a premier athlete."
Barnett will also have his sights set on one of his running backs, as Jacques Patrick -- arguably Alabama's top target at the position -- will line up behind Barnett.
"I'll be sneaking a couple words in there," Barnett said. "He's a big kid, and he'd be a good fit."
Like Barnett, Isaiah Langley is looking forward to putting on his recruiting hat now that he has picked USC.
Langley committed to the Trojans Tuesday evening and said he will now focus his attention on pulling in other recruits. He'll have plenty of opportunities to do so, as he'll be lining up for Team Vapor Carbon in the same defensive backfield as Iman Marshall and DeChaun Holiday, two significant USC targets.
"I'm going after them hard," Langley said, adding that playing alongside them at this event will help if they wind up at the same school.
ESPN Staff Writer
Covers recruiting in the Pac-12
Joined ESPN in 2009
Graduated from USC
Scouts' Commitment Analysis
THE OPENING TV SCHEDULE
All times ET
All events on ESPNU & WatchESPN
Wednesday
8-10:30 p.m.: 7-on-7 pool play

Thursday
8-11 p.m.: 7-on-7 championship, Lineman Challenge finals

Duck Tailbacks, Past & Future