Senior year is still key for some prospects
By Mitch Sherman
ESPN RecruitingNation
Somewhere along the road to signing day, the recipe for recruiting glory lost an elementary ingredient.
What happened to the senior year of high school?
"It's almost to the point of craziness when guys get offered scholarships in ninth grade, and they haven't even shaved yet," said North Texas coach Dan McCarney, who has worked in the SEC. Big Ten, Big 12 and Big East. "How about development? How about maturity? How about continuing our evaluation through their senior year?"
In the ESPN 150 updated last July -- before the Class of 2013 played a down of senior-season football -- 102 of its members had committed to sign with a college program.
ESPN 150 & ESPN 300

For the latest college football recruiting player rankings, turn to ESPN RecruitingNation.
• ESPN 150 player rankings
• ESPN 300 player rankings
• More from RecruitingNation
Little has changed in four months, what with 238 among the ESPN 300 released Wednesday pledged to a school. The senior year largely has been reduced to an afterthought in recruiting at the highest levels of the college game.
"It's almost to the point," West Virginia coach Dana Holgorsen said, "where you don't get to watch them as seniors."
But exceptions exist. Even in today's accelerated environment, room remains for the late-bloomer.
The latest ESPN 300 includes eight new names since the summer.
The four highest-ranked newcomers illustrate the array of circumstances in which seniors can still experience a recruiting boom. And their stories inspire confidence among the hundreds of prospects who hope to turn heads in the 11th hour.
Take Chris Jones, the highest-ranked new member of the ESPN 300 at No. 164 -- the classic case of a recruit who slipped through the cracks.
Jones, a defensive end from Houston (Miss.) High School, didn't get past Mississippi State, which offered him a scholarship in June after he impressed at a camp. He accepted and remains solid for the Bulldogs.
Most recruiters simply missed him -- not easy when you're 6-foot-7 and 260 pounds.
Jones transferred to Houston from Nettleton (Miss.) High School before his junior season but failed to get clearance to play -- and Houston held him out of practice -- until midway through the 2011 season.
"When I couldn't play, it made me realize how much I wanted to," Jones said. "I realized how much I loved the game."
Houston coach William Cook said Jones began to hit his stride last year right before the playoffs. But his team lost in the opening round. Last Friday, Houston won its first-ever playoff game, 26-23 over Amory (Miss.) High School.
Jones, through 12 games, has 13 sacks and 136 tackles.
"The biggest thing is that he's finally gone through a complete season with us," Cook said. "Nobody really knew about him before, but he's a leader now. He's got a magnetic personality."
Jones said his coaches pushed him to work for it.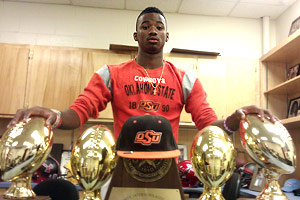 Damon Sayles/ESPN.comOklahoma State commit Ra'Shaad Samples makes his ESPN 300 debut after a strong senior campaign.
"They made me understand that to play football, you've got to be a man," he said. "You've got to do stuff in practice and games that you don't always want to do."
Sounds a little like the case of quarterback Jeremy Johnson, an Auburn pledge who has led Montgomery (Ala.) Carver to a 9-1 mark by throwing for 2,546 yards on 70-percent passing with 32 touchdowns and six interceptions.
For Johnson, the so-called light switched on during the offseason.
"His decision-making has improved so much," Carver coach Billy Gresham said. "He's not turning the ball over. He's been very accurate. Last year, he forced a lot of stuff and felt like he had to make every throw, every big play."
The 6-foot-5 Johnson developed patience. He worked on his footwork and studied game film. He reminds Gresham this year of Jason Campbell, the former Auburn QB now with the Chicago Bears.
"I'm just playing with confidence and having fun," Johnson said. "It's all about working hard, doing what my coaches tell me to do."
Johnson, a third-year starter, posed little threat as a runner before this season. In 10 games as a senior, he has rushed for 530 yards and six touchdowns, averaging nearly 9 yards per carry.
Still, he's a pocket passer, he said, and ranks 12th at the position nationally with an overall ranking of 175 in the ESPN 300.
Ole Miss, Texas A&M and Missouri have shown interest in Johnson. Even USC receivers coach Tee Martin inquired.
Johnson said he would stay loyal to Auburn if embattled coach Gene Chizik survives. If Chizik goes, Johnson said, he's probably gone, too. And because of his play this fall, he'd have options from which to choose.
"He saw that he had one year to prove things to coaches, teammates and outside forces," Gresham said. "People knew he had a lot of upside. Now he's living up to that billing."
Early billing was never the problem for Ra'Shaad Samples of Dallas Skyline. Samples had offers from major powers such as USC, Texas and Ohio State and boasted the pedigree of an elite recruit.
Then Samples broke a bone in his lower left leg in March at the Nike camp in his hometown. It was a gruesome, ankle-crumpling injury. The doubters told him he'd miss his senior season and perhaps never regain his explosion.
Samples made it back for the Sept. 1 opener. In nine games, he has caught 40 passes for 716 yards and 18 touchdowns. He debuts in the ESPN 300 at No. 197.
"

It's almost to the point where you don't get to watch them as seniors.

"

-- West Virginia coach Dana Holgorsen
The doubters are quiet.
"I'm getting there," said Samples, selected to play in the Under Armour All-America Game. "I'm getting back to 100 percent, but I'm not quite there. I feel like I've got more in me."
The mental part of his rehab took precedence over the physical side after several weeks of the season.
Samples committed to Oklahoma State in July while at The Opening. Other schools -- he won't say which -- haven't backed away. He hears regularly from college coaches despite his commitment. It remains "100 percent" to the Cowboys, he said.
"I get annoyed sometimes," Samples said, "but then I remember it's a blessing in disguise. With the injury I had, I could be a guy with no offers."
Isaiah Golden had offers early in the process. In fact, Golden, a defensive tackle from Carthage (Texas) High School, committed to Texas A&M last January. But he has enjoyed a breakout senior year only after shedding 30 pounds since July to reach 302.
He wears it well on his 6-2 frame. Golden has collected nine sacks and 42 tackles for losses this fall.
Golden transferred to Carthage from Elysian Fields (Texas) High School before his senior year.
"He was overweight, but he came into the spring with a very good attitude," Carthage coach Scott Surratt said. "We've never seen any side of him but good. He's just the total package."
Many top programs have inquired about Golden, notably Texas and Oklahoma. But he remains set on the Aggies and gives A&M, No. 13 in the latest class rankings, a sixth commitment from a player rated in the ESPN 300. Golden ranks 229th.
[+] Enlarge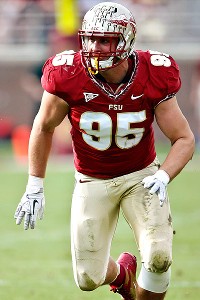 Cal Sport Media via AP ImagesFlorida State star Bjoern Werner said he used his senior year to gain the attention of college coaches.
Last year, Amari Cooper, now starring as a receiver for No. 1 Alabama, climbed the rankings in a breakout senior year. Star defensive end Bjoern Werner of Florida State did the same three years ago as an exchange student from Germany who played just two years of high school football in the United States.
"My senior year, I was playing to get the attention of college coaches," Werner said this week. "And Florida State was the last school to offer."
Not every prospect can follow the paths of elite prospects Robert Nkemdiche or Kelvin Taylor or Max Browne. Many must emulate Werner or Isaiah Golden or Chris Jones.
According to Louisiana Tech coach Sonny Dykes, schools that devalue the senior year create a great equalizer for programs like his. Dykes' 8-1 Bulldogs sit 20th in the BCS rankings, the highest among all non-automatic-qualifying teams.
"We have an opportunity to evaluate people longer," Dykes said, "to see them develop, to get a sense of their character."
Often, Dykes said, the top programs sign prospects who develop early and max out.
"We can take a kid who improves between his junior and senior years," Dykes said, "then is going to continue to develop."
The process has evolved over decades, McCarney said, but coaches continue to search for players who can impact their programs. That's the bottom line.
"I've been around many guys you sure wouldn't have taken their junior year," McCarney said.
"You wouldn't have taken them early in their senior year, either, and then, all of a sudden, they end up being some of the best players who ever put on a uniform in college football.
"You better be tedious. You better follow up. Don't ever give up."
Sage advice for recruiters. And applicable to recruits as well.
Team Reaction
RecruitingNation team site recruiting reporters give their take on the latest ESPN 150 and ESPN 300.

Alabama's most recent commitment, four-star athlete Derrick Henry, just so happens to be the Crimson Tide's top-ranked recruit in the latest ESPN 150, released on Wednesday. Henry, who committed to Alabama in September, jumped up from No. 48 to No. 26 in the new rankings.
More from TideNation

.
---

The Florida Gators landed 13 players in the latest ESPN 300, including nine in the ESPN 150. The Gators are led by five-star corner Vernon Hargreaves III, who moved up to the No. 3 overall spot, and by four-star running back Kelvin Taylor, who jumped seven spots to the No. 15 player overall.
More from GatorNation

.
---

While Florida State's 2013 class lacks the star power of previous classes, it does have plenty of offensive firepower in ESPN 150 running back Ryan Green. The Seminoles are also in on several top prospects, including five-star linebacker Matthew Thomas.
More from NoleNation

.
---

With Wednesday's update of the ESPN 150 and ESPN 300, the University of Georgia maintains its prominent presence on both lists with four commitments in the ESPN 150 and 10 in the ESPN 300. Cornerback commit Shaq Wiggins is now the nation's No. 34 prospect.
More from DawgNation

.
---

Eleven of LSU's commitments are featured in the latest ESPN 300, with three prospects among the ESPN 150. Leading the way is No. 58 prospect Jeryl Brazil.
More from GeauxTigerNation

.
---

Michigan saw little movement in the ESPN 150/300 updates overall, with QB Shane Morris leading the way at No. 54. But the Wolverines still have an opportunity to boost their class ranking with another big commitment or two.
More from WolverineNation

.
---

The Buckeyes have commitments from seven ESPN 150 athletes and 11 in the ESPN 300. The headliner is five-star corner Eli Woodard, while running back Ezekiel Elliott worked his way into the 150.
More from BuckeyeNation

.
---

Oklahoma quarterback commit Cody Thomas is back in the ESPN 300. After dropping out in July, Thomas re-enters at No. 248.
More from SoonerNation

.
---

The Ducks have four commits in the updated ESPN 150/ESPN 300, led by Dontre Wilson at No. 52, and are looking to add more by signing day.
More from DuckNation

.
---

Two of Penn State's three commits within the ESPN 150/300 experienced a drop in their rankings. Christian Hackenberg remained steady at No. 16 overall, while tight end Adam Breneman fell 17 spots to No. 66 and offensive guard Brendan Mahon slipped five places to No. 205.
More from NittanyNation

.
---

Wide receiver Jacorey Warrick made the biggest jump of any Longhorns commitment in the ESPN 150, moving up to No. 59 from No. 114. He is one of seven Texas commitments in the 150.
More from HornsNation

.
---

The most notable movement in the ESPN 300 from a Texas A&M perspective is the entry of one of the Aggies' commits into the 300. Carthage (Texas) High School defensive tackle Isaiah Golden has moved into the 300 at No. 229, joining five other A&M pledges.
More from GigEmNation

.
---

The USC Trojans might have the nation's top-ranked recruiting class but as the new ESPN 150 rankings revealed Wednesday, they still lack the five-star headliner. Top-rated safety prospect Su'a Cravens and No. 2 defensive tackle Kenny Bigelow narrowly missed the five-star designation, but remained in the four-star tier as the nation's 10th- and 11th-ranked recruits, respectively.
More from WeAreSC.

.
---

Washington now has just one player ranked among the nation's top 150 prospects -- receiver Damore'ea Stringfellow at No. 73 -- after receiver Darrell Daniels fell from 144 to 177. Quarterback Troy Williams and defensive lineman Elijah Qualls (Petaluma, Calif./Casa Grande) join Daniels in the ESPN 300 at No. 160 and 212, respectively.
More from HuskyNation

.
Regional Reaction
RecruitingNation regional recruiting reporters give their take on the latest ESPN 150 and ESPN 300.

Green
In the East region, the biggest mover in the ESPN 150 is Ashburn (Va.) Stone Bridge defensive end and Alabama commit Jonathan Allen, who jumped up 31 spots to No. 40. Right behind him is Richmond (Va.) Hermitage running back Derrick Green.
More from the East

.
---

Foster
The biggest news coming out of the Southeast in regards to the ESPN 150/300 is linebacker and Auburn commit Reuben Foster, who dropped from No. 2 to No. 24 and went from a five-star to a four-star prospect.
More from the Southeast

.
---

Tunsil
The strength of Florida football is clear in the recent ESPN 150/300 update. The state is represented by three prospects in the top five and four five-star prospects, including the nation's top offensive lineman in Laremy Tunsil.
More from Florida

.
---

Smith
Five-star prospects in the Midwest have been rare in recent recruiting cycles. But that all changed in the recent ESPN 150/300 update, where linebacker and Notre Dame commit Jaylon Smith earned the coveted honor.
More from the Midwest

.
---

Seals-Jones
Texas is a big state, and the number of players in the ESPN 150 and ESPN 300 is, well, Texas-sized. The group of standouts from the Lone Star State starts with Ricky Seals-Jones, who is listed at a new position.
More from the Midlands

.
---

Cravens
The West now boasts one of the top 10 players in the nation in USC commit and No. 1 safety prospect Su'a Cravens. Overall, there are five West prospects in the top 50.
More from the West

.