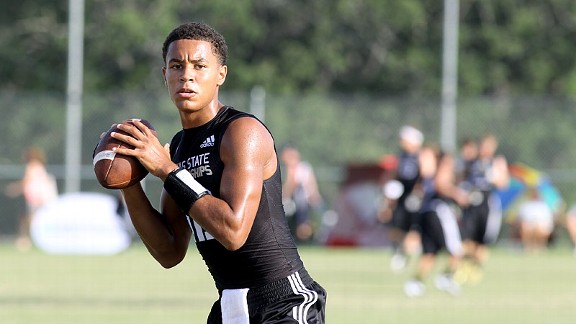 Miller Safrit/ESPN.comAbilene (Texas) Cooper athlete and Texas pledge Lorenzo Joe is one of more than 50 prospects from the ESPN Watch List who's already committed.
For the Class of 2014, there's no need to wait
By Mitch Sherman
ESPN RecruitingNation
Toa Lobendahn has a gift. He understands football.
The junior offensive lineman at Lakewood (Calif.) High School views the game through a clear lens. He's been that way ever since he was a toddler, trailing his father, Vince, who was then a graduate assistant at Brigham Young, to practices. Toa later learned from uncles Joe Lobendahn, a Canadian Football League linebacker, and Hawaii running backs coach Keith Uperesa.
He studied technique when other kids his age struggled to slip into their shoulder pads. He reviewed film while teammates clamored over the postgame snack.
ESPN Watch List: Class of 2014
The ESPN Watch List is a very early look at some of the top prospects for the Class of 2014. However, this list will continue to evolve as the season goes on and our scouts continue to evaluate film on more and more prospects.

• ESPN Watch List »
• Class of 2014 not waiting »
• Hand doesn't buy into the hype


• Regional and team takes


• Class of 2014 images

So when the time arrived to face the often-arduous recruiting process -- no surprise here -- Lobendahn handled the situation like a pro.
Three months ago at the close of Toa's sophomore year, Vince, now the Lakewood coach, asked his son to name his favorite college programs. USC topped the list, followed by Oregon and Utah, Dad's alma mater.
Right around that time, Toa attended a camp at USC, earning a scholarship offer. He committed almost immediately.
Why wait? Because it was his favorite program, simple as that.
"I just wanted to get it over with," said Lobendahn, 16.
For reasons as straightforward as Lobendahn's and others more complex, young prospects are committing to colleges earlier than ever, and in larger numbers. More than 50 prospects on the newly released ESPN Watch List for the Class of 2014 have announced their college pledges.
The yet-unsigned class of 2013 features a group of quarterbacks who set the bar high for early decisions. Of the 25 selected to the Elite 11 finals in July, 24 committed before the event.
This year, the trend spread. In fact, just six of the Watch List commits play QB.
Others, like cornerback Cedric Collins, wanted in on the fun. Collins, of Dallas Skyline, received his first offer, from Kansas State, in the summer after his freshman year. More followed from the likes of Oklahoma, Notre Dame, Nebraska, TCU, Baylor and West Virginia.
So Collins and his father, Cedric Collins Sr., visited several college campuses this summer. They blocked off weekend days to analyze the backgrounds of head coaches, defensive coordinators and secondary coaches.
"I gave it a lot of thought," said Collins, who committed to Texas A&M in August. "I was very patient, looked at all the schools and their schemes and made sure it was the right choice."
Patient? Collins committed with two remaining years of high school -- four months before his 17th birthday.
"Cedric is a different type of kid," Collins Sr. said. "He thinks things out before he acts. He knows what he wants."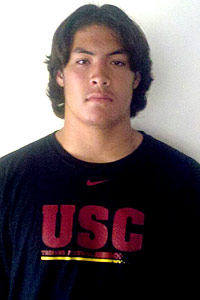 Courtesy of Lobendahn FamilyLakewood (Calif.) High School offensive lineman Toa Lobendahn committed to USC prior to his junior year.
Just like safety Nick Glass of Atlanta St. Pius X, who committed to Georgia in April, before the end of his sophomore year. Glass pledged to UGA coach Mark Richt during a lengthy visit in Richt's office after they discussed the depth chart -- which, of course, will bear little resemblance to its current state when Glass is scheduled to arrive full-time in Athens, Ga., in August of 2014.
Regardless, Glass said, he fell hard for the Bulldogs. Mainly, he connected with Richt and his staff.
"I believe they care the most," Glass said. "It's about more than football."
Glass said he also liked Georgia for its tendency to play freshmen and its proximity to Atlanta, where his football-loving grandmother lives.
Players like Lobendahn, Collins and Glass make good arguments for the early pledge. But for every heavily recruited high school junior who's ready to settle on a college, many more, perhaps, are not.
And as the numbers rise, pressure increases. Lobendahn said USC's scholarship limitations, a result of NCAA sanctions, impacted his decision to sit on the Trojans' offer for only a day or two.
Once a player commits, schools are most often committed, too. It's much easier to pull an offer to the uncommitted prospect.
As a result, a prospect may commit early just to hold his spot in a class -- an insurance policy, so to speak.
In fact, Glass, the Georgia commit who raved about Richt's staff and all that Athens offers, visited Tennessee and Florida State this month. He's headed Florida next month for an unofficial visit, he said, and wants to revisit Clemson and see Alabama, Ohio State and USC.
Additionally, Glass said his mother isn't crazy about UGA. She wants him to look more closely at Florida, where his girlfriend attends school, and Clemson.
But Glass said he's serious about his commitment to Georgia.
Florida State pledge Jake McCrary, a receiver from Miami Coral Reef, also remains high on Florida and Clemson despite his pledge to Florida State. He visited FSU twice last summer and "fell in love with the school" before committing on July 20.
So why leave his options open?
"Because you never know what could happen," McCrary said.
Yes, the wave of early commits presents many complications. You can expect more decommitments. More misses in recruiting, too.
Texas co-offensive coordinator Major Applewhite recalls a time when junior prospects spliced together clips on VHS and mailed tapes to coaches, who took their time evaluating the highlights and got back to high school coaches in a few days.
Today, a prospect can use computer software to shape numerous reels of digital footage and disperse it all by email in minutes.
"Coaches watch on their phones in airports and Facebook [message] that kid immediately," Applewhite said. "It's so different now.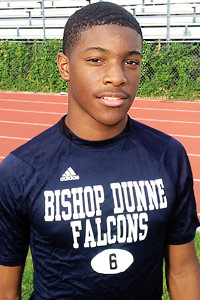 William Wilkerson/ESPN.comDallas Bishop Dunne corner Nick Watkins wants to take his time making his decision.
"Kids understand how to market themselves better than ever. We no longer live in the world of recruiting magazines. There's so much more information floating around. It scares you to death for a lot of reasons. You're taking a kid who literally has the maturity of a 15-year-old and trying to project where he'll be six years later."
Ironic that a coach from Texas laments the acceleration of recruiting.
Texas nearly perfected the art of the early commit, staging junior-day events over the past decade at which it collected commitments in February for the upcoming recruiting cycle.
Then the game got ahead of the Longhorns. This summer UT adjusted, allowing prospects to commit for the first time before the end of their junior seasons.
Texas quickly nabbed five commitments for 2014, including athlete Lorenzo Joe of Abilene (Texas) Cooper in August.
"The coaches told me I could take my time," Joe said, "that my scholarship would be there no matter what. But we're making history. Texas decided to make a change and keep up with the other schools. When I talk to other guys, some say they want to wait.
"I tell them that's fine, but we're making history for the Class of 2014."
Nick Watkins wants to wait. The cornerback from Dallas Bishop Dunne, with offers from Texas, Alabama, LSU, Oklahoma, Michigan, Arkansas, Stanford, Notre Dame and others, refuses to feel pressure from coaches or other junior prospects.
"I'm going to be in college for four or five years, so I want to make sure it's the best decision for me, not someone else," Watkins said. "I'm not a big fan of deciding early."
Watkins said he plans to examine a few schools next summer and take official visits in the fall of 2013 -- a concept, for the Class of 2014, that's revolutionary and old-school at the same time.
Spotlight: Da'Shawn Hand
By Mitch Sherman, RecruitingNation
Woodbridge (Va.) High School defensive end Da'Shawn Hand has received nearly 50 scholarship offers, including from the likes of Alabama and Florida State. But the Class of 2014 standout isn't believing the hype just yet -- he's just enjoying playing the game.
More on Da'Shawn Hand.

Podcast: Verbal Commitment
ESPN national recruiting director Tom Luginbill and the RecruitingNation regional reporters break down the recently released ESPN Watch List.
• Click here to listen to the podcast

• Mitch Sherman on recruit timetables

RecruitingNation Reaction
RecruitingNation recruiting reporters give their take on the ESPN Watch List.

The Crimson Tide have already offered six of the 11 prospects from Alabama in the ESPN Watch List and have a commitment from running back Bo Scarbrough.
More from TideNation.

---

The Gators already have commitments from two Watch List players in defensive tackle Travonte Valentine and wide receiver Ryeshene Bronson.
More from GatorNation.

---

The depth of talent in Florida always makes recruiting at home priority No. 1, and the Seminoles are off to a fast start.
More from NoleNation.

---

Twenty-five recruits from Georgia are in the initial ESPN Watch List, including three already committed to the Bulldogs.
More from DawgNation.

---

LSU normally focuses on the top talent in Louisiana first, but the Tigers' 2014 success so far has been out of state.
More from GeauxTigerNation.

---

Michigan has 41 offers out to players in the ESPN Watch List, with most of the targets being from Michigan and Ohio.
More from WolverineNation.

---

All 17 recruits from Ohio on the ESPN Watch List have interest or an offer from Ohio State, while 14 hold the same honor in Florida.
More from BuckeyeNation.

---

Looking at the 2014 class, the Sooners have made a big imprint in a couple of familiar spots -- Oklahoma and Texas.
More from SoonerNation.

---

Oregon has yet to offer a single player on the ESPN Watch List, but will be in the mix for many prominent players from the class.
More from DuckNation.

---

Penn State has offered just one Pennsylvania prospect on the ESPN Watch List, while they've offered five Georgia players.
More from NittanyNation.

---

All five of Texas' Class of 2014 commits made the ESPN Watch List, and several of the Longhorns' early in-state offers cracked the list, too.
More from HornsNation.

---

Texas A&M has extended offers to 14 out-of-state Watch List prospects and 16 within Texas.
More from GigEmNation.

---

USC leads the Pac-12 with three commits among the 2014 ESPN Watch list.
More from WeAreSC.

---

Steve Sarkisian has targeted explosive skill-position players and California's elite prospects, and that trend continues in 2014.
More from HuskyNation.

---

The most coveted prospect in the East is Da'Shawn Hand, whose scholarship offer total is approaching 50.
More from the East.

---

Louisiana once again has a ton of talent like Leonard Fournette, while Kentucky continues its tradition of producing highly touted quarterbacks.
More from the Southeast.

---

Florida has 53 prospects in the initial ESPN Watch List, including running back Sony Michel.
More from Florida.

---

DeShone Kizer headlines a talented quarterback group from the Midwest.
More from the Midwest.

---

Thirty-nine players represent the Lone Star State in the ESPN Watch List, including LSU commit Chris Hardeman.
More from the Midlands.

---

Keller Chryst is one of six California quarterbacks on the Watch List.
More from the West.