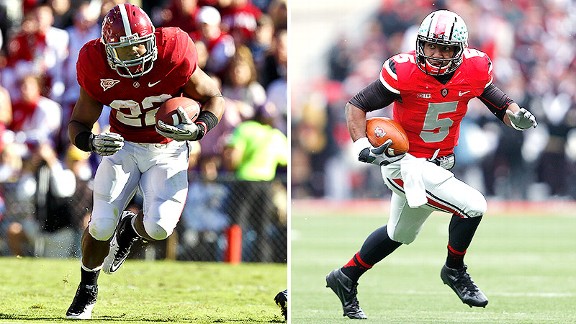 USA TODAY Sports. Getty ImagesMark Ingram at Alabama and Braxton Miller at Ohio State helped new coaches Nick Saban and Urban Meyer immediately establish a team identity.
Mark Ingram helped change Alabama
By Alex Scarborough
ESPN RecruitingNation
It was the shot across the bow. Nick Saban and the Alabama coaching staff made a statement with the class of 2008.
It was Saban's first full year recruiting as the head coach of the Crimson Tide, and what a stunning first impression it was. Not only did he haul in the No. 3 signing class in the country, but he went nationwide to do it, pulling a 2,000-yard running back from all the way up in Flint, Mich., by the name of Mark Ingram.
[+] Enlarge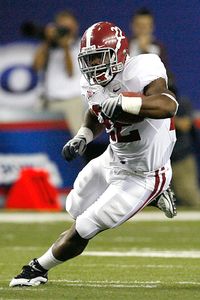 Kevin C. Cox/Getty ImagesMark Ingram won the Heisman Trophy and a national title in 2009, his sophomore season.
Saban drew on familiar ties to nab the 12th-ranked running back in the country, according to ESPN, swiping Ingram out from under the nose of Michigan State, where the now 61-year-old Saban held the second head coaching job of his career.
More than 800 miles separated Ingram from Tuscaloosa, and Alabama got in on the recruitment of the 5-foot-10, 200-pound athlete late in the game, too. Michigan State was thought to have the inside track, as Ingram was a Michigan State legacy with his father having been a star for the Spartans.
"Everyone assumed that I was a Michigan State lock, because my father went there and it was the home-state school," Ingram told Rivals.com at the time of his commitment. "I was always going to go my own path. ... Alabama, in the end, was just where I felt I would fit in best.
"I am positive this is the right decision. I am already looking forward to getting to Tuscaloosa and getting started. I have a chance to go in and make an immediate impact as a freshman."
And Ingram did. He rushed for 728 yards and 12 touchdowns, earning Freshman All-SEC honors in 2008. He would go on to win the Heisman Trophy the following season, helping Alabama to its first championship since 1992. The number of award-winning tailbacks since Ingram's signing have been numerous. Trent Richardson, Eddie Lacy and T.J. Yeldon all opted to go the way of the Tide on signing day, following a path set by Ingram.
Lacy, like Ingram, came to Alabama from out of state. The Louisiana product spurned the home-state LSU Tigers on signing day, continuing what has become a national pipeline of recruits to Tuscaloosa.
Sure, Ingram was only the sixth-best recruit in the 2008 class. But the five before him all came from in-state. It was Ingram's commitment that opened the borders. In the four recruiting classes since, Saban and the Alabama coaching staff have signed more than half of their prospects from outside the state. In fact, none of the top six recruits in each of the last two classes have been from Alabama. Instead, it has been Florida, Louisiana, Maryland, Georgia, Ohio and North Carolina filling UA's coffers.
As the Crimson Tide prepares for yet another title defense next fall, it will do so with the help of some of the top recruits in the country, not just Alabama or the Southeast. Saban has shown that to beat the best, sometimes you have to simply take their best. And with Ingram, he sent a message to the country that he's not afraid to step outside his own backyard.
Braxton Miller moves Ohio State forward
By Brad Bournival
ESPN RecruitingNation
It all turned around when ...
Successful college programs often can point to a specific time when their program got a shot in the arm to get things rolling.
[+] Enlarge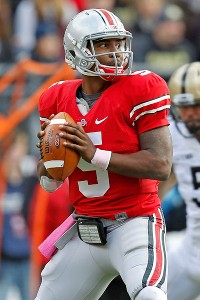 Kirk Irwin/Getty ImagesOhio State quarterback Braxton Miller was a game-changer as a recruit in the 2011 class.
Unquestionably, when Urban Meyer took over the helm for Ohio State it took the Buckeyes in a new direction. But the emergence of
Braxton Miller
can be equally as important.
A signing day commitment in 2011, Miller has taken the 3 yards and a cloud of dust mentality in Columbus, Ohio, and made Ohio State's spread offense sexy.
He wasn't even the highest ranked player in his own Buckeyes recruiting class with defensive end Steve Miller, linebacker Curtis Grant and cornerback Doran Grant ahead of him.
Miller was an ESPN 150 quarterback out of Huber Heights (Ohio) Wayne and was ranked 80th overall. He was the fourth-ranked quarterback in the nation behind Jeff Driskel, Kiehl Frazier and Max Wittek.
Now, he's the favorite to win the Heisman Trophy in 2013 according to ESPN's Ryan McCrystal after making Ohio State the only undefeated team in the nation at 12-0 last season.
And why not? The offense not only flourished under him, it looked entirely different when Miller had to take a seat.
As a whole, the team rushed for 2,907 yards and passed for 2,178 yards this season. That's 5,085 yards total offense.
Miller was the team's leading rusher with 1,271 yards and obviously its leading passer with 2,039.
He accounted for 13 scores on the ground -- second to only Carlos Hyde and threw for 15 more touchdowns.
That's 65 percent of Ohio State's total offense and 52 percent of the Buckeyes' total offensive touchdowns (28 of 54).
What he's also done is make Ohio State a destination for wide receivers. Jalin Marshall (Middletown, Ohio/Middletown) -- a quarterback in high school -- will switch to a slot receiver for the Buckeyes and the ESPN 150 wideout isn't alone. Two-way threat Gareon Conley (Massillon, Ohio/Washington), who will likely be a cornerback, might see time on offense as well and is the No. 1 recruit in the Ohio this year, according to ESPN. Conley originally committed to Michigan.
Instances like those could play out even more and most of it is due to a new-look offense with Miller at the helm.
More game-changers
RecruitingNation team site reporters discuss their school's most important recent recruits.

Florida's historic 2006 class, headlined by Tim Tebow, Percy Harvin, Brandon Spikes and Jermaine Cunningham, helped deliver two national titles and a Heisman Trophy to the Gators. Eight members of that class left as seniors with a 48-7 career record.
More from GatorNation

---

For years under Bobby Bowden, Florida State won on the field and the recruiting trail. Jimbo Fisher helped restore that tradition with a 2010 class that included Lamarcus Joyner and Bjoern Werner. The class also set the tone for the Seminoles' return to prominence, as Fisher nabbed top classes in 2011 and 2012.
More from NoleNation

---

Aaron Murray arrived at Georgia with a lot of hype, and he hasn't disappointed. He gave the Bulldogs a steady presence under center while guiding the team to consecutive SEC East titles. And with Murray coming back next year, he's not finished yet.
More from DawgNation

---

Way back in 1995, a Louisiana high school phenom named Kevin Faulk showed that local players could stay in state and excel. It would prove to be a key as LSU became one of the nation's top programs under Nick Saban and Les Miles.
More from GeauxTigerNation

---

Brady Hoke was able to start making his imprint on the Wolverines with the 2012 class. Not surprisingly, the coach focused in the trenches bringing in linemen on both sides of the ball who would play the style Hoke envisioned for his team.
More from WolverineNation

---

By nabbing Brennan Clay, Kenny Stills and Tony Jefferson from California in the Class of 2010, Bob Stoops and the Sooners opened up a pipeline to one of football's biggest hotbeds of talent. Those signings continue to pay dividends with Oklahoma getting elite Cali talent the past two years.
More from SoonerNation

---

It's impossible to overstate the impact De'Anthony Thomas flipping from USC to Oregon had on the Pac-12. The Ducks went head to head with the Trojans for a SoCal superstar and came out on top, something few, if any, thought they'd be able to do.
More from DuckNation

---

With everyone wondering if Penn State could still recruit in the face of heavy sanctions, Adam Breneman, the nation's No. 1 tight end, gave a decisive answer when he inked with the Nittany Lions. Because of players like Breneman and Christian Hackenberg, coach Bill O'Brien was still able to secure a top 25 class.
More from NittanyNation

---

The Longhorns' 2002 recruiting class is one Texas fans will never forget. Led by Heisman runner-up Vince Young on offense and Brian Robison and Rodrique Wright on defense, the group produced a national title and eight NFL draft picks.
More from HornsNation

---

The work coach Kevin Sumlin and the Aggies' staff has done in compiling the No. 5 recruiting class in the country this year, on the heels of a move to the SEC and a superb season, is changing the recruiting landscape in Texas and beyond..
More from GigEmNation

---

When the Trojans signed Robert Woods out of Gardena (Calif.) Serra, they gained a lot more than a fantastic playmaker. They also opened a direct line to the school's rich talent base, which led to commitments from the record-breaking Marqise Lee and highly regarded George Farmer.
More from WeAreSC

---

Keeping in-state Class of 2011 stars Kasen Williams and Austin Seferian-Jenkins home despite interest from national powers was the first sign that Steve Sarkisian's recruiting efforts were paying off. And it's continued with strong 2012 and 2013 classes.
More from HuskyNation