College football has a few name brand schools that, no matter the circumstances, maintain their place as some of the most recognizable programs in the sport. RecruitingNation is taking a look at the states of some of those brands.
FSU: The effort to keep up
On the first day, it rained.
A day later, it rained again, and on through the rest of Florida State's first week of practice, forcing the Seminoles to move workouts to the wee hours of the morning, with players taking the field long before the sun rose.
"It's another reason for us to get this indoor facility," quarterback EJ Manuel said. "Win a national championship and maybe we'll get one next year."
[+] Enlarge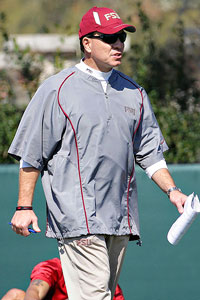 AP Photo/Phil CoaleCoach Jimbo Fisher is trying to get Florida State back to heights it reached in the 1990s.
Manuel's aside was meant to be humorous, but it underscores the reality of life on the margins of college football's elite.
In the 1990s, things were different. Florida State was dominant, a perennial top-five team and the prototype by which other programs were measured. But the new millennium has not been kind to the Seminoles, once the crown jewel of the ACC but now overshadowed by SEC neighbors such as Alabama, Florida and LSU.
If the Seminoles want the perks that come with excellence, such as that indoor practice facility, there is no more room for mediocrity.
"Winning is everything, so when you don't win, your brand takes a move back," FSU athletics director Randy Spetman said. "It puts huge expectations on us, and we've got to come through with that. And I think we will."
For Florida State fans, Spetman's optimism is universal. It is August, and hope is as omnipresent as the humidity in Tallahassee.
But for outsiders who've seen the SEC reel off six straight national titles -- while the ACC's former powerhouse hasn't won a BCS bowl game or finished with fewer than three losses since 2000 -- another year of midsummer hype for Florida State can be met with a shrug of the shoulders and roll of the eyes.
As the Seminoles drifted from dominance, the conference followed suit. Since FSU finished 11-0 and won the conference and the national title in 1999, the ACC has been a woeful 1-11 in BCS bowl games, including three losses by the Seminoles.
Florida State has continued to recruit well and spend liberally, but it has seen the kings of the SEC make a giant leap forward. FSU's budget of nearly $87 million in 2011 topped all ACC schools, according to a report published by USA Today, but was dwarfed by six SEC programs.
"We do have tremendous resources, and what we've built over the years with our facilities; we're among the top in the nation that way," Spetman said. "But we have to continue to be visionary to think what the next step is, and that goes with the indoor [facility] coming here and to keep us competitive in that light."
Moving forward for many FSU fans might mean moving away from the ACC, and the school's dalliances this spring with the Big 12 -- which could provide greater revenue -- became as divisive an issue as any quarterback controversy.
Several prominent power brokers reportedly pushed for Florida State to make the move, but the buzz quieted by early summer. A new deal between the ACC and the Orange Bowl has tempered any discussions.
Much of what's to come will be determined largely by wins and losses.
"… We have a responsibility from our university level too to win at the national championship level to bring our conference that distinction," Spetman said.
Spetman points to FSU's top recruiting classes in recent years, lofty expectations in 2012 and the impressive résumé of coach Jimbo Fisher as reasons for optimism.
But Fisher's success at Florida State has not come by being an innovator, but by simply forcing the Seminoles program into a reality the SEC -- Fisher's former stomping grounds -- adapted to years earlier.
Florida State has been the sleeping giant for too long. But Fisher said the fix won't be found looking back.
"We have dwelled on the past so much that it's time to move forward and look forward," Fisher said. "I think it's time to make new history. I want them to say, 'Hey, from 2010 to 2020, that was a heck of a run.'"
Oklahoma: Consistency At The Highest Level
The Oklahoma brand has enjoyed better times. Bud Wilkinson's Sooners charging to 47 straight wins. Barry Switzer and Sooner Magic rolling to three national championships in a little more than a decade. Bob Stoops hoisting the BCS trophy after one of the most dominating defensive performances in college football history and a 13-2 win over Florida State.
In recent years, the powers of the SEC have been the class of college football, collecting the past six national titles. But if you're looking for a more consistent brand than the one in Norman? Good luck.
Seemingly every power over the past 15 years has endured tough times at some point. USC. Michigan. Ohio State. Tennessee. Penn State. Florida. Florida State. Miami. Notre Dame. Yes, even Texas, which suffered a losing record just two seasons ago.
But since Bob Stoops took over in 1999, Oklahoma has been the model of consistency. The Sooners have finished with double-digit victories in 10 of the past 12 seasons.
By Oklahoma standards, 2011 was an utter disaster. The Sooners lost leading rusher Dominique Whaley, then leading receiver Ryan Broyles before eventually careening off the road in November. And even then, the Sooners still won 10 games.
"We've won so many Big 12 championships and won a national championship, competed for other national championships," Stoops said. "When you're not in that position, 10-3 isn't what you want."
In reality, the Stoops era only underscores what the Oklahoma program has been about since World War II: consistently winning at the highest level. The Sooners lead the nation in winning percentage during the modern era. They own the longest winning streak in FBS history. And in the AP poll, they have been voted No. 1 a record 101 times. The Sooners have also spent more weeks ranked in the top five and top 10 of the poll than anyone else in the country.
The biggest knock on the program of late is that the Sooners perennially fail to meet their lofty -- almost unrealistic -- preseason expectations. Despite remarkable regular seasons, Oklahoma lost national title games in 2003, 2004 and 2008. Then in 2010 and 2011, the Sooners failed to reach the national championship game despite being ranked No. 1 in each season.
Still, despite last year's swoon, Oklahoma goes into this season on the short list of title contenders yet again. The Sooners are ranked fourth in the preseason polls, and feature the most experienced quarterback in college football in fifth-year senior Landry Jones.
"I feel we've got a really good chance," Stoops said, "to be one of those teams where we're competing for Big 12 and national championships."
None of which is new at Oklahoma.
Alabama: Working 'The Process'
By Alex Scarborough, TideNation

Nick Saban calls it "The Process." Players win on Saturday, get to play on Sundays. Then Saban and his staff do it all over again. Winning is the brand slogan for Alabama, and while it starts with football, it's spreading to other Crimson Tide sports.
For the full story, check out TideNation.
Florida: Recruiting's Gold Standard
By Derek Tyson, GatorNation

Will Muschamp came to Florida trying to match the exploits and expectations set by his predecessor Urban Meyer. After an initial dip in recruiting, Muschamp has his 2013 recruiting class aiming for No. 1. He's doing it by simply keeping the Gators as a brand name amongst recruits around the country.
For the full story, check out GatorNation.
Georgia: Stability Key For Dawgs
By David Ching, DawgNation

Entering his 12th season at Georgia, Mark Richt survived the dreaded hot seat in 2011 only to win his first SEC East title since 2005. And now Richt has signed a contract extension through 2016. It's that stability that has become the hallmark of the Bulldogs' brand.
For the full story, check out DawgNation.
LSU: Keeps On Ticking
By Gary Laney, GeauxTigerNation

It's been a rough few months for LSU. An embarrassing loss in the national championship game was followed by the dismissal of the Tigers' most popular player. But if the Bayou Bengals' brand suffered in that time, nobody told their fans, whose support has been seen in ticket sales and public support.
For the full story, check out GeauxTigerNation.
Michigan: Going Vintage
By Chantel Jennings, WolverineNation

It's no secret that the three-year tenure of Rich Rodriguez did some damage to the Michigan brand. Losing hurts a lot of things. But when the Wolverines needed to make over their brand, they embraced their broad appeal and went old-school in re-embracing the "This is Michigan" mantra.
For the full story, check out WolverineNation.
Ohio State: Future Looks Bright
By Austin Ward, BuckeyeNation

Ohio State could be down on itself. The Buckeyes suffered a losing season and sanctions will keep them from postseason play in 2012. But new head coach Urban Meyer has confidence in the Buckeyes' brand continuing to trend up.
For the full story, check out BuckeyeNation.
Oregon: Glitz, But Wins Too
By Brandon P. Oliver, DuckNation

Opulent facilities, flashy and exotic uniforms, and winning. Oregon has built its brand quickly by being one of the glitziest teams in college football. But there is substance behind the Ducks, and with Chip Kelly's guidance, they will only do more.
For the full story, check out DuckNation.
Texas: The Ultimate Brand?
By Carter Strickland, HornsNation

Texas suffered through a losing season and another that was subpar. Despite that, the Longhorns are the wealthiest program in college athletics. With Mack Brown as its face, the power of the Texas brand flexed its muscle to pull a conference back together and launch its own TV network.
For the full story, check out HornsNation.
Texas A&M: Strategic Moves
By Sam Khan Jr., GigEmNation

Texas A&M doesn't see its move to the SEC as just something to get out of the very large burnt orange shadow. The Aggies and their administrations see the conference shift as a chance to introduce the nation to Aggieland.
For the full story, check out GigEmNation.
USC: Staying Power
By Garry Paskwietz, We Are SC

USC took a blow when sanctions kept it from postseason play. But the power of USC, as Lane Kiffin likes to say, has been the foundation that made the Trojans' brand strong in the past and helped it thrive through their postseason hiatus.
For the full story, check out We Are SC.