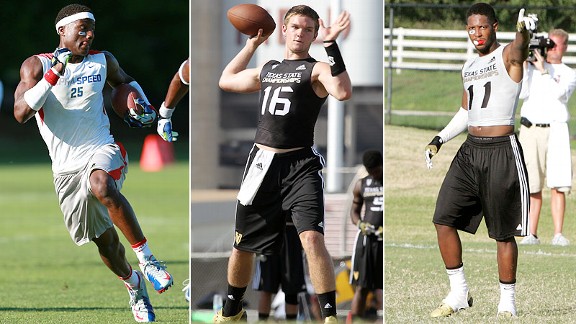 ESPN.comRecruits such as Ricky Seals-Jones, Kohl Stewart and Maurice Smith are reasons SEC schools are taking a long look at the Houston area.
SEC teams touch down in hotbed of Houston
By Mitch Sherman
ESPN RecruitingNation
HOUSTON -- A mile or two outside the "loop," to borrow a phrase from the vernacular of Houston, sits St. Pius X High School, home to Kohl Stewart, the Under Armour All-American quarterback who committed to Texas A&M two months before the Aggies finalized their jump last fall from the Big 12 to the Southeastern Conference.
As his classmates, teachers and neighbors found rest on Labor Day, Stewart sweated through a long afternoon practice. The temperature crept near 100 degrees.
No complaints, though. This is life as a football player in southeast Texas, which, according to many who play and coach here, now fits squarely into SEC country. Florida visits Texas A&M on Saturday (ESPN, 3:30 p.m. ET), the first SEC conference game in the history of this state.
It's no small milestone. Ninety-five miles from Kyle Field in College Station, downtown Houston serves as the epicenter of a recruiting hotbed that stretches 60 miles in every direction and counts more than 6 million residents, the nation's fifth-largest metropolitan area.
The "State of Houston," as labeled by Tony Levine, the first-year University of Houston football coach.
[+] Enlarge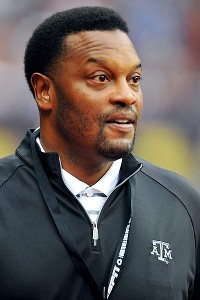 Cal Sport Media via AP ImagesTexas A&M coach Kevin Sumlin already has commitments from a pair of Houston-area recruits in the Class of 2013.
"It's no coincidence that a coach from virtually every school in the country gets on an airplane during the spring [evaluation period] and flies into one of our two airports," Levine said.
Houstonians believe the nation's best brand of high school football is played here. And why wouldn't players from the best high school programs want to compete in the best college conference?
"SEC recruiting is going to heat up Texas," Stewart said. "It's going to make football here even bigger."
It's a match made in heaven, or in Houston, so to speak: SEC football and the state of Texas, where 15,000-seat high school stadiums emerge on the landscape like shopping malls.
According to the University of Houston, the Houston area produces more than 100 Division I signees annually.
"The fans just get it here," Stewart said. "Football is serious. And the SEC is not going to let Texas A&M just keep everyone in-state."
Traditionally, Houston disperses its talent across the Big 12, especially to the University of Texas. Hometown Rice and Houston, both in Conference USA, mine the metro area. Arkansas has fared well here historically, but the rest of the SEC largely just dabbles in Houston.
Apparently, that's changing. Houston, it seems, is the new Atlanta, a mecca for recruiting that rests in the crosshairs of a budding rivalry between power conferences.
The Big 12 and the SEC winners are set to meet in the new Champions Bowl, starting after the 2014 season, provided those teams aren't selected to the sport's four-team playoff, which also debuts in January 2015.
Chances are, they'll often factor in the playoff, what with Big 12 teams playing seven times in the title game since the 2000 season -- second to the SEC's eight appearances over that same period.
The SEC, of course, has won six consecutive titles since Texas beat USC in the 2006 Rose Bowl.
"The really good players want to play in the best conference," said first-year Texas A&M recruiting coordinator Clarence McKinney, a Houston native and former coach at three Houston-area high schools. "And it's real obvious that the SEC right now is the best conference.
"The kids we've recruited, they've all talked about playing in what they call a grown man's conference. I can't speak to what it was like before I got here, but I can definitely tell you guys are excited about coming to A&M because of the SEC."
"

The SEC is where the big boys play. You do have to look at that. It's kind of a big deal.

"

-- Sealy (Texas) WR Ricky Seals-Jones, the No. 1 wideout in the ESPN 150
Such talk has radiated from College Station since the official A&M-to-the-SEC announcement last September, along with speculation that the move would open a pipeline into Texas -- notably Houston -- for SEC powers like LSU and Alabama. Dallas-Fort Worth appears more impenetrable, at least for now, situated in the heart of Big 12 territory.
So on the eve of the historic A&M opener, ESPN.com went in search of answers from the frontlines of the recruiting battle already under way as a result of the Aggies' conference switch.
Go to Alief Taylor High School on the southwest side of Houston, alma mater of New York Giants tight end Martellus Bennett.
There's nowhere to hide from heat during a midday practice here. The high Texas sun will burn your bare toes on the scorched grass fields behind the school.
Still, it's impossible to miss the football talent, with at least a half-dozen major-college prospects in attendance, including defensive end Torrodney Prevot, who has committed to USC.
Coach J.D. Jordan put a halt to Prevot's interviews after the season began a week ago. Same story up north at Cypress Ranch High School, where coach Gene Johnson made it clear that Keith Ford, the nation's No. 3 running back and an Oklahoma commit, won't be talking.
Yes, the spotlight gets hot in Texas. But at the high school level, it pales in comparison to what these players may face in college.
Not a worry for Taylor junior cornerback Chris Hardeman, who didn't wait around to see whether Texas might offer a scholarship this summer. He committed to LSU in July.
Today in Texas, the SEC brand means more than ever. Hardeman is proof.
"A lot of kids want to play in the SEC," Hardeman said. "It's a big-time conference."
The league's success speaks for itself. No one from LSU had to sell Hardeman on the merits of the SEC.
He knows. They all know. Just ask Ricky Seals-Jones of Sealy High School, barely within that 60-mile radius to the west of Houston. Seals-Jones, No. 10 in the ESPN 150 and the nation's top-rated receiver, decommitted from Texas in June to take a closer look at A&M, LSU and others.
He had planned to watch his first game at Kyle Field on Saturday, though he suffered an apparently serious injury to his left knee Thursday night when Sealy faced Stewart and St. Pius X.
Seals-Jones grew up a fan of the Longhorns. He was a fifth-grader when Houston-bred quarterback Vince Young led UT to the national title.
His memory from that night? Convincing his mother to let him stay up and watch. The experience simply doesn't resonate with him the way it did for recruits two or three years ago. All he knows are national champions from the SEC.
"The SEC is where the big boys play," said Seals-Jones, who's still considering the Longhorns. "You do have to look at that. It's kind of a big deal."
Taylor safety Jonathan Wiggins, a senior committed to the Aggies, said he looked differently at A&M after its SEC entry.
"There's an increased awareness of the strength of our conference," LSU coach Les Miles said last week in regard to the Texas recruiting landscape.
Tigers Protect Home Turf From Hogs

The recruiting battle afoot in Missouri carries little of the conference-wide importance as the circumstances in Texas, but it's notable that SEC newcomer Mizzou has primarily held off league rival Arkansas.
Eleven of the Tigers' 15 commitments for 2013 are from the state of Missouri, including athlete Chase Abbington of St. Peters Fort Zumwalt South, No. 259 in the ESPN 300.
Abbington had an offer from Arkansas, as did in-state Mizzou commits Eric Beisel of Fenton Rockwood Summit and quarterback Trent Hosick of Kansas City Staley.
In all, Arkansas is known to have offered six Missouri seniors, without securing a commitment. It does, however, count a commitment from 2014 QB Rafe Peavey of Bolivar, Mo.
The Hogs did not sign a recruit from Missouri last year, missing painfully on premier receiver Dorial Green-Beckham of Springfield Hillcrest. Green-Beckham signed with the Tigers and caught three passes in his college debut last week in Missouri's season-opening win over Southeastern Louisiana.
Missouri opens SEC play at home Saturday night against Georgia at 7:45 ET on ESPN2. -- Mitch Sherman
Coaches from more than 60 colleges visited Taylor in the spring. Levine, the Houston coach, said he assigns seven of his nine assistants to recruit in the area. Go to Sugar Land, south of Alief, to find cornerback Maurice Smith, No. 83 in the ESPN 150, of Dulles High School. He turned down Texas, LSU, A&M, Notre Dame, Oklahoma and others for Alabama.
These days, Nick Saban could recruit effectively in Siberia if he found a lineman ready to play. So Alabama's recruiting victory in Houston should come as no surprise. Still, it's a signal that talk of the SEC invasion is real.
Like so many others here, Smith said he considered Texas his "dream school" as a kid.
But the opportunity to play against better competition -- even in practice -- helped convince him to pick Alabama, he said. He made the choice with one eye on college and one on the NFL.
"That's a big deal if you're trying to make it to the league," said Smith, in line to give the Crimson Tide its first signee from greater Houston since 2010. "Every time I got an offer from an SEC school, it was a big deal, an eye-opener."
Smith and his Dulles teammates faced Terry High School of Rosenberg, Texas, on Thursday and Derrick Griffin, the nation's No. 1-rated tight end-H. Griffin, No. 29 in the ESPN 150, is committed to Texas A&M.
Similar matchups occur all over Houston. In fact, Pius coach Blake Ware said he was eager to watch sophomore cornerback Will Lockett get a crack at Seals-Jones on Thursday night.
And guess what school Lockett likes.
"When he first walked through that door, he said he wanted to go to LSU," Ware said. "These kids have been following college football since the fourth, fifth grade, and all they know is the SEC. "
Not all SEC coaches are set to crash the party in Texas. Florida has dipped its toe in the state. Others in the East Division followed, though even more cautiously. Don't expect to see South Carolina here. So said coach Steve Spurrier, who believes in a regional recruiting philosophy for the Gamecocks.
Big 12 schools, by the way, have secured 18 commitments from Houston-area players for the class of 2013.
For the class of 2014, Alabama, LSU, Texas and A&M have already offered linebacker Hoza Scott of La Porte. The Aggies and Longhorns are pursuing fellow junior Zach Whitley, a linebacker from Houston North Shore.
Competition figures to only grow more fierce. Texas A&M sits 13th in the 2013 class rankings, but it's sixth among the SEC schools.
Texas is seventh nationally. Of its 14 commitments, all but one are from the state, though just one of the top-six rated seniors in Texas and five of the top 19 are committed to UT.
As recently as 2011, the Longhorns signed three of the state's top four and five of the top 10, while A&M's highest-rated in-state signee that year ranked 50th among Texans.
After A&M's SEC announcement, the Aggies and Texas signed two apiece in the Texas top six. This year, A&M is right there again, with four in the top 17, including two from the Houston.
Asked this week about the long-term benefit for the Aggies of playing in the SEC, A&M coach Kevin Sumlin devoted more than half of his answer to discussing the exposure it would earn his program with potential recruits.
"It gives us a chance to say as a program and a university that we're playing at the highest level and in the most competitive conference in the country," said Sumlin, hired in December after four seasons at Houston.
Welcomes to the realities of the SEC: Without elite talent, success won't happen in the nation's best conference. Fortunately for Sumlin and the Aggies, talent is there for the taking -- just a short drive away.
Rest assured, no school or league will win the battle of Houston easily.
"The SEC is the go-to conference," said Ware, who's also Stewart's quarterback coach at Pius. "You gotta be real; unless something shifts in these other conferences, the SEC is going to continue to dominate.
"As a Big 12 guy and a Houston boy, I don't like it, because I want the traditional schools to be the best, but that's not the case anymore."
Around the Nation
By RecruitingNation

Sills
TRIO TO WATCH USC: USC's rare trip to the East Coast will allow Class of 2013 commits Kenny Bigelow and Khaliel Rodgers, as well as 2015 quarterback pledge David Sills, to take in the Trojans' game against Syracuse at MetLife Stadium in East Rutherford, N.J. The Elkton (Md.) Eastern Christian Academy trio will be accompanied by teammate Isiah Johnson, a Syracuse commit.

Hackenberg
ESPN 150 DUO LINK UP: ESPN 150 recruits Christian Hackenberg and Adam Breneman will both watch Penn State play Virginia on the road. Breneman plans to watch Hackenberg's high school game Friday, and Penn State's top two commits will then attend the PSU game together and watch from the stands.

Adams
ADAMS CONTINUES VISITS: After visiting Auburn last weekend, ESPN 150 DT Montravius Adams will be at Clemson on Saturday with his mom. This will be the third college visit for his mother, with the first two taking place at Auburn.
HOME COOKIN' AT UCLA? The UCLA Bruins will host two official visitors for the first home game of the Jim Mora era. Arizona standouts CB Jalen Ortiz and OT Kenny Lacy will make the trip to the Rose Bowl, as the Bruins look to make a positive impression on the dynamic playmaker and big lineman.
VISITORS FLOCK TO OREGON: The Ducks will host four of their commitments when Darren Carrington and Chris Seisay take their official visits to Eugene, while in-state commits Thomas Tyner and Evan Voeller will be there on unofficial visits. Class of 2014 athlete Malik Beachum, Seasay's teammate, will also be there on an unofficial visit.

Mixon
THREE-STAR TO TAKE IN OU: The Sooners kick off their home schedule with a big official visit from three-star defensive end Dimarya Mixon. Mixon, an Arizona State commit, has talked favorably of OU for a long time. OU defensive ends coach Bobby Jack Wright is also going to watch Mixon play Friday night.

Kelly Jr.
JUNIOR HAS SCHOOL TIES: Junior safety Todd Kelly Jr. will visit Alabama this weekend, where his sister is a Crimson Tide cheerleader. Kelly said he'll then visit Tennessee on Sept. 15 when the Vols host Florida. Kelly's father, Todd Kelly, was a standout defensive lineman for the Vols in the early 90's before being selected in the first round of the 1993 NFL draft.

Snodgrass
SIX JUNIORS SET FOR OSU: Ohio State's game against Central Florida intrigues the Ohio junior class, with Thaddeus Snodgrass, Joey Duckworth, Darius West, Nathaniel Devers, Marcus Whitfield and Kyle Trout scheduled to make unofficial visits to The Horseshoe. Only Snodgrass has an offer from the Buckeyes.

Likely
WAKE'S WORLD: Surprisingly, the most recruiting action involving Florida prospects this weekend could be happening at Wake Forest, where ESPN 300 athlete Will Likely leads a contingent of Sunshine State recruits on official visits. Three-star prospects Kyle Shortridge, Marcus Davis and Sean Paul will also be making the trip to watch the Demon Deacons host North Carolina.
ELITE JUNIOR TO VISIT MICHIGAN: There will be a few top prospects on hand for the Wolverines' home opener against Air Force, the biggest being 2014 defensive back target Damon Webb, who is a standout for Detroit Cass Tech.

Mitch
ESPN 300 TRIO IN SOUTH CAROLINA: More than 20 targets will be in Columbia, S.C., to see the Gamecocks take on ECU. Highlighting the visitor list for South Carolina are ESPN 300 commitments Connor Mitch, Brendan Langley and Larenz Bryant.
WVU BUSY ON BYE: West Virginia coaches will use an unusually early bye week to visit high schools. The Baltimore/D.C. area will be one point of emphasis as the Mountaineer recruiters hit the road. Offense should be easy to sell. In its last two games, counting back to January's Orange Bowl, West Virginia has scored 139 points.
Scouts: Rising Star
By Craig Haubert, RecruitingNation
Folston
Athlete Tarean Folston, No. 79 in the ESPN 150, kicked off his senior year by making a big statement. He displayed his versatility in Cocoa (Fla.) High School's 25-7 season-opening win over Delray Beach (Fla.) American Heritage by helping his team in a few ways, including a 21-yard touchdown reception and a pretty 60-yard run for another score. The TD run showcased Folston's vision, speed, deceptive strength, ability to break tackles, good ball-handling skills and an ability to make defenders miss.
Folston is simply a good football player, and no matter where you put him, he'll find a way to get the job done. Already the No. 7 athlete, Folston is a guy to keep an eye on. He could still climb higher among of a strong group of athletes and also has the potential to move up in the ESPN 150.
UA All-America Game Spotlight
By Billy Tucker, RecruitingNation
Bateman
Salt Lake City Cottonwood quarterback and Under Armour All-American
Cooper Bateman
has compiled an impressive résumé. While the Alabama commit is blessed with natural tools like great size and arm strength, he has really worked hard to turn himself into an efficient passer. His footwork, timing and accuracy have really improved over the last year and his best football is still ahead of him as he continues to fill out and grow into his body. The recipient of that upside will be Alabama offensive coordinator Doug Nussmeier, who has already added some nice passing wrinkles to the Tide offense in his first season. The Under Armour All-America Game will take place Fri., Jan. 4, at 5 p.m. ET on ESPN.
UA Game selections get their game jerseys.
Juco Watch: Navarro College
By Damon Sayles, RecruitingNation
Navarro College in Corsicana, Texas, won a national junior college title in 2010. With this year's crop of FBS-caliber talent -- and a familiar coach returning to the fold -- the Bulldogs are looking to duplicate the effort from two years ago.
For the full story, go to the Midlands Region blog.
Game of the Week
By Jon Mahoney, RecruitingNation
While neither team can be found in the ESPN 25 Power Rankings, you'd be hard-pressed to find a more exciting game from a recruiting standpoint this weekend than Sammamish (Wash.) Skyline versus Cottonwood (Salt Lake City) on Friday (ESPNU, 9:30 p.m. ET). The reasoning is simple -- take a look at who's under center.
Skyline is led by USC commit Max Browne, the nation's No. 2 pocket passer and No. 18 recruit in the ESPN 150. Meanwhile, Cottonwood (Salt Lake City) quarterback Cooper Bateman, an Alabama commit, is the nation's No. 2 pocket passer and No. 90 overall recruit. Both QBs reached the Elite 11 finals this summer.
A full breakdown of Cottonwood vs. Skyline.
Podcast: Verbal Commitment
What Texas A&M's SEC opener means for recruiting, visit drama at Oregon and all the latest news and notes from around the country.
• Click here to listen to the podcast

• RN's Mitch Sherman talks recruiting