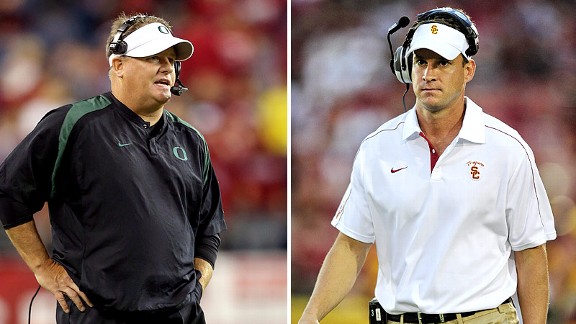 Getty Images, Cal Sport Media via AP ImagesOregon coach Chip Kelly has top California prospects -- who in the past would look only at Lane Kiffin and USC -- considering the Ducks.
Top prospects flocking to Oregon
By Mitch Sherman
ESPN RecruitingNation
You've seen the green, gray, yellow and white blurs of light on television this football season. Look away, and you'll miss a touchdown. Or two.
Fourth-ranked Oregon, which visits No. 17 USC Saturday night at 7 ET, scores nearly eight points per game more than the second-most prolific BCS-conference team.
The Ducks run coach Chip Kelly's system, amid the fast-paced world of college football, with such unmatched precision that it's difficult to fathom. And their magic extends to recruiting. How else to explain a team that plays at Oregon's electric pace and efficiency built, with a few notable exceptions, from pedestrian recruiting classes?
One word best captures it.
"It's a phenomenon," said Jon Mack, coach at Encino (Calif.) Crespi Carmelite. "I'm old enough to remember when the only guys who went to Oregon from Southern California were those who weren't recruited by USC, UCLA, San Diego State, San Jose State and a bunch of schools you didn't know."
[+] Enlarge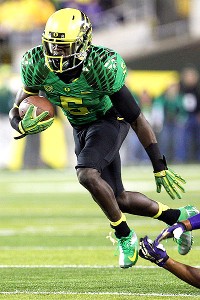 Cal Sport Media via AP ImagesHeisman candidate De'Anthony Thomas signed with Oregon after decommitting from USC.
No more. The phenomenon that is Oregon football turns heads nationally. The Ducks, as USC coach Lane Kiffin said Tuesday on the Pac-12 coaches' teleconference, "have very unique things to sell."
Kiffin called it the "Nike factor." But clearly, this is about more than the Duck-friendly, multibillion-dollar shoe and athletic apparel company based 110 miles north of Oregon's Eugene campus.
It's about identifying the right pieces. It's about the perfect-storm-like dynamic of events that could propel Oregon's recruiting influence to a new level as the hottest thing outside the Southeastern Conference.
Oregon-USC is growing into something like LSU-Alabama of the West. After all, the Ducks and Trojans may play twice in five weeks. Nothing says SEC-style showdown like a rematch with national-title implications.
Like the battle in Baton Rouge on Saturday, top recruits will monitor the events closely at the Coliseum in Los Angeles. Prospects such as Leon McQuay III of Seffner (Fla.) Armwood, the No. 3 safety in the ESPN 150 who has visited Oregon and lists both Pac-12 heavyweights among his favorites.
It used to be that the Trojans rated as the lone recruiting superpower of their region. USC signed the No. 2 class nationally in 2006, No. 1 in 2007, No. 7 in 2008 and No. 4 in 2009. You get the picture.
Meanwhile, Oregon struggled to register in the top 25.
Its roster features under-hyped former recruits such as quarterback Marcus Mariota of Honolulu; running back Kenjon Barner of Riverside, Calif., once unranked in his home state; receiver Daryle Hawkins, who couldn't get a look from Nebraska out of Cornhusker-rich Omaha Central; linebacker Kiko Alonso, safety Avery Patterson and running back De'Anthony Thomas …
Wait. Thomas fits in a different category.
He represents the new breed of Oregon recruit, the true threat to USC's recruiting supremacy -- regionally and nationally.
"I like how Oregon recruits people who fit their program," said No. 47-rated athlete Tyrell Robinson of San Diego Lincoln. "With USC, it seems like you have to work your way into their system. USC is cool. But Oregon is the perfect fit."
Robinson and twin brother Tyree, the nation's No. 43 wide receiver, picked the Ducks in September despite offers from USC. ESPN 150 running back Thomas Tyner of Aloha, Ore., also turned down USC for Oregon.
There was a time -- not long ago -- when that didn't happen.
Yes, the Trojans, even while strapped by scholarship limitations, have collected the No. 1 class this season, headlined by the nation's second-ranked defensive tackle, Kenny Bigelow of Elkton (Md.) Eastern Christian Academy, No. 1 safety Su'a Cravens of Murrieta (Calif.) Vista Murrieta and No. 2 pocket passer QB Max Browne of Sammamish (Wash.) Skyline.
"

USC is cool. But Oregon is the perfect fit.

"

-- Oregon commit Tyrell Robinson
Kiffin has secured pledges from 12 prospects ranked in the ESPN 150. Of the school's 18 commitments, 17 sit among the ESPN 300. And the top five prospects in California are committed to USC.
It's an amazing display of recruiting power.
Yet Oregon keeps coming. Thomas, a key piece of Kelly's offensive arsenal the past two seasons and a Heisman candidate this year, was the No. 1-ranked athlete two years ago out of Los Angeles Crenshaw. USC wanted him. He even committed to the Trojans before a late switch to Oregon.
Last year, the Ducks snagged defensive tackle Arik Armstead from Elk Grove, Calif., running back Byron Marshall of San Jose and quarterback Jake Rodrigues of Rocklin, Calif. USC offered all of them.
In addition to Thomas, USC went after 2011 Oregon signees Andre Yruretagoyena, linebacker Anthony Wallace, tight end Colt Lyerla, tight end Koa Ka'ai and receiver Devon Blackmon.
So really, this season at Oregon illustrates what can happen when the Ducks get a few USC-caliber recruits to play in Kelly's system. Imagine what the fourth-year coach, 42-6 in Eugene with two Rose Bowl trips and one BCS title game appearance, may do if he signs them in bunches.
"Nothing that Oregon has done has diminished USC's appeal," said Chris Casey, Tyner's coach at Aloha High School. "But Oregon has proven they're not taking a backseat to anybody."
Kids are watching the Ducks more than ever. Talking about them, too.
Just listen to the group that gathered last January for the Under Armour All-American game. The mere mention of Oregon generated a buzz among that group. When they played video games between practice sessions, one guy usually picked the Ducks.
Same deal at The Opening this summer, attended by Oregon pledge Dontre Wilson of DeSoto (Texas) High School and dozens of other top 2013 prospects.
"A lot of people expected me to go to Texas," Wilson said.
He picked Oregon because of its offense. Wilson, No. 51 in the ESPN 150, is undersized at 5-foot-10 and 174 pounds -- in the mold of Thomas and Barner.
The sleek uniforms were just a bonus to Wilson. Oregon needed no gimmicks to sell him, especially after he visited for the Oct. 6 Washington game and watched the Ducks scored 35 points by the middle of the second quarter.
"Very exciting," Wilson said. "Very colorful. It was electric. And the people were great. They treated me like I was already playing there."
Wilson learned this little secret about Oregon: It's not all glitz and glamour, Nike gear and the video-game offense. That stuff turns heads, but it won't build a championship program.
Kelly, in following Mike Bellotti and Rich Brooks, helped create something substantive.
"It's kind of out in the boondocks, but once you get there, it's incredible," said Mack, the Crespi Carmelite coach, whose school sent three players to Oregon, including backup quarterback Bryan Bennett and starting center Hroniss Grasu.
Mack raved about the coaching stability. This season marks the 30th in Eugene for running backs coach Gary Campbell, the 26th for offensive line coach Steve Greatwood and the 20th for linebackers coach Don Pellum, who recruits Southern California.
[+] Enlarge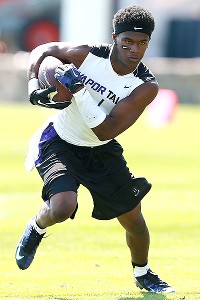 Tom Hauck for ESPN.comDeSoto (Texas) High School star Dontre Wilson picked Oregon in large part because of its explosive offense.
Defensive coordinator Nick Aliotti has spent two decades at Oregon over three stints.
Since Kelly took over in 2009, Oregon is the only FBS program to experience no turnover among its full-time coaching staff.
Defensive tackle Ricky Heimuli, a junior from Glendale, Utah, counted USC among his many offers three years ago. But the Trojans changed head coaches after the 2009 season as Heimuli weighed his options. It made a difference. He chose the Ducks over UCLA and Utah the night before signing day in February 2010.
"SC has been elite for decades," Heimuli said. "It was a great honor to be noticed by them. But I feel like I made the right choice. And the thing I enjoy most about playing football here is talking to the fans, the people who have been fans for a lifetime. They are finally able to enjoy football."
Defensive line coach Jerry Azzinaro sold Heimuli on Oregon.
"He was straight up with me about what would happen if I came here," Heimuli said, "about what he would do with me and how I would grow."
Such old-fashioned tactics, used in tandem with Oregon's new-age brand, create a formidable recruiting combination.
Throw in a couple of wins over big, bold USC, and it's intriguing to consider where the Ducks may sit in six weeks.
Podcast: Verbal Commitment
Senior national recruiting analyst Tom Luginbill talks about the upcoming ESPN 300 update, and David Helman of GeauxTigerNation discusses the recruiting impact of LSU-Alabama.
• Click here to listen to the podcast

• Mitch Sherman talks Oregon recruiting

Around the Nation
By RecruitingNation

Beckwith
STAR POWER IN BATON ROUGE:
This is the recruiting weekend LSU has been waiting for all year. No. 1 wide receiver Ricky Seals-Jones, No. 1 athlete Kendell Beckwith, No. 4 defensive end Tim Williams and No. 9 defensive tackle Greg Gilmore will all be in Baton Rouge for the game against Alabama. They'll be joined by most of LSU's 2013 commits, including Ethan Pocic, and a number of 2014 targets, including Watch List running back Leonard Fournette.
-- David Helman, GeauxTigerNation

Nkemdiche
BULLDOG MENTALITY?:
Georgia will have several key targets on unofficial visits this weekend, including No. 1 prospect Robert Nkemdiche and No. 11 prospect Montravius Adams. The visit with Adams will be key because it will be the first time his mother, a key influence in his decision, will travel to Athens. The Bulldogs are also set to host their top receiver target, Juco standout Jonathan Rumph. Mississippi State and Tennessee have made favorable impressions on Rumph so far. Rumph is expected to make a decision following this official visit, his fifth and final trip.
-- Kipp Adams, DawgNation

Redfield
WILL REDFIELD CHANGE STANCE?
Four-star commit Max Redfield will attend his first USC game since returning from an official visit to Notre Dame that changed his stance from solid to soft. He'll be joined by all of the local pledges, including top-ranked safety and good friend Su'a Cravens. Running back commit Justin Davis will make the six-hour drive south to attend his first USC game, while top 2014 receiver target Demarre Kitt will make the trek from Georgia.
-- Blair Angulo, WeAreSC

Anzalone
ANZALONE IN SOUTH BEND:
Although Alex Anzalone is committed to Notre Dame, the consensus is the Irish trail Florida for the ESPN 150 linebacker. But the Irish convinced Anzalone to visit Sunday after his high school game, and it will go a long way in determining if the Irish will hold on.
-- Jared Shanker, East

Terry
TERRY SOLID WITH UGA?:
ESPN 150 athlete Tramel Terry plans to be at Georgia unofficially on Saturday. This will be the first time at Georgia since the Bulldogs' commitment took his first official visit to Clemson. The Tigers are making a push for Terry, so look for Georgia to try to solidify one of its top commitments in the 2013 class.
-- Kipp Adams, DawgNation

Fant
IU COMMIT IN UTAH:
ESPN 150 ATH Rashard Fant committed to Indiana last week, but he plans to follow through with an official visit to Utah, stating he had already promised the Utes' coaching staff he would make the trip.
-- Kipp Adams, Southeast
Scouts: Rising Star
By Tom Luginbill, RecruitingNation

Wilson
WR Jesus Wilson
Miami Columbus
While we have him listed as a wide receiver, Wilson could just as easily be a cornerback at the next level and also has great upside as a return man. On film he looks to be a good athlete who is quicker than fast, but upon closer scrutiny, Wilson never seems to get run down in the open field and ran sub-4.4 40-yard dash at a college camp this past summer. He is a sudden, jump-cutting type of space player who is ideal in one-on-one matchups. He isn't very big, but he's tough to get a clean shot on in the open field and has very good ball skills.
UA All-America Game Spotlight
By Tom Luginbill, RecruitingNation

Taylor
RB Kelvin Taylor
Belle Glade (Fla.) Glades Day
Taylor is a back who transcends levels of competition. He has faced 2A teams and 5A teams and the outcome is always the same -- positive yards, big performances and durability that proves he can carry the load over the long haul. He is a blend of quickness, vision, power, strength and suddenness who can jump cut through defenders as well as anyone. He can navigate holes and bounce to the edge in a hurry and, as a result, is difficult to handle on the inside and outside for opposing defenses. His most underrated trait is his ability to contribute as a pass-catcher, which is not often showcased in his high school scheme.
UA Game selections get their game jerseys.
Juco Spotlight: Miss. Gulf Coast
By David Helman, RecruitingNation
Mississippi Gulf Coast coach Steve Campbell has seen a number of top prospects come through his program. But he says current star Dhaquille Williams is the best receiver he's worked with.
For the full story, go to the Southeast blog.
Game of the Week
By Jon Mahoney, RecruitingNation

Ramsey
The last ESPN High School Football Showcase of the season will take place Friday at 8 p.m. ET on ESPNU and WatchESPN.com when No. 9 Kingsland (Ga.) Camden County meets Valdosta (Ga.) Lowndes. The headliner of the game is Georgia commit and ESPN 150 quarterback Brice Ramsey, who's rated the nation's No. 8 pocket passer.
Check out the full ESPN 25 Power Rankings.