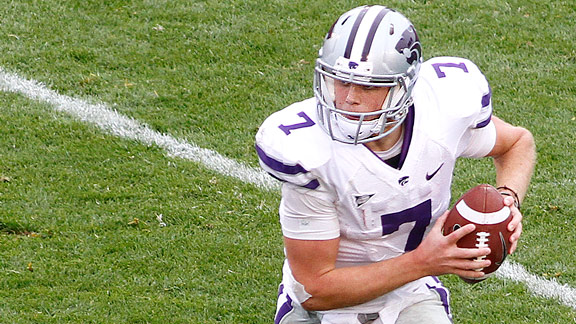 Matthew Holst/Getty ImagesKansas State quarterback and Heisman Trophy candidate Collin Klein received scholarship offers from only Colorado State and K-State when he was at Loveland (Colo.) High School.
K-State follows unique blueprint to success
By Mitch Sherman
ESPN RecruitingNation
MANHATTAN, Kan. -- As Kansas State navigates another week in the treacherous Big 12, heading Saturday to West Virginia with a No. 4 ranking in the initial BCS standings, the Wildcats continue to grow increasingly difficult to ignore.
And equally tough to comprehend.
How are they one victory away from a 7-0 start for the second straight season, with a blowout win over Miami and a road victory over Oklahoma?
Coach Bill Snyder's 21st team at K-State is a collection of overlooked recruits, castaways and transfers. The Wildcats' method of constructing a roster defies convention among the college football elite.
Its recruiting classes regularly rank in the middle of the pack or lower in its own league. It mines the junior colleges heavily, at best a short-term fix elsewhere. None of the six high school seniors committed to the Wildcats this year have a scholarship offer from another Big 12 school.
Haubert: Keys To K-State's Success

Under Bill Snyder's guidance, Kansas State has achieved success while rarely making headlines on the recruiting trail. Here are a few keys to how Snyder has done it.
1. Identify and cultivate talent
The Wildcats have done a good job of realizing how they fit within the recruiting landscape. They don't get sidetracked trying to chase longshot prospects. Instead, Snyder and his staff indentify under-the-radar prospects who fit their system, want to be a part of K-State football and have the skills they can develop and maximize.
2. Use junior colleges
Using junior colleges to supplement a roster can be valuable but can also present a risky proposition when relied on too heavily. However, Snyder has been able to navigate the pitfalls of jucos better than anyone and benefits from having a strong network of jucos right in Kansas. K-State does a great job of building relationships at that level.
3. Sustained success
Snyder has been at it a long time and has created a record of success building teams in the manner that he has done it. Oftentimes, believing is half the battle, and Snyder has built a résumé that can allow prospects that may not be ideal fits for many other programs to believe that at K-State they can have successful college careers.
-- Craig Haubert, RecruitingNation
Logic says a program like K-State can survive a year or two of unorthodox results in recruiting but that, over a four-year period, the talent gap will impose a crushing burden.
Well, Snyder's been up to these tricks for more than two decades.
Since 1990, he has won more games than every active Football Bowl Subdivision coach not named Mack Brown, Frank Beamer or Steve Spurrier. And Snyder took three years off before returning to the sideline in 2009.
Despite a history that includes the likes of Darren Sproles, Terence Newman and Jordy Nelson, the 73-year-old coach and his players don't dispute the sentiment that Kansas State accomplishes more with less. In a way unlike all but a few programs, the Wildcats have discovered the formula to thrive in the recruiting wilderness.
"The fundamental or basic premise would fit anywhere," Snyder said this week, "but there is a uniqueness to our university and our program."
Kansas State offers proof that a game plan in recruiting -- if well devised, executed and combined with effective player development -- can trump the more tested practice of simply trying to gather the best players available.
As important as what the Wildcats do, though, is who they are.
Kansas State is Collin Klein, the Heisman Trophy candidate and ultimate high-character quarterback whose presence elevates the play of his teammates. Last year, as K-State fought through a 10-2 regular season, Klein endured a bevy of injuries -- dislocated throwing shoulder, bruised sternum, bruised rib and bursitis in his right ankle.
Klein leads the nation since 2011 with 13 games in which he has thrown and rushed for a touchdown. But the 6-foot-5 senior from Loveland, Colo., received scholarship offers from only Colorado State and Kansas State.
Say this about former K-State coach Ron Prince: At least he recognized something in Klein, who was homeschooled by his parents before college. In July, he married former K-State basketball player Shalin Spani, the daughter of former Wildcat All-America football player Gary Spani.
Klein, who is deeply religious, offers a rare perspective. Asked on Tuesday about his tendency to avoid big hits this season, he referenced Gen. George Patton: "You don't win wars by dying for your country."
Yes, he's perhaps the perfect fit at Kansas State. And Klein recognizes it.
"That's what makes this a very special place, that you've got different guys from a lot of different backgrounds," he said. "It's pretty amazing how Coach brings us together, just molding and creating a team. It's a unique and special thing."
Klein's high school coach sees it too.
"They don't do things the same way as other teams, obviously," John Poovey said, "but I think they do a great job. Speaking with Collin, part of it is they build a great environment."
Most recruiters couldn't get past the belief that Klein failed to rate as an elite passer or an elite runner at Loveland High School, Poovey said, but his intangible qualities were unmatched.
So Collin, were you motivated to succeed in college by the lack of interest in recruiting?
"No," he said. "The Lord brought me to a place of truly realizing it's not about me."
"

I just love the feeling that I can be something big up there. The more I looked at other schools, the more it made Kansas State look better.

"

-- Kansas State commit Chance Allen
After Klein's redshirt season in 2008, Prince was fired. Klein played special teams in 2009 under Snyder and started two games at receiver. He called it a "time of uncertainty."
"But again," the quarterback said, "I knew in my heart and had such a peace that this was where the Lord wanted me to be."
Unique, indeed.
Kansas State is Isaiah Williams, the Wildcats' top-rated recruit this year.
A linebacker from Dallas Skyline, Williams ranks as the No. 112 prospect in Texas and fourth on his high school team. Multiple underclassmen at Skyline are already more heavily recruited than Williams.
"Isaiah's a good linebacker," Skyline coach Reginald Samples said of the three-year starter at the Texas 5A power.
That's it? A good linebacker? Williams received offers from Colorado, Texas State and SMU. He played defensive end before this year, Samples said. Maybe it factored in his lukewarm reception from most colleges.
And maybe he's next in the line of hidden gems to surface at Kansas State.
Kansas State is Tyler Lockett and John Hubert.
Lockett, the star kick-return specialist from Tulsa (Okla.) Booker T. Washington, received offers from Kansas and K-State but nothing from home-state schools Oklahoma or Oklahoma State.
Hubert, who has rushed for nearly 1,600 yards since the start of last season, set records in high school at Waco (Texas) Midway. Louisiana Tech and North Texas offered. Hometown Baylor did not.
You see, Hubert measures 5-7 and 191 pounds. Lockett, the son of former K-State star Kevin Lockett, is 5-11 and 175. Just the right fit, apparently, for the Wildcats.
Kansas State is Ryan Doerr, Chris Harper and Arthur Brown.
Doerr, the punter, started his career at South Carolina; Harper, a quarterback-turned-receiver, transferred from Oregon; and Brown, the No. 6 recruit nationally out of Wichita (Kan.) East in 2008, transferred from Miami and has developed into an All-American candidate at linebacker.
"It's that family atmosphere," Doerr said. "We preach it a lot here, but it's really true."
Harper, also from Wichita, said he had to leave home before he learned to appreciate it.
"You learn a lot in five years," Harper said. "You mature a lot and see things differently."
He wanted to play in Kansas to help earn his state the credibility it deserves, said Harper, who has caught 84 passes and 10 touchdowns at Kansas State.
Kansas State is Jarard Milo, the senior safety who played two years at Butler (Kan.) Community College and earned a starting spot this fall.
The Wildcats signed 26 junior-college players over the past three years. It has long represented a key cog in the K-State recruiting model, with former stars such as quarterback Michael Bishop and current Miami Dolphins running back Daniel Thomas arriving in Manhattan via the juco route.
K-State embraces the junior colleges. The junior colleges reciprocate.
"It was very comfortable for me," Milo said. "I knew a lot of juco guys got a chance to play here. For me, [Kansas State] was just a different kind of option."
And Kansas State is Chance Allen, the 2013 K-State pledge and offensive guard out of Spring (Texas) Klein Collins.
Allen committed in April to the Wildcats. He had an offer from Lamar and felt no desire to wait for others. Allen visited K-State in January. In the spring, he toured several other campuses, including Oklahoma and Oklahoma State.
What appealed most about Kansas State? The small-town feel of Manhattan. It's not exactly suburban Houston.
"I just love the feeling that I can be something big up there," Allen said. "The more I looked at other schools, the more it made Kansas State look better."
Each picked the Wildcats for his own reasons. And each works in the K-State model for a reason different than the next player.
It's the beauty of Snyder's system.
Around the Nation
By RecruitingNation

Dawson
SWAMP THINGS:
The Florida Gators will be hosting several top players for their game against South Carolina on Saturday. Headlining the list will be former Michigan commit David Dawson, the nation's No. 1 offensive guard. He'll be joined by ESPN 150 safety Marcell Harris and committed prospects Ira Denson (Florida State), Trey Johnson (Auburn) and Demarcus Robinson (Clemson). Johnson and Robinson will be there unofficially.
-- Derek Tyson, GatorNation

Seals-Jones
RSJ TO SEE TOP TWO IN ACTION:
The Aggies' clash against LSU is bringing with it a host of big-name visitors. Headlining the list of expected attendees are uncommitted ESPN 150 members Ricky Seals-Jones, Justin Manning and Mike Mitchell. Seals-Jones, who is visiting unofficially, has Texas A&M and LSU in his top two.
-- Sam Khan Jr., GigEmNation

Nkemdiche
NKEMDICHE IN DEATH VALLEY?
There's a chance that No. 1 overall prospect and Clemson commit Robert Nkemdiche could be at the Tigers' game against Virginia Tech on Saturday. His Grayson teammates and fellow Clemson commits Wayne Gallman and David Kamara could be there as well, along with Grayson defensive back Ryan Carter, who doesn't have a Clemson offer at this time.
-- Kipp Adams, DawgNation

Treadwell
RECRUITS FLOCK TO RIVALRY:
More than 45 visitors are expected to be on hand when Michigan hosts in-state rival Michigan State. Two of Michigan's top remaining targets for the 2013 class, wide receiver Laquon Treadwell and running back Derrick Green, are expected to be in Ann Arbor for the game. Green is taking his official visit, while Treadwell will be visiting unofficially.
-- Tom VanHaaren, WolverineNation

North
ANY VOLUNTEERS?
It will be a star-studded affair when Tennessee hosts No. 1 Alabama on Saturday. Among the crowd will be ESPN 150 safety Vonn Bell, ESPN 150 wide receiver Marquez North, ESPN Watch List talents Josh Malone and Jalen Tabor and star sophomore Rico McGraw.
-- Greg Ostendorf, TideNation

Thomas
GOLDEN OPPORTUNITY:
While the Seminoles are on the road this weekend at Miami, they still have a huge chance to make an impact on the recruiting world. Some of FSU's top targets, headlined by the nation's No. 1 outside linebacker in Matthew Thomas, will be in attendance. If Florida State wants to sustain a competitive advantage in the area, a win would go a long way to ensure that.
-- Corey Dowlar, NoleNation

Elder
ELDER TO SEE OSU-PURDUE:
Ohio State will get its chance to impress an ESPN 300 running back with more than 3,600 yards rushing the last two seasons when Cornelius "Corn" Elder takes in the Buckeyes' Big Ten contest with Purdue on an unofficial visit. Elder has rushed for 1,608 yards and scored 26 times this season.
-- Brad Bournival, BuckeyeNation
Scouts: Rising Star
By Craig Haubert, RecruitingNation
DE Ernest Suttles
Tampa (Fla.) Gaither

Paul Rhoads has Iowa State off to a 4-2 start and in the Top 25 of the BCS standings. The Cyclones have done it by showing they can identify and develop talent. One player in their current class who fits that mold is Suttles. He won't wow you, but he displays the tools to be a consistently tough defender, especially against the run. A long, lean prospect, he needs more mass, but he can be tough to block when he brings his hands and uses that reach. He is active and a good wrap-up tackler. He is not a menace off the edge as a pass-rusher, but he can create pressure. And he can still improve. He is not going to create a lot of buzz, but on film, Suttles is a good football player, the type of prospect that can help the Cyclones continue to be competitive.
UA All-America Game Spotlight
By Billy Tucker, RecruitingNation

McQuay III
S Leon McQuay III
Seffner (Fla.) Armwood
Fans will not only have a chance to watch McQuay's impressive size and athleticism during both the practices and the game, but they will also likely find out where one of the nation's top safeties will play in college as he is tentatively scheduled to announce his choice during the UA Game on Jan. 4. McQuay has made some steady improvements from last season. He added lean muscle to his frame, resulting in added strength on run support and on the collision of routes, where his timing is already at an elite level. He appears to have improved his technique, especially his footwork, to match arguably some of the better instincts at the position in this class. Wherever he lands, we expect him to challenge for immediate playing time at free safety, where he has the ability to be a big-time producer.
McQuay receives his UA Game jersey.
Juco Spotlight: Itawamba C.C.
By Dave Hooker, RecruitingNation
The Itawamba football program has consistently produced top prospects, and this year is no different with the likes of Ronald Carswell and Deryck Gildon on the roster.
For the full story, go to the Southeast blog.
Game of the Week
By Jon Mahoney, RecruitingNation

Ramsey
There will be plenty of star power on the field Friday night when Brentwood (Tenn.) Academy meets No. 20 Nashville (Tenn.) Ensworth at 8 p.m. ET on ESPNU and WatchESPN. Brentwood is led by USC commit Jalen Ramsey and Florida commit Max Staver, while Ensworth counters with ESPN 300 running back Cornelius "Corn" Elder and talented sophomore corner Rico McGraw.
Check out the full ESPN 25 Power Rankings.
Podcast: Verbal Commitment
Senior national recruiting analyst Tom Luginbill joins host Dave Hooker to discuss the depth of running backs in the 2013 Class and No. 1 inside linebacker Reuben Foster.
• Click here to listen to the podcast

• Mitch Sherman talks K-State recruiting