Five programs hoping to conquer SEC monster
By Mitch Sherman
ESPN RecruitingNation
The most coveted football recruits hear -- and usually repeat -- nearly every reason imaginable to sign with a college program during a courtship that often stretches two years.
It's about the relationships, the competition, the academics, the location. Each of these factors resonates with prospects. None are to be minimized as the countdown to signing day dips under two months.
But for so many recruits, one question stands above the rest when decision day arrives: What school gives me the best chance to win a championship?
The resounding answer, over the past half-decade or so, circles back to the Southeastern Conference.
You want a ring? Play in the SEC.
Recruits believe it. In a five-year composite of the ESPN class rankings, including the unfinished 2013 recruiting cycle, five of the top nine performing programs belong to the SEC. Four of those -- Alabama, Florida, LSU and Auburn -- have combined to win the past six BCS titles.
[+] Enlarge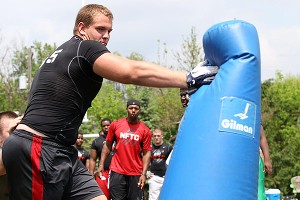 Tom Hauck for ESPN.comOhio State commit Billy Price said Buckeyes' coach Urban Meyer is bringing an SEC style of play to the Big Ten.
When this run of SEC dominance ends, who will be there to hold the trophy?
Notre Dame, of course, can end the discussion by beating Alabama on Jan. 7 in the Discover BCS National Championship. But for the sake of argument, with bowl season set to begin, let's include the other top candidates best positioned through recruiting to topple the SEC monster.
We let committed recruits from each of the selected five programs explain the case for their schools.
So with apologies to Texas (second only to the Crimson Tide in the five-year class-ranking average, but just 21-16 over the past three seasons) and Oregon (a failed November overtime from a possible second BCS title shot in three years but not yet consistently elite in recruiting), here's the list:
OHIO STATE
When Billy Price looks into the eyes of coach Urban Meyer, he sees passion.
He saw it last Friday at St. John Arena in Columbus, Ohio, as Meyer introduced the Ohio State seniors during a celebration of the Buckeyes' 12-0 season.
"You want a coach who's going to fight for you," said Price, an ESPN 300 defensive tackle from Austintown (Ohio) Fitch who committed to OSU in February. "You want somebody who's going to give you that 110 percent that you're giving. That's coach Meyer. That's the kind of college coach I want to play for."
Meyer has the SEC pedigree, having won BCS titles at Florida in 2006 and 2008. And he's brought a mentality to Ohio State recruiting that may serve the Buckeyes well in future meetings with his former conference foes.
"Those coaches in the SEC, they know how to recruit," Price said. "They're deep with playmakers all over the defense. That's what coach Meyer has brought to us up North."
Meyer helped Ohio State sign the No. 6 class a year ago in short order. He's got the No. 5 group this year with key targets like linebacker Mike Mitchell and guard David Dawson still at large.
And true to championship form, the 19 Ohio State pledges include six defensive linemen.
NOTRE DAME
No argument would serve Notre Dame better than a victory next month over Alabama. But even if the Fighting Irish weren't in line to complete a perfect season, linebacker Alex Anzalone said he sees bright days on the horizon.
"It's because of the type of player Notre Dame gets," Anzalone said. "They don't want to be average. They want to be great at everything they do on and off the field. That's what it takes to play championship-level football."
Anzalone would know. The outside linebacker from Wyomissing (Pa.) High School and the No. 64 prospect in the ESPN 150 is set to play for a state championship on Saturday. Anzalone, who originally committed to Ohio State and later strongly considered Florida, pledged to Notre Dame in July.
His story is common among Notre Dame's third-ranked class. Running back Greg Bryant, who originally committed to Oklahoma, turned down Alabama, Auburn, LSU, Florida and Georgia. Linebacker Jaylon Smith said no to the Crimson Tide, the Gators and Texas A&M. Receiver Torii Hunter Jr. had offers from Alabama, Arkansas and Mississippi State.
The list goes on.
"A lot of us were legitimate SEC targets," Anzalone said. "It takes a high-caliber player to play in the SEC, and Notre Dame has been doing a good job of selling the chance to play that kind of football."
USC
The missteps of the past three months mask a promising future. If USC can make corrections under a revamped defensive coaching staff and avoid injuries that exploit depth issues while still on probation, the sheer talent here makes it a title contender.
Coach Lane Kiffin has recruited well since he returned to USC in January 2010. That's no secret. But this year, he's outdone himself. The Trojans' 2013 class features an embarrassment of riches, with 15 of 16 pledges in the ESPN 300.
An old axiom in coaching says this: When your best players are your best leaders, you've got something special. In landing the likes of safety Su'a Cravens, defensive tackle Kenny Bigelow and quarterback Max Browne, USC may have struck gold this year.
"We're already a big family and most of us haven't even played together," said cornerback commit Chris Hawkins, No. 72 in the ESPN 150 out of Rancho Cucamonga (Calif.) High School. "What makes us such a great class is that we've all got the football IQ to succeed."
While USC must first overcome Oregon and Stanford in the Pac-12, something else drives the Trojans in their quest to upstage the SEC programs.
"It's a swagger that we have," Hawkins said. "We carry ourselves different than those guys. They're usually bigger and stronger, but we have speed that they just don't. We're not always made like them as a team, but we feel like we can use our skills in different ways."
If you're not buying the talk from USC after a 7-5 season, give it a year or two and see what this 2013 class has to say.
FLORIDA STATE
Losses to NC State, Virginia and Wake Forest in the past two seasons don't inspire confidence in the Seminoles' bid to regain prominence. A closer look, though, reveals steady improvement in coach Jimbo Fisher's three seasons.
In fact, Discover Orange Bowl-bound Florida State looks right on track to burst nationally after signing the No. 1-rated class in 2011 and the No. 2 class last year.
"Coach Fisher's program is really hitting its stride," said center Ryan Hoefeld, committed to FSU out of New Orleans Brother Martin. "He's taking all these crazy athletes, and you can see it all coming together."
Really, you can. The Seminoles won their first ACC title this month under Fisher, scoring their first BCS-bowl appearance since the 2005 season.
Now, if FSU can endure the losses of defensive coordinator Mark Stoops, defensive ends coach D.J. Eliot and running backs coach Eddie Gran, a recruiting linchpin, its rise may continue. So far, top pledges like running back Ryan Green and linebacker E.J. Levenberry Jr. have remained strong.
The next eight weeks promise more twists. But don't bet against Fisher and FSU in recruiting.
"It hasn't been that long since Florida State was the team that everybody was scared to play," Hoefeld said. "And I don't think it will be long before it's that way again."
MICHIGAN
The Sept. 1 scene in at Cowboys Stadium, when Alabama punished the Wolverines, still plays like game film on a never-ending loop in the mind of Shane Morris.
"We've got to get bigger linemen, bigger receivers, bigger running backs," said Morris, the nation's fourth-rated quarterback and a longtime Michigan commit. "That's how we can play with a team like Alabama. They're great athletes and hard hitters. It stuck out to me, stuck out to everyone else in the world."
The good news?
"That's what coach Hoke is all about," Morris said.
Second-year coach Brady Hoke, no doubt, has instituted a plan in recruiting to get bigger and stronger. His seventh-rated class this year includes towering offensive linemen Logan Tuley-Tillman, Chris Fox, Patrick Kugler and Kyle Bosch. Last year, the Wolverines signed four offensive linemen and six d-linemen.
Before you can beat the Crimson Tide, you've got to look like more like them.
"The heart of your team is on your offensive and defensive lines," said Morris, the gunslinger from Warren (Mich.) De La Salle Collegiate. "Linemen don't want to be shown paradise. They want to be told straight up what's going on.
"Coach Hoke is that guy. He's not going to be there to please everyone. He's going to tell you what you need to hear, not what you want to hear. That's why we love him so much."