Let's stay together
By Carter Strickland
ESPN HornsNation
Jalen Battle is committed to Kentucky.
Maybe.
[+] Enlarge
Mark Zerof/US PresswireJoker Phillips' firing caused Kentucky commits to rethink their decisions.
He thinks.
Actually, he doesn't know.
When it came to light that head coach Joker Phillips had been fired, Battle was still left in the dark.
For days the two-star defensive back didn't hear from Fort Lauderdale (Fla.) University School of Nova South Wildcats defensive backs coach Mike Cassity.
"It's hard," Battle said. "I don't know what to do."
The relationship between Battle, Cassity, Phillips, defensive coordinator Rick Minter and the Kentucky football program was nearly a year in the making. From letters to calls to visits, the UK coaches had asked for Battle to commit to them, to believe in them, to play for them. In July, Battle decided, because of the relationship he had built with the staff, Kentucky was where he wanted to move and spend four to five years playing football. He committed.
Phillips was fired Nov. 4. It's more than likely his staff is gone, too.
"Now I'm back to square one," Battle said. "I'm just sitting down with my parents, trying to figure it all out. You spend all this time getting to know these coaches and then you make your decision … now I'm just back to square one."
In the building blocks of recruiting it is the relationship between the recruit and the assistant that matters most. The head coach is typically the closer. The assistant is the one who opens the door and is, after the necessary relationships are cultivated, invited to sit with the family for dinner.
Then, just as suddenly, that chair can be empty.
"These guys say that is about being a part of a family, yeah right," Sean Jones said.
Jones, his wife, Andrea, and their son Kellen opened the door to their Houston home and also crossed the country looking for the right "family." Seemingly everybody but the school in his state, Texas, wanted Kellen, a three-star linebacker in the Class of 2011. He was sold on Michigan. There was a coaching change. Kellen recommitted to the new staff and signed with the Wolverines. He didn't make it through the summer and left Michigan.
Eventually the Joneses found the right spot and assistant in Oklahoma's Brent Venables. Less than a year later, Venables left for Clemson. The bond between recruit-turned-player and assistant was so strong and important to the Jones family that Kellen transferred to Clemson, even after earning playing time as a true freshman with the Sooners.
"Brent told him to stay at Oklahoma," Sean Jones said. "He truly believed there was a spot for him there and that he could be successful at Oklahoma."
Kellen didn't want to play for OU. He wanted to play for Venables.
Just like Billy Green wants to play for Brandon Doman at BYU. Doman and Kelly Poppinga recruited the quarterback from King's High in Seattle. A little more than a week ago, BYU athletic director Tom Holmoe told KSL radio there would be some changes in the coaching staff in the offseason. Doman is a first-year coordinator in an offense that has struggled.
"I'm not sure what to make of it," said Green, who is a three-star prospect. "I want to play for Coach Doman, that's my position coach and one of the coaches who recruited me."
[+] Enlarge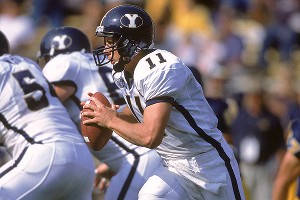 Jed Jacobsohn/Getty ImagesBrandon Doman, a former BYU quarterback, may be forced to shake up his staff -- and it could cost his recruiting class.
Green is not at all wavering on his commitment to BYU. But that BYU might be wavering on who the assistants will be could affect its 2013 class.
"Those guys are not stupid, they are going to go someplace that they feel good about," said Randy Rodgers, a veteran college coach who was the recruiting coordinator at Texas and Illinois and now runs randyrodgersrecruiting.com. "If there is uncertainty about the school they committed to they are going to start to look around.
"And, oh by the way, everybody else that tried to recruit them is going to say, 'Dude, why are you going to try and stick with them? They don't even know what they are doing. They don't have a coach. Come to our place.'"
It's blood in the water and typically it is flowing from what has become the most itinerant job in college sports, the single-year contract assistant coach. Although the victim is just as likely to be the recruit.
"They are out there in no-man's-land," Rodgers said. "If you're a recruit, you are out there going, 'What do I do and who do I go to get an answer from?'
"Well, you get an answer from the coach who recruited you and he may not be able to give you an answer whether he is going to be back or not and he may not give you a truthful answer," he added. "It's a mess."
It nearly became just that at Texas. In 2010, 15 minutes before Mack Brown was to take the biggest stage of the offseason, the Texas coach was hit with the biggest blow of the entire season: Will Muschamp, the head-coach-in-waiting and a vital recruiter, was leaving.
On the other side of the curtain, the recruits, all in attendance for Texas Football Awards Banquet, needed to hear something to make them stay. The Longhorns finished 5-7. Several of the assistants who had personally recruited some of them had been jettisoned through retirement or with cause
"Coach February," a moniker given to Brown for his recruiting acumen, needed a December plan.
"The thing that we told them all was, 'Just stay committed to Texas until I hire a staff. And after I hire a staff you'll have a chance to go somewhere else if you want to and I will actually get on the phone and call for you if you don't like the coaches that we hire,'" Brown said. "All of the commits except one stayed with us and I really appreciate that."
The one who didn't stay was five-star offensive tackle Christian Westerman. Mac McWhorter had been Westerman's primary recruiter at Texas. The Chandler, Ariz., product didn't want to be a Longhorn if McWhorter wasn't. He chose Auburn instead.
The Tigers are now 3-8. Rumors are swirling about the coaching staff. Two Auburn commits contacted by ESPN this week, ESPN 150 prospects Trey Johnson (Lawrenceville, Ga./Central Gwinnett) and Carl Lawson (Alpharetta, Ga./Milton), declined to talk about their relationship with Tigers assistant coaches. Another commit, prep school wide receiver Ja'Quay Williams (Fork Union, Va./Fork Union Military Academy), has started to explore his options.
Williams and many others have options. Not their first, but options nonetheless. Jacob Hyde (Manchester, Ky./Clay County) never wanted to play for anyone but Kentucky. The three-star defensive tackle was the first commitment of the 2013 class on March 1, 2012.
"You grow up in this state playing football and it's a 18-year-old's dream to play there," he said.
Like Battle, Hyde has not heard from the Kentucky coaches. He has no idea about the assistant coaches' futures or his.
"Another thing I'm thinking about is who they hire," Hyde said, "because you gotta look at it this way: They could hire somebody new and he might not even want me."
And Hyde, just like Battle, might then be back at square one.
Class rankings

Check out the new and improved RecruitingNation Class Rankings. We have redesigned our look and now go deeper into the rankings by looking at the top 40 classes in the country. Where does your school stand? Class rankings
Around the Nation

Which came first, Alabama's championships or its blue-chip recruiting classes? Nick Saban's first wins came on the trail.
More from TideNation

.
---

Urban Meyer isn't roaming the sidelines anymore, but Florida's success on the recruiting trail didn't miss a beat under Will Muschamp.
More from GatorNation

.
---

Jimbo Fisher doesn't need to prove he can recruit. But winning big games down the stretch would ease any other doubts.
More from NoleNation

.
---

Mark Richt and his staff are big dreamers when it comes to recruiting classes. And they've made those dreams reality.
More from DawgNation

.
---

The Mad Hatter may pull surprises out of his hat on the field, but on the trail, LSU is the model of consistency.
More from GeauxTigerNation

.
---

As a new coach, Brady Hoke relied on Michigan's tradition and his own tenacity to sell his program to recruits.
More from WolverineNation

.
---

Urban Meyer came to Columbus with two national titles under his belt. But a 10-0 season has sent an even clearer message to recruits.
More from BuckeyeNation

.
---

Oklahoma has fallen short of its lofty expectations both on the field and on the trail so far this season. Can the Sooners turn it around?
More from SoonerNation

.
---

Chip Kelly's arrival sparked an Oregon recruiting revival. The 2013 class might be the best yet.
More from DuckNation

.
---

Scandal and sanctions weighed heavily on Penn State recruits. But the Nittany Lions' success has turned heads.
More from NittanyNation

.
---

Texas' struggles over the past two years should have hurt the Horns' recruiting. They haven't -- yet.
More from HornsNation

.
---

There's one thing that's clear about Texas A&M's quick success in its first Southeastern Conference season. It has gotten the attention of recruits.
More from GigEmNation

.
---

USC hasn't put together the national championship season many expected. But the Trojans are still golden on the trail.
More from WeAreSC

.
---

With one win over Stanford, Washington has something to sell. Can the Huskies finally get over the hump?
More from HuskyNation

.
ESPN 150, 300 updates

For the latest college football recruiting player rankings, turn to ESPN RecruitingNation.
• ESPN 150 player rankings
• ESPN 300 player rankings
• More from RecruitingNation