Mr. Smith goes to Vanderbilt
KNOXVILLE, Tenn. -- With two legit BCS football prospects in their household, the Smith family could brag with the best of them. They choose not to.
But trying to goad the brothers and football prospects from Murfreesboro (Tenn.) Oakland into saying which is the better football player might be easier than actually beating them on the field. They'll deflect, simply smile and say they're basically equal athletes.
It's mostly the same for other endeavors. Basketball is perhaps the one activity that might prompt the most benign form of trash-talking. Sort of. Josh Smith, a 2015 linebacker prospect, jokingly said he was the better hoopster.
"No sir. No sir," said his older brother, Emmanuel Smith, who committed to Vanderbilt last week. "That's always me."
Tales From The Road

Every Wednesday, Tales From The Road highlights the schools ESPN RecruitingNation's reporters and scouts are visiting and the athletes who stand out. For the latest news and analysis, check out the On The Trail blog

When asked to retort, Josh grinned and replied, "Nah, it's not him. It's even."
The Smiths' father isn't surprised by the lack of lip. Demetrius Smith, a longtime police officer, has long demanded as much.
"I'm always teaching them to not be boastful," he said. "It's not about yourself. It's about being humble. Appreciate the opportunity you have presented to you. We tried to instill that into them since they were little kids. Always be humble. Let other people talk about them."
Those in the college football recruiting world are already chatting about the brothers. Emmanuel committed to Vanderbilt over scholarship offers from Louisville, Oregon State and Tennessee. Josh, just a sophomore, has a scholarship offer from Vandy and strong interest from the Volunteers.
Emmanuel's commitment to Vanderbilt is significant on its own. He's a bona fide SEC prospect. Of course, his decision could be even more significant if his younger brother eventually decides to be a Commodore. Time will tell if that's the case.
The elder Smith's commitment could have an immediate impact on 2014 prospects. Recently, Vanderbilt has won more recruiting battles against rival Tennessee than it had in recent memory. Tennessee's recent struggles, coupled with Vandy's improvement under coach James Franklin, have made the Commodores a worthy opponent on the recruiting trail.
But Tennessee's hiring of Butch Jones in December seemed to reverse the tide. Suddenly, the Volunteers were the hot team in the state, riding a wave of recent momentum fueled by top in-state prospects. But Emmanuel's commitment proved Vandy is still a force to be reckoned with. Adding Josh would be further proof that the Dores are no flash in the pan.
For more on the Smith brothers, click here.
Reporter, RecruitingNation
Covers recruiting in the East and Southeast
Joined ESPN in 2011
Florida's St. Thomas Aquinas sustains success
FORT LAUDERDALE, Fla. -- With a résumé that includes 23 straight playoff appearances, 83 playoff wins, seven state championships and two national championships (2008, 2010), St. Thomas Aquinas is arguably one of the top football programs in the nation.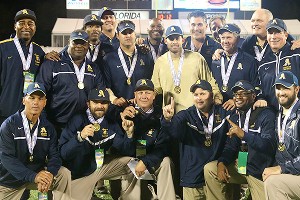 Courtesy of Tom MartinezA coaching staff that features three former NFL players has helped attract and develop talent at St. Thomas Aquinas.
Florida high school coaching legend George Smith, now the athletic director, helped build the Aquinas program into a national power and a recruiting hotbed in South Florida during his coaching tenure. In 34 years of coaching the Raiders, starting in 1972, Smith accumulated a 361-66-0 record that included six of the school's seven state titles and both of the national championships.
Smith also coached NFL players Tavares Gooden, Major Wright, Leonard Hankerson, Jeremy Cain, Marcus Gilbert, Richard Goodman, Sam Young, Geno Atkins and NFL Hall of Famer Michael Irvin.
After winning the national championship in 2010, Smith retired from the head coaching job, and defensive assistant Rocco Casullo was promoted. To say there was pressure on Casullo to win is quite the understatement. He said, however, that he knew exactly what he was walking into when he accepted the promotion. The new coach went on to finish 10-3 in his first year and 13-2, including a state championship, in his second year.
"I started here in 2002 and I was defensive coordinator for four years, and I'm not going to lie, the first year was tough in 2011," Casullo said. "We lost a lot from that national championship team, but we still made it to the regional finals, which is a great year for any other school.
"I think I put enough pressure on myself just being the type A personality that I am and the competitor that I am. We knew in 2012 that we had a good team with good senior leadership, and we start off 3-2 and everybody is hitting the panic button and saying things will never be the same. But I think people sometimes forget that it took Coach Smith 17 years to get to a state championship game, 18 years to win one, and I was fortunate enough to do it in Year 2. I really don't feel the pressure, though. I know what I'm capable of doing, and I know what my staff is capable of doing."
St. Thomas Aquinas has been able to sustain its success despite the coaching change. Other traditional South Florida powers -- Miami Northwestern, Carol City, Ely, Dillard, Central, Booker T. Washington, Miramar and Norland -- can't say the same thing. Casullo thinks the camaraderie on his coaching staff is what has allowed the Raiders to keep their program strong.
For more on St. Thomas Aquinas, click here.
RecruitingNation
SEC recruiting reporter
Joined ESPN in 2011
Attended Northwood University
On The Trail TV -- Live at 1 ET
Midwest Players to Watch
Tales From the Road spotlights players who stand out to RecruitingNation writers at camps, combines and various events. Here is a look at a few Midwest prospects who recently performed at a high level:
DE Jashon Cornell
Vital stats:2015 / Saint Paul Cretin-Derham Hall / 6-foot-4, 225 pounds
Considering: Offers from Iowa, Minnesota and Rutgers
Where we saw him: adidas Invitational
What impressed: Cornell was a man among boys despite competing against prospects a year older than him. He has good size and good technique for his age. He explodes off the line and usually had his way with the opposing offensive linemen.
Why you should keep an eye out for him: If Cornell continues to perform at a high level throughout the rest of camp season, his recruitment is going to blow up soon. He recently took a visit to USC and is planning on getting to Notre Dame and Michigan in the near future. Cornell has a chance to be one of the best defensive line prospects in the Midwest.
For more, click here

.
West Players to Watch
rong>TE Tyler Luatua
Vital stats: 2014 / La Mirada (Calif.) High / 6-3, 243
Considering/committed: Luatua is approaching 30 offers and hasn't begun to cut down his list, although Alabama, where his brother plays, and USC, the local favorite, are thought to stand out.
Where we saw him: La Mirada HS
What impressed: Luatua is so solidly built that it's tough not to be impressed even before he steps onto the field. But in speaking with coach Mike Moschetti about his standout tight end, the reason to get excited about Luatua has nothing to do with his receiving skills -- which are plentiful. Moschetti said Luatua raked in more than two dozen offers based on his sophomore film, which showed just 23 receptions for 251 yards and one touchdown. Luatua's biggest strength, according to Moschtti, is his blocking, which alone could make him the most highly recruited tight end in the West.
Why you should keep an eye out for him: La Mirada is poised to have a huge year on offense and Luatua likely will be right in the middle of it. Off the field, Luatua eventually could be at the center of one of the big recruiting showdowns in California and in the West region. Though Alabama and USC are thought to be the leaders, a number of schools, including Florida, Michigan, Notre Dame and Ohio State, stand out to Luatua, who will take all five visits and explore his options.
For more, click here.

Southeast Players to Watch
Linebacker Raekwon McMillan
Vital stats: 2014/Hinesville (Ga.) Liberty County/6-foot-2, 249 pounds
Considering: More than 40 offers; top two of Clemson and Ohio State; also considering Alabama, Florida, UGA.
Where we saw him: Charlotte NFTC
What impressed: McMillan has the size and strength to compete at the BCS level now. In tough conditions, he moved smoothly for such a big linebacker, showed lateral quickness and did a nice job listening to his instructors.
Why you should keep an eye out for him: One of the most physically impressive linebackers in the country, McMillan is also one of the most coveted -- he has stopped counting how many schools have extended scholarships. His ability should get him on the field early in college.
For more, click here.

School: Pflugerville Hendrickson
Tales From the Road spotlights schools that have a strong tradition of producing elite college players and feature current elite prospects.
Pflugerville (Texas) Hendrickson
Who They Have: The Hawks aren't typically recognized as one of the state of Texas' top recruit factories, but coach Chip Killian has had a strong run in recent years. This spring, the guy everyone wants to check out is ESPN Watch List RB Samaje Perine. He came back from a torn ACL and MCL suffered at the end of his sophomore season and rushed for 2,017 yards and 15 touchdowns in 2012. He's not the only Division I-caliber prospect at Hendrickson. Juniors WR Latrell Martin, DB Chance Waz, ATH Jordan Washington and QB Xavier Conley have all been receiving interest in recent months as well.
Who They've Had: Hendrickson's best class is recent years was its 2012 one. The Hawks had ESPN 150 athlete Daje Johnson as well as three-star defensive ends Victor Ironkansi and Kingsley Ike. In 2010, Killian paired Johnson with another standout running back, four-star prospect Kenny Williams.
For more, click here.

School: Cleveland St. Ignatius
Cleveland St. Ignatius
Who They Have: ESPN Watch List OT Jimmy Byrne, OLB Kyle Berger, S Dameon Willis Jr.
Who They've Had: OL LeCharles Bentley, WR Anthony Gonzalez, DT Chris Hovan, QB Brian Hoyer, QB Oliver Luck, QB Dave Ragone, LB Jake Ryan
For more, click here.