Watson already earning NFL experience
Like most high school football prospects, ESPN 150 quarterback Deshaun Watson (Gainesville, Ga./Gainesville) has NFL dreams.
But unlike most, he has already reached football's highest level.
For the past two years, Watson, the top quarterback in the ESPN 150

, has been a ball boy for the Atlanta Falcons.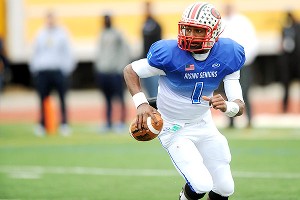 Radi Nabulsi/ESPNDeshaun Watson is taking what he has learned watching from the sideline of the NFL and using it on the field.
Early in 2011, Hall County Boys & Girls Club, where Watson serves as a youth mentor, asked for applications from teenagers with interest or experience in sports. Watson, who threw for 2,102 yards and 17 touchdowns and ran for 500 yards and five touchdowns while starting every game at quarterback and leading the Red Elephants to a 10-2 record his freshman season in 2010, was selected to participate.
Surrounded by NFL stars, Watson admits he was nervous during training camp. Then he found out that these superstars were more similar to him than he thought.
"After a while, I found out that they are just big kids," Watson said. "Now when I see a celebrity or big-time athlete, I am no longer starstruck. I just treat them like a normal person because that is how they want to be seen as."
Watson would watch how they prepared for games, how seriously they took their craft and how they handled the atmosphere and applied it to his own experience.
But the Falcons weren't the only source of inspiration for the 6-foot-3, 195-pound quarterback. Watson spent the 2011 season trying to focus on the game he loved while his mother, Deann Watson, battled tongue cancer. Instead of cheering from the stands, Deann encouraged her son via text messages.
| | | | |
| --- | --- | --- | --- |
| Pos Rk | Stars | Grade | Hometown |
| | | NR | Gainesville, GA |
Watson led the state in passing that fall, throwing for 3,234 yards and 41 touchdowns, adding another 1,073 yards and 16 touchdowns on the ground. His team went 12-2, and Watson's play piqued the interest of several colleges. But Clemson, which had offered Watson the previous summer, had already put itself in the driver's seat.
"I felt good making my decision then because I knew it was the best fit for me," said Watson, who committed to Clemson on Feb. 2, 2011. "I trust coach [Dabo] Swinney and coach [Chad] Morris to put me in a situation to succeed over the next four years at Clemson and beyond that in life. Making my decision early allowed me to focus not only on winning a state championship at Gainesville as well as preparing academically to enroll early."
With the commitment under his belt and his mother cancer-free and back in the stands, Watson enjoyed a storybook junior season, fulfilling a promise he made to his friends in seventh grade -- to bring home a state championship. Along the sidelines of the familiar Georgia Dome, where Watson had watched many Falcons games, stood double-digit college coaches, including Morris and assistants from Auburn, Alabama, Florida State, Georgia, North Carolina, Ohio State, Tennessee and Vanderbilt. Watson rose to the occasion, leading his team to a 49-13 victory over Ware County. He notched Georgia's career passing record and finished the season with 4,024 passing yards and 50 passing TDs as well as 1,441 rushing yards and 24 rushing TDs.
"I was picturing myself playing there again in a couple years in the NFL with the Falcons," Watson said. "I took advantage of the opportunity, had fun, played my heart out and came out with the win.
"Looking back at all of the hard work we put in, the bond I have with my receivers and being blessed with such a great coaching staff and team, it was really special to bring that to fruition, especially for all of the great players that gave it their all for Gainesville in the past but came up short."
Two days later, Watson was back on the sideline to watch the Falcons shut out the New York Giants 34-0. Before the game, he was praised by his professional counterparts.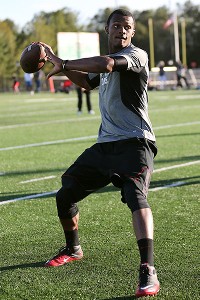 Tom Hauck for Student SportsWatson committed to Clemson early, but he's still getting pressure from other fan bases.
"Before practice and games I get to throw the ball around to Matt Ryan, Julio Jones, Roddy White and Tony Gonzalez," Watson said. "They saw me win the state championship on television, and they all congratulated me. They told me I have a pretty good arm, and Matt gave me some things to tweak."
After winning MVP honors at the Atlanta Elite 11 regional last weekend, Watson returned to Clemson to take in the spring game. At 17 years old, he is still adjusting to being approached by fans young and old.
"I appreciate all of the fan support at Clemson, and it is a blessing to be in this situation," he said. "It helps motivate me to keep striving to get better. I try to give it back to them if they ask for pictures and autographs, but having little kids know who you are and say they want to be like me one day is something I am not used to yet. I try to give them the same advice that players like Matt Ryan give me on the sidelines, and that is to keep working, strive to be your best and never give up, regardless of who tells you that you cannot accomplish something."
With more than eight months to go before Watson can enroll early, his recruitment is hardly over. Since committing to Clemson, Watson has made unofficial visits to Auburn, Florida and Florida State as well as visits to nearby Georgia on three consecutive weekends earlier this year. He admits there is a strong push from the community to play up the road in Athens, Ga.
"I have fans in my community pulling me to Georgia every day," Watson said. "The fan support for Georgia is big around this area, and they are in my ear all of the time. It is tough sometimes and they joke about it from time to time, but they all know Clemson is a good school and they know my situation. If I go to Clemson, I know most of them will support me in my decision.
"Clemson was first, and they know Clemson is probably the best fit for me in the long run."
Although SEC coaches tout the experience of playing in arguably the nation's toughest conference, Watson feels the path to the NFL is not limited to a handful of college programs.
"A lot of fans say Georgia will have the most NFL-ready talent or to go to Auburn because they play in the SEC and things like that, but there is talent everywhere," Watson said. "That is what I like about college football. Players do not have to go to the biggest school to perform at a high level and make it to the League. I feel that any of these schools can prepare a quarterback for the NFL, regardless of the offensive scheme. Making good decisions, being a leader and getting the ball to your playmakers are the keys to thriving in any offense."
While his favorite memory of Clemson might be attending the FSU game his sophomore year when the Tigers sealed the victory by sacking Seminole backup quarterback Clint Trickett, a more recent SEC-ACC clash is right up there.
"Watching Clemson beat LSU after hearing all week that Clemson had no chance against an SEC defense like that was great," Watson said. "I went back to school with a big smile on my face, telling them that you cannot underestimate any team that shows up."
Heading into his senior season, Watson will try to build on his junior season and will once again man the sideline at the Georgia Dome on Sundays.
And he'll keep working toward making the position change from NFL ball boy to NFL quarterback.
Reporter, RecruitingNation
Reporter for RecruitingNation
Covers Southeast and Georgia Bulldogs recruiting
Joined ESPN in 2011
Recruit and develop: Oklahoma's strategy
NORMAN, Okla. -- When recruiting quarterbacks, Oklahoma offensive coordinator Josh Heupel searches for the same attributes every other college coach probably does.
The strong arm. Quick release. Prototypical size. Steadfast leadership.
ESPN's SoonerNation

ESPN.com's SoonerNation covers everything Oklahoma, including college football and recruiting. SoonerNation
More:
• Recruiting news | Blog | Forum

Heupel, however, covets something else other coaches might not -- quarterbacks who don't play football only.
"We like guys that are multisport athletes," said Heupel, who doubles as the Sooners' quarterbacks coach. "They don't have to be. But we want guys that are highly, highly competitive."
Heupel and head coach Bob Stoops believe the best way for quarterbacks to hone that characteristic in high school is by competing in various sports all year. Not just during football season.
"At the end of the day, that's probably the most important characteristic, guys that want to win in everything they do," Heupel said. "Seeing them compete, how they approach every single day in those kind of situations, that's extremely high up on the board -- on top of the physical traits that you look for on tape."
This isn't lip service either.
Over the weekend, the Sooners snagged a commitment from ESPN Watch List quarterback Justice Hansen (Edmond, Okla./Santa Fe), who also starts for Santa Fe's basketball team.
Cody Thomas (Colleyville, Texas/Heritage), who signed with Oklahoma in February, is one of the top high school baseball outfielders in Texas and could be selected in the first five rounds of the upcoming MLB draft.
For the full story, visit SoonerNation.
ESPN Staff Writer
Covers the Big 12
Joined ESPN.com in 2011
Graduate of Washington & Lee University
ESPN 150: Class of 2014
On Thursday, RecruitingNation will release the ESPN 150 for the Class of 2014. But you don't have to wait that long. Each day, we're rolling out our position rankings. Top QBs

Wide receivers
• Scouts: Size and speed


• WR evaluation


• Laney: No. 2 WR Dupre
Offensive Linemen
• Scouts: Florida makes its mark


• OL vs. DL battles


Join the debate
• On Twitter: @RecruitingESPN
• On Facebook: RecruitingNation

School: Pittsburgh Central Catholic
Tales From the Road spotlights schools that have a strong tradition of producing elite college players and feature current elite prospects. The focus for Wednesday's edition is schools with a rich quarterback history.

Cosentino
By Jared Shanker, RecruitingNation

Who They Have: QB J.J. Cosentino
Who They've Had: Pro Football Hall of Fame quarterback Dan Marino, two-time Pro Bowl QB Marc Bulger, Jim Bulger, Don Schaefer, Eddie Smith, Danny Smith, Joe Felitsky, Tino Sunseri, Perry Hills, Shane Murray, Bobby Tudi
For more on this and other schools with a strong QB tradition, click here.

West Players to Watch
Tales From the Road spotlights players who stand out to RecruitingNation writers at camps, combines and various events. This week's edition is focusing on top quarterbacks:
By Erik McKinney, RecruitingNation


White
QB Brady White
Vital stats: Class of 2015 / Newhall (Calif.) Hart / 6-foot-1, 179 pounds

Considering/Committed: White holds interest in several Pac-12 programs, including local schools UCLA and USC, but recruiting hasn't begun to pick up for the 2015 quarterback, though that is certain to change by the end of the summer.

Where you saw him: B2G 7v7 Elite 16 passing tournament

What impressed: White was in control throughout the event, as he led his B2G Five Star team to the tournament title and was named the Offensive MVP of the weekend. He showcased outstanding touch on his throws and found receivers open in all areas of the field.

For more quarterback prospects, click here

.
School: Southlake (Texas) Carroll
Tales From the Road spotlights schools that have a strong tradition of producing elite college players and feature current elite prospects.
By Damon Sayles, RecruitingNation

Who They Have: 2015 QB Ryan Agnew, 2014 QB Garrett Hale
Where They're Looking: Both Agnew and Hale are still relatively new in their recruiting processes. They will follow Texas A&M signee Kenny Hill. Agnew is the incumbent starter after serving as Hill's primary backup last season. He completed almost 72 percent of his passes last season.
Who They've Had: Chase Wasson, Chase Daniel, Greg McElroy, Riley Dodge
For more, click here.

Midwest Players to Watch
Tales From the Road spotlights players who stand out to RecruitingNation writers at camps, combines and various events. Here is a look at a few Midwest prospects who recently performed at a high level:
By Chantel Jennings, WolverineNation

QB Jayru Campbell Vital Stats: 2015 / Detroit Cass Tech / 6-foot-3, 175 pounds
Campbell
Considering: Offers from Alabama, Notre Dame, Michigan State and Eastern Michigan
Where we saw him: Over the past two seasons, I've seen Campbell take the field several times. In the first game of his freshman season, Campbell stepped in for the team's injured senior QB. What has followed is two consecutive state championships and one heck of a résumé for this sophomore.
What impressed: He consistently gets better. Even though his first few starts on varsity were more of a baptism by fire, he got his sea legs and has made the most of his opportunity. From game to game and between his freshman and sophomore year, his accuracy and arm strength have gotten markedly better.
For more Midwest prospects, click here

.
Going Camping
Want the latest news from the camp and combine circuit? RecruitingNation has you covered. Events coverage
• All-Combine teams
• NFTC and SPARQ results
• 2013 camps and combines highlights


• Latest news in On The Trail
• Follow us on Twitter: @RecruitingESPN