Experience not required
JACKSONVILLE, Fla. -- ESPN 150 offensive tackle David Sharpe (Jacksonville, Fla./Providence School) has only played one full year of high school football, but the 6-foot-6, 288-pound athlete has already caught the attention of everyone in the college football recruiting world.
The No. 2-ranked tackle and No. 12 player overall said his football success has come as a surprise.
"I'm shocked," Sharpe said. "I didn't realize that after only one full year of actually playing football that I would be the No. 12-ranked player in the country and No. 2 at my position. It's been crazy."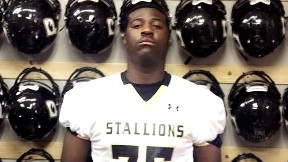 Courtesy of Providence SchoolOffensive tackle David Sharpe is ranked the No. 1 overall prospect in the state of Florida and No. 2 in the nation at his position.
Providence head coach Bobby Raulerson believes his star tackle is in the beginning stages of becoming a special player.
"I think David is just scratching the surface as far as what kind of player he can be," Raulerson said. "A lot of his ability is just God-given. I think the ceiling for David is so high that he doesn't even realize just how good he can be.
"He has to develop in the weight room, which he's committed to doing, then continue to study and continue to do the things that separate the good from the great and the great from the extraordinary. I think David realizes that if he commits to those things, which I think he will, then the sky is the limit for him."
Recruiting has skyrocketed over the last few months. A host of schools including Florida, Ole Miss, Alabama, Florida State, Ohio State and Miami have offered a scholarship. The spring evalution period has begun, and Sharpe was visited by Ole Miss offensive line coach Matt Luke on Monday and Florida State defensive coordinator Jeremy Pruitt on Tuesday.
"Coach Luke from Ole Miss came by yesterday," Sharpe said. He showed me a video and they look like they have a great program, and I want to go visit. It looks like they have some nice coaches and players. It's a great college."
Pruitt has had success recruiting the Jacksonville area. Last year Pruitt was instrumental in helping FSU land four-star defensive end DeMarcus Walker and this year he has helped secure a commitment from ESPN 150 linebacker Kain Daub already. Sharpe said he is building a nice relationship with the Florida State coordinator.
"Coach Pruitt, he's a great guy," Sharpe sad. "I'm comfortable with him. He's a funny, great guy. We have a great relationship. He makes me feel comfortable."
Sharpe has been to visit another in-state school, Florida, a few times already and he said he already has a comfort level with the Florida staff, including Florida offensive line coach Tim Davis.
Read the full story here

.
RecruitingNation
SEC recruiting reporter
Joined ESPN in 2011
Attended Northwood University
Small town, but not small-time
If you're familiar with the area surrounding Coalfield, Tenn., you've likely been in serious trouble or know someone who has. Zach Stewart is out to change that.
Located about 30 miles northwest of Knoxville, the remote area is best known for nearby Brushy Mountain State Penitentiary, a now-closed maximum security prison you may have heard of. That's where Hannibal Lechter was being transferred to when he escaped in the movie "Silence of the Lambs."
Coalfield is a country town where it isn't unusual to see a car from the 1960s driving down a two lane-road or chickens running free. It's hardly known for producing BCS-level talent.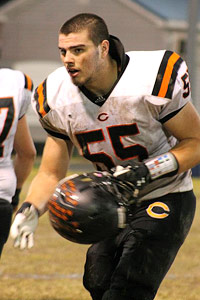 Courtesy of Stewart familyZach Stewart is hoping to make his hometown proud.
Stewart, a sophomore offensive lineman, committed to Tennessee last week. The decision wasn't very surprising. What is surprising is the fact that Tennessee and other schools found him.
"Being from Tennessee, that's where I always wanted to play so it made me feel real good to get that first offer from them," said Stewart, who has also received interest from Clemson, North Carolina and LSU.
Of course, the Stewart family was excited -- and surprised themselves -- about Tennessee's interest. It's not that anyone doubted Stewart's athletic ability, but could a first-year Volunteer coaching staff really find a prospect in such a remote location?
"It was a huge deal," Stewart's father, David Stewart, said. "There's not a whole lot of offers that come here [to Coalfield]. Zach has worked really hard at being good at what he does. He's a good kid. He's got his grades in order. He treats people well and does what he's supposed to. He's reaping the benefits of doing what you're supposed to."
Hard work has been the key to getting noticed. Stewart has a 4.0 grade point average, bench presses 350 pounds and squats 435. Of course, natural ability helped. Stewart outgrew his father in eighth grade when he went from 6-foot-1 and 180 pounds to 6-foot-3 and 230 pounds.
"He's gotten to where he'll devour about anything now," Stewart said.
Now, Stewart is 6-foot-4 and 298 pounds. The 2015 prospect just turned 16-years-old in January.
The Stewarts could have taken that growth as a hint to move and transfer to a bigger school for more attention. That was never an option.
"No, Coalfield's home," Zach said. "I wouldn't have ever wanted to leave."
Eventually, he'll have to move down the road to Knoxville. He and his father hope he's not the last to do so. They want others to share in Stewart's early success.
"More than getting to play college football, the door that he could open up for this little area if he goes and performs, the door may open up for other kids in this area," said David, who played quarterback for Coalfield High. "There's some good football up this way. It just gets looked over because it's small. We've got good kids -- just not as many."
Stewart said he remembers a couple of former Coalfield players walking-on at Tennessee. However, he said he doesn't think a player has left the school to ever become a scholarship player at any Division I school. By all accounts, Stewart will be the first.
But Zach isn't feeling the pressure.
"I just want to do what I can, to open up door," he said. "I don't think we get enough looks. I think we have two or three D-I players that could play. We don't get enough looks because most people want those 4-or 5A players.
He'll have the chance to prove that small towns can produce big-time players next fall.
Reporter, RecruitingNation
Covers recruiting in the East and Southeast
Joined ESPN in 2011
School: Toledo Central Catholic
Tales From the Road spotlights schools that have a strong tradition of producing elite college players and feature current elite prospects.

Kizer
By Brad Bournival, RecruitingNation

Who They Have: QB DeShone Kizer, OG Zach Harmon
Where They're Looking: Kizer has visited Cincinnati, USC and UCLA this spring and has plans to visit Alabama, LSU, Notre Dame, Ohio State and Tennessee. Harmon visited Bowling Green, Buffalo, Indiana, Kentucky, Kent State, Ohio State, Toledo and Western Michigan. He has plans to see Kentucky, Marshall and Western Michigan as well as the Buckeyes again.
Who they've had: JoJuan Armour, Chris Boles, Eric Herman, Mike Marrow, Ryne Robinson, Brad Rogers, Dane Sanzenbacher, Keith Towbridge, Jayme Thompson, Jeremey Whitlow, Brian Wagner, Ethan Wirth
For more on this, click here.

Southeast Players to Watch
Tales From the Road spotlights players who stand out to RecruitingNation writers at camps, combines and various events.
By Corey Dowlar, RecruitingNation

ATH Ryan Davis

Vital stats: Class of 2015 / St. Petersburg (Fla.) Northeast / 5-foot-10, 157 pounds

Considering/Committed: Considering Arizona, Florida, Florida State and USF

Where we saw him: IMG Academy Southeast Regional 7-on-7

What impressed: Given that 7-on-7 tournaments are touch football, it's hard for players to "break tackles." But Davis showed off some unique quickness that allowed him to make space for himself out of nothing. His agility was excellent and made more than one would-be tackler miss during the tournament.

Why you should keep an eye out for him: Though just Arizona, Florida State and USF have offered Davis so far, that should change, and probably soon. With spring football about to begin at the start of May, coaches and evaluators will be on the lookout. Perhaps Davis will get more offers soon.

For more prospects, click here

.
School: Detroit MLK
By Tom VanHaaren, RecruitingNation

Who They Have: LB Carl Fuller, DB Jalen Embry, ATH Avonte Maddox, 2015 DB Tyriq Thompson, 2015 LB Armani Davis
Where They're Looking: Fuller has offers from Syracuse, Eastern Michigan, Toledo and Western Michigan, but much like his teammates will probably benefit from the camp season. Embry has similar offers, but King has some big name schools coming in to check on the prospects on a weekly basis.
Who They've Had: DE Nick Perry, ATH Dennis Norfleet, DT Anthony Adams, S Ernest Shazor, DT Kevin VIckerson, DB Chris Greenwood.
For more on this], click here.

Going Camping
Want the latest news from the camp and combine circuit? RecruitingNation has you covered. Events coverage
• All-Combine teams
• NFTC and SPARQ results
• 2013 camps and combines highlights


• Latest news in On The Trail
• Follow us on Twitter: @RecruitingESPN