Tony Brown perseveres despite father's stroke
ESPN 300 defensive back Tony Brown (Beaumont, Texas/Ozen) is a mama's boy through and through. His mother, Tammy Walker-Brown, will tell you so without hesitation.
But there isn't a voice on this earth that resonates more with Brown than his namesake father's.
That's precisely what has made the last year of Brown's life the most difficult of the 17 he has lived: The silence.
His father suffered a stroke before the first day of the 2012-13 school year. He can no longer speak.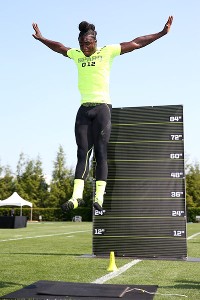 Tom Hauck for Student SportsTop 2014 defensive back Tony Brown turned heads at The Opening with his elite athleticism.
After the stroke came a five-week-long medically induced coma. Once the medicine stopped, he stayed in a coma for another six weeks.
All the while, silence. Still to this day, silence.
Silence through the most important and eventful year of Brown's young but incredibly promising career.
Not only is Brown one of the most sought-after recruits in the country, with football royalty the likes of Mack Brown, Nick Saban and Les Miles in hot pursuit, he's also one of the top hurdlers in the world. He'll represent the United States at the 2013 Pan American Junior Athletics Championship in Medellin, Colombia, from Aug. 23-25.
Last week, Brown's father moved back into their home for the first time since the stroke. He will be screaming in spirit as his son competes against the world's best. It's about all he can muster for the time being.
Tony Brown Sr. will gain the ability to speak again, his doctors say. They say speech is often the last thing to return to a stroke survivor. When he does, though, he'll be able to commend his son for conquering the past year with dignity and perseverance.
Coping with a stroke
The day that would alter the course of Brown family's life started like any other in preseason, with the younger Brown in the weight room and the elder Brown, then Ozen's defensive coordinator, in the coach's office, planning for the 2012 season opener.
"One of the coaches came out and said I needed to call my mom," Brown said. "I walked in to where they were and [my father] looked like he was just passed out. His eyes were open and he couldn't talk. We didn't think it was anything serious. He didn't eat anything for breakfast that morning, so I was thinking maybe he needed some sugar."
But Brown's mother, the Ozen girls basketball coach, told him differently.
"Strokes are major," Walker-Brown said. "The only assurance that I could give Tony is that it happened for a reason, a reason we can't explain. I think that his dad's silence, his dad's voice, had rung in his ear for a long time. For it to just stop …"
For the full story, check out ESPN's HornsNation

.
RecruitingNation
Big 12 recruiting reporter
Joined ESPN in 2011
Graduated from Texas
Sony Michel hopes to be all-time great at UGA
Herschel Walker. Charley Trippi. Frank Sinkwich. Garrison Hearst. Bob McWhorter. Knowshon Moreno. Those were the running backs taken by panelists Mark Schlabach, David Ching and Josh Kendall in this week's Georgia Bulldogs all-time draft. They are some of the brightest stars to shine at running back between the hedges. Sony Michel (Plantation, Fla./American Heritage), the No. 17 prospect in the 2014 ESPN 300 and a University of Georgia verbal commitment, plans to one day add his name to the list.
"I think I could be one of the best to ever play in college," Michel said. "I am going to try and go in there, do my best, compete for my spot next year and see what happens. If I stay healthy I feel like I will be in the mix for early playing time."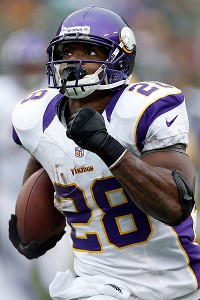 Wesley Hitt/Getty ImagesPeople in South Florida say Georgia commit Sony Michel has the skills to be the next Adrian Peterson.
Reporters and those in the know in South Florida have told Michel, who stands 5-foot-11 and 205 pounds, he compares favorably to Adrian Peterson coming out of high school. Former Miami Hurricanes running backs coach Terry Richardson, who coached Donald Brown at UConn and now coaches running backs for the Jacksonville Jaguars, told Michel two years ago that he could be the next Willis McGahee. Strong comparisons like that put a lot of pressure on a rising high school senior, but Michel has dealt with the hype machine for some time now.
In 2009, Michel, playing up on the American Heritage varsity team in eighth grade, ran for 1,825 yards and 18 touchdowns and returned two kickoffs for touchdowns, each going over 90 yards. As a freshman the following season, Michel's added to his local legend by running for 1,730 yards and scoring 22 touchdowns.
Tales of his impressive feats quickly spread throughout Miami, and buzz grew as fans learned that the ninth-grade running back grew up a huge fan of the Hurricanes. Already targeted by the Miami coaching staff, Michel pictured his dreams coming true in the near future, suiting up to play for his hometown school in Coral Gables.
"I always thought I would end up at Miami," Michel said. "At one point after they offered me I was certain. I visited that campus over 20 times."
But Michel took visits to other programs like Alabama, Florida, Florida State and Notre Dame over the next two years and his stance changed.
"I started getting more offers and after taking visits my perspective changed and the reality set in that I needed to take everything into consideration with this decision," Michel said.
Entering last fall, Michel still felt he would likely end up staying in-state, whether it be for the Hurricanes, Gators or Seminoles. But a trip out of state in September changed everything.
For the full story, check out ESPN's DawgNation

.
Reporter, RecruitingNation
Reporter for RecruitingNation
Covers Southeast and Georgia Bulldogs recruiting
Joined ESPN in 2011
All-time Draft Introduction
How would you go about building an all-time team for your favorite college program? It's not easy, but it's what we decided to figure out. Our writers for Alabama, Florida, Florida State, Georgia, Michigan, Ohio State, Oklahoma, Penn State, Texas and USC got together with some program experts -- announcers, historians and others -- to draft all-time teams for each school. Each expert had his or her own squad -- a full team, with 11 on each side of the ball, plus a kicker and punter. The draft was conducted fantasy style, so whoever got the first pick overall had the last pick in the second round. Roster analysis »
Around RecruitingNation
Alabama: TideNation


No. 2 S Laurence "Hootie" Jones doesn't like to talk about recruiting, but he's fine saying he has a gained an affinity for Alabama.
Greg Ostendorf


• Draft analysis

| @TideNationESPN
Florida: GatorNation


Dalvin Cook has some competition when it comes to future all-time draftable potential, but his has a unique edge on special teams. Derek Tyson


• Draft analysis

| @ESPNFlorida
Florida State: NoleNation


Comparing prospects to all-time college football greats is a little like comparing apples to oranges, but it's never too early to speculate.
Corey Dowlar


• Draft analysis

| @ESPNFSU
Georgia: DawgNation


For Sony Michel's story as well as the latest Georgia recruiting news and notes, check out ESPN.com's DawgNation
• Draft analysis

| @ESPNGeorgia
Michigan: WolverineNation


The former Michigan players selected in the all-time draft have something in common -- high expectations. That something Jabrill Peppers knows well. Chantel Jennings


• Draft analysis » | @WolverineNation
Ohio State: BuckeyeNation


When you look at OSU's current class, Jamarco Jones might first stick out as the prospect with the best potential to be an all-time great, but look a little further and you might have a different view. Brad Bournival


• Draft analysis

| @ESPNOhioState
Oklahoma: SoonerNation


It took five rounds for any GM in the Sooners' all-time draft to take an O-lineman, but a draft 20 years from now may go differently if Josh Wariboko has anything to say about it.
Bob Przybylo


• Recruiting news | @ESPNOklahoma
Penn State: NittanyNation

The 2013 PSU commit with the most all-time great potential may not have the most luster but he has something more important -- opportunity.
Josh Moyer


• Draft grades » | @ESPNPennState
Texas: HornsNation


For Tony Brown's story as well as the latest Texas recruiting news and notes, check out ESPN.com's HornsNation
• Draft grades | @ESPNTexas
Texas A&M: GigEmNation


When Jay Bradford ran a 4.38 40-yard dash in spring workouts, his high school coach was sold, but college coaches needed to see more.
Sam Khan Jr.


• Recruiting news | @ESPNTAMU
USC: WeAreSC


Class of 2017 WR Nathan Tilford has wowed on the camp circuit, but that just shines the spotlight brighter on him as him begins his high school career. Blair Angulo


• Draft analysis

| @WeAreSCStaff
ESPN 300
The players in the ESPN 300 will be the stars of tomorrow for many college programs across the country.
• ESPN 300 | Haubert: 10 things to know


• Class rankings | Luginbill: Moves and shakers
• Hot Board: Predictions on top uncommitted


• Rankings by position, state or region
• Sherman: Elite players under pressure
Join the debate
• On Twitter: @RecruitingESPN
• On Facebook: RecruitingNation