If the name fits ...
VERTON, Ore. -- The Opening got underway on Monday with SPARQ testing, as the nation's top football players competed in the 40-yard dash, vertical jump, 20-yard short shuttle and kneeling powerball throw. The 10 best returned for the finals, with Speedy Noil (New Orleans/Edna Karr) taking home the championship. Here's a closer look at what we learned during the day:
Speedy is, well, speedy
Speedy Noil lived up to his name during SPARQ testing, posting the second-best score of all time. Coming into The Opening, Noil was a prospect whom everyone was excited to see. Noil is ranked as the No. 8 prospect in the country, but his athleticism and speed were the two aspects that people were hoping to see.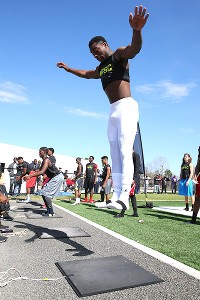 Tom Hauck for Student SportsTop-rated athlete Speedy Noil won the SPARQ national championship.
He didn't disappoint on Monday, recording a 153.51 SPARQ Rating, second only to 2013 Ohio State signee
Mike Mitchell
from the 2012 SPARQ finals.
Noil ran a 4.4 40, threw the powerball 41 feet and wowed everyone watching when he jumped 45.3 inches in the vertical jump.
And as his No. 8 overall ranking shows, Noil is far from just a freak athlete who can't play.
At 6-foot, 176 pounds, Noil holds offers from Alabama, Auburn, Florida, Florida State, Ohio State, Oregon, Texas and USC, among others. The RecruitingNation Hot Board has the five-star prospect predicted to choose LSU, but he remains uncommitted at this point. -- Tom VanHaaren
Cameron Robinson has a big fan
Five-star offensive tackle Cameron Robinson (West Monroe, La./West Monroe) sure lived up to the hype during the one-on-one portion of the morning practice session.
He faced off against top defensive ends, including Jalyn Holmes (Norfolk, Va./Lake Taylor), Solomon Thomas (Coppell, Texas/Coppell) and Andrew Williams (McDonough, Ga./Eagles Landing) and won a majority of his battles.
Former Ohio State and NFL offensive lineman LeCharles Bentley, who now owns The O-line Performance Center in Scottsdale, Ariz., had glowing things to say about Robinson.
"The one young man that stood out was Cameron Robinson," Bentley said. "Look, I don't know what school he's going to; I don't get into the recruiting aspect. I don't like saying this, but that's a first-round pick. That's the type of body, athleticism and player that a team would love to put on that left side and leave him there for the next 10 to 15 years.
"The one thing that intrigues me about him, he's so quiet. He's the kid that you walk into a room and he's very unassuming but someway, somehow, when you get him on the football field, he just turns on. As you can see, there's a level of intensity and fight there that you just can't coach. That's innate and he has that, everything else he doesn't have you can teach, you can develop." -- Derek Tyson
Read the full story from RecruitingNation writers in Oregon here

Run and play -- not the same thing
BEAVERTON, Ore. -- How might Bo Jackson have fared in a Nike SPARQ combine, or, for that matter, Jerry Rice?
Both are legends of American sport and giant figures here on the Nike campus, where Monday night Speedy Noil, an elite prospect from Edna Karr High School in New Orleans, won the SPARQ national championship to cap the first day of competition at The Opening.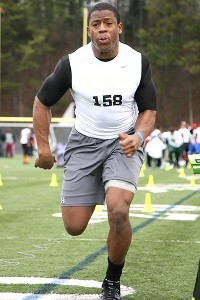 Scott Fink for Student SportsNick Chubb placed third overall at the SPARQ national championship.
Noil, shirtless under the hot Oregon sun in his final of four attempts at the 40-yard dash, clocked in at 4.46 seconds. With that, he secured the title with a four-event, weighted score of 153.9 to edge Ohio State-pledged receiver Terry McLaurin (Indianapolis/Cathedral) and running back Nick Chubb (Cedartown, Ga./Cedartown), committed to Georgia.
Noil, undecided on a college, posted a mark of 44.1 inches in the vertical leap. He ran the agility shuttle in 3.87 seconds and threw the powerball 41 feet. Those impressive numbers left him just shy of the SPARQ record set at The Opening a year ago by Mike Mitchell, an incoming freshman linebacker at Ohio State.
Athletes the era of Jackson -- who spoke to the high school players at this event Friday -- and Rice never competed in a SPARQ combine.
But that doesn't matter a bit. They are iconic football players, the best in their primes. The fancy tests and index scores amount to little when measuring greatness in the game.
Tuesday begins 7-on-7 competition, a measure of skill that translates more smoothly to real football than a SPARQ combine but falls short in several key areas.
Largely, the players at The Opening recognize the correlation -- or lack thereof -- between great football players and great athletes.
"When you've got pads on, it's different," Chubb said. "Some of these kids, they're just real fast. You put the pads on, and it's a different story. But I think I'm the real deal. I can run the football just like I can come out here and test well."
Read Mitch Sherman's full story
here
ESPN Staff Writer
Nebraska/Big Ten/Recruiting reporter.
Joined ESPN in 2011.
Graduated from the University of Nebraska.
Around The Nation
Alabama: TideNation


LSU may seem the team to beat for No. 1 overall Leonard Fournette but you can never count out Bama. Derek Tyson


• More Opening | @TideNationESPN
Florida: GatorNation


Florida has a unique advantage with Adoree' Jackson -- its track program. Derek Tyson


• More Opening | @ESPNFlorida
Florida State: NoleNation


Kain Daub knows who at The Opening is interested in his Noles, and he's actively recruiting them. Tom VanHaaren


• More Opening | @ESPNFSU
Georgia: DawgNation


Georgia is not without competition in the Raekwon McMillan race. Tom VanHaaren


• More Opening | @ESPNGeorgia
LSU: GeauxTigerNation


Best recruiting recruiter? Edward Paris Jr. is definitely in the running. Tom VanHaaren


• More Opening | @ESPNLSU
Michigan: WolverineNation


Michigan TE commit Ian Bunting isn't in top shape at The Opening, but still has opportunity to show what he can do. Tom VanHaaren


• More Opening | @WolverineNation
Ohio State: BuckeyeNation


Terry McLaurin came into the SPARQ competition with a lot to prove and he proved it. Tom VanHaaren


• More Opening | @ESPNOhioState
Oklahoma: SoonerNation


ESPN 300 WR Corey Holmes has a top two of UCLA and Notre Dame, but Oklahoma is trying to sneak back in the mix. Tom VanHaaren


• More Opening | @ESPNOklahoma
Penn State: NittanyNation

De'Andre Thompkins, Penn State's highest-rated commit, is earning respect at The Opening. Tom VanHaaren


• More Opening | @ESPNPennState
Texas: HornsNation


Originally set to announce from six in August, Jamal Adams may need some extra time. Derek Tyson


• More Opening | @ESPNTexas
Washington: HuskyNation
Jonathan Lockett said he is fully committed to UW, but that was always the case. Blair Angulo


• More Opening |@HuskyNationESPN