Gamecocks save the best for last
By Edward Aschoff
ESPN.com
OMAHA, Neb. -- Once the top of the first inning was over in Sunday's nightcap, most of the press box chatter surrounded how Texas A&M was on its way to an early upset to close the first weekend of the College World Series.
The Aggies hung a four-spot on defending national champion South Carolina, shelling star pitcher Michael Roth in the process.
Oh, but this is Omaha. And this is South Carolina -- a team that lives for the dramatic.
[+] Enlarge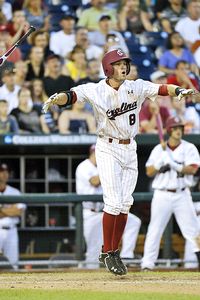 AP Photo/Ted KirkScott Wingo's bases-loaded walk-off single sent defending champion South Carolina to a 5-4 victory over Texas A&M.
The Gamecocks immediately erased the deficit in the bottom half of the inning and like they did last year, when they won it all, the Gamecocks got the win in walk-off fashion after Scott Wingo's hit with the bases loaded bounced off the right field wall, sending the game-winning run for a 5-4 victory.
South Carolina is in the winner's bracket. Weird stuff.
"It's a very unusual feeling for me to be in Omaha and win the first game," South Carolina coach Ray Tanner, who had lost his previous four opening games at the College World Series.
"But it's great. So many great teams. I thought A&M was really special. A lot of tremendous athletes over there. We just tried to hang in there and got in a position to win."
The Aggies seemed to be carrying the momentum from their Tallahassee Super Regional win, where they steamrolled Florida State a day after the Seminoles outscored them by two touchdowns.
Things started quickly with an RBI single from A&M first baseman Jacob House and a three-run triple by left fielder Brandon Wood in the first. Roth, who entered the game 13-3 and with a sub-1.00 ERA, gave up two hits and walked two.
But South Carolina gave it right back to the Aggies in the bottom half of the inning when the Gamecocks loaded the bases on a walk and two singles.
Aggies pitcher Ross Stripling, who was 14-2 before the game, balked in the first run before a throwing error by second baseman Charlie Curl on a routine grounder scored two and an RBI single by Peter Mooney tied it at four.
It looked like another football game was going to break out, but both pitchers settled from there.
Ross gave up just two more hits and struck out eight before his night ended after 7 1/3 innings, while Stripling went eight.
Wingo then put things to rest when he stepped to the plate with the bases loaded and watched as the Aggies moved their outfield in to have five infielders ready for a short-hopper or a bunt. With the added defense, Wingo said he looked to get the ball up in order to counter A&M's strategy.
"When I got two strikes on me, I just tried to battle," said Wingo, who was 4-for-4 Sunday. "I think [A&M pitcher Nick Fleece] threw me an inside fastball and I just got it up."
It was an intriguing game, but the outcome didn't surprise Roth.
"I think we had the last walk off in Rosenblatt and the first one in the new stadium," he said. "That's pretty special, but I don't think it would be South Carolina baseball if we didn't give up a couple of runs in the first inning."
And it wouldn't be South Carolina baseball in Omaha without some drama and, of course, a win.
The past three walk-off victories in this tournament have come at the hands of South Carolina. The Gamecocks have also won 12 straight postseason games, including seven in the College World Series.
"You don't take ever the attitude, well, 'We're down, it's going to be very difficult,'" Tanner said. "It's baseball. We've been in these situations many times. You just have to keep plugging and hope that you get some opportunities.
"If you can just leave it as it is, baseball, and you don't let your negative emotions enter into it, you've got a chance."
Cavs bear down late, stymie Cal
By Edward Aschoff
ESPN.com
OMAHA, Neb. -- The David and Goliath matchup of the College World Series had the early makings of another underdog triumph.
Cal, a team that almost wasn't this year, entered the tournament with the worst record of the eight teams at 37-21 and a sixth-place finish in the Pac-10.
The ultimate Cinderella is the team true baseball fans are rooting for, but on Day 2 inside TD Ameritrade Park, No. 1 national seed Virginia played the evil stepmother, as it used some clutch, late-inning hitting to put the Bears away 4-1.
"We had confidence the whole time," Virginia catcher John Hicks said.
"Their pitchers did an unbelievable job of keeping us in the game until we could string a few hits together.
[+] Enlarge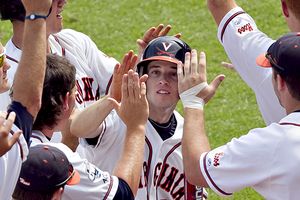 AP Photo/Nati HarnikKeith Werman has struggled for Virginia this season but turned in a strong performance for the Cavaliers in their win over Cal.
"We knew that we'd come through eventually, that we'd eventually get on the board."
Few had the Bears upsetting the Cavaliers on Sunday, but deep down, most were hoping for it. Nothing against Virginia, but the country loves an underdog, and the Bears are, well, a bear of one.
Both teams used solid pitching efforts to stymie the opposing offense -- it was scoreless through six innings, the first time that's happened at the College World Series since Florida State and Arizona State in 1987. Virginia finally broke the scoring drought in the seventh when Hicks' single to center scored Keith Werman from third. A batter later, Steven Proscia's sacrifice fly made it 2-0.
The Cavs tacked on two more in the eighth, including getting their final run of the afternoon on Werman's second hit of the day.
It's been a rough season for Werman, who entered the tournament hitting just .210 after he hit over .400 in his first two seasons.
Werman then found his low point when he was pinch-hit for in the ninth inning of the deciding game of Virginia's super regional.
Werman bounced back in a big way Sunday with a 2-for-4 performance that he's hoping propels him through the week.
"That's probably one of the hardest things about this game is you're going to fail," Werman said. "And it's a matter of being able to stay positive every time. You still go up to the plate and clear out what happened.
"Maybe you fail that one time, you come up the next time and you forget about it and start over and have that positive thought and visualize things."
As for Cal, that's a team visualizing its own redemption here in Omaha. There was a time when Cal's baseball program was left for dead and needed a heavy amount of donation money and budget cuts to stay around.
Now, the Bears are on college baseball's biggest stage.
Hicks said he's admired Cal from afar for most of the year, but momentarily lost his sympathy when his Cavs were paired with the Bears. Naturally, he doesn't feel too bad for putting them in an 0-1 hole.
"I wouldn't say we feel like villains," he said. "We feel pretty good right now, getting the first win under our belt. It's tough because you root for a team like that, but when you're playing them you can't really root for them."
As for the Bears themselves, they might be wounded, but they aren't done. There's still at least one more game for Cal, and coach David Esquer expects to see the fight that's carried his team to previously unimaginable territory.
"We're here to prove something," Esquer said. "Our team in general is not here just to participate. We made that clear that if you're just happy to be here, then you'll be going home fairly soon. They're here to win ballgames.
"I told them if you don't come to win we might as well not go. We get a participant's badge or trophy whether we win or not. Let's come here to win."
Follow ESPN.com's college sports coverage on Twitter @ESPN_College and on Facebook.
South Carolina's Ray Tanner
Odds and ends
• Cal's David Esquer becomes 14th person to play and coach in a CWS game, as he played for Stanford during the Cardinal's CWS appearances in 1985 and 1987.
• Esquer and Virginia's Brian O'Connor were both former CWS participants as players. The last time prior to Sunday that two former CWS players squared off as managers in a CWS was in 2008 when Georgia (coached by Dave Perno) defeated Stanford (coached by Mark Marquess), 10-8.
• Virginia and Cal were scoreless through six innings, marking the first CWS game to go scoreless through six innings since May 31, 1987 when Florida State and Arizona State did the same. (Florida State won 3-0).
• Virginia, the national leader in team ERA, has posted a 1.31 ERA in seven NCAA tournament games this year. The Cavaliers are now 24-0 this season when holding an opponent to less than two runs in a game.
• Branden Kline tied a school and ACC record with his 18th save on the season. His save total is now tied for second nationally and one off the NCAA lead.
• Danny Hultzen struck out six batters to increase his school single-season record to 157 -- which ranks second nationally -- and his Virginia career record to 387. Hultzen also walked three batters, matching his season high for the season (Clemson, Maryland and UC Irvine). With the no decision, Hulzen is still 4-0 all-time in the NCAA tournament, including 0-0 in three career CWS starts
• Cal's Austin Booker joined his father Rod (1980, California) as the 10th father-son combination to appear in the MCWS.
• South Carolina has had the past three walk-off wins in the CWS dating back to last season. It is the 76th game won on the last at-bat (first in the ninth inning since 2009) and the 243rd one-run game at the CWS.
• With South Carolina's win today, the SEC went 3-0 in the opening round. The last conference to win three games on an opening weekend was the ACC in 2006 (3-1). The last time a conference went 3-0 on the opening weekend was the SEC in 1996.
• South Carolina has a 12-game NCAA tournament winning streak dating back to last season, including 7-0 in the CWS. It is the longest CWS winning streak since Oregon State won seven straight games spanning the 2006-07 seasons.
• South Carolina is 7-0 in the NCAA tournament, joining Vanderbilt as the only remaining unbeaten teams. The last team to sweep through a postseason undefeated is Miami in 2001 (9-0).
-- Courtesy of NCAA stats>
Gamecocks-Aggies reaction
Aggies reflect on ninth inning loss