SEC dominance on display
OMAHA, Neb. -- South Carolina beat top-seeded Virginia 7-1 on Tuesday night in the College World Series, extending its current winning streak to seven games as the only remaining unbeaten team in this NCAA postseason.
Earlier in the day, Vanderbilt endured its first loss of the postseason, to SEC rival Florida.
The Gators, meanwhile, have lost only once this month -- at the hands of, you guessed it, another SEC club, Mississippi State, in super-regional play two weeks ago.
Noticing a trend?
[+] Enlarge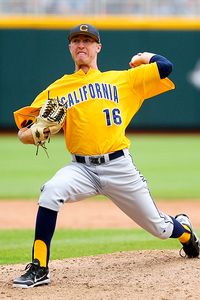 Brace Hemmelgarn/US PresswireKyle Porter's solid outing kept California's CWS hopes alive.
The SEC, home of the past two national champions, has stamped its place again as the dominant league in college baseball. Florida and defending national champion South Carolina are 2-0 in Omaha, needing one win apiece to meet in the championship series
.
Two teams from the same league have not played for the crown since Arizona State and Southern California in 1998, and not since 1979 have conference mates started 2-0 in Omaha, when Texas and Arkansas did it.
"SEC baseball is really special," South Carolina coach Ray Tanner said. "It's well documented.
"I think a lot of conferences look to the SEC for a blueprint. We have commitments from presidents, and athletic directors. The exposure is great and we battle. We battle each other for 10 weeks in the regular season."
The Gamecocks staged a clinic on Tuesday in SEC dominance.
They did nearly everything right, capitalizing on two Virginia errors in the first inning for three two-out runs. From there, Colby Holmes and John Taylor provided spotless pitching, and the tandem of Peter Mooney at shortstop and second baseman Scott Wingo contributed spectacular defense.
When South Carolina needed good fortune, the Gamecocks got it. In the fifth inning as Virginia mounted its best threat, loading the bases with one out on two singles and a walk, Taylor entered and threw two pitches. He got a sharp ground ball back to the mound from John Barr, inciting a 1-2-3 double play.
"Probably, we can't play any better than that," Tanner said.
The re-emergence of center fielder Jackie Bradley Jr. added to the Gamecocks' great night.
The 2010 CWS Most Outstanding Player, Bradley collected his first RBI since April 19 with a first-inning double. He stole his second base of the year in the seventh inning, announcing his return from a left wrist injury, expected just a week ago to keep him out of action in Omaha.
"South Carolina, really, quite frankly, beat us in every phase of the game tonight," Virginia coach Brian O'Connor said.
The six-run defeat marked only the fourth time this season that the Cavaliers lost by more than two runs.
Virginia plays California on Thursday for the right to get a crack at South Carolina. In Bracket One, North Carolina and Vanderbilt will meet Wednesday, with the winner to play Florida.
South Carolina, Florida and Vanderbilt tied atop the SEC East at 22-8. They jostled for position all year. It's happening again in Omaha.
"It can get a little intense," South Carolina designated hitter Brady Thomas said. "They know what we have, and we've seen them. If it comes to that, we know those are two great teams, but we still have to take care of our business first."
The talk of SEC superiority failed to impress O'Connor.
"I don't make anything of it, honestly," he said. "I have never even thought of it. I mean, it's baseball. I think it's easy to sit there and say because the SEC is 5-1 in this tournament that maybe the SEC is better than the ACC. I don't know that the coaches in either league talk about it or make a big deal out of it."
Perhaps not, but it's worth noting that the ACC hasn't won a title at the CWS since Wake Forest in 1955. And the Big 12 finished 0-4 this year in Omaha after the early exits of Texas and Texas A&M.
"This doesn't determine the strength of any conference," A&M third baseman Adam Smith said. "We didn't play our best baseball here in Omaha, unfortunately. We know what we're capable of."
Most notable, perhaps, none of the SEC's powerful trio has lost a game out of conference since April 20. Together, Florida, Vandy and South Carolina lost just nine non-league games this season.
And after four days of CWS play, it's hard to envision anything other than an all-SEC championship series.
"It's remarkable," Tanner said, "but it does speak volumes about the quality of baseball, week in and week out, in the Southeastern Conference."
Once again, Cal Stays alive
OMAHA, Neb. -- Never back a bear into the corner.
California, the baseball program axed by its own university less than a year ago, extended an unlikely postseason run on Tuesday with a 7-3 win over Texas A&M at TD Ameritrade Park. The Bears, behind freshman pitcher Kyle Porter, remain alive in the College World Series to face South Carolina or Virginia on Thursday.
"People talk about us being a Cinderella story," said freshman second baseman Derek Campbell, who contributed a pair of run-scoring hits in Cal's three-run fifth and sixth innings. "I like to think we knew we would be here."
Nobody else knew.
In fact, by now, most everyone figured Dave Esquer's baseball program would be dead and buried.
An 11th-hour, fundraising effort -- completed in April -- produced $9 million to save the sport at Cal. Now the Bears have earned their first win at the CWS since 1980.
The timing is no coincidence, according to Esquer and his players.
"The elimination game feels like nothing," Porter said. "We're fighters."
Porter, a lanky left-hander from El Dorado Hills, Calif., lasted six innings and earned his sixth win without a loss this season. In only his fourth start, he surrendered a solo homer to Adam Smith in the fourth inning, but Cal backed him by scoring six against A&M starter Michael Wacha over the next two frames.
That's how it happened all season for Cal, which overcame five losses in six games to end the regular season, then needed four straight wins at the Houston Regional before losing ace pitcher Justin Jones to an arm injury in the super regionals against Dallas Baptist.
Esquer, in his 12th year at Cal, was named national coach of the year on Tuesday.
"I've never been so proud to be around 35 guys in our program who haven't wavered," Esquer said. "We've come back from the dead in many games, and it just symbolizes who we are. They won't give up. No one gives up in our program."
Don't look now, but these Bears may fast become the darlings of Omaha as the city and fans of the CWS grasp for something familiar in a year of change. This event moved across town from Rosenblatt Stadium into a fancy new park, and so much seems different.
Nothing energizes the CWS like an underdog.
Cal got big hits in the fifth inning from center fielder Darrell Matthews and Campbell. A pair of Texas A&M errors contributed to the rally, and Campbell scored a short fly to right field with one out, testing the strong arm of A&M's Tyler Naquin.
"We knew that we were going to have to try to take the game from them a little bit," Esquer said. "We weren't going to be able to play passive and beat a good team like Texas A&M. We were going to have to maybe take some chances, put some guys in motion and get a big hit when necessary."
Big hits continued in the sixth inning: a double by Mitch Delfino and RBI singles from Chad Bunting and Campbell.
The Aggies waited too long to pull Wacha, who surrendered four earned runs on nine hits in 6 ⅔ innings.
"We just didn't make pitches," A&M coach Rob Childress said. "If we did, Cal didn't miss them. Those guys grinded out at-bats, got big hits."
Closer Matt Flemer handled the final three innings for Cal.
A&M joined Big 12 rival Texas as the lone winless teams at this CWS. The Aggies went 11 innings without scoring a run after their four-run first Sunday against South Carolina.
"There's not a guy in our dugout that doesn't wish we had played better collectively," Childress said. "But again, credit goes to South Carolina and California."
Cal moves forward, likely without Jones, who won a team-high nine games. Right-handed junior Dixon Anderson will start on the mound Thursday, Esquer said.
It's another elimination game.
The Bears need three more wins to reach the championship series.
Still backed into that corner.
"We've been down all year," said Cal sophomore Tony Renda, the Pac-10 player of the year who's fighting a quad injury. "We've had to fight back. We were down as a program.
"We know the tasks and what we need to do."
Follow ESPN.com's college sports coverage on Twitter @ESPN_College and on Facebook.
South Carolina's Peter Mooney
Highlights: Cal-Texas A&M
Odds and ends
• South Carolina tied an NCAA record by winning its 13th consecutive national tournament game.
• Cal's win over Texas A&M was its first win in the MCWS since June 12, 1981, snapping a six-game losing streak in the MCWS.
• Cal is now 5-0 in NCAA Tournament elimination games this season, including 3-0 against Big 12 teams (2 vs. Baylor, 1 vs. Texas A&M).
• Cal's Derek Campbell went 2-for-4 with two RBIs against Texas A&M and is hitting .438 (7-for-16) during the NCAA Tournament. Campbell and Anthony Renda combined to go 4-for-7 with 3 RBI today after going hitless in seven at-bats on Sunday.
• Cal was 6-for-14 with runners on base today, including 5-for-9 with runners in scoring position. Against Virginia in the opener, the Bears were just 1-for-19 with runners on base, including 1-for-6 with RISP.
• Cal's 38 wins this season are the most since the Bears went 37-27 in 1991.
• Texas A&M's Michael Wacha became the youngest Aggie pitcher to start a College World Series game since 1993, when Trey Moore (also a sophomore) got the nod against LSU.
• Texas and Texas A&M were the first teams eliminated from the 2011 MCWS. The last time two teams from the same state tied for seventh was Georgia and Georgia Tech in 2006.
• The last time that two teams from the same conference were the first teams eliminated was in 2004, when SEC teams Arkansas and Georgia both went winless in two games.
• Other than Texas, which lost the 2009 championship series to LSU, Big 12 teams have won just one CWS game in Omaha in the past six years.
• Florida's win over Vanderbilt was its 52nd of the season, which sets a new school record.
• Vanderbilt's fifth-inning RBI single by Anthony Gomez snapped a 21 ⅔-inning scoreless streak against Florida. The Commodores hadn't scored a run against the Gators since May 15.
• On Tuesday, Texas' Taylor Jungmann won the Dick Howser Trophy as the college baseball player of the year.
• Eighteen of the 21 teams to start 2-0 in bracket play went on the win the College World Series.
-- Courtesy of NCAA stats>
Rodriguez shines for Gators
Sure, the Florida-Vandy matchup featured a pair of starting pitcher selected in the first round of the major league draft. But it was a 48th-round selection that stole the show. Florida's Steven Rodriguez returned to the mound 16 hours after Monday's rain delay to send the Commodores to the loser's bracket. The Gator can relax until Friday when they'll play the Vandy-North Carolina winner. Mitch Sherman »
Highlights: Florida-Vanderbilt