South Carolina wins closers' duel
OMAHA, Neb. -- Who needs memories and old traditions when you can create new ones like South Carolina and Virginia did Friday night?
[+] Enlarge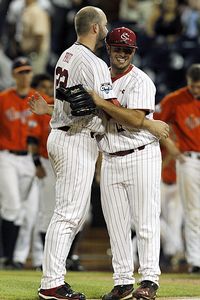 Bruce Thorson/US PresswireSouth Carolina closer Matt Price threw 95 pitches and struck out five to earn the win.
The College World Series started a week ago, but the first taste of real CWS magic at TD Ameritrade Park arrived in the 12th game of this event, which stirred so many emotions across town for six decades.
The Gamecocks eliminated the Cavaliers with a 3-2 win in 13 innings, earning a spot in the championship series, which will start Monday against Southeastern Conference rival Florida.
"I don't really know where to begin," South Carolina coach Ray Tanner said.
Start with the closers.
The 4 ½-hour classic featured a duel of relief aces.
South Carolina's Matt Price earned the win for 5 ⅔ shutout innings, a career-long outing. He escaped bases-loaded jams in the 10th and 12th innings, and then loaded the bags again with no outs in the 13th before he fanned Chris Taylor and got John Barr on a line-drive double play to Scott Wingo at second base.
He threw 95 pitches, only to be outdone by Virginia reliever Branden Kline, who fired 107 over five innings.
Price and Kline, both sophomores, entered Friday with 18 saves apiece.
From the eighth inning on, though, they were asked to do much more than close a win.
It was 2-all after Virginia scored an unearned run, charged to Gamecocks reliever John Taylor in the eighth.
Nobody gave an inch after that.
The Gamecocks won it in the 13th after Kline exited. Brady Thomas singled to lead off against Cody Winiarski before the pitcher threw wildly on a pair of bunts. Pinch runner Adam Matthews scored in walk-off fashion as Winiarski's throw to third base flew past the bag following a bunt by Robert Beary with no outs.
A mild celebration ensued. The Gamecocks, defending national champions, were too tired to do much more.
"Obviously, South Carolina has got something very, very special going on right now," Virginia coach Brian O'Connor said.
It helps to have a closer who can perform under pressure, such as Price, a freshman All-American in 2010 who had not pitched longer than three innings before Friday night.
"I just try to go in there and make quality pitches, and the defense backed me up tonight," Price said.
It's more than that.
"I can't imagine another bullpen guy in the country being in as many tough situations as Matt," Tanner said. "I'm not saying he's comfortable there, but he's accustomed to having some jams to get out of."
While Price worked his magic, Kline escaped nearly the same kind of trouble against South Carolina.
The Gamecocks loaded the bases against him with one out in the eighth before Jackie Bradley Jr. and Adrian Morales struck out. South Carolina then stranded two runners in the 10th, and came up empty after placing runners at first and second base with none out in the 12th.
"I really didn't try to make it anything bigger than it was," Kline said.
That's the thing. It was big. As big as it gets in college baseball.
Overshadowed by Price and Kline, the more heralded starting pitchers shined, too. Michael Roth, South Carolina's 13-game winner, allowed one run on four hits in seven innings.
And Virginia ace Danny Hultzen -- the No. 2 overall pick of the Seattle Mariners in the Major League Baseball draft -- struck out eight in three shutout innings before O'Connor pulled him. Hultzen, working on short rest, fell ill Friday before the game.
"The kid's given us everything that he's had," O'Connor said. "The bottom line is I made the decision on what was right for Danny Hultzen versus trying to win a championship."
Eventually, it came down to the closers.
Tanner said with a smile that he peeked across the diamond at O'Connor, trying to get a read on how long Virginia might leave Kline on the mound. That way, Tanner said, he could remove Price.
Fortunately for South Carolina, it never came to that.
Florida's 'pen comes through, barely
OMAHA, Neb. -- Live by the bullpen, die by the bullpen. Almost, anyway.
Florida began Friday 41-1 this season when it led to start the seventh inning. Make it 42-1, but not until Vanderbilt nearly beat the Gators at their best. The Commodores came from three runs down to force a tie before Florida produced a pair of eighth-inning runs to win 6-4 in the most thrilling game of this College World Series.
[+] Enlarge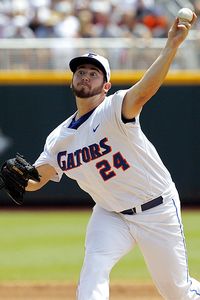 Bruce Thorson/US PresswireGators starter Alex Panteliodis was cruising through six inning having allowed only three hits.
The Gators advance to the best-of-three championship series, to begin Monday at TD Ameritrade Park.
They may need the weekend off to regain their breath.
Usually reliable, Florida's bullpen coughed up a 4-1 lead. Coach Kevin O'Sullivan used five pitchers in relief of starter Alex Panteliodis, who fired six innings of three-hit ball and threw just 86 pitches. Panteliodis retired the final eight Vanderbilt hitters he saw and allowed just one runner past first base after Aaron Westlake's first-inning homer.
With a rested and deep staff of pitchers, this almost looked like a case of over-managing the situation, though O'Sullivan disputed the notion.
"It's always easy, in retrospect to say, 'I wish I would have done this. I wish I wouldn't have done that,'" O'Sullivan said. "If I had it to do again, I would have done everything exactly the same."
After all, he said, that bullpen ranks as the main reason Florida reached Omaha.
"We had nine outs to go and a three-run lead," O'Sullivan said. "We like our pen. It didn't go quite the way we wanted it today, but the bottom line is those guys needed to throw."
That was some time to get in work -- three innings from a chance to play for the program's first national title.
The Vandy comeback began with one out in the seventh against reliever Tommy Toledo, among the Florida pitchers who did not appear in the Gators' first two CWS games this year.
The Commodores produced a run on three singles and made it 4-3 on a bases-loaded walk by reliever Nick Maronde to pinch-hitter Bryan Johns. Maronde then walked Tony Kemp before Greg Larson entered to get Anthony Gomez on a fly to right field.
"I'd be lying if I said the nerves weren't there," Florida first baseman Preston Tucker said. "I was kind of nervous. They were starting to get something going, but we got out of it. We did a great job of making pitches when we needed to."
The rough road continued in the eighth inning as Curt Casali and Mike Yastrzemski singled with one out off Steven Rodriguez. Closer Austin Maddox, who hadn't pitched since May 29 because of a foot injury, then surrendered a game-tying single to Jason Esposito.
Maddox hit Conrad Gregor with a pitch and escaped with help from a diving grab by shortstop Nolan Fontana of a Connor Harrell line drive.
"This is a pressure packed game," the coach said. "I think everyone here felt it."
Panteliodis felt it, he said, especially after leaving the mound. He said he could have pitched into the seventh inning but trusted O'Sullivan's decision to use the bullpen.
"On this team," the starting pitcher said, "you're confident in that situation you're going to get a win."
Florida's eighth-inning rally sent Vanderbilt to its fifth loss in six meetings with the Gators this year.
Maddox worked around a two-out double to Westlake in the ninth, getting Casali on fly to left field for the win.
"They're the best bullpen we've seen," Westlake said, "so I thought we did a great job. It's just one of those things where we can up short. And that's a credit to them."
Expect O'Sullivan to rely just as heavily on his relievers in the championship series. By the time it starts, Florida will have played just three games in 13 days.
Translation: A well-rested group of starters and relievers.
Hudson Randall and Karsten Whitson will start the first two games for the Gators. O'Sullivan said he also plans to use Brian Johnson, who has not pitched since he suffered a concussion in the Southeastern Conference tournament.
"They're all going to need to contribute if we're going to win this thing," O'Sullivan said.
Follow ESPN.com's college sports coverage on Twitter @ESPN_College and on Facebook.
South Carolina's Brady Thomas
Championship series schedule
Odds and ends
• Florida is now 42-1 when leading after six innings this season.
• Nolan Fontana's two-out, two-run single in the fourth inning snapped an 0-for-17 skid. His previous hit was a homer June 10 in Game 1 of the super regional against Mississippi State.
• Florida starters have not allowed more than three earned runs in its past 15 contests dating back to the final regular-season game against Kentucky on May 21.
• With three RBIs on Friday, Preston Tucker has 20 RBIs in the NCAA tournament, the most of any player. Chad Bunting (Cal) and Joey DeMichele (Arizona State) are tied for second in the 2011 NCAA tournament with 12 RBIs apiece. He also leads all CWS players with seven RBIs.
• The eight triples in the 2011 CWS equal the highest triples total in 20 years (also 2006 and 2008).
• Florida is now 3-5 all time against SEC teams in the CWS.
• Alex Panteliodis allowed one run over six innings against Vanderbilt on Friday, marking the third time this season -- and second time in the 2011 NCAA tournament -- that he has gone at least six innings.
• This was the sixth meeting between Florida and Vanderbilt this season, with Florida winning five of the six matchups, including the past four meetings.
• Virginia's run in the top of the second was the first earned run allowed by Michael Roth since May 13, snapping a streak of 38.1 innings.
• Danny Hultzen struck out the first six hitters he faced against South Carolina. Prior to Friday night, only four pitchers since 2000 have struck out the first three hitters of a game, with the last being Gerrit Cole of UCLA last year versus TCU. He finished with eight strikeouts in three innings of work.
• Virginia-South Carolina is the 50th game in CWS history to go at least 11 innings.
• Virginia's 17 strikeouts tie for the fourth-highest strikeout total in CWS history and are the most since Arkansas struck out 17 against Virginia on June 17, 2009. That game also went 12 innings.
• Virginia's Branden Kline has set season highs with five innings pitched and a career best with seven strikeouts.
• With Friday night's win, South Carolina sets an NCAA tournament record (regional, super regional, CWS) with its 14th consecutive victory dating back to last season's CWS. The Gamecocks broke the mark of 13 they shared with Southern Cal (1972-74) and LSU (1997-98) as programs to win 13 consecutive NCAA tournament games.
• South Carolina, which has now played in the past four CWS extra-inning games, improves to 4-2 in extra-inning games in the CWS.
• The last time a conference won three straight CWS titles was the Pac-10 between 1986 and 1988 (Arizona, 1986; Stanford, 1987-88). The SEC will be guaranteed a third straight national title, as the two finalists are both from that conference. The SEC has won the past two CWS titles (LSU, 2009; South Carolina, 2010).
-- Courtesy of NCAA stats>
Best of the College World Series
The College World Series edition of Three Hits & Bunt puts the opening week in review. What was the best game? Who has had the best pitching performance? Who is doing their best Warren Morris impersonation? Get the answers before the final series gets under way.Ryan McGee