South Carolina rises to the occasion … again
OMAHA, Neb. -- South Carolina simply will not succumb.
That much the Gamecocks have proved over the course of their back-to-back runs to the College World Series, and on Monday in Game 1 of the championship series, Florida bitterly experienced that for itself.
In the Gamecocks' 2-1 victory in 11 innings -- leaving them one win from repeating as national champions -- the late-game magic they have become famous for appeared once again in improbable fashion.
[+] Enlarge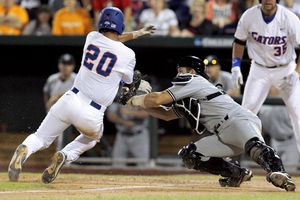 Bruce Thorson/US PresswireSouth Carolina catcher Robert Beary protected home plate on more than one occasion in the Gamecocks' 2-1 win over Florida.
"An incredible college baseball game," South Carolina coach Ray Tanner said after witnessing how his players fended off SEC rival Florida at TD Ameritrade Park.
Christian Walker, who earlier in the day was diagnosed with a broken bone in his left hand, made a mad dash home from first base to score the game-winning run, turning a stolen base into another moment of error-filled ecstasy, as the Gamecocks won on two throwing errors for the second time in as many games in Omaha.
Matt Price closed out the 11th after throwing 95 pitches in relief in Friday's win over Virginia, and his save might not have been the most impressive. After all, second baseman Scott Wingo and catcher Robert Beary twice bailed out South Carolina in pressure-packed, bases-loaded situations in the bottom of the ninth with the Gators poised to win it.
Wingo, playing in a drawn-in infield, made a diving play and bounced home the throw that Beary scooped up to record the first out of the inning, and the two then turned a 4-2-3 inning-ending double play to escape the jam.
It was Jake Williams' turn in the 10th, as he unleashed a throw from left field to nail Cody Dent at the plate for his first assist of the season.
"In close games like that, you try to keep fighting," Williams said.
Forrest Koumas, the freshman who hadn't pitched in three weeks up until his start Monday, held the Gators to one run in 5 2/3 innings. John Taylor, the submariner who pitched into trouble in the ninth and 10th innings, ended up the winner. And Price, refusing to rest any longer, ensured that two runs would be enough.
"I was surprised he was able to be out there," Tanner said. "He said, 'Yeah, I'm in surprisingly good shape.' He told me before the game, 'I surely got an inning in me.' You have to trust your players."
South Carolina barely scratched out a single run against Hudson Randall. Florida's ace dazzled in the seventh with a six-pitch inning, and at that point he had retired 18 of the past 19 Gamecocks he had faced.
[+] Enlarge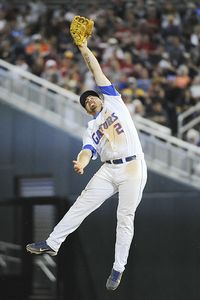 AP Photo/Eric FrancisFlorida second baseman Josh Adams couldn't reach Mike Zunino's throw to second base in the 11th inning, leading to the game-winning run for South Carolina.
But in the eighth, a leadoff walk to Peter Mooney set the stage for Wingo's two-strike, two-out RBI single that tied the score. The curveball was laced back up the middle, tipped off Randall's glove and went into center field. Randall, who in March had dispatched the Gamecocks with a five-hit complete game, saw his 16-inning streak of not allowing an earned run against them snapped.
"We battle," Wingo said matter-of-factly.
That's what Walker did as well after reaching on a one-out single in the 11th. He was out of the lineup until being inserted about a half-hour before first pitch, and South Carolina was so concerned that it flew two team physicians into town to treat him. Playing through pain, he stole second base, and the throw went into the center field. The throw from center skipped away from third base and into the stands, scoring the go-ahead run.
"I knew it was going to take a lot of pain not to play," Walker said.
Now the Gamecocks have reeled off 15 straight NCAA tournament wins dating back to last season's national championship surge. They're 27 outs from a successful title defense, but Tanner isn't looking at it that way.
"I don't ever get ahead of myself," he said. "I worry about the next inning and the particular pitches and defense. I don't really think like that. I never have. Maybe my mental capacity is not large enough."
But another mind-blowing win could very well signal that it's South Carolina's year once again.
Florida left to wonder where it all went wrong
By Max Olson
Special to ESPN.com
OMAHA, Neb. -- Hudson Randall couldn't have scripted a better first seven innings than what he put together Monday night.
The Florida Gators pitcher was cruising, plain and simple, in the biggest outing of his young career. Game 1 of the College World Series finals, and South Carolina couldn't figure him out.
He went right after the scrappy Gamecocks hitters, throwing first-pitch strikes to 17 of the first 24 he faced. He surrendered only three hits.
And he was seemingly getting better, needing only six pitches to set the Gamecocks down in the top of the seventh inning. His pitch count sat in the low 60s. A complete-game shutout seemed increasingly certain.
[+] Enlarge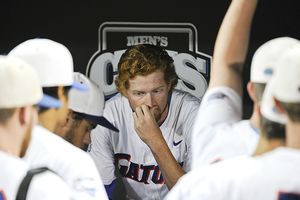 AP Photo/Eric FrancisHudson Randall was cruising through South Carolina batters until the eighth inning, when the Gamecocks finally put a run on the Gators ace.
And yet, a few hours later, Randall walked out of the postgame news conference with his head down, his shoulders slumped, his voice softened as he tried to subdue the overwhelming disappointment.
He won't start another game this season. He probably won't even take the mound again. He'll watch from the bench as Florida tries to battle back Tuesday night from its 1-0 deficit in the best-of-three series.
"This leaves a bad taste in my mouth, especially with this being the last game of the year I'll be pitching," Randall said. "It's a tough one to swallow."
Florida was 46-0 this season when leading after seven innings. How in the world did this one get away?
First, the Gamecocks broke through just as they always have during this CWS. South Carolina shortstop Peter Mooney drew a walk on a 3-1 count, and catcher Robert Beary put him on second with a bunt.
Then No. 9 hitter Evan Marzilli put a high fly ball into center, and Bryson Smith's throw into third was too wide to pick off Mooney.
Up stepped Scott Wingo. Randall knew the curveball had worked on the Gamecocks' leadoff man -- Wingo had two strikeouts and a groundout -- so he kept bringing it.
On a 2-1 count, Wingo took a big swing at a 76 mph offering and got nothing. So Randall shook off catcher Mike Zunino's first two pitch calls.
"It was my decision to throw the curveball," Randall said. "I thought I was going to get him with it. Turns out he saw too many of them."
Wingo's single slipped right past Randall and diving second baseman Josh Adams. Suddenly the all-too-comfortable 1-0 lead was gone.
The momentum swung. It never came back Florida's way.
The Gators loaded the bases with no outs in the ninth. Nothing. They sent Cody Dent home from second base on a single to left in the 10th, and he got easily punched out.
And in the top of the 11th, the unthinkable happened for Zunino. The Gators' team leader had four errors in 122 career games prior to Monday night.
But he tried to throw out Christian Walker at second base, and the ball wound up in center field. Ten frantic seconds later, Walker was at home.
"I love him to death and I feel terrible for him that the play turned out the way it did," Florida coach Kevin O'Sullivan said. "But hey, you know what? That's baseball."
O'Sullivan couldn't come up with many other ways to explain this loss. The Gamecocks are the defending champs for a reason, he said, and they deserve credit for making the big plays.
Now he has to find a way to rally, forget the loss and battle back from the Gators' first setback during their time in Omaha.
They'll have to do so with freshman pitcher Karsten Whitson on the mound, although No. 2 starter Brian Johnson also will be available for a relief appearance. Four key members of Florida's bullpen entered the game Monday, but none threw more than 17 pitches.
O'Sullivan doesn't think he'll have to say much to Whitson in preparation for Tuesday night's critical start. He's confident the touted right-hander's experience starting Sunday SEC games will pay off.
"I'm not going to put any pressure on him. I'm not going to tell him he has to go five, six, seven innings," O'Sullivan said. "We're going to let him go as hard as he can for as long as he can. When we get in trouble, we'll go to the 'pen."
There's no time for fretting about the hole they've dug, Randall said, and no point in assigning blame. The Gators beat themselves, and not just on one error or one pitch.
"We were definitely expecting to win that one," he said.
Now they'll need two more.
Follow ESPN.com's college sports coverage on Twitter @ESPN_College and on Facebook.
South Carolina's Scott Wingo
South Carolina's Jake Williams
Championship series schedule
Odds and ends
• South Carolina won its 15th consecutive NCAA tournament game Monday night, matching the all-time record held by Texas in 1983 and 1984.
• With Monday's win, South Carolina has won its past 10 CWS games dating back to last season. It joins USC (1972-74) and LSU (1996-98) as the only teams to win 10 consecutive CWS games. South Carolina's last NCAA tournament loss was a 4-3 loss to Oklahoma on June 20, 2010, in the opening round of the 2010 CWS.
• South Carolina is now 9-0 in the 2011 NCAA tournament (3-0 in regionals; 2-0 in super regionals; 4-0 in CWS). The last team to go unbeaten in NCAA postseason play was Miami in 2001 (9-0). The last team to go unbeaten in the CWS was Oregon State, which went 5-0 in 2007.
• Matt Price picked up his 19th save of the season Monday night, matching Texas' Corey Knebel for the national lead. Price, who has four CWS wins to tie the career record in that category, picked up his first CWS save and now has 29 in his career.
• Florida suffered its first loss in 47 games when leading after seven innings.
• Florida falls to 2-4 when scoring one run or fewer and now is 28-1 when holding opponents to two runs or fewer.
-- Courtesy of NCAA stats>
South Carolina's Forrest Koumas