Celebration just as sweet second time around
OMAHA, Neb. -- Michael Roth isn't leaving himself much time to celebrate South Carolina's second straight College World Series title, as he's scheduled to leave for Alicante, Spain, on Friday and spend the next five weeks studying abroad and doing some windsurfing.
[+] Enlarge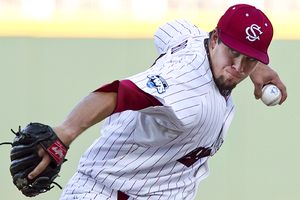 AP Photo/Nati HarnikMichael Roth picked up the win for South Carolina on three days of rest, throwing 127 pitches over 7 2/3 innings.
"I'm not picking up a ball," Roth said, and it's a well-deserved rest for the now-legendary left-hander.
Roth and the Gamecocks are national champions again after beating Florida 5-2 in Game 2 of the championship series Tuesday. South Carolina became the ninth repeat champion in College World Series history after an undefeated NCAA tournament run, and Roth will be remembered in Omaha after his fifth career College World Series start in two years ended victoriously.
Roth, who made his first career start in last season's College World Series and now has a 1.17 ERA over five CWS starts, pitched into the eighth inning and threw 127 pitches on three days of rest for the win.
"One of the slogans [at the CWS] is 'History Happens Here,' and it's pretty special to be a part of history," Roth said.
After Jackie Bradley Jr. gloved the final out in center field and Matt Price had recorded his 20th save, the dog pile near the mound marked the crowning of the first national champion at TD Ameritrade Park. The Gamecocks showed that whether it was in Rosenblatt or a new stadium, their ability to execute under pressure would carry them.
Coach Ray Tanner and his team won a record-setting 16th straight NCAA tournament game, and, as usual, the Gamecocks' cast of characters didn't do it the easy way. Scott Wingo, the College World Series Most Outstanding Player, drove in two runs and got the Gamecocks started in a three-run third, hitting a sacrifice fly to give them the early lead. South Carolina would go on to take advantage of an error on a high chopper to score two more.
Peter Mooney, a 5-foot-7 junior college transfer, provided the power with a solo shot in the sixth, and Price pitched yet again for his eighth inning and third appearance over five days to close it out.
[+] Enlarge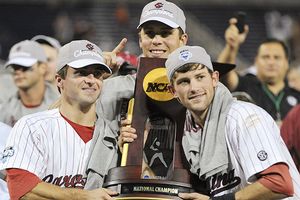 AP Photo/Eric FrancisSouth Carolina 2B Scott Wingo, right, was named the CWS Most Outstanding Player.
"They made plays, made pitches, got big hits," Tanner said. "They always felt they had a chance to win. They believed.
"We never thought we were an awesome team. We just thought we were good enough to win at times."
Give Roth the ball, of course, and good things tend to happen. He scattered five hits over 7 2/3 innings, pitching like he was inspired. Earlier in the College World Series, he tweeted, "How's this for dedication? My dad had to quit his job to make it out to Omaha. Couldn't get here last year."
David Roth didn't get to witness his son starting in last year's championship-deciding game, and he wasn't going to miss this one. Michael Roth, who also is facing an employment decision after getting drafted by the Cleveland Indians in the 31st round as a junior, didn't let him down in what could be his final collegiate game.
Twice Roth pitched out of jams in which Florida started innings with the first two batters reaching base. Twice he struck out the following batter. In the fifth, he induced a double-play ball off the bat of Bryson Smith. In the sixth, back-to-back groundouts bailed him out.
"Roth did his job time and time again," Tanner said. "He would battle his rear end off and give us a chance to win."
Said Wingo: "Our talent might not be a bunch of first-rounders, but I'd play with these guys more than any other team. We don't give you one yard."
And so the Gamecocks go home with back-to-back championships to show for it.
Florida runs out of answers in CWS final
By Max Olson
Special to ESPN.com
OMAHA, Neb. -- Fireworks shot off behind left field after the final out, and red and black streamers rained down on the pitching mound.
Cameras flashed, coaches hugged, ballplayers dog-piled. South Carolina won another College World Series title.
As for Florida's players and coaches? They watched from the dugout, their arms draped over the railing, their eyes following the celebration as frowns and tears surfaced.
They stood together and kept watching from the first-base line, too, when the Gamecocks got their medals and their trophy.
[+] Enlarge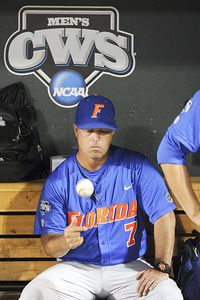 AP Photo/Eric FrancisKevin O'Sullivan's Florida Gators aim to find their way back to the championship series ... and win it.
Florida coach Kevin O'Sullivan only wanted to show respect and class, and he knew it would be rude to quickly pack up and head for the bus. But it's a scene his players won't soon forget.
"It sucks to see that right in front of you," Gators cleanup hitter Preston Tucker said. "You see how close it was. It hadn't exactly sunk in yet. Obviously we're going to carry that over to next year -- how bad that feeling is of knowing we were so close."
Florida entered the College World Series championship round with a 3-0 record and blinders on. After getting swept by Texas in 2005 and going 0-2 in their return to Omaha last year, the Gators weren't leaving empty-handed.
And they aren't. Players and coaches hurried out of the park with their bags over their shoulders and small white boxes in hand. Inside them sat miniature second-place trophies.
"I don't know what I'm doing with this thing yet," Tucker said. "Not proud of it, not too happy about it."
It's an unwelcome consolation prize for a Gators team that was confident this was its year.
But the Gators ran into a buzz saw of a South Carolina squad, and they watched as the Gamecocks took the title from them with small ball and unmatchable resilience.
And while there are a lot of stats that could explain why the Gators produced three runs and zero wins with their first national title on the line, they don't matter to O'Sullivan.
"The bottom line is, South Carolina made all the plays," he said. "In retrospect, you look back and say we make this play, we make that play … the bottom line is, they played better than we did the last two nights. Simple as that."
The Gators got four good chances to take control of Tuesday night. In the first, fifth and sixth innings, they got runners on first and second with one or no out. Those innings ended with two flyouts, a strikeout, a double play, another strikeout and two groundouts.
Florida's best opportunity came in the eighth, when South Carolina pitcher Michael Roth was finally starting to tire. Mike Zunino doubled off the center-field wall with one out, and Roth exited after a groundout put the catcher on third.
Josh Adams then singled off John Taylor to make it 4-2, and Tyler Thompson stepped up to the plate as a pinch hitter. On the third pitch he saw, he launched an offering deep into the left-field stands that landed just wide of the foul pole. Two pitches later, Thompson struck out.
A costly fielding error by shortstop Nolan Fontana led to two of the Gamecocks' three third-inning runs, but in the end, hitting 1-for-10 with runners in scoring position and leaving seven on base made coming all the way back impossible.
"We stuck with our approach all night pretty much," Adams said. "But that's the game of baseball: Some days you can come out on top; other days you look like a fool."
Although O'Sullivan is proud of the progress his team made in his fourth season at the helm, taking steps toward a title isn't a reward. The point, he said, is to win it all.
"We're close, but the difference between winning it and not winning it is details," O'Sullivan said. "When you get to this point, you've got to finish it off."
Florida came almost exactly this close six years ago when it last played for a CWS title.
Different coaching staff and different players, but to Gators fans, it's a painfully similar result. Texas took the first game 4-2 and the next one 6-2 in 2005, and in those two games, Florida mustered 10 hits and left 14 on base.
To Zunino, the cold reality of losing the national championship is more painful than going two-and-out as the Gators did in last season's tournament.
"Unless you come out here to win it, you're always going to have that feeling," he said. "You'll have that hollow feeling unless you win the whole thing."
The Gators' team leader is only a sophomore, and only three of his teammates are seniors. The rest will get at least one more chance to come back to Omaha.
And maybe next year, when the last out is caught and the fireworks boom and the streamers flutter, they won't be the ones stuck watching.
Follow ESPN.com's college sports coverage on Twitter @ESPN_College and on Facebook.
South Carolina's Michael Roth
Championship series results
Odds and ends
• South Carolina is now the 14th program to win multiple national titles.
• South Carolina becomes only the ninth repeat champion in CWS history, and the first since Oregon State in 2006 and 2007. The Gamecocks are one of only six programs to repeat as national champions, joining Texas (1949-50); USC (1970-71-72-73-74), Stanford (1987-88), LSU (1996-97) and Oregon State (2006-07).
• South Carolina won its 16th consecutive NCAA tournament game Tuesday night, breaking the all-time record of 15 shared with Texas in 1983 and 1984.
• With Tuesday night's win, South Carolina has won its past 11 CWS games dating back to last season. The Gamecocks broke the mark of 10 consecutive CWS wins they shared with both USC (1972-74) and LSU (1996-98). South Carolina's last NCAA tournament loss was a 4-3 loss to Oklahoma on June 20, 2010, in the opening round of the 2010 CWS.
• South Carolina finished 10-0 in the 2011 NCAA tournament (3-0 in regional; 2-0 in super regional; 5-0 in CWS) becoming the first team to go unbeaten at 10-0 in NCAA tournament play in one season. Miami (2001 and 1999) and LSU (2000) were the only other teams to go unbeaten (all 9-0) since the tournament expanded to 64 teams in 1999.
• It is the ninth CWS title for the SEC, a total that ranks second to the Pac-10's 15 titles. The SEC has won the past three CWS titles.
• Michael Roth is the second pitcher to start two decisive games of the CWS championship and the first since Mike Stutes of Oregon State in 2006 and 2007.
• The 14 CWS games were the lowest total since 2002, the year before the CWS championship series began.
• The 2011 CWS field combined for a .239 batting average, the lowest by the field since 1974, when the eight teams hit a combined .227.
• The nine homers were the lowest total in the field since the 1974 CWS had eight home runs.
• The 2.66 combined ERA is the lowest by a CWS field since 1973, when the eight teams finished with a 2.51 ERA.
• The eight triples matched the highest CWS total since 1991 (also eight in 2008 and 2006).
-- Courtesy of NCAA stats>
CWS all-tournament team
Robert Beary, C, South Carolina; Christian Walker, 1B, South Carolina; Scott Wingo, 2B, South Carolina; Cody Dent, 3B, Florida; Peter Mooney, SS, South Carolina; Tony Kemp, OF, Vanderbilt; Connor Harrell, OF, Vanderbilt; Bryson Smith, OF, Florida; Brady Thomas, DH, South Carolina; Michael Roth, P, South Carolina; Matt Price, P, South Carolina.
-- Most Outstanding Player: Wingo.
South Carolina's Ray Tanner
Florida's Kevin O'Sullivan