Searching for sleeping giants
By
Eric Sorenson
| Special to ESPN.com
spent this past weekend in Charlottesville, Va., where Virginia took two-of-three from visiting North Carolina. Sitting in the stands at Davenport Field, I felt like I was witnessing one of the greatest ascensions in college baseball history.
Virginia was in baseball purgatory for nearly its entire existence, making just three postseason appearances, before Brian O'Connor took over the program after the 2003 season. Since then the Cavaliers have played in 10 straight NCAA tournaments, winning their way to two College World Series.
The question is, are there more sleeping giants out there? Is there another Virginia on the college baseball landscape waiting to emerge? Here are a few suggestions, both among big-name programs and in the mid-major ranks.
The Sleeping Giants
Major Programs
These are the teams with the money, the facilities and the potential to make themselves consistent postseason programs.
Georgia
Glory Days:
2000s. Made trips to Omaha in 2001, 2004, 2006 and 2008.
Last NCAA appearance:
2011. Second place at Corvallis Regional.
Why They Might Emerge:
New coach Scott Stricklin brought Kent State to Omaha in 2012 and even eliminated No. 1 Florida. Now, he's got the resources and facilities at UGA to make trips to Omaha a regular occurrence again. Of course, having the talent-rich state of Georgia as your recruiting base and the Hope Scholarship program in the state, which saves him from using baseball scholarships, makes this a no-brainer.
USC
Glory Days:
12-time NCAA champions, all but one came before 1979.
Last NCAA appearance:
2005. Lost in the Corvallis Super Regional.
Why They Might Emerge:
New athletic director Pat Haden insists he wants baseball back to being a national power. Elevating well-liked Dan Hubbs to the head-coaching position was a good start. And even if Hubbs doesn't make it happen soon, you get the feeling Haden will find the right man for a program with all the resources and the recruiting base in place.
Texas Tech
Glory Days:
Late '90s. Hosted regionals in 1996, 1997 and 1999.
Last NCAA appearance:
2004. Second place at Atlanta Regional.
Why They Might Emerge:
The Raiders are 31-12 this year, the second under head coach and former player Tim Tadlock. His recruiting touch is well-noted from his days as an assistant at Oklahoma (42 draftees in the last four years), so you know he'll bring more talent to Lubbock. Plus, Rip Griffin Park got a total makeover, and interest in the program is peaking again.
Mid-Major Programs
These are the teams that aren't in big-money conferences but could still become a consistent power.
Houston
Glory Days:
Early 2000s. Made three super regional trips.
Last NCAA appearance:
2008. Second place at College Station Regional.
Why They Might Emerge:
Todd Whitting. This is the man responsible for all those great recruiting classes in recent years at TCU, which led to their College World Series appearance in 2010. He also brought in pitching guru Frank Anderson to help build the arms corps. Cougar Field is a great facility and, obviously, UofH sits in one of the most fertile recruiting grounds in America.
Dallas Baptist
Glory Days:
NAIA power in '90s and early 2000s.
Last NCAA appearance:
2011. Lost memorable Super Regional to Cal.
Why They Might Emerge:
The Patriots are finally in a conference now, the Missouri Valley. It's not a power conference, but we've seen how Wichita State under Gene Stephenson built a national power there. It helps that DBU is the only Division I school in Dallas and sports a brand new stadium. Coach Dan Heefner told me last year that he's got everything he needs to build a consistent winner. That may have been an understatement.
New Mexico
Glory Days:
Right now. No real history in the program until the last few years.
Last NCAA appearance:
2013. Finished 0-2 at Fullerton Regional.
Why They Might Emerge:
Granted, this giant may be waking up already. UNM had virtually no history at all before Ray Birmingham showed up six years ago. But the alpha male Lobo won multiple national titles at New Mexico Junior College and looks as though he's building a monster in Albuquerque. Bringing in pitching coach Dan Spencer a year ago was a huge boost, after he had built all those high-profile staffs at Oregon State.
Hey, Coach: Brian O'Connor
By
Eric Sorenson
| Special to ESPN.com
While in Charlottesville, I caught up with four-time ACC Coach of the Year Brian O'Connor, who has the Cavaliers at 35-7 and No. 1 overall in the USA Today Baseball Top 25 Coaches Poll. Virginia travels to No. 5 Florida State this weekend.
Eric Sorenson: I'm writing about college baseball's "sleeping giant" programs. Did you view UVa as a sleeping giant when you took the job 11 years ago?
Brian O'Connor: Yes, it was. No question. I thought at the time there were a handful of schools who hadn't put it all together for what they had to offer. And with Virginia, I saw that it was in a great conference where the top six or seven are going to get NCAA bids. This was a great educational institution, which was important because most of the players we sign end up coming to school. There is a lot of good high school talent nearby. And the biggest factor was that the administration was completely committed to having the resources to win in baseball. So when you're not having to overcome a lot of things, other than history, the ingredients are there for success.
ES: How do you like having the No. 1 ranking, playing with the target on your back like that?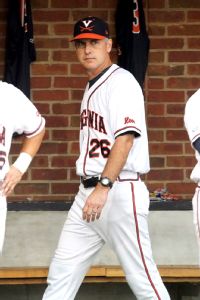 AP Photo/Andrew ShurtleffBrian O'Connor has taken Virginia to the NCAA tournament every year of his tenure.
BC: I love it. I really do. You'd rather be No. 1 than No. 2, right? We have had been No. 1 in previous years for quite a few weeks and I thought we handled it pretty well. But we really don't worry about it or post it up in our clubhouse, it's just part of being a good team. I mean, you can't hide from it and you actually want the high expectations. It says something about your program.
ES: How much emphasis are you putting on this week? Is there anything different in your preparation going into that volatile environment at Florida State?
BC: No, the preparation is no different. We won't change anything. But at the same time, these are 18- to 21-year-old young men, so you know there's no way to tell how they'll react. We're both division leaders, and it'll be a huge crowd; this is what these players come here for. There is a heightened sense of feeling going into this weekend. These are the same feelings you have going into a regional, a super regional or going into Omaha. So this is what we want.
ES: A lot has been made of your offense not being out of this world so far. How much does your offense concern you going down the stretch?
BC: I think we just need to get to the point where we're more consistent. We've had guys go out there and have one great at-bat or two great at-bats. And it's not whether they get a hit or not, it's just good, consistent at-bats is what we want to see. I believe at some point, we're going to have everyone doing it on a consistent basis. We're too skilled and too talented not to come around.
ES: Do you ever look over across the diamond at Mike Martin at FSU and think, "How has he been doing this so long, and so well?"
BC: I can tell you this: It's really impressive. What he's done for all these years and for all the great players that he has coached, it's impressive. I admire him. I do. And I mean, he's seen it all. He's had teams that have been at the top of the mountain and No. 1 and he's also had teams that have had their moments where they've scuffled. But for him to repeat the success he's had year after year is remarkable. I enjoy competing against him every time. It's a real challenge.
Mid-Major Spotlight
Penn at/vs. Columbia
Saturday: Penn at Columbia - doubleheader
Sunday: Columbia at Penn - doubleheader
The Ivy League's Gehrig Division is all locked up between the Penn Quakers and the Columbia Lions, who are both 13-3 going into this weekend's final regular-season series. If the two teams split the series, they will then play one winner-take-all game next weekend at Penn's Meiklejohn Stadium.

Contrasting styles will butt heads here. The Quakers lead the Ancient Eight with 32 home runs and 71 doubles, but Columbia counters with pressure, swiping 54 bases this year (runners have only been caught 12 times), led by Will Savage (.349, 12 steals) and Jordan Serena (.295, 19 steals). Both pitching staffs are really good (3.63 ERA for Penn; 3.74 for Columbia), so the key will be who gets hot at the plate. This will be a great showdown in Philadelphia and New York.
Under the Radar
Virginia Commonwealth
VCU hasn't been to the Big Dance since 2010. Since then, the Rams have changed conferences, going from the Colonial to the Atlantic 10. This year appears to be their breakthrough season as they currently stand at 28-10 overall with wins over Georgia Tech, East Carolina (twice) and Virginia Tech, as well as a narrow 10-inning loss to Virginia on Tuesday night. But the Rams are certainly good enough to impress UVa head coach Brian O'Connor.
"I'll tell you right now, VCU is a really good team," he said. "They are probably the best offensive team we've faced all season. They've got great hitters up and down the lineup, and if you don't pitch them inside, they'll make you pay."
O'Connor isn't just whistling dixie, either. The Rams are ranked eighth in the nation with a team batting average of .314. But the problem with VCU is that their RPI is in a very precarious state. Right now the Rams sit at No. 35, but their remaining schedule includes A-10 weekends against Rhode Island, George Washington, UMass and Fordham. Those four upcoming opponents have RPI rankings of 273, 283, 251 and 247, respectively. Talk about an "anchor effect" to a team's RPI.
Top 25 Scoreboard And Schedule
Five Places To Be This Weekend
If you get the chance, these are the best-of-the-best places to see a college baseball game this weekend.
1. No. 1 Virginia at No. 5 Florida State
By the Numbers:
UVa: 35-7, 16-5 ACC; 6th RPI; 129th SOS
FSU: 32-9, 16-5 ACC; 2nd RPI; 63rd SOS
If college baseball fans can't get fired up about this one, then the pilot light is out. UVa's stout pitching staff goes into the volatile environs of Dick Howser Stadium facing a potentially dangerous offense. UVa hasn't been a dominating team of late, going 5-2 in their last seven, but with three of those wins having been one-run affairs. If you're looking for an advantage, look to the Seminole bats. The top three hitters -- D.J. Stewart (.364-7-34), Casey Smit (.344) and Jose Brizuela (.307) -- are all lefties and have that giant chain-link fence in short right field to aim their screaming line drives. If they can get some pop-ups to reach the wall, it'll be FSU's series to lose.
2. No. 7 Oregon at No. 4 Oregon State
By the Numbers:
UO: 31-10, 10-5 Pac-12; 22nd RPI; 29th SOS
OSU: 28-8, 11-4 Pac-12; 23rd RPI; 65th SOS
If you have a penchant for pitching and bitter rivalries, we welcome to you the best series of the weekend for that. The Beavers and Ducks are one-and-two in the Pac 12 in pitching with 2.20 and 2.86 team ERAs, respectively. The big question is, do we really want to bet against Ben Wetzler (6-1, 0.68 in 53.0 innings) and Jace Fry (7-1, 1.95 in 73.2 innings)? Those two are lethal enough to nearly insure two wins, especially at home. But Oregon has heated up, winning nine straight, averaging 6.78 runs and hitting .299 as a team during that streak.
3. No. 15 Oklahoma State at No. 10 Texas
By the Numbers:
OSU: 29-12, 11-4 Big 12; 53rd RPI; 113th SOS
UT: 31-11, 9-6 Big 12; 7th RPI; 12th SOS
This is a vital series for OSU in particular. That RPI still isn't quite in the you-can-breathe-easy range for an at-large bid. Playing these three games will help that, but winning a couple of them? Now that would be a huge boost for the Pokes' profile. You have to wonder which Longhorns team will show up this weekend. Is it the one who battered Oklahoma's pitching two weeks ago where they hit .310 and scored 25 runs, or the unit that hit a paltry .160 in an 0-3 home weekend versus TCU? One more note: The Cowboys have just as ample pitching as the Frogs did going into Austin. So this is an upset alert series.
4. No. 18 Alabama at No. 8 South Carolina
By the Numbers:
UA: 28-13, 12-6 SEC; 17th RPI; 59th SOS
SoCar: 32-10, 10-8 SEC; 5th RPI; 84th SOS
These two teams are your perfect example of mirror images offensively, as Bama hits .283 with 62 doubles, 28 home runs and 29 stolen bases. Carolina counters with a .282 team average with 63 doubles, 25 home runs and also 29 stolen bases. But the Gamecocks lead the SEC with a 2.10 team ERA, while giving up just 85 earned runs in all. However, put a sizable asterisk next to picking South Carolina here, as they come in having come in with a 6-7 mark in its last 13 games. Is this just a midseason week of scuffling? Or an indication of a bigger problem that will handcuff the Gamecocks?
5. No. 13 Ole Miss at No. 23 Kentucky
By the Numbers:
UM: 30-12, 10-8 SEC; 9th RPI; 47th SOS
UK: 27-14, 9-9 SEC; 11th RPI; 21st SOS
Oh, this should be fun. The two best offenses in the SEC clash at Cliff Hagan Stadium in Lexington. The Rebels are potent with Auston Bousfield (.347), Austin Anderson (.346) and SEC steals leader Braxton Lee (21-of-24) stoking their .304 offense. Kentucky counters with A.J. Reed. Yep, all they need is the big mountain man, who clubs at a .372 pace with a nation-best 16 dingers to his credit. The difference-maker? The Rebel arms. Ole Miss is tied with South Carolina with an SEC-best 2.10 team ERA and a solid .975 defense. They just don't beat themselves, even when they've gone on the road.
Countdown to CWS
College World Series: June 14-25