White provides stellar pitching in North Carolina's win over LSU
AP Photo/Eric Francis
White's Stripes
By Elizabeth Merrill, ESPN.com
OMAHA, Neb. -- The scene was painfully familiar to Alex White. On this same mound last summer, with roughly 20,000 people in the stands, he lasted just a tad longer than a Zesto's cone in a winner's bracket game against Rice. That day, he pitched the first 1 1/3 innings in a 14-4 loss. He hears about it every now and then, especially since North Carolina is back in the College World Series.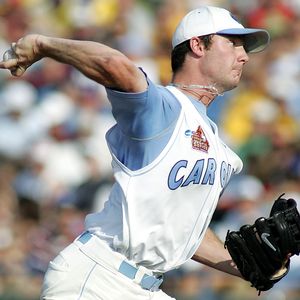 AP Photo/Eric Francis
Alex White's maturity on the mound was evident against LSU on Sunday.
"They're not going to let you forget last year, Alex," North Carolina coach Mike Fox joked late Sunday.
They will now. White gave up a leadoff home run Sunday night to LSU at the College World Series, then rebounded to pitch a gem in an 8-4 win that let the Tar Heels become the only high seed to avoid an upset in the opening weekend.
White lasted seven innings, scattering four hits against the Tigers' mighty offense. He retired eight batters after giving up a Matt Clark homer in the second and struck out six for the night. When White got out of a jam with two runners on in the sixth, coach Mike Fox told his young pitcher that the inning showcased the most noticeable difference from last year -- that White was mature enough not to panic and let the Tigers back in the game.
But LSU did make things interesting in the eighth inning, when three straight singles helped the Tigers pull within four. The comeback was quashed when center fielder Leon Landry hit into a double play. Replays showed that Landry clearly beat the throw, but first base umpire Jack Cox's ruling stood.
The pro-LSU crowd moaned, and the Tar Heels pumped their fists and trotted to the dugout.
"Obviously it was a big call," LSU coach Paul Mainieri said. "It was a tremendous momentum-breaker for us at that point."
But North Carolina was in control for most of the game, pounding out 17 hits and riding White's steady demeanor.
A Mighty Heart
By Elizabeth Merrill, ESPN.com
OMAHA, Neb. -- In the fifth week of this magical road tour, the Fresno State Bulldogs pulled up to Rosenblatt Stadium on Friday ready to be embraced as the scruffy-faced darlings of the College World Series. A few steps from the bus, a person in the crowd said, "Those guys will be on a plane by Wednesday."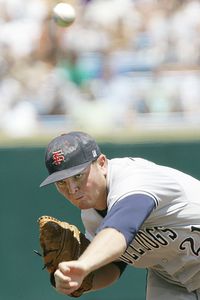 AP Photo/Nati Harnik
Justin Wilson stepped up when Tanner Scheppers went down.
The Bulldogs, true to form, simply shrugged.
To understand this dazzlingly unaware Fresno State team, you must start at the top. Coach Mike Batesole is unshaven and loose and is good for an occasional tall tale. He jokes that pitcher Justin Wilson, who's known for being slightly wild, makes him so nervous he chain-smokes Marlboros. Batesole doesn't really smoke. And he says that on paper, a team like Fresno State doesn't really belong with Rice.
His Bulldogs -- the lowest seed ever to make the CWS -- routed Rice 17-5 on Sunday. They will play North Carolina, which beat LSU in the nightcap, on Tuesday (ESPN2, 7 p.m. ET).
"We've got a million miles to go before you mention Fresno State and Rice in the same breath," Batesole said. "I'll bet you if you ask 50 people, 49 of them will tell you that they're still going to have a way better chance of winning this than we do."
For the complete story, click here.
Did You Know?

Garrido
Fresno State is making its fourth College World Series appearance, but just its first since 1991. Texas coach (and NCAA all-time coaching wins leader) Augie Garrido was the starting right fielder in the Bulldogs' first College World Series game -- a 6-5 win over Northern Colorado.
Fresno State Stuns Rice
STOCK UP/stock down
SUNDAY
PLAYER
TEAM
POS
STOCK
Ryan Berry
Rice
RHP
In his shortest outing of the season, Rice's ace gave up three walks, seven hits and nine runs (five earned) in 3 1/3 innings of work.
Blown calls
Umpires don't have it easy. But the blown call in the eighth inning of the LSU-UNC game that ended a possible Tiger rally left everyone (save, possibly, Carolina) wondering, "What if?"
Danny Muno
Fresno State
SS
Fresno State's freshman phenom finished the day with a home run and a career-high 5 RBIs. He wasn't just effective at the plate; Muno also made a few key stops in the field.
Alex White
North Carolina
RHP
Giving up a home run to the first batter he faced could have thrown UNC's sophomore ace for a loop. Instead, he bounced back to scatter four hits and six strikeouts over seven innings.
Seth Williams
North Carolina
CF
North Carolina's senior center fielder seems to play his best on the biggest stage, and Sunday was no exception: He went 3-for-4 with three RBIs, to bring his RBI tally for the tournament to nine.
Justin Wilson
Fresno State
LHP
The Bulldogs' lefty came into the game with a 4.51 ERA, but left after seven innings with an impressive line: 7.0 IP, 8 H, 2 ER, 4 BB, 5 SO.
By The Numbers
By ESPN Research
17 Fresno State's final tally -- 17 runs -- is the most scored in the College World Series since Miami scored 21 against Tennessee in 2001. It was the most amount of runs allowed by Rice all season, and only the fifth time this year that the Owls have allowed 11 or more runs.
17 LSU had won 17 straight games when wearing their gold jerseys -- until the Tigers lost to North Carolina in Game 4. LSU had won 25 of its last 26 games as well.
17 North Carolina's 17 hits against LSU is the 17th time this season that the Tar Heels have had at least 15 hits in a game.
For more Day 2 stats -- none with the number 17 -- click here.
On Tap At The CWS
All times Eastern
Monday, June 16
Game 5 -- Florida State vs. Miami, 2 p.m. (ESPN2/ESPN360)
Game 6 -- Stanford vs. Georgia, 7 p.m. (ESPN2/ESPN360)

Tuesday, June 17
Game 7 -- Rice vs. LSU, 2 p.m. (ESPN2/ESPN360)
Game 8 -- Fresno State vs. UNC, 7 p.m. (ESPN2/ESPN360)
For the full schedule, click here.