TALLAHASSEE, Fla. -- As Florida State's players wrap up classes for the fall and begin preparations for the Orange Bowl in earnest, their focus is squarely on finishing the 2012 season with a bang. But for FSU's coaching staff, which has spent the past week on the recruiting trail, and several of up-and-coming youngsters, 2013 already has begun.
The Orange Bowl will mark the final time a bevy of seniors takes the field for Florida State, and a handful of juniors could be playing their final game in Seminoles uniforms, too. That means several of key jobs will be open in 2013, and while the battles for playing time won't officially begin until spring practice, it's never too early to start looking ahead.
Here are five key spots at which the Seminoles figure to lose some top talent, along with the players most likely to fill the void and potential recruits who could provide some additional spark.
1. Running back br>
Who's going: FSU loses both of its top fullbacks in seniors Lonnie Pryor, a four-year starter, and Debrale Smiley. Meanwhile, starting tailback Chris Thompson is still waiting to hear whether he'll be granted an additional year of eligibility after suffering season-ending injuries in consecutive years.
Who's up next: At running back, the Seminoles appear to be in good shape with the combination of Devonta Freeman and James Wilder Jr., who split carries in the absence of Thompson during the final five games of the season. Wilder (5.6 yards per carry) and Freeman (6.1 ypc) both finished strong, but on the whole FSU averaged 6.74 ypc before Thompson's injury and just 5.44 ypc after. Pryor will be equally difficult to replace after he posted career highs in carries (42), rush yards (242) and rushing TDs (6), and the Seminoles don't have an obvious alternative on the roster. It's possible tight end Nick O'Leary could play some H-back moving forward.
Who's coming in: So far, Ryan Green (St. Petersburg, Fla./St. Petersburg Catholic). He's the top-rated recruit in Florida State's class at the moment and is a true dual threat with his ability to catch the ball out of the backfield. There is a decent shot the Seminoles can double their haul with a guy like Alex Collins (Plantation, Fla./South Plantation), who is an ESPN 150 member, too.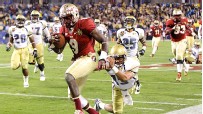 2. Linebacker br>
Who's going: Seniors Nick Moody and Vince Williams are both gone, and junior Christian Jones could opt to enter the NFL draft. Jones' departure would be particularly problematic for FSU, as linebacker is the thinnest position on the roster, and Jones' immense skill set was just beginning to be tapped in his first season on the weak side in 2012.
Who's up next: Telvin Smith will go from platoon player at middle linebacker, where he and Williams provided an ideal tandem, to the full-time starter. He'll need to improve his performance against the run to match Williams' contribution, but Smith already is a solid contributor. Freshman Reggie Northrup received limited playing time, but he showed flashes of potential in mop-up duty. The key for him will be learning the playbook inside and out -- a trickier proposition with a new defensive coordinator taking over. Freshman Markuss Eligwe was highly recruited, but a redshirt kept him off the field on Saturdays and a hand injury caused him to miss a significant amount of practice time this fall, too. The wild card might be sophomore safety Karlos Williams, who moved to linebacker against Georgia Tech and finished with 11 tackles and a game-clinching interception.
Who's coming in: The Seminoles already have a bunch of commitments, including Ro'derrick Hoskins (Orlando, Fla./Evans), Freddie Stevenson (Bartow, Fla./Bartow), E.J. Levenberry Jr. (Woodbridge, Va./C.D. Hylton) and Tyrell Lyons (Jacksonville, Fla./First Coast). But the real prize is still on the table. Florida State is in hot pursuit of five-star linebacker Matthew Thomas (Miami/Booker T. Washington). FSU is in a good position and just has to close out the process.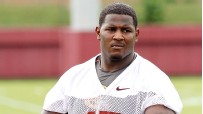 3. Defensive line br>
Who's going: Pretty much everyone. Senior defensive ends Cornellius Carradine and Brandon Jenkins are both leaving, and had neither suffered an injury, they might both have been first-round NFL picks. Tackles Anthony McCloud and Everett Dawkins, stalwarts of the D-line, are also departing. Bjoern Werner could return for his senior season, but he's projected as a clear first-round draft pick, and with both his coordinator and position coach leaving, it seems unlikely he'll be on the roster in 2013.
Who's up next: The key holdover is tackle Timmy Jernigan, who wasn't designated a starter but played regularly and was a significant contributor. In a bigger role in 2013, he figures to become a star. Fourth-year junior Demonte McAllister was a pleasant surprise in 2012, finishing with 32 tackles and 2.5 sacks. Freshman Eddie Goldman got a handful of reps throughout the season, and his recruiting pedigree suggests he could step in and fill out the interior of the line nicely. On the edge, Mario Edwards Jr., last year's top overall recruit, blossomed as the season went along and turned in a strong performance in his first career start against Georgia Tech. Redshirt freshman Giorgio Newberry had more mixed results in 2012, but he'll likely battle freshman Chris Casher for the starting job opposite Edwards.
Who's coming in: Florida State just has one commitment along the defensive line coming from defensive end Davin Bellamy (Chamblee, Ga./Chamblee). He's an ESPN 300 prospect with great measurables at 6-foot-3 and 235 pounds. The Seminoles would like to add four-star defensive tackle Keith Bryant (Delray Beach, Fla./Atlantic), one of the top players at the position for the class.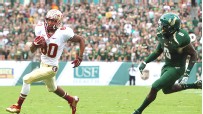 4. Wide receiver br>
Who's going: Rodney Smith is the only receiver who figures to be leaving, but his loss will be felt. The senior was a three-year starter who caught passes in 38 consecutive games. While Smith was never a full-fledged star, his 6-foot-6 frame made him an inviting target, and his consistency was a valuable commodity on an offense that occasionally lacked it in other areas.
Who's up next: Rashad Greene remains the go-to guy in the FSU receiving corps, but he'll be looking for a counterpart to help take some of the attention he'll invariably get from opposing defenses. In FSU's final four games, Greene had 322 yards and three touchdowns. The rest of the receiving corps combined for just 275 yards and one touchdown. Juniors Greg Dent and Kenny Shaw had occasionally strong outings, but the wild card will be Kelvin Benjamin, whose talent continues to outpace his production through two years with the Seminoles.
Who's coming in: Levonte Whitfield (Orlando, Fla./Jones) and Isaiah Jones (Milton, Fla./Milton) are the commitments at wide receiver for now. There aren't too many guys left on the radar besides Stacy Coley (Oakland Park, Fla./Northeast) and Tony Stevens (Orlando, Fla./Evans). Stevens, once a Florida State commitment, is still considering the Seminoles, while Coley is undeclared.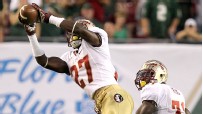 5. Defensive back br>
Who's going: In a perfect world, Florida State will return the entirety of its starting secondary and all of its top reserves in 2013, which would make it one of the top units in the country. The problem, however, is that two of its top performers -- junior corner Xavier Rhodes and junior safety Lamarcus Joyner -- could both decide to leave early for the NFL. Rhodes seems more likely to do so, as he considered the idea last year as a redshirt sophomore before an injury nixed the plan. As one of the best cover corners in the ACC, his loss would be significant.
Who's up next: With the dismissal of Greg Reid before the start of fall camp, Florida State got a jump on developing its young corners this season, and both sophomore Nick Waisome and Ronald Darby proved to be up to the task. While Waisome took the lion's share of the work opposite Rhodes this season, Darby earned ACC All-Freshman honors and would figure to slip into a starting role in 2013 if Rhodes should depart. If Joyner leaves, it would be a significant loss for the defense, too, but Karlos Williams has the talent and athleticism to blossom into a star.
Who's coming in: Adrian Baker (Hollywood, Fla./Chaminade) is committed to Florida State, but with Clemson and Oklahoma looming large, FSU will have to fight to keep him. Marquez White (Dothan, Ala./Northview) is much in the same boat, but the aggressor instead is Alabama. Jesus Wilson (Miami/Christopher Columbus) looks as if he's the only truly solid commitment to Florida State right now. Should the two soft commitments flip, FSU would have to move fast to replace them.